NBA Win Total Odds & Pick: Bet the Title Favorite Brooklyn Nets at a High Number?
Credit:
Nathaniel S. Butler/NBAE via Getty Images. Pictured: Kevin Durant #7 of the Brooklyn Nets.
The Brooklyn Nets have the highest preseason over/under with 56.5 wins.
Matt Moore analyzes the Nets' win total odds below.
Check out this post for updated season win totals and this post for my other 29 season win total picks.
Brooklyn Nets Win Total Odds
| Best Line | Sportsbook |
| --- | --- |
| Over: 56.5 (+104) | FanDuel |
| Under: 56.5 (-110) | BetMGM |
The Case for the Over
For the sake of this argument, let's keep it simple and assume that the Kyrie Irving vaccine situation resolves itself allowing him to be eligible for the season (though the evidence points to the contrary).
The Nets are the best team, have the best offense, play in the East, and won 67% of their games last season (55-win pace) despite all the COVID wonkiness and Kevin Durant, James Harden, and Irving only playing eight games together, total.
If they were that good without being anything close to healthy, what happens if just two of the superstars are available for most of the season?
They're the title favorites heading into the season, well above the previous two champions, the Lakers and Bucks. You're betting on the best team, which is the NBA equivalent of getting your money in with the best hand.
The Nets have the fourth-easiest schedule per Positive Residual, factoring rest and travel, with just 12 back-to-backs and 13 rest advantage games to 11 rest disadvantage games. Thanks to playing in the Eastern Conference, the Nets have the lowest opponent average title chance, per Alex Christenson. The teams they face in an extra game in-conference are the Cavs, Pistons, Bucks, Magic, and Wizards.
Last season's Nets team was the best offense of all time, statistically speaking. Now, teams from last season make up the top seven, an absolutely ridiculous figure that speaks to the offensive inflation we're seeing in the modern game (and which the league is attempting to correct with its officiating changes). However, six of those seven teams hit their over on win totals last season.
Simply put, you can skate by on offense in the regular season just fine in the modern NBA.
Last season under rookie head coach/superstar consultant Steve Nash, the Nets ranked:
First in half court offense
First in points per possession on after time-out possessions
Second in spot-up scoring
Eighth in pick-and-roll scoring, including passes
First in isolation offense
Third in transition offense
First in post-up offense
Second in jump shot efficiency
Third in non-post-up efficiency around the basket
Third in catch-and-shoot efficiency
Second in dribble-jumper efficiency
Second in 3-point efficiency
Don't forget that Durant was banged up last season. Whether his various ailments were corollary to his recovery from tearing his Achilles in 2019, it was without question the most outstanding season for a player returning from that injury in NBA history.
With apologies to the reigning Finals MVP who dropped 50 in a close-out game, Durant is the best overall player in today's NBA.
His combination of size, skill, athleticism and shooting make him invulnerable to scouting at this point in his career.
Harden is the most interesting. He averaged 20.4 points and 12.5 assists in seven of those eight games where he played more than 25 minutes. He still managed to get 20 points while averaging double-digit assists. His adjustment to Brooklyn was seamless.
Irving is a bucket, full stop, but not a natural playmaker for others; he hasn't been in the NBA. Durant is an underrated passer, but his scoring is not a premium choice to his passing. So Harden filled in the gaps.
Brooklyn doesn't lack for gravity to surround the stars, either. Nic Claxton emerged last season as a serious threat with his athleticism and defensive potential at the rim, and Blake Griffin showed that he can still dunk.
Joe Harris is among the best spot-up threats in the league, Bruce Brown showed his potential as a three-level scorer off the catch last season, and they added Patty freaking Mills from the Spurs, who can both manage the backup point guard minutes and operate as a spot-up threat when called upon.
The Mills addition matters a great deal. The Spurs outscored their opponents with Mills on the floor in each season since Kawhi Leonard's injury and departure, frequently with the team's net rating better with Mills on-court than off. He provides a backup point guard option in the rotation and in the very likely event that Irving misses time.
If he misses time, Irving and Harden can cover for Durant's scoring, with Mills taking floor general minutes. The Nets can duplicate Irving's production with their stars without stressing minutes for the other members of the Big 3. Expect the Mills-Harris-Claxton minutes to cook.
There are no weaknesses for this team offensively. That, combined with their schedule, means the over is very doable. The Nets had four more wins vs. teams over .500 than any Eastern Conference team last season and the third-most in the league.
They weren't as good vs. teams under .500 (25-11, the most losses of any top-six team in the East), but that number improved as the season went on, going 10-3 from April 1 through the end of the season vs. sub-.500 teams.
You can easily make the argument that the Nets' success against good teams is sustainable (they're an exceptional team) and that their struggles vs. inferior teams were the product of last season's COVID and schedule-related wonkiness and the injuries to the Big 3.
The team relies a lot on Blake Griffin defensively, something you should not be saying at any point in his career, especially not in 2022. Harden, Irving, and Harris are turnstiles on the perimeter unless it's a playoff game. Durant is still excellent, but this team conserves energy for the offensive end.
But simply put, it just doesn't matter. The Nets don't have to try much on defense because they're just going to outscore you by such large a margin. The offensive numbers above show that, quite simply, if your offense is elite, you can sail past the win total with a compromised defense.
You can bet on the Nets' over and forget about it; you won't be sweating until late in the season. If Brooklyn starts slow, they can turn it on. If they jump out to a hot start, they won't fall off as teams tank later in the year. The schedule is easy, and the team is loaded.
It's a high number, for sure, but if you expect the best team in the league to be near or above 60 wins this season and believe the Nets are the best team, it's exceptionally doable with several games to spare.
Keep it simple. That's the argument for the Nets over.
The Case for the Under
I talked about the Nets' preseason favorite status in the over argument. They have the highest expected win total in the league next season at 56.5. The next closest is the defending champion Bucks at 54.5.
Including teams tied in preseason win total, the teams with the highest win total have hit the under nine out of thirteen times. A 4-9 record for the over for the best teams speaks to how hype often exceeds regular-season performance.
The Nets are also the title favorite. So how are title favorites against their win total over the past 20 years?
| Season | Favorite | Over/Under |
| --- | --- | --- |
| 2021 | Lakers | Under |
| 2020 | Lakers | Over |
| 2019 | Warriors | Under |
| 2018 | Warriors | Under |
| 2017 | Warriors | Over |
| 2016 | Cavaliers | Over |
| 2015 | Cavaliers | Under |
| 2014 | Heat | Under |
| 2013 | Heat | Over |
| 2012 | Heat | Under |
| 2011 | Heat | Under |
| 2010 | Lakers | Under |
| 2009 | Celtics, Lakers | Over |
| 2008 | Mavericks | Under |
| 2007 | Mavericks | Over |
| 2006 | Spurs | Over |
| 2005 | Spurs | Over |
| 2004 | Lakers | Under |
| 2003 | Lakers | Under |
| 2002 | Lakers | Under |
The over/under win total record for favorites is 7-12.
So the highest win totals go under, and the title favorites go under, more often than not. This speaks to how difficult it is to exceed market expectations across 82 (or 66 and 72 games in the shortened seasons).
There's also a measure of coasting here; if you know you're the title favorite and have championship experience (and all three of the Nets' Big 3 that run the show have Finals experience), you tend to coast.
The number is also just comically high. The Nets need to win 69% of their games across 82 games. If Brooklyn has a killer season and finishes with 56 wins, that might secure the No. 1 seed in the East and still hit the under. The Nets can be the best overall team in the league and not win 57 games; that's relatively common.
Then there are the injury issues. We can make the "(team's best players) might get hurt" argument for all 30 teams and take the under every time, but with Brooklyn, the circumstances are worth looking at.
Here were the top six players in games played for the Nets last season:
Joe Harris
Jeff Green
Bruce Brown
Landry Shamet
Timothé Luwawu-Cabarrot
DeAndre Jordan
(DeAndre Jordan played in more Nets games than any of the Big 3.)
Here's one that surprised me: Durant played fewer games for Brooklyn than Harden or Irving.
Durant's body has many miles on it after so many playoff runs and two major injuries, his foot injury that cost him the season back in 2014-15, and his Achilles injury. He will need time.
Harden is the most durable. Since being traded to Houston in 2012, Harden has played the second-most regular-season minutes behind Damian Lillard and the 11th-most games and played the 10th-most playoff minutes in that span to boot, even with how many short playoff runs he had.
The Nets' Big 3 provides redundancy if one of them has to miss time, but the injury risk is significant with not just one but all three of them for various reasons, even if we're just talking about missing a few weeks here and there.
The response to that question will likely be that the team was so dominant last year despite all three missing significant time. "What does it matter if they have injury risks if they all got hurt last year and finished at a 55-win pace anyway?
Well, that depends on how you evaluate last season. Certainly, the Nets were exceptional; they're an exceptional team. However, when I'm evaluating prior season performance for a win total, I circle in on those vs.-sub-500 and vs.-.500-and-above records. It's difficult to sustain high win percentages against the top teams.
Those are often coin flip games even if you're the best team in the league. Brooklyn went 11-9 vs. teams top-10 in point differential last season, per Cleaning the Glass.
Based on Pythagorean expectation, that was 1.4 wins higher than expected. On the other hand, they were 17-9 vs. bottom-10 point differential teams, 1.8 wins less than expected.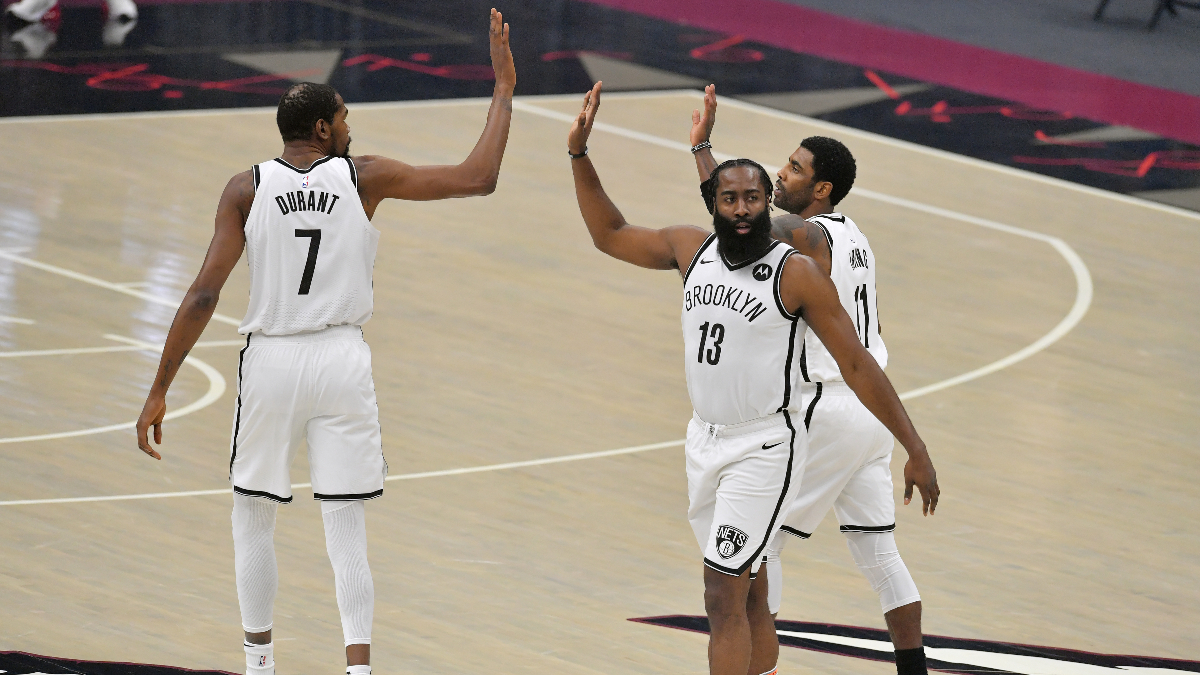 It's easy to logic your way past this. "Well, they're an awesome team! They should beat everyone, even the best teams! And they shouldn't lose so often to the bad teams!"
Except, that's not traditionally how the regular season operates. It's so long, with so much noise in it, that you expect games vs. teams as good as the Nets are (top-10) to be a wash and the performance vs. the bad teams to be strong.
That the Nets struggled (comparatively speaking) vs. the bad teams shows some cracks in their regular-season floor, even if their performance vs. the top teams illustrates their ceiling.
To simplify, the Nets underperformed relative to their high expectations, but that was balanced out by over-performing vs. great teams, even relative to their standards, last season. So when they come out after all that with a 54-to-55 win pace, beneath their win total, that's notable.
Coasting and rest management need to be factored heavily with this team as well. There's minimal incentive for Brooklyn to pursue the best record in the East. Last season, the Nets had an excellent chance to overtake the Sixers for the No. 1 seed and throttled down late, which kept them in the No. 2 seed.
Durant has often spoken about how NBA success neither defines nor fulfills him. He has pursuits towards self-actualization more than proving anything in a league he feels he has already dominated. (And Durant certainly has.)
Those perspectives are certainly admirable, but they don't make you feel great about this team putting its foot on the gas to secure a 65-win season.
Finally, I will mention the defense here, if only because the win total is so high. On nights where the jumpers aren't falling, the offense just doesn't have it, and one of the Big 3 either has the night off or is missing with a minor injury, there's no backstop.
Their defense is so compromised that they simply are unlikely to win many games because of an excellent defensive effort. Even a handful of games like that — say, five out of the entire 82 — would account for 20% of their available losses for the over. They won't win many ugly games, and that hurts the over as well.
Nets Win Total Bet
The Nets are awesome, but the market has run away with their number as it tends to for the preseason favorite. That removes the value on the over. They're too good to bet on the under; if you told me this team won 67 or more games, I wouldn't blink. They're a juggernaut offensively.
If you can find a book with alternate win totals, that might honestly be the play. Not only are you getting a high number on Brooklyn, but you're paying extra juice on the over at most books. If you can find an alternate line, the over's value rises considerably. I'd rather bet them to win 60 or more than 57 with juiced odds.
Alternatively, this is a team you can feel a lot better about their title futures than their win total. You can't hedge out on their win total later (barring a single-game differential late in the year).
The Nets are still a plus number to win the conference at a few books. That's got value. When No.1 seed props hit, the Nets are good value there. But messing with a 56.5 win total given the history of teams in their spot is dicey. If the defense were better? I'd believe in the over. But it's not.
I lean towards the over but won't be betting this win total either way as the Nets are one of five teams I'm completely avoiding.
How would you rate this article?