NBA Win Total Bets: 5 Teams to Avoid, Including the Nets, 76ers
Credit:
David Dow/NBAE via Getty Images. Pictured: Kyrie Irving #11 of the Brooklyn Nets and Ben Simmons #25 of the Philadelphia 76ers.
The NBA season is right around the corner, which means optimism abounds, and that presents opportunities to back and, of course, fade teams' futures. However, sometimes those glittering win totals predicting the future are too fraught with risk to wager on either side.
Here are five NBA Win Totals you need to tread lightly around this season.
Philadelphia 76ers 49.5/50.5
This is pretty obvious, right? Ben Simmons is an All-Star (remember that?) who is slated to make $33 million this season.
He might be on the team. He might be on the team and not play. He might be traded for a star. He might be traded for a bunch of role players. He might be traded for a bunch of picks.
This has been a prolonged saga, and Sixers president of basketball operations, Daryl Morey, is dealing with the worst leverage he ever has faced in a trade discussion. As of this writing, he's held the line, refusing to move Simmons for less than All-Star value. Sources close to the situation said the Sixers have not held serious trade talks since late in the free agency process, which two teams tracking league intel confirmed.
That checks out with how the Sixers entered media day attempting to repair the relationship with Simmons to no avail. The Sixers want to smooth things out until they can find a solution that works for them. Simmons wants to resolve the situation immediately regardless of how it impacts the Sixers, understandably.
But the uncertainty around that trade makes this team unplayable with regard to futures.
There's a trickle-down effect that has to be considered. Even if you believe Simmons isn't ultimately that valuable, specifically moving him for anyone with a jumper will boost the team. The problem is that Joel Embiid's injury situation mandates that whoever replaces Simmons needs to help the Sixers maintain a .500 record when Embiid sits.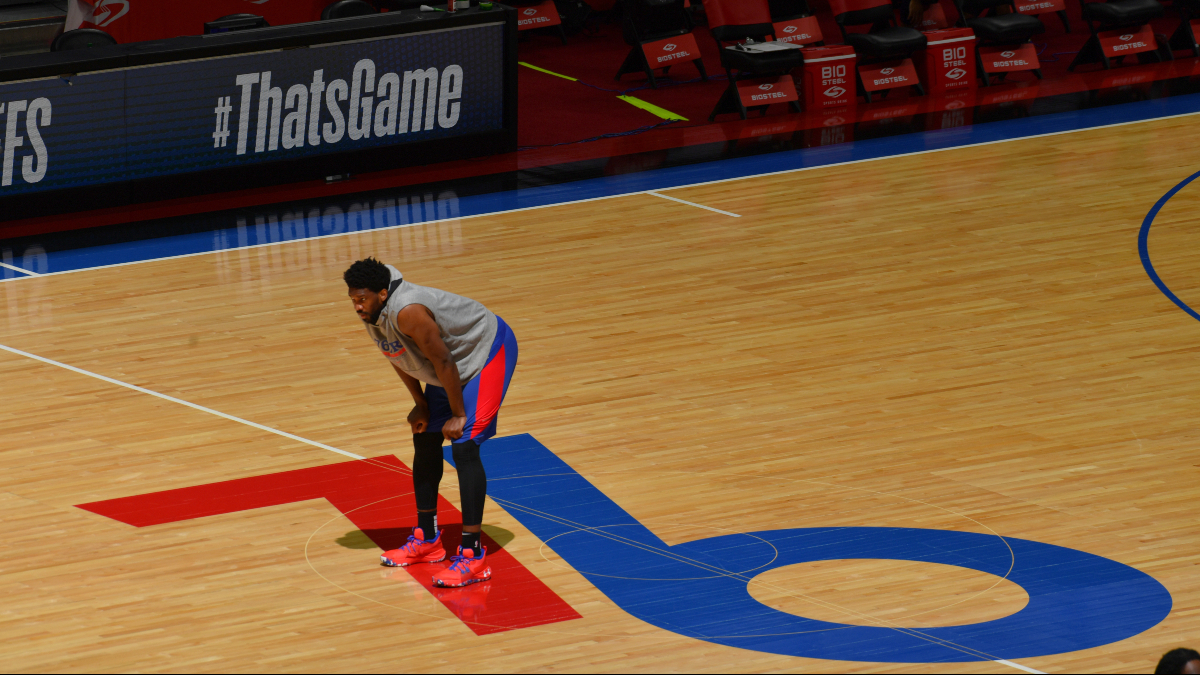 Embiid is coming off a partially torn meniscus in last year's playoffs and he did not have surgery to repair it. He misses back-to-back spots and random games regularly, he's a consistent threat to be ruled out at a moment's notice, and whoever replaces Simmons needs to have the same net impact on both sides of the ball.
That's where this gets tougher. It's easy to dismiss Simmons' 14-7-7 stat line offensively, but he's legitimately one of the three best defenders in the NBA. Without him, the Sixers' ability to switch takes a hit. The ability to create easy buckets in transition takes a hit. And their ability to defensively handle teams with multiple perimeter stars takes a hit.
You're not just betting on the outcome of the Simmons trade, you're betting on Embiid's health, too. That said, simply fading the Sixers isn't the move either. League sources maintain that they want to see how the start of the season goes for the Wizards and Bradley Beal.
If that relationship goes south, it creates a pretty obvious solution for both parties. Adding Beal to the Sixers would make them an even stronger contender than they are now, and Philly had the No. 1 seed in the East last season.
The debate about Simmons has suffered from overexposure, and his overall value is being degraded as a result. The outcome of this trade has vast implications for East futures, for the 76ers' win total and for seeding.
They have to be a stay-away.
Toronto Raptors 35.5/36.5
The Raptors went out in their first preseason game and blew the doors off the 76ers (who were resting various players). However, most of the damage came from the Raptors' unproven bench, so take that with an even bigger grain of salt than preseason games usually dictate.
Toronto's number is a nebulous zone in the mid-30's. Too low for what you would expect from a play-in team, too high for a tanking team. Therein lies the issue: this team is only going one of two ways. Their win total will wind up radically over or under this figure.
If they get to midseason and don't look like they have it, and they're on pace to win roughly 40-45% of their games, there's a good chance Masai Ujiri pulls the plug. A trade for some combination of OG Anunoby, Fred VanVleet, and Pascal Siakam would be on the table.
Ujiri has made consistent comments about being focused on a long-term approach to returning to contention. Is there a foreseeable path with the current roster? Probably not, so moving towards a tank and rebuild seems more likely.
However… those players are still really good. The Raptors have real talent in those three, the team is well-coached, and Scottie Barnes, their No. 4 overall pick from this year's draft, looks like the real deal.
Their starting five with Goran Dragic has four proven championship-level role players and Barnes. They have a great development staff that had a weird down year last season with the bench while playing in Tampa, Florida (!).
This is the equivalent of a 5-point NFL line. It's in the middle of key numbers (below 30 is a tanking team, above 40 is a playoff contender).
Don't mess with it.
Luka Doncic!
But … Jason Kidd.
That's the crux of this one. I've gone back and forth a dozen times. If you want to bet the Mavericks' over, wait a few months and look at their Western Conference title futures.
Doncic is already one of the five-ish best players in the league. There's a reason he's the MVP favorite. He's such s singular talent with his combination of scoring, finishing, passing, and strength that he has to be considered elite, and fading an elite player is unappetizing.
Kidd as a head coach is a blaring warning signal. His Bucks teams underperformed wildly, especially on the defensive end, and he doesn't have better talent on that side of the ball this time around. He clashed with players; Bucks players were not sad to see him go (outside of Giannis Antetokounmpo).
Not only is Kidd a concern, but he's also replacing a high-level coach in Rick Carlisle, who is now with the Indiana Pacers. Carlisle was abrasive … but so is Kidd, or so the reputation goes.
The roster has good players who always try to play one level up on the tier list. Kristaps Porzingis has documented tension with Doncic. That partnership has not flourished the way the team hoped when they traded for Porzingis.
Porzingis has injury issues and thinks of himself as a dominant post player when nothing about his career suggests that's where he's best suited. In related news, early reports out of Mavericks training camp suggest that Kidd has told Porzingis he wants him more in the post and mid-range. Yikes.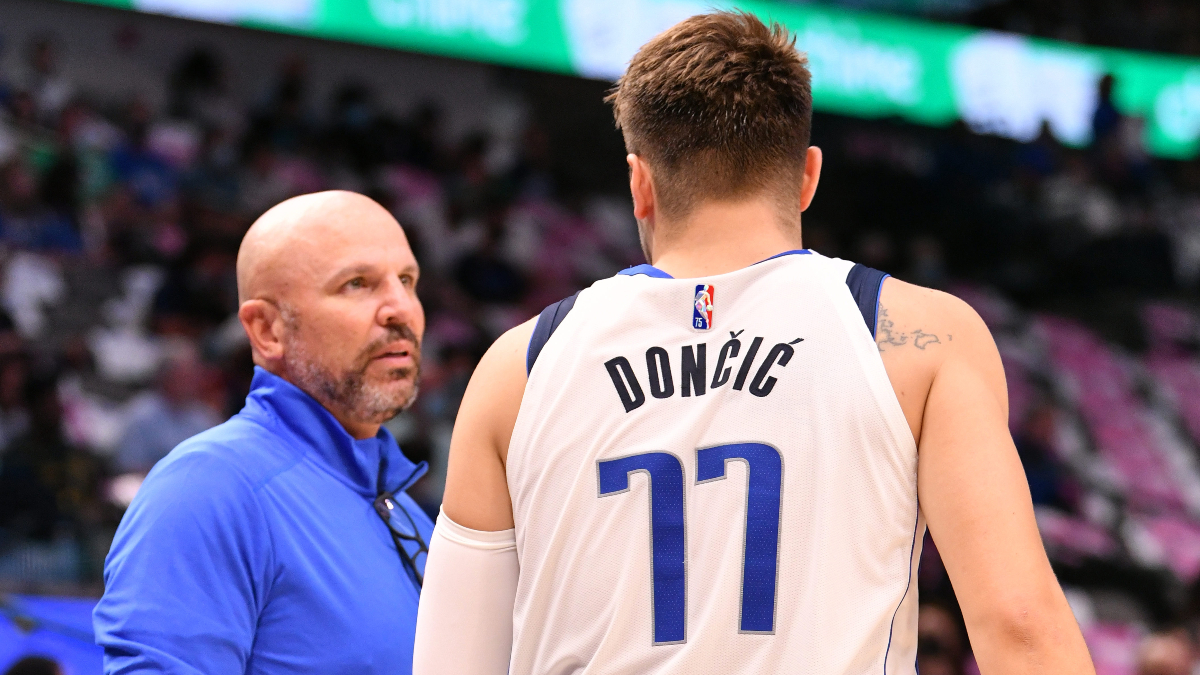 Doncic needs vertical spacing with a rim threat in pick-and-roll. Willie Cauley-Stein's numbers next to Doncic were superb. Next to a rim-running big, putting shooters around Doncic at all positions makes sense.
So, of course, the Mavericks are starting Dwight Powell with Porzingis.
The Mavericks were the No. 1 offense in the league 2019-20 and ranked eighth last season with roughly the same roster and setup. Kidd may simply not be able to do anything to make the offense worse, which leaves open the possibility of making it better.
On the flip side, the Mavericks' defense was already 21st last season; there's not much room for them to drop. They played at about a 48-win pace last season, right in line with this total.
I underestimated the Mavericks two seasons ago with a poor defensive roster. I overestimated them last season with one of the best players in the league. This team's win total is booby-trapped.
Brooklyn Nets 55.5/56.5
Another pretty obvious candidate to stay away from based on the headlines. Last week, I asked a longtime executive how they thought the Kyrie Irving situation would play out in Brooklyn.
His answer? "I'm not sure even the Nets know."
Irving refuses to be vaccinated for COVID-19, rendering him unable to play any home games in New York because of their laws on indoor gatherings at entertainment venues. There's no sign that Irving is budging on this matter. No reports have indicated whether Irving is still in contact with the Nets.
Bear in mind that Irving (and Kevin Durant) didn't communicate with the team before they signed two years ago. Irving also didn't maintain communication when he left the team early last season.
You will honestly have to convince me that Irving is on the same page with the team, given his history.
If the Nets' win total were 49.5, or 51. 5? then Irving's absence probably doesn't matter. This is a 50-win team with Kevin Durant and James Harden regardless of what Irving decides. However, Irving is a max-salary superstar, and his absence means the Nets are short on resources relative to other teams.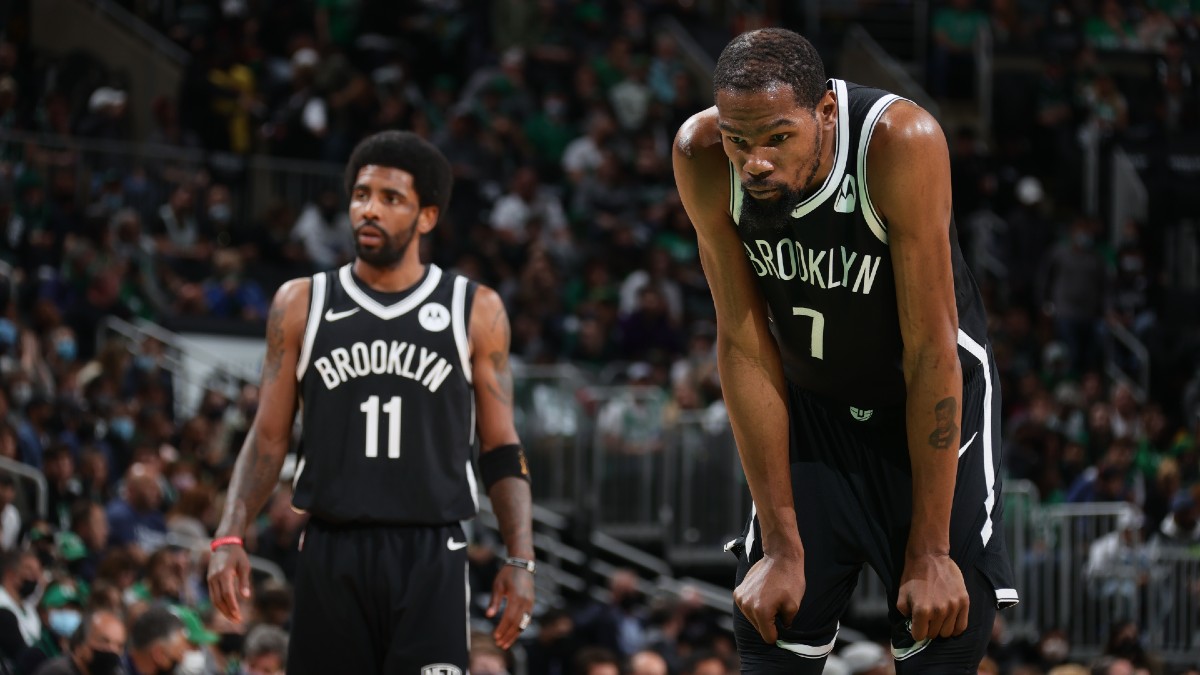 Irving also reinforces Durant, who dealt with myriad injuries last season coming off a torn Achilles, and Harden, who has an incredible number of miles on him over the past nine seasons.
The Nets managed to win just fine last year with their three superstars playing eight regular season games together, so they could in theory have similar success this season. But last season was last season — with all its schedule weirdness and quirks — and this season is this season.
Considering how little they invest in the regular season from an emotional standpoint, I do not have confidence the Nets will roll to a 60-win record without Irving. Talent may be the strongest predictor of regular-season success, but motivation is a close second across the grueling 82-game schedule.
If you believe in the Nets, buy those title or conference title futures. Or, do what I'm doing and wait for an alternate win total to pop.
If I can get the Nets at 59.5 at a healthy plus number, I'll gladly take it. But I don't want to pay -110 without knowing so much about how this will play out.
I was prepared to fade this team into oblivion. They traditionally go under. Their coach is probably bottom-five. Their second-best player's father openly tweets about feuding with the franchise point guard. They're the Kings.
However, when I dug in for our win total profiles, I found that their most-played lineups won their minutes. That's rare for a sub-.500 team.
Their win total is basically on par with last season's pace, despite their being top-10 in games lost to injury. They went 2-9 in games Richaun Holmes (who they re-signed this summer) missed last season. Just a little better luck, and they still fail to make the play-in but go over.
But do you want to tie up money for six months betting on the Kings to be better than expected?
That's a hard no for me. Keep away from this one.
How would you rate this article?
This site contains commercial content. We may be compensated for the links provided on this page. The content on this page is for informational purposes only. Action Network makes no representation or warranty as to the accuracy of the information given or the outcome of any game or event.