NBA Win Total Odds & Pick: Are the Detroit Pistons Destined for the Draft Lottery?
Credit:
Chris Schwegler/NBAE via Getty Images. Pictured: Jerami Grant #9 of the Detroit Pistons.
The Detroit Pistons and No. 1 overall pick Cade Cunningham are expected to have growing pains with an over/under at 24.5 wins.
Matt Moore analyzes the Pistons' win total odds below.
Check out this post for updated season win totals and this post for my other 29 season win total picks.
Detroit Pistons Win Total Odds
The Case for the Over
Cade Cunningham.
The Pistons' No. 1 overall pick is the kind of do-it-all player who can instantly raise a team's floor and ceiling. He's a dynamic playmaker who can shoot and finish, a phenomenal passer, and a plus defender.
There was ample debate about who should be the No. 1 pick, but a sizable chunk of draft experts felt very early on last year and maintained throughout the draft process that Cunningham is a transformational player for a franchise.
Teams in their first year with a No. 1 pick whom they drafted (in the first year that player played) have hit the under in 11 of the last 18 seasons. Now, that's messy with a lot of qualifiers in it. But still, it's a promising trend.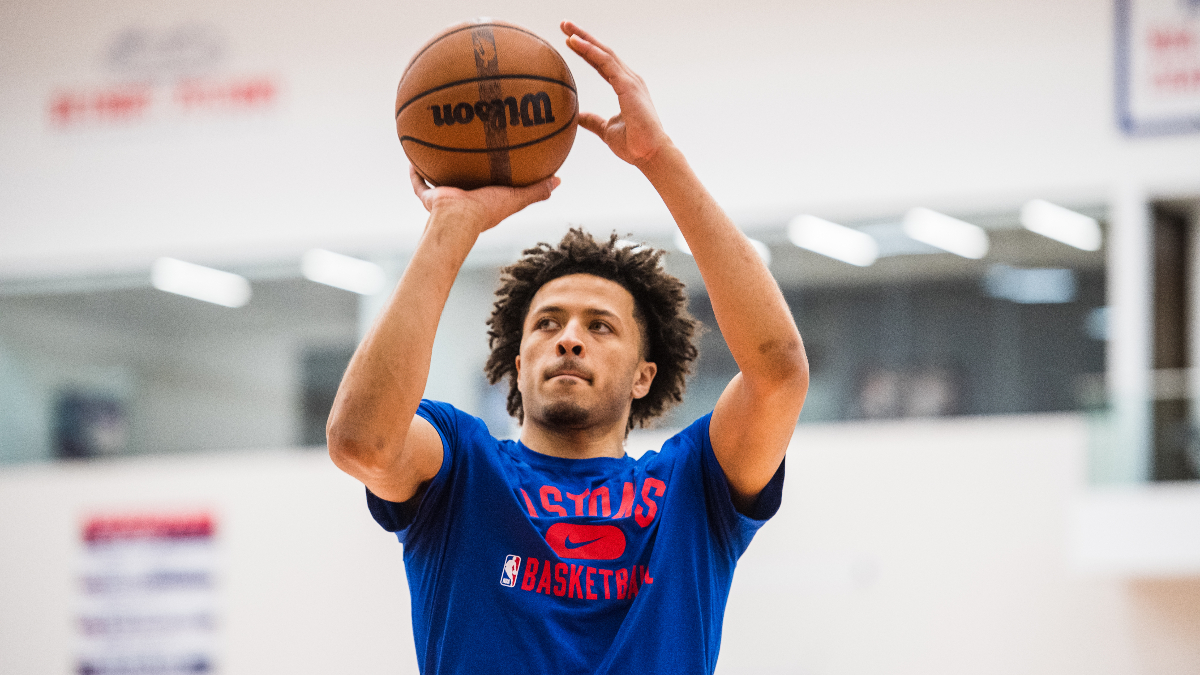 If you put Cunningham on the level of Zion Williamson, Anthony Davis, and LeBron James as a franchise-transcendent player, the over went 2-1 in those instances.
The roster isn't terrible. Killian Hayes makes a lot more sense as a defensive stopper and off-ball change-of-pace guard next to Cunningham. Saddiq Bey looked great last year. Jerami Grant was the leader for Most Improved Player and likely would have won if Julius Randle had not gone absolutely berserk for the Knicks.
Their bench should be much improved. They retained Cory Joseph and brought in Kelly Olynyk, who will provide great dribble hand-off action as a combo with Joseph and the other guards.
Olynyk was an underrated pick-up. If you exclude the Houston tank job after he was dealt for Victor Oladipo last season, Olynyk's teams have outscored their opponents when he's on the floor in each of the past seven seasons. He helps.
Isaiah Stewart's advanced metrics suggest he's going to be an impact player at center. Luke Garza is fun as hell.
Detroit has the most rest advantage games in the league and the fewest back-to-backs. That might bump their total up above the line if they can just pick off a handful of teams on low rest.
Dwane Casey went eight straight seasons hitting overs until the past two. He's not a coach you can identify as someone who will hold them back.
Detroit's expected eFG% last season was 16th, middle of the pack. Their offense is generating good looks, but they just didn't have the talent to make them. If they get internal development and improvement from Bey and Killian Hayes and Cunningham lifts the percentage, then their offense — the weakest part of the team — moves into the middle range.
Even in the second half of the season when they were tanking, the Pistons' defensive rating was 19th, not all that bad. "Not all that bad" carries you a long way towards 25 wins and within range of the over.
The Case for the Under
Well, there's a reason they finished with a bad enough record to snag the No. 1 pick in the lottery. Take that roster, make it worse, and you have this group.
The Pistons lost three of their top five players in Win Shares from last season and five of their top 10 in VORP. Mason Plumlee was a critical loss for them, which says quite a bit. This team was already sub-30-wins and lost the players that had contributed to wins. That's a red flag.
Direction is a big question mark here. The team openly got younger but added Olynyk and still have Jerami Grant. Grant signed with the Pistons intending to show he could be the centerpiece of a team.
He put up numbers last year for a tanking squad, but then the team added what they hope is a franchise cornerstone in Cunningham. Grant turns 28 this spring. This clearly isn't a playoff team. How does Detroit intend to manage that?
If the defense was their strength last season, it got worse in the moves since the trade deadline. Five of their six best players in on-court defensive rating are gone from last year's team.
The Pistons have the second-youngest average age this season behind the Thunder. Young teams struggle with understanding how to win in late-game moments, prepare, and maximize key schedule opportunities (like having rest advantage games).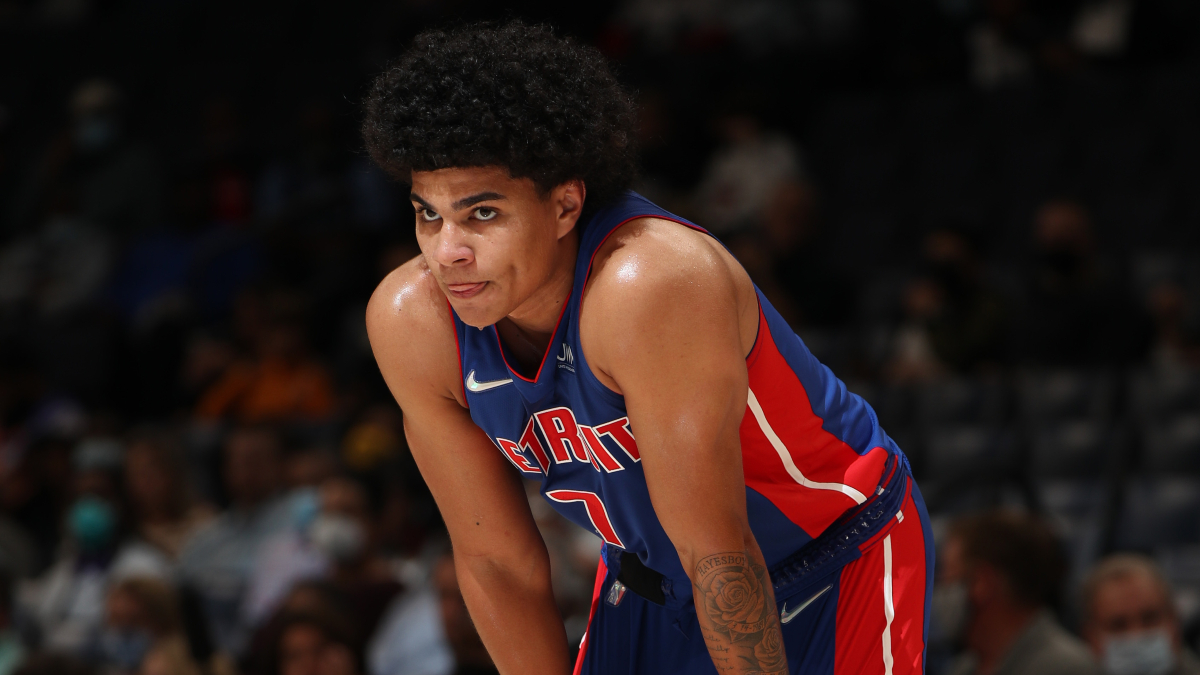 You don't build this roster to make the playoffs. That's not to say they can't have an outlier season and get into the play-in. However, if you build a roster that's pretty clearly geared towards development, you expect them to take their foot off the gas in the second half of the season.
The Pistons have easier games in the second half of the season than the first half, but if your intentions are to lose, that doesn't help you much towards the over.
Four teams last season had expected win rates per 82 games below 25. Let's model something similar for this season. You can make the argument that the Magic, Cavaliers, and Thunder are worse than the Pistons. Are the Rockets clearly worse? The Wolves? The Kings? Even with their favorable schedule, I'm not sold.
There are two ways the season models out: top-heavy, with the top 4-5 teams in each conference separating themselves from the rest of the league and high parity, with 1-2 top teams in each conference and then a healthy middle of competitive teams
Either scenario does not suggest that parity will extend to where the Pistons stack up. NBA parity likely will not look like 13 competitive teams per conference. Someone's gotta lose, and the Pistons are going to be someone.
Pistons Win Total Bet
I lean to the under. I have them winning 23 games.
I don't know that I love it enough to make it a best bet, but the over is a pretty obvious stay away. There's just nothing about how this roster was constructed that suggests the team's intention was to compete this year.
Cunningham is likely to be transformational for the franchise, but this year is about securing that and figuring out what he needs around him and then tanking to get him another top player to run with.
The Pistons can screw around and finish with 26 wins and a top-five lottery spot, accomplishing all their goals this season. If this gets traction towards the over, at all, I'm betting the under.
How would you rate this article?
This site contains commercial content. We may be compensated for the links provided on this page. The content on this page is for informational purposes only. Action Network makes no representation or warranty as to the accuracy of the information given or the outcome of any game or event.