College Football Win Totals: Stuckey's Top Group of 5 Bets for 2021, Including SMU & Boise State
Credit:
Matthew Visinsky/Icon Sportswire via Getty Images. Pictured (left to right): Tyler Lavine, Reggie Roberson, Danny Gray, and Beau Morris.
A Group of 5 team has yet to make the College Football Playoff, but there are many looking to become the first this season.
Although the odds remain long, some of the best teams in the country will come from the Group of 5. It happens every season.
In the spirit of celebrating G5 programs, Stuckey has compiled his favorite win totals for teams outside of the Power 5 — plus FBS Independents.
Check out all six of Stuckey's favorite Group of 5 win totals and breakdowns below.
---
---
Let's kick things off with my favorite win total and the first college football bet I placed this summer.
I love this SMU squad. Yes, the Mustangs must replace quarterback Shane Buechele, who's now with the Kansas City Chiefs. But they have some very talented arms ready to step up in Oklahoma transfer Tanner Mordecai, highly-touted four-star recruit Preston Stone, and the returning Derek Green.
Whoever wins that job will have an absolutely loaded supporting cast. I'd argue SMU potentially has top-25 units nationally at offensive line, running back and wide receiver.
Preseason Doak Walker Award Watch List member Ulysses Bentley returns in the backfield along with Tyler Lavine and a potentially healthy TJ McDaniel by Week 1.
Head coach Sonny Dykes really hit the transfer portal hard in the offseason with a few key additions, including former North Texas running back Tre Siggers. This group is deep and will get to run behind an experienced offensive line that has over 140 career starts.
Reggie Roberson also returns from injury to spearhead an uber-talented wide receiver bunch that includes Rashee Rice, who finds himself on the preseason Biletnikoff Watch List.
The tight end position also got stronger with the acquisition of former Oklahoma Sooner Grant Calcaterra. The California native is a former four-star recruit who could shine in Dykes' Air Raid attack as long as he can avoid any further concussion issues.
With that said, offense has never been a problem in Dallas. It's the defense that has failed to keep up, but that might change this year. I'm extremely bullish on SMU, primarily as a result of the jump I expect on defense.
For starters, the defense is extremely experienced with 10 starters back in the mix in addition to some potential contributors via transfer, including linebacker Isaac Slade-Matautia, who started every game for Oregon last year.
However, I'm not just excited about the experience. Many teams possess that luxury in this unique season filled with "super seniors." It's the hiring of new defensive coordinator Jim Leavitt — one of my favorites in all of college football.
We all saw what he did in just one year at Florida Atlantic in a pandemic year. I think he will have a similar influence on this SMU defense, which is very aggressive by nature (relies on forcing turnovers). That's a perfect fit for what Leavitt wants to do scheme-wise. I think Leavitt will patch up some of the holes that have cost SMU in the past while maintaining its identity from the past few seasons.
Lastly, the special teams shouldn't be an area of weakness, unlike some recent years. The return game is promising, and the Mustangs added a rock-solid kicker in 2019 Lou Groza Award finalist Blake Mazza from Washington State.
It's certainly not an easy schedule in a fairly deep conference in 2021, but I still think the Mustangs are an eight-win team if they avoid catastrophic injuries and bad luck. At the bare minimum, Dykes should at least get this talented bunch to bowl eligibility with six wins.
It also helps to start the season off with two easy home games against Abilene Christian and North Texas. That will enable whoever gets the nod at QB1 to get comfortable in the offense ahead of back-to-back road games against Louisiana Tech and TCU before conference play kicks off.
---
---
Full disclosure: I despised the Bulldogs last year. They were extremely inefficient on offense and welcoming on defense. They just happened to pull out a few improbable games they had no business winning. I couldn't wait to fade them in their final two games, which fortunately worked out well.
Louisiana Tech is certainly a regression candidate on the surface, but the value in the number, which I think is too low, trumps everything. Plus, Skip Holtz is one of the most underrated coaches in the land and perennially has his team over-perform expectations.
The health of quarterback Luke Anthony is a concern after he suffered a gruesome leg injury late last year, but all signs point to a full recovery by the start of the season (Oklahoma and West Virginia transfer Austin Kendall is now in the mix, which doesn't hurt).
Backup Aaron Allen has experience, but it's a big drop-off in my eyes. Tech did lose its top two backs but will bring in Appalachian State transfer Marcus Williams Jr., a senior who has rushed for at least 500 yards in each of the past four seasons.
The receiving group leaves a lot to be desired, but most of the problems last year occurred on the offensive line. That unit, which only returned one starter without a spring practice, had major issues all year long with injuries and COVID-19. It just never had time to gel, which led to poor run blocking and suboptimal pass protection.
Holtz brought in a new offensive line coach, and this unit now has some experience and time to gel in the preseason. I expect a major improvement, which will translate to better offensive production across the board.
On the other side of the ball, the defense is extremely experienced with 10 returning starters and a number of transfers who could contribute right off the bat. They will sorely miss stud defensive tackle Milton Williams (third-round NFL draft pick) but do get defensive end Willie Baker (opt out) back. I trust Holtz will have this unit ready to go after a down year with all of the experience they possess at linebacker and in the secondary.
From a scheduling perspective, you can safely assume a 1-3 non-conference record with a home win over Southeast Louisiana and losses to Mississippi State, SMU and NC State. Therefore, in order to win fewer than five games, Louisiana Tech would have to go 3-5 in league play, which is something Holtz hasn't done since his first year in Ruston back in 2013.
If you glance at their conference schedule, you'll notice the Bulldogs' two crossover games against the East come against the two worst teams. They have winnable road games at Old Dominion, UTEP and Rice. Throw in winnable home contests against Charlotte, Southern Miss and North Texas, and I'm willing to bet they can win four of those six. And that's assuming they lose at UAB and at home against UTSA with the latter not necessarily being a lock by any means.
Don't act surprised when Holtz gets this team to its eighth straight bowl during his tenure.
---
---
Welcome to the part of the preview where you may lose your breakfast, lunch or dinner — depending on the time of day you're reading this.
This is the hold-your-nose special. Yes, I'm going over 1.5 regular-season wins for UMass and paying -150 to do so. It's a scary proposition, considering head coach Walt Bell has gone 1-15 in his two years at the helm, with the lone win coming at home over lowly Akron.
However, there are reasons for muted optimism in Amherst — and by optimism, I mean getting to four wins.
This is still clearly a bottom-10 FBS team, but it might not be the worst one or two like the past two years.
And unlike last year when the Minutemen only played four unwindable road games in which they were outscored 116-12 (yikes!), they actually have four winnable games on their schedule this year:
vs. UConn
vs. Rhode Island
vs. Maine
at New Mexico State
That's three very winnable home games and a road date with a New Mexico State team that lost 43-17 to Tarleton State in the spring and only returns two starters. None of those four teams played a single game last fall and UConn didn't even play in the spring. For reference, Rhode Island and Maine were picked sixth and ninth in the preseason CAA preseason poll, respectively.
Additionally, all four of those games take place after Week 6 — with three coming in November — when we might start to see even more improvement in Walt Bell's third season.
Bell only had 75 guys in camp for his first season, when he had to implement new schemes from a roster that lost a ton of production. And we all know how much of a mess he had to deal with in 2020. This year, he actually has a full offseason with 110 guys in camp.
Not only does Bell finally have adequate depth, he brought in a few Power 5 transfers who could contribute immediately,  especially in the secondary and at both offensive tackles.
Also, Colorado transfer Tyler Lytle is the frontrunner to grab QB1. The former ESPN four-star recruit could bring some stability to the position for a team that has seen seven different starting quarterbacks take snaps over the past two seasons.
I think UMass gets to at least two wins this season. And if not, you can hear me at least rant about it in November on our podcast. Prepare for pain.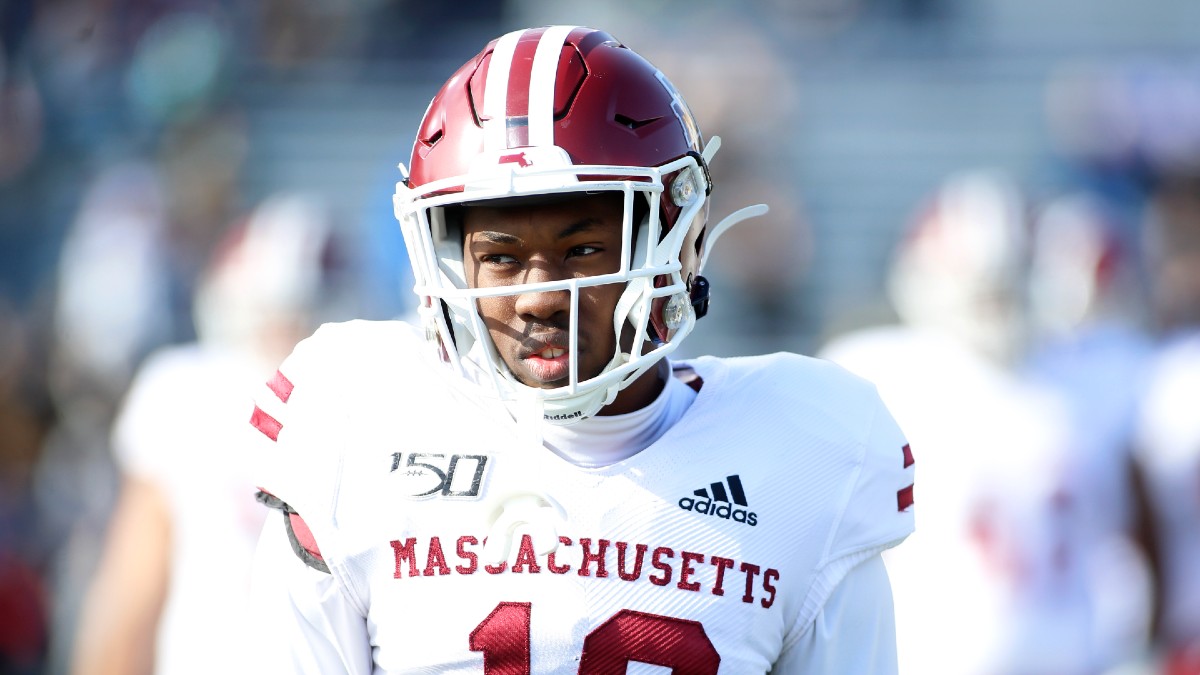 ---
---
When you think of Mountain West Conference football, the first thing that likely pops into your mind is Boise State and/or maybe blue-colored turf. Not surprisingly, the Broncos have played in each of the past four (2-2) conference title games. However, the program has stumbled a bit more than usual in recent years and will now have to deal with a coaching change after Bryan Harsin left after seven years for Auburn.
First off, a win total of nine is too high compared to my projections, which is the most critical factor here. And if you want to look at the schedule, start with the non-conference portion:
at UCF
vs. UTEP
 vs. Oklahoma State
at BYU
You can go ahead and mark that UTEP game as a win, but the Broncos will be underdogs against UCF and Oklahoma State. Throw in a coin-flip road game at BYU, and they could easily go 1-3 out of conference.
The conference slate isn't easy, but Boise State at least gets Wyoming and Nevada at home, although the latter has a bye week before traveling to the SmurfTurf. Road games at Fresno State and then at San Diego State in the regular-season finale also won't be easy.
Not only will Boise have to adjust to a new head coach, it will also have to adjust to a new offensive scheme under new OC Tim Plough.
The rushing attack still has a lot to prove, as does the offensive line. And while there is plenty of talent at receiver on the outside in CT Thomas and Khalil Shakir, quarterback Hank Bachmeier has been fairly inconsistent under center. Maybe we see more of Jack Sears this year, but it's a position not locked down right now.
The defense has plenty of experience up front at linebacker but will have to replace two very productive corners in Avery Williams and Jaylen Walker. And don't sleep on the loss of Williams in the return game. He was All-World in that department.
Since I am lower on Boise than most, Wyoming is certainly an intriguing longshot to win the Mountain West given all of the experience the Pokes return in addition to a number of key 2020 opt-outs they'll get back on defense. The Cowboys do have to travel to Boise on a short week, which might ultimately decide the division, but if you can find 12-1 or better, that's worth a stab in my opinion.
---
---
The Ragin' Cajuns are seeking their fourth straight West title and will do so in the much easier division relative to the West.
It's hard to make a case that any other team will come out of the West, but I do think Louisiana will struggle to get to 10 wins, which is what will be needed to lose this win total under.
If you include the bowl win over UTSA, Louisiana finished 10-1 last year. An impressive season without a doubt. However, Billy Napier's bunch definitely benefited from good luck in close games. The Ragin' Cajuns went an amazing 6-1 in one-possession games. Just take a look at those six wins:
34-31 at Georgia State (in overtime)
20-18 vs. Georgia Southern (made 53-yard FG as time expired)
24-20 at UAB (trailed by 10 at end of third quarter)
27-20 vs. Arkansas State (tied with 2 to go)
31-24 vs. UTSA (tied in 4th quarter)
24-21 at App State (App missed 30-yard FG as time expired)
Six of seven coin flips essentially went Louisiana's way last year. Can you say close-game regression? It had so many timely special team plays that will be hard to duplicate. And the above list doesn't even include a 17-point victory over Iowa State to start the season in a game that featured two ULL special teams touchdowns.
I'm also not sure the Ragin' Cajuns can replicate their turnover success of last year. They finished 13th nationally with a +10 turnover margin and had the third-highest interception rate (4.7%).
From a roster perspective, the team basically remains intact. I do think they will miss star backs Elijah Mitchell and Trey Ragas, but almost everyone else returns on offense. And of the 22 defenders who logged at least 100 snaps last year, all but one (Joe Dillon) is back for 2021. They are not lacking for experience.
That said, the schedule isn't easy. Louisiana could easily drop games at Texas (season opener) and Liberty. If so, it would have to sweep its remaining games to go over 9.5 wins. Where could it trip up in those other 10 games? Well, road trips to Troy and Georgia Southern won't be easy, nor will a home game against an Appalachian State team that has dominated the head-to-head series and will be out for revenge after last year's loss.
Plus, from a pure mathematical standpoint, I project right around 8.6 wins.
I expect the teams that finished in the middle of the pack — and even the ones at the bottom — in the Sun Belt to be improved this season, which will make the schedules tougher overall for the teams at the top of the league.
That also leads me to my other Sun Belt win total.
---
---
Let's move over to the East, which will likely come down to a highly anticipated showdown between Coastal Carolina and Appalachian State in Boone, N.C. However, the other three teams in the division (Georgia Southern, Georgia State, Troy) could be very pesky outs on a weekly basis.
The team I'm highest on of that trio is Georgia State. This program has come a long way since its inception in 2010 and going a combined 1-23 in its first two years at the FBS level in 2013-14. Head coach Shawn Elliott has this team on the right track after posting back-to-back winning seasons for the first time in program history.
This year, the Panthers return their entire starting offense from a unit that averaged a school-record 33.3 points per game. The stars of the show are running back Destin Coates, wideout Sam Pinckney and tight end Roger Carter.
Cornelius Brown is also back under center in front of five returning starters along the offensive line who have a combined 136 career starts. Brown should improve in the decision-making department and limit his mistakes after getting a year under his belt and now having his entire offensive line and top-10 wide receivers return. This offense will light it up.
The defense made real strides last year in its 3-4 base that focuses on stopping the run and pressuring opposing quarterbacks.
Overall, the Panthers had the fourth-best year-over-year improvement in terms of yards per play allowed. They do have to replace two very productive linebackers in sack machine Jordan Strachan and the steadying force of leading tackler Trajan Stephens-McQueen on the interior.
As long as it can find some adequate replacements at linebacker to keep up the pressure for a team that led the Sun Belt in both sacks and tackles for loss, this defense has enough on the interior and in the secondary to help GSU get to six wins. It's not like the defense has to be the 2000 Ravens with the offensive output I'm expecting. The defense just has to make timely stops and cause enough havoc.
Last year, the Panthers went 2-3 in one-possession games, including a pair of losses to Louisiana and Appalachian State by seven combined points. Yes, the road schedule is absolutely brutal with five trips to the following schools:
Auburn
North Carolina
Georgia Southern
Louisiana
Coastal Carolina
Those last three come in back-to-back-to-back weeks starting on Oct. 30. That's no walk in the park. However, that means their home schedule is very manageable sans a matchup with Appalachian State which is certainly winnable.
If the Panthers just take care of business at home and win at lowly UL-Monroe, they should make their fourth bowl in five years under Elliott even if with a loss to Appalachian State and the five road opponents listed above. And that would certainly be good enough to cash this over 5 wins wager.
Plus, I like the fact that they open up the season with Army. That will allow them extra preparation time for the Black Knight triple option. It also helps that they have familiarity facing that type of offense against rival Georgia Southern. Facing Army early could also pay off later this season in a road game at Georgia Southern.
And as always, it does ultimately come down to the delta between the win total and my projection. In this case, I project Georgia State to win 6.1 games, so I have no issues going over 5 at -120 for a team I think is trending in the right direction. Let's just hope they can avoid injuries in the brutal non-conference.
How would you rate this article?
This site contains commercial content. We may be compensated for the links provided on this page. The content on this page is for informational purposes only. Action Network makes no representation or warranty as to the accuracy of the information given or the outcome of any game or event.