2021-22 NHL Season Betting Preview: Vezina Trophy Odds, Picks & Best Bets
Credit:
Brett Holmes/Icon Sportswire via Getty Images. Pictured: Philipp Grubauer
The 2021-22 NHL season is set to get underway on Tuesday, Oct. 12 when the Tampa Bay Lightning take on the Pittsburgh Penguins at 7:30 p.m. ET.
Before the puck drops, our hockey staff will highlight their favorite bets for a variety of markets ahead of the season. Today, we took a look at the odds for the Vezina Trophy, which is handed out to the league's best goaltender.
Michael Leboff
Juuse Saros, Nashville Predators (+4000 @ PointsBet)
Nashville is priced as an outsider to make the postseason this spring and the Vezina rarely goes to a netminder on a team that doesn't get into the dance, but a team with a great goalie can always make a surprising run and few goaltenders have the potential to carry a team like Saros does.
Through his first 12 games in 2021, the yellow-padded Finn posted a .900 save percentage and a -6.06 Goals Saved Above Expectation (GSAx), per Evolving Hockey. Saros would eventually turn those numbers around, and from March 1 onward he finished with a .939 SV% and a league-leading +13.8 GSAx.
If this sounds familiar, it's because it is (and if it sounds familiar to you, you probably love hockey a bit too much — which is okay). In 2020/21 Saros danced a similar dance, posting a -11.99 GSAx in his first 20 games and a league-best +13.19 GSAx over his last 20.
With Pekka Rinne retired and no real threat on the roster to take starts away from Saros, I expect him to shoulder one of the heaviest workloads in the NHL in '21/22. If he can avoid his annual autumnal stumble, Saros could make a real run at his first Vezina.
Nick Martin
Robin Lehner, Vegas Golden Knights (+1900 @ FanDuel)
Whether fair or not, team success and the play in front of a goaltender have proven to go a long way in deciding the Vezina Trophy winner (and the general opinion regarding a goalie's play). Wins, Save Percentage  (SV%), and Goals Against Average (GAA) are all heavily influenced by a given goaltender's team and voters are most influenced by those basic numbers.
Over the last four years, Vezina nominees mostly came from teams that finished near the top of the standings. In 2021 the nominees' teams finished 1st, 2nd, and 8th. In 2019-20 it was 1st, 3rd, and 14th. Back in 2018-19 they finished 1st, 5th, and 14th. And in 2018 the three nominees came from the top three teams during the regular season.
So while Robin Lehner hasn't quite proven himself to be in the league's absolute top tier of goaltenders, he has quietly shown to be in the tier just beneath the absolute elite and I see value at +1900 with him entering an excellent situation to succeed this year on an elite Vegas team.
The Pacific Division projects to be the softest in the NHL, but I also think it will be the lowest scoring set, as well. And with last year's winner, Marc-Andre Fleury, now playing in Chicago, Lehner will have every opportunity to shine in the blue paint. Lehner was nominated playing for Barry Trotz' Islanders in 2018-19, so we know the outspoken netminder has the ability to be in the Vezina mix given the right opportunity.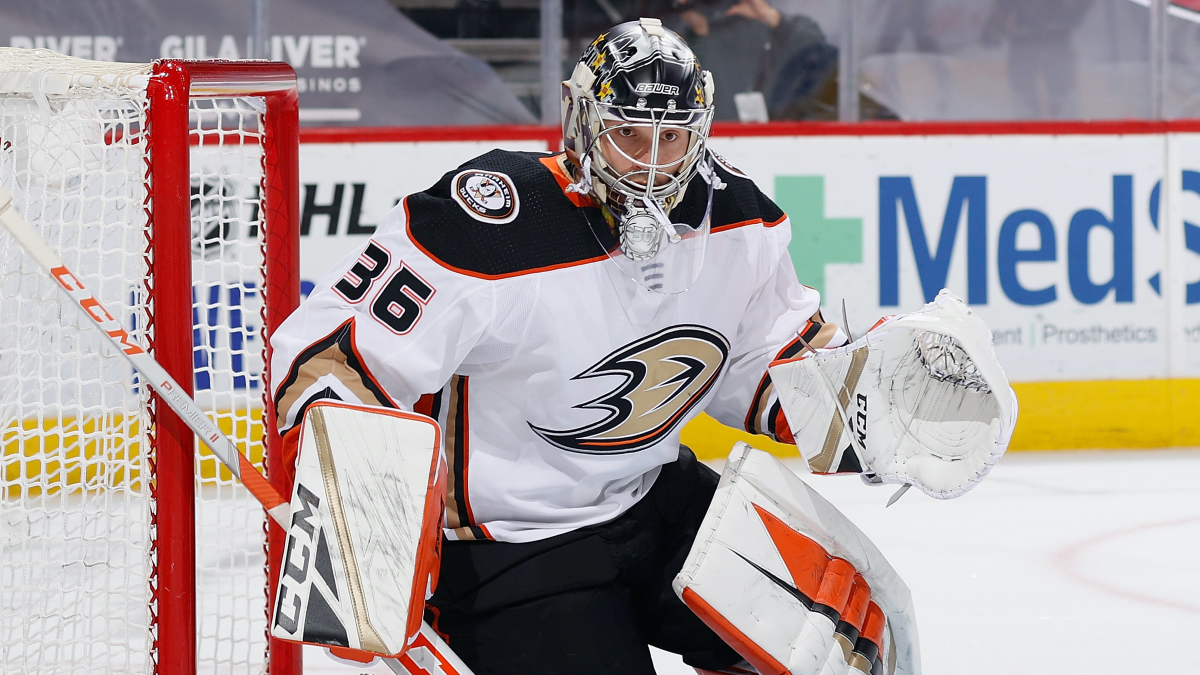 Grant White
John Gibson, Anaheim Ducks (+4400 @ FanDuel)
After a 20-year span in which the Vezina trophy was awarded to just nine different goalies, we have seen 11 different goalies win the award for best goaltender in the NHL over the past 12 seasons. It's another wide-open field in the Vezina's future betting at FanDuel Sportsbook with 18 goalies having +2500 odds or better; however, there's a goalie further down the list that warrants a play in the futures market.
John Gibson got off to a terrific start in his career, finishing seventh in Calder Trophy voting, seventh in Vezina voting, and winning the Jennings Trophy with Frederick Andersen in his rookie 2015-16 campaign. The 28-year-old made the All-Star game in the following three seasons, finishing 10th in Vezina voting in 2018-19.
Since then, things have taken a turn for the worse in the two seasons, with Gibson leading the league in losses in each of the past two seasons. Our analysis supports that he's a progression candidate heading into this season.
In his first four award-winning seasons in the league, Gibson had a cumulative 92.1% save percentage and 58.9 goals saved above average (GSAA). Those metrics have plummeted to 90.4% and -13.7 in the following two seasons. In 2021, Gibson put up his worst scoring-chance save percentage, 85.6%, and high-danger save percentage, 74.8%, despite facing the fewest opportunities of his career. Those metrics are an anomaly, and the Ducks' goalie will progress in 2021-22.
Gibson hasn't forgotten how to play net; his metrics correlate strongly with the coaches he has scheming in front of him. Although Dallas Eakins remains the Anaheim Ducks' head coach, he's on a short leash after accumulating the worst-winning percentage among Ducks head coaches since Bryan Murray in 2001-02. Moving on from Eakins could be the best thing that happens to Gibson and the Ducks.
In an unpredictable futures market, Gibson is worth a play as the Vezina Trophy winner. The Ducks' primary tender is due for correction and will see his stock rise throughout the season.
Carol Schram
Phillipp Grubauer (+1900 @ FanDuel)
While most NHL Awards are voted by the Professional Hockey Writers' Association, the Vezina is decided by the NHL's general managers. That means a smaller pool — just 32 voters, now including Seattle's Ron Francis. In recent years, GMs also seem disposed to share the wealth. Since Martin Brodeur won four out of five Vezinas between 2003 and 2008, there has been just one two-time winner (Sergei Bobrovsky in 2013 and 2017), and no one has repeated.
That trend may have hurt 2019 winner Andrei Vasilevskiy last season. He and Philipp Grubauer both logged more wins than winner Marc-Andre Fleury, but a bounce-back campaign at age 36 from the affable Vegas stopper earned him 14 first-place votes, compared to 12 for Vasilevskiy and 2 for Grubauer.
If the GMs pick another first-time winner in 2021-22, Grubauer is an intriguing option for bettors. He's a 29-year-old who took his game to the next level last season, and whose hefty new contract with the Seattle Kraken suggests that he'll be the team's No. 1 netminder, getting more starts than Chris Driedger.
When building his roster in Seattle, Francis put a strong emphasis on his defense, starting with veteran leader Mark Giordano, steady Adam Larsson, towering Jamie Oleksiak and mobile Vince Dunn. The Kraken may not be as offensively dynamic as Grubauer's old team, the Colorado Avalanche. But they should deliver a low-event environment where Grubauer can thrive.
As they make their maiden voyage around the league, the Kraken will also get plenty of attention. They will need to win a decent number of games to keep Grubauer's Vezina candidacy in play. At minimum, a playoff spot will be required. That should be achievable in what's expected to be a relatively weak Pacific Division.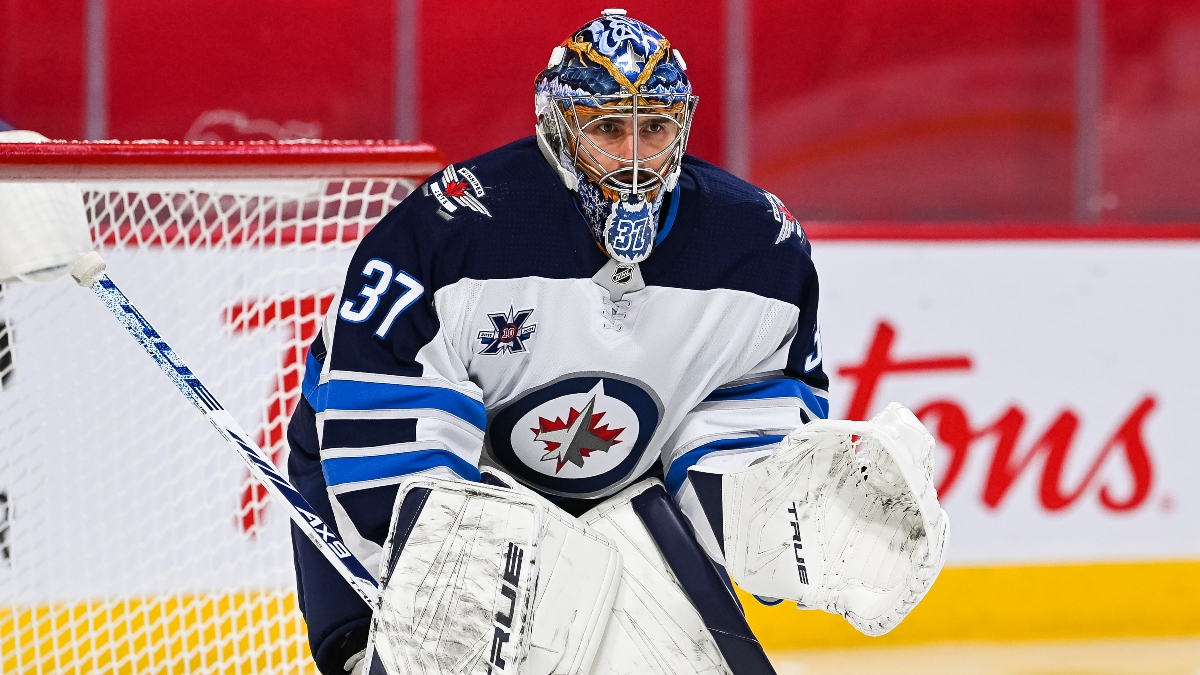 Patrick Pickens
Connor Hellebuyck (+1000 @ BetMGM)
By his lofty standards, Hellebuyck had a down year in 2020-21, mostly due to the fact he played behind a porous defense in Winnipeg and was thrust into goal a league-high 46 games, but he still finished with a .916 save percentage and four shutouts, and buoyed the Jets to the second round of the playoffs.
With the acquisition of defenseman Nate Schmidt, Winnipeg should be much-improved on the backend, which might mean Hellebuyck might not have to face almost seven high-danger chances per game — the 2020 winner has made more high-danger saves than any other goalie over the past three seasons.
Hellebuyck, at +1000 according to MGM, should be decent value while also playing for the Jets, who should be much improved after a tumultuous season of roster turnover in 2020-21.
Add to the fact Hellebuyck is poised to get an immense profile boost, given the likelihood he'll be the starting goalie for the United States in the upcoming Beijing Olympics. If he can backstop the U.S. to a medal, people at home — and voters too — will take notice.
He should be on the short list of candidates to take home the hardware in July.
How would you rate this article?
This site contains commercial content. We may be compensated for the links provided on this page. The content on this page is for informational purposes only. Action Network makes no representation or warranty as to the accuracy of the information given or the outcome of any game or event.