Cardinals-Cubs Betting Preview: Will Chicago Extend NL Central Lead?
Credit:
Jeff Curry, USA Today Sports. Pictured: Kyle Hendricks
The Cardinals and Cubs (-150 betting favorites) get the second half of the baseball season underway at Wrigley Field on Thursday.
The Cards are playing their second game since firing Mike Matheny, but that shouldn't factor into how you handicap this game.
Unders historically perform well in the first game immediately the All-Star break.
My, how things have changed over such a short span in the NL Central. Just take a look at what happened during the final weekend before the All-Star break:
Brewers lost FIVE STRAIGHT games to the Pirates.
Cubs swept the Padres.
Reds took two of three in St. Louis.
Cardinals fired manager Mike Matheny.
After just one weekend, Pirates fans found a smidgen of hope, Brewers fans started to worry and Cubs fans puffed their chests out. During that four-day stretch, the Cubs went from 1.5 games out of first place to 2.5 games up — and they played only three games. Meanwhile, Cardinals fans don't know what to think, and Reds fans continue to count the days until football starts.
Will the Cardinals (four games back of the second wild-card spot) buy or sell at the deadline? Their series against the Cubs this weekend could go a long way toward determining that decision.
Let's take a look at the matchup for Thursday's series opener at Wrigley Field. It is the only game on the card, but I'm sure bettors won't complain after an actionless Wednesday night. — Stuckey
Betting odds: St. Louis Cardinals at Chicago Cubs
Cardinals odds: +135 (Carlos Martínez)
Cubs odds: -150 (Kyle Hendricks)
Over/under: 9 (u-101)
Watch: 7:05 p.m. ET on ESPN
---
>> All odds as of 11 a.m. ET. Download The Action Network App to get real-time MLB odds and track your bets
---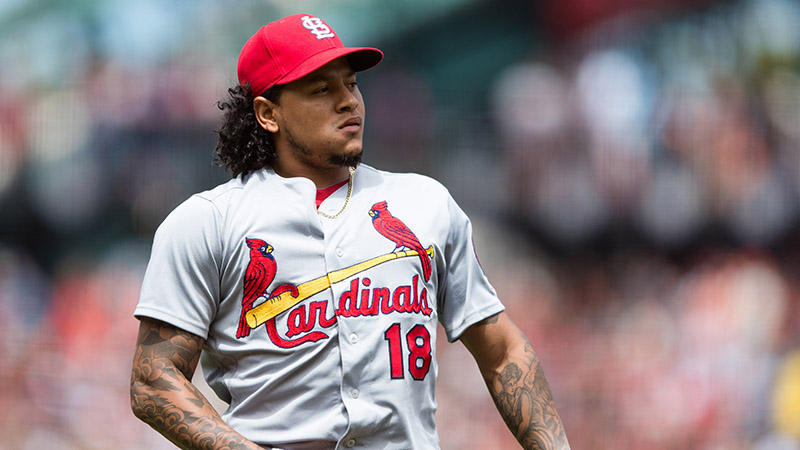 John Hefti-USA TODAY Sports. Pictured: Carlos Martinez
Lo Duca's Take: Will St. Louis' Managerial Change Impact Thursday's Game?
Matheny, who took over the Cards after the 2011 season, was a bad tactician and seemed to lose the clubhouse over the years. Sometimes a manager's voice just fades away, even one who has a 100-win season and a World Series appearance under his belt. Matheny was an old-school guy, but we just don't live in that world anymore.
The truth is that the usually stable Cardinals have been a bit of a mess lately. A few weeks ago, John Mozeliak, the head of baseball operations, trashed outfielder Dexter Fowler while he was out on paternity leave. It was bad timing. Things got worse when Matheny called his players soft, which Fowler took personally. Reports also recently surfaced of bullying in the clubhouse.
These shenanigans aren't supposed to happen in St. Louis.
Mike Shildt, who served as Matheny's bench coach, will take over as St. Louis' interim manager. I doubt much will change, as the Cardinals are chasing two teams (Cubs and Brewers) in the Central that simply have better overall rosters.
---
>> Follow Paul Lo Duca in The Action Network App to get free alerts on all his MLB bets during the season.
---
The only edge that the Cards have is behind the plate with Yadier Molina. He was putting up good numbers before going down with a traumatic hematoma in May. Losing Molina (one of the best leaders in MLB history) for a month definitely played a part in the Cardinals stalling out. Expect the clubhouse to lean on Yadi as a second manager during this transition.
Even with all the changes in St. Louis, I wouldn't let Matheny's departure change how you handicap Thursday's game. — Paul Lo Duca
While the impact on Thursday's matchup might be minimal, it's certainly interesting that eight of the 10 previous teams that changed managers midseason since 2013 won more games after letting their skipper walk.
Take a look at how those previous 10 teams performed before and after the managerial change:
The Redbirds got off to a good start by winning their first game after letting Matheny go, but only time will tell if they can rally around the transition. — John Ewing
Scouting Thursday's Starters
For his career, Hendricks owns a home ERA that is more than a full run better than his road ERA (more on that later). Hendricks has had success against the Cardinals in 11 career starts: 3-2 record with 3.43 ERA, 1.13 WHIP and .239 BAA. The Cubs right-hander also tends to pitch much better after the All-Star break.
Martínez has had a mixed bag of results against the Cubs. In 25 career games (15 starts), the Cardinals righty is 4-4 with a 4.58 ERA and a troubling 1.51 WHIP. Outside of Kris Bryant and Javier Baez (a combined 9-for-52, or .173), current Cubs hitters have seen Martinez well in the past. — Stuckey
Costly Yabos?
Kyle Schwarber put on a show in the Home Run Derby, but it may cost him in the second half. He's unfortunately prone to the "New Timed Format Derby Curse," which is indeed a real thing.
Since the Derby switched formats in 2015, only five of the 24 players involved have posted a better wRC+ in the two weeks following the break than they did in the first half of the season. On average, their wRC+ has dropped by a substantial 34 points.
(Note: wRC+ is Weighted Runs Created Plus, a fancy metric that quantifies a player's total offensive value. A 100 wRC+ is league average.)
---
>> Get a 7-day free trial to access more premium MLB articles like this throughout the season.
---
Schwarber's trip to the finals may be even more costly, as just one of six finalists over the past three years has improved upon his first-half numbers in the subsequent two weeks, falling by a whopping 57 points on average.
If this holds up, Schwarber (129 wRC+) could be a below-league-average hitter for the remainder of July. Will this three-year curse continue, or can Schwarber help rewrite history? — Mark Gallant
Bets to Watch
Full-game Under 9; First-five-innings Under 5
Early projections call for the wind to be blowing out at 6 mph. That's the reason for the slightly above average total, but I'll be betting the under for the full game and the first five innings, as I usually do for the first game back from the All-Star break. Batters may be a little out of rhythm after the break, and they're often facing pitchers feeling pretty good after a few days off. — Stuckey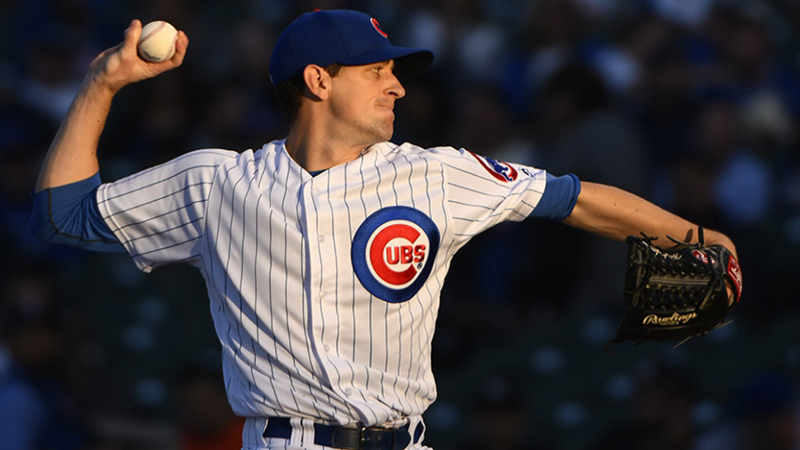 USA Today Sports. Pictured: Kyle Hendricks
As Stuckey alluded to, it has been profitable to bet the under in the first game after the All-Star break since 2005: 104-85-5 (55%). One reason this strategy could work is that teams can generally start their best pitchers and have fully rested bullpens. — John Ewing
Hendricks has 36 quality outings in 58 career home starts, with an impressive 2.61 ERA. When Hendricks takes the ball at Wrigley Field, the first-five-innings under is 32-21-5 (60.4%), profiting bettors 9.2 units. In his 26 home starts against division opponents, the first-five-innings under is 17-8-1. That includes six straight unders, with nine total runs combined. Hendricks is the most profitable first-five-innings under Cubs starter in this spot since his first home start in 2014. — Evan Abrams