80 Essential Betting Tips, Trends, Stats for 2018 College Football Season
Credit:
Adam Hagy-USA TODAY Sports.
College football season is back, and it's time to scoop up all the betting information you possibly can before Saturday.
We've compiled 80 betting stats, tips, trends and nuggets to help you bet in Week 1 and throughout the season.
1. Alabama has been favored in every game it's played since 2010, other than a 31-10 win at Georgia as 1.5-point underdogs in 2015. The Tide will be favored in every regular-season game this year.
2. Nevada sportsbooks have never had a losing September since gaming control began tracking it in 1988 (H/T ESPN's David Purdum).
3. Since 2007, teams are 45-66 ATS (40%) the week after playing Wisconsin.
4. Since 2005, 67 Power 5 teams have finished with three or fewer ATS wins. The next season, 45 of those teams finished with an ATS record of .500 or better.
The teams fitting that criteria entering 2018:
Florida State
Indiana
Colorado
Tennessee
USC
Oregon State
5. Clemson will likely be a double-digit favorite in every game this season.
USC (2008) and Oregon (2013) are the only teams since 2005 to do that. Both went 7-5 ATS, but didn't make the national title game.
6. Washington is 2-11 straight-up as an underdog under Chris Petersen. The Huskies are +2.5 in Week 1 against Auburn.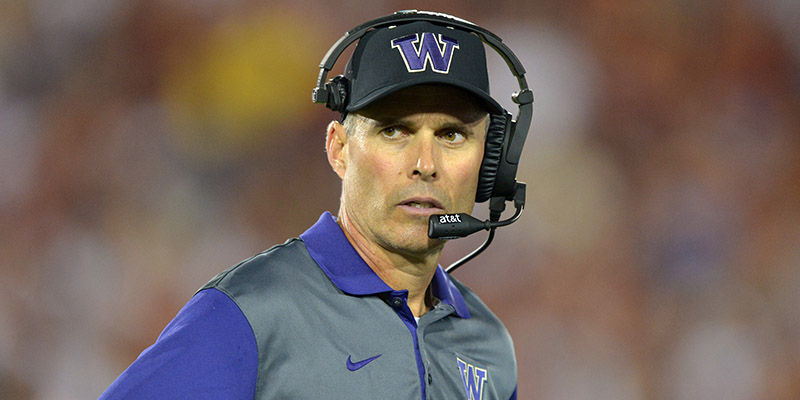 7. Clemson and Ohio State are ranked 1-2 in The Action Network's power ratings.
8. There have been more unders than overs in four consecutive college football seasons.
9. Home teams have won 58.9% of games since 2005, but covered only 48.8%. Blindly betting home teams resulted in a -5% ROI, while blindly betting road teams resulted in a -0.1% ROI.
10. And yet bettors, on average, have backed the home team 55% of the time.
Coaching Tips to Know
11. Stanford's David Shaw has been the best coach against the spread since 2005, per our BetLabs database.
Here's every coach's record, via our BetLabs database.
12. Nick Saban is 9-1 ATS as Alabama's coach in season openers.
13. Urban Meyer is 20-6 ATS as an underdog in his career. In six games at Ohio State as an underdog, he's won all six outright. The Buckeyes could be an underdog at Penn State on Sept. 29.
14. Louisville coach Bobby Petrino has won fewer than eight games once in 13 years as a head coach. The Cardinals' win total is 7.
15. Texas coach Tom Herman is 10-1 ATS as an underdog since 2015.
16. Phil Snow's defense is known for being hard to pick up in Year 1, which we saw at Temple in 2014, when the Owls gave up 29.8 points per game. They improved drastically in 2015, allowing only 17.5 points per game. Snow is in his second year as Baylor's defensive coordinator.
17. Florida State ranked 127th of 130 FBS teams in adjusted pace last year. New Seminoles coach Willie Taggart's Oregon team ranked No. 8.
18. Here are the coaches who cover first-half spreads most and least often in the regular season, aka the best and worst prepared:
All minimum 20 games
19. Coaches who cover the second half most and least often, aka the best and worst at making adjustments.
Any Quarterbacks to Know?
20. The only returning QBs to complete 65% of their passes and throw for 9 yards per attempt or more (min 100 attempts):
Jordan Ta'amu, Ole Miss
McKenzie Milton, UCF
Justin Herbert, Oregon
21. Oregon went 6-2 with Herbert and 1-4 without him.
22. After Ole Miss lost Shea Patterson to injury and inserted Ta'amu into the lineup, the Rebels improved in points per game, yards per play and efficiency. Patterson is now at Michigan.
23. Milton was a true freshman when he took the UCF QB job in 2016. Scott Frost is using another true freshman at Nebraska in Adrian Martinez.
24. Clemson freshman Trevor Lawrence is the second-highest rated quarterback ever by the 247Sports Composite, behind only Vince Young, and the sixth-highest rated player ever.
25. He won't start the season as the starter, but Lawrence has the ninth-best odds to win the Heisman at 16-1.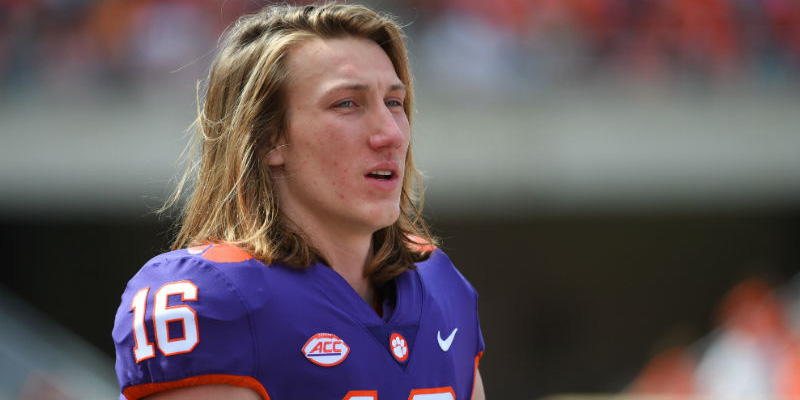 Which Teams does the Public Love?
26. The heaviest bet win totals overs:
Kentucky Over 5.5
UCLA Over 5.5
Michigan State Over 9
27. The heaviest bet win total unders:
LSU Under 7.5
Ohio State Under 10.5
Vanderbilt Under 4.5
28. The most-bet teams to win the national championship at William Hill:
Clemson, 22% (4-1)
Alabama, 14% (2-1)
Georgia, 7% (7-1)
Ohio State, 7% (7-1)
Washington, 6% (15-1)
Penn State, 5% (20-1)
29. In Week 1, Texas (-13.5) is getting 81% of bets against Maryland, the most lopsided Power 5 game of the slate. (All data as of Thursday evening; check out our live odds page for real-time data.)
30. FIU is getting just 37% of bets against Indiana (-10.5), but 53% of dollars wagered.
31. UNLV is getting 91% of dollars (+26.5 vs. USC), but less than half the wagers.
32. After dominating New Mexico State last weekend, Wyoming has moved from +3.5 to pk against Washington State in Week 1 behind 73% of dollars wagered.
33. The biggest Week 1 line moves, as of Thursday night:
Texas -9 to -13.5 vs. Maryland
Miami (Ohio) -2.5 to +2.5 vs. Marshall
Oregon -26.5 to -32.5 vs. Bowling Green
Middle Tennessee +6 to +3.5 vs. Vanderbilt
What about schedules?
34. LSU (win total 7) draws the two toughest SEC East teams in its cross-division schedule — Florida and Georgia. Alabama gets Tennessee and Missouri.
35. Nebraska's win total is 6. Its divisional crossover games? Michigan, Ohio State and Michigan State.
36. Army plays only three FBS teams that had winning records last season: Duke, Oklahoma and Navy.
37. Clemson plays an option offense in Georgia Southern the week before playing another one in Georgia Tech.
38. After Sept. 29, Notre Dame plays in South Bend only twice.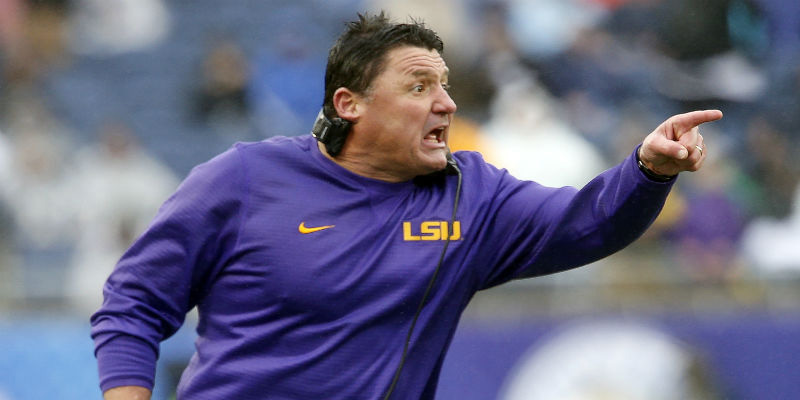 39. Syracuse has won one game in November since 2014 (1-15). The Orange are 5-11 ATS in those games.
40. UCLA closes the season with a six-game stretch against Arizona, Utah, Oregon, Arizona State, USC and Stanford.
41. Florida is the only Power 5 team to play two FCS schools, and it will leave the state of Florida just once after September. (Important disclaimer: Two of the Gators' games in Florida are at FSU and a neutral-site game against Georgia).
42. Arizona misses Washington and Stanford from the Pac-12 North and hosts USC. It plays only four conference road games, including one against lowly Oregon State.
43. Iowa State plays Akron between games against Oklahoma and TCU.
44. Oklahoma State goes to Baylor between games against Texas and Oklahoma.
45. The Sun Belt created divisions for the first time and put powerhouses Troy and Appalachian State in the East and Arkansas State in the West. Arkansas State gets the two worst teams in the conference on the road, making the Red Wolves a good bet to win the league (+100).
Heisman Betting Facts to Know
46. There are four defensive players listed with Heisman odds: Clemson's Dexter Lawrence, Ohio State's Nick Bosa, Houston's Ed Oliver and Penn State's Micah Parsons — a true freshman moving from defensive end to linebacker.
Since 1998, every Heisman winner has met the following criteria. All winners but three from USC have been non-West Coast players:
Power 5 team
Quarterback or running back
On a nine-plus win team
Amassed impressive statistical profile
47. Since 2009, there have been 92 players that began the season with 20-1 or better odds to win the Heisman, per SportsOddsHistory. Only 27 finished in the top 10 in voting, just 14 were invited to New York for the ceremony and only two actually won (Marcus Mariota and Baker Mayfield).
48. Stanford's Bryce Love, Alabama's Tua Tagovailoa and Wisconsin's Jonathan Taylor are this year's preseason favorites.
Stats to Know
49. See the charts below for the unluckiest (top) and luckiest (bottom) teams of 2017, by Second-Order Win Total, Football Outsiders' metric that measures how many games a team should have won on average given its true performance.
50. The best special teams units in the country last season, per Football Outsiders:
Kansas State
Stanford
Georgia
San Jose State
Colorado State
51. The worst special teams units:
Georgia State
Army
Vanderbilt
Hawaii
Maryland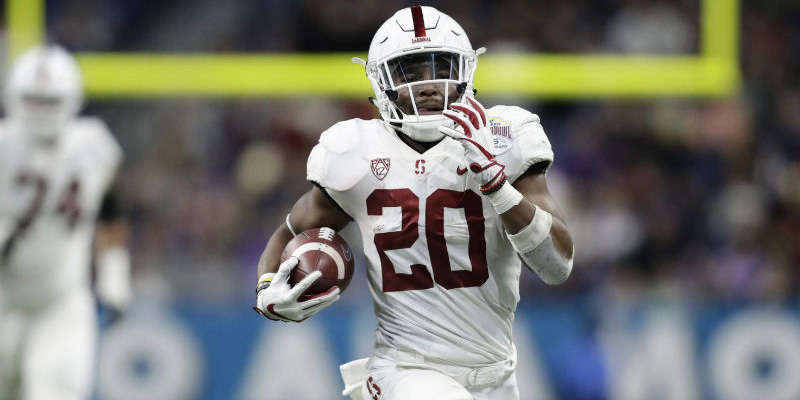 Win Totals vs. Projections
52. Teams we're projecting to be worse than sportsbooks anticipate:
Stanford (-2.25 wins)
South Carolina (-2.08)
West Virginia (-1.97)
FIU (-1.8)
Kansas State (-1.75)
53. Teams we're projecting to be better:
Rice (+2.06 wins)
Arizona (+1.81)
Baylor (+1.76)
Eastern Michigan (+1.64)
Oregon State (+1.31)
54. UTEP is an eight-point underdog to FCS Northern Arizona in Week 1. Since 2005, FBS teams that are home underdogs to FCS teams are 6-11 against the spread.
Should I Bet Home Teams?
55. Oklahoma is the best home team against the spread since 2005 (47-37-1).
56. Hawaii is 1-9-1 ATS at home in the past two years.
57. Boise is 45-5 straight-up at home since 2010, but only 17-33 ATS. No blue turf advantage.
58. Ole Miss and Texas Tech meet in Houston in Week 1. But don't be fooled into thinking Tech has a neutral-site advantage. Lubbock, Texas, is 531 miles away from Houston; Oxford, Miss., is 601.
59. SEC teams are 208-246-5 ATS at home since 2005, the worst mark of any conference.
All About Experience
60. In Week 0, teams with returning production advantages dominated. Returning production is measured not by how many starters a team brings back, but the percentage of contributions (yards, targets, tackles, etc.) it retains.
Lesson to carry into Week 1, Returning Production should not be ignored

UMass Offense 7th
Colorado State Defense 122nd
New Mexico State Offense 122nd
Wyoming Defense 34th

— Collin Wilson (@_Collin1) August 26, 2018
61. Week 1 returning production mismatches:
Wake Forest offense (43) at Tulane defense (123)
Kent State offense (8) at Illinois defense (75)
Middle Tennessee offense (10) at Vandy defense (105)
UTSA defense (104) at Arizona State offense (30)
Army offense (121) at Duke defense (25)
FAU defense (8) at Oklahoma offense (97)
Texas State offense (91) at Rutgers defense (18)
Washington State offense (108) at Wyoming defense (34)
Boise State defense (9) at Troy offense (117)
62. These Power 5 programs return the most production from 2017:
Michigan State
Kansas
Baylor
Mississippi State
Duke
63. The Power 5 schools that return the least production:
Louisville
Colorado
LSU
Oklahoma State
Indiana
64. Penn State loses nine starters from its defense, but 31 players made at least five tackles last season. It subbed more than almost any other team in the country.
65. Clemson ranked first in adjusted sack rate in 2017 and returns its entire defensive line. All four players were named preseason first-team All-ACC.
66. Indiana ranked 26th in defensive efficiency and 10th in sack rate last year. But it returns the fifth-least production on defense of any team.
67. Mississippi State returns 100% of its rushing yards, 70% of its receiving targets and 12 of its top 14 tacklers on defense.
68. The teams that bring back the highest percentage of their production on offense:
UAB
Baylor
Michigan State
Kansas
San Jose State
69. Defense:
Notre Dame
Texas Tech
Georgia Southern
Kansas
Michigan State
Betting Over/Unders
70. Since 2005, the under is 30-8-1 in games involving two service academies (Navy, Army, Air Force).
71. Entering 2018, Northwestern unders are 86-59-2 (59.3%) since Pat Fitzgerald took over in 2006, earning bettors 22.2 units.
72. Since 2005, overs have hit at just below 55% when the temperature is at least 85 degrees, and nearly 59% when the temperature hits 90 degrees.
73. The average points scored in college football games last year was 55.86, the lowest since 2011.
74. Betting a conference underdog between 7-24 points when the total is between 36 and 46.5 points has produced a 19% ROI and a 216-135-11 record since 2005 (via BetLabs).
Random Odds and Trends
75. Since 2005, road underdogs in games with a total of 50 or less have gone 1062-933 ATS (53.2%). When the total is 45 or less, they've gone 424-353 ATS (54.6%).
76. Since 2005, home favorites off a bye have gone 289-235 ATS (55.2%), winning +38.59 units with a 7.2% ROI.
77. The most talented teams in the country, per the 247Sports Composite rankings.
Alabama
Ohio State
Georgia
Florida State
USC
78. No team in the modern recruiting era (since 2000) has won a national title without 50% of its roster being four-star and five-star players.
79. Per SB Nation, those teams are:
Alabama 77%
Ohio State 76%
USC 71%
Georgia 69%
Florida State 67%
LSU 63%
Auburn 62%
Clemson 61%
Michigan 57%
Texas 55%
Oklahoma 53%
Penn State 53%
Notre Dame 51%
80. Here are this year's national title odds.
How would you rate this article?