A Serious Betting Breakdown of Olympic Halfpipe Snowboarding
Snowboarding is considered a young person's sport, but its roots can actually be traced back to the Ancient Olympics. There was chariot racing, boxing, Greco-Roman wrestling, and of course, the snowboard halfpipe.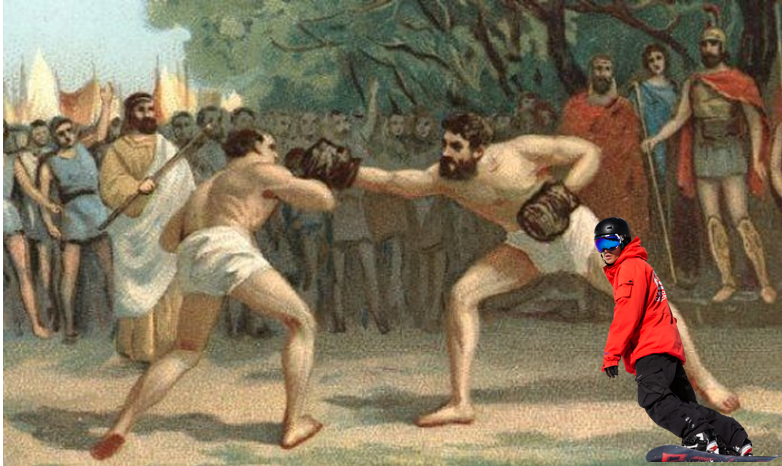 Original snowboards were made out of heavy granite slabs, making it hard for riders to get mad amplitude. Today, they ride atop lightweight fiberglass boards with waxed bottoms for maximum shredification.
If you hit the slopes, the only thing you may see snowboarders doing is this stupid thing.
But these Olympians are going to be doing a wee bit more than that.
Double corks up the wazoo. Let's take a peek at the odds and see what Bovada thinks is going to go down in Pyeonchang.
Men's


The Flying Tomato: Shaun White. Our red-headed extreme sport savant has been quiet in recent years. He no longer dons the flowing, flaming locks that earned him his nickname. He also hasn't won a halfpipe gold medal since 2013! Our boy is making a comeback, though. Even though he hasn't even competed in the X Games for a few years, he was able to make the U.S. team by stomping out a perfect 100 in qualifiers a couple of weeks ago.
With that being said, Bovada has him as the favorite, but I believe he should be faded. Given the public's familiarity with his name, this price is not where it ought to be. He still has the ability to throw down a great run, but I'm afraid rust and consistency may get in his way. With riders only getting two runs, rather than three like the X Games, there is no room for mistakes.
Speaking of the X Games, the man you saw in the video above, Ayumu Hirano, just won gold. I watched, took notes, studied the riders, etc. This is literally the Olympic event that I probably know most about so don't be afraid to let a paycheck or two ride on my advice.
Hirano may look like a pre-pubescent sixth grader with his 5'3″ 110 pound frame, but he might just be the best snowboarder in the world. His score of 99 this past weekend was earned by excellent amplitude, as well as his ability to string together incredibly technical tricks. Two 1440s, two 1260s…as you can tell by the announcers, it was pretty unreal.
Hirano is a safe bet to make with a pretty solid payout, but value-wise, I am looking further down the list.
Scotty James, Aussie's supreme snowboarder, can be had at 12/1. Now that is a bargain. Even though James sometimes tells fellow Australians that he's a landscaper to escape the lengthy diatribe it takes to explain snowboarding, he has a good chance to bring the country pride in a couple of weeks.
James made his Olympic debut back when he was just 15 years old in 2010 and has been a much-improved rider as of late. He won the gold medal at the 2017 X Games and fell just short of Hirano with a score of 98 at this past X Games with a run that would essentially earn him gold at any other event ever.
Australia doesn't exactly spit out Winter Olympic champs left and right and James is not the favorite, but he has a ton of value at +1200.
Women's

The women's side has plenty of opportunity for Americans to earn some hardware. With Team USA holding four of the top five favorites on the odds list, it would be pretty disappointing to come away without the gold.
The favorite is Chloe Kim, a 17-year-old who wasn't able to compete in the 2014 Games because she was literally too young. With gold medals at three of the past four X Games, she is the safe bet to make. However, given her inexperience on the biggest of big stages, I'll be looking elsewhere.
Kelly Clark, not to be confused with Kelly Clarkson, is next at +325. The wily veteran is set to compete in her FIFTH Olympics, but I don't believe she'll be coming away with the gold. She hasn't won a gold medal since the 2014 X Games and there are plenty of up-and-coming youngsters that have been making trips to the podium a difficulty for the aging Clark.
One of them is Arielle Gold, whose last name was made for this occasion. The 21-year-old American was narrowly edged out by Kim at the X Games, but unlike Kim, Gold will be making her second trip to the Olympics. This extra bit of experience should help and the +650 payout should help your wallet.
The Super Bowl is coming up, but so are the Olympics. Everyone knows that the latter is more important in the gambling world, so stay tuned for more odds on the Games.
How would you rate this article?