Rovell: Betting Can Help Turn Track and Field Around
Credit:
Darren Rovell. Pictured: Sydney McLaughlin
Track and field has a budding young star in Sydney McLaughlin, but the sport overall is floundering.
Darren Rovell explains how the rise of legalized betting can help create more interest in the sport.
Track and field might be the saddest sector of American sports today. Its athletes train to reach elite levels, and even when they do, if they don't get to the very top, they could very well be living at the poverty line.
Winning a race at a major meet could mean a couple thousand dollars, and crowds for some of the biggest events are lackluster.
But the rise of legalized betting can play to track and field's benefit, helping it vault beyond other sports.
On Saturday, I went to the New Balance Grand Prix to watch the pro debut of Sydney McLaughlin, the most heralded woman to come to American track since Allyson Felix. (She has more than 320,000 followers on Instagram and more than 110,000 on Twitter.)
The 19-year-old signed a massive deal with New Balance and brought on WME to represent her in off-track endeavors such as modeling and television.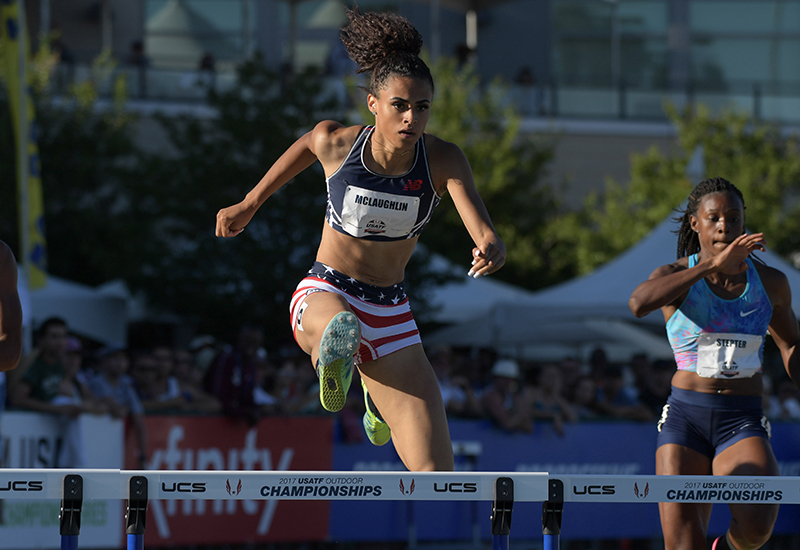 There are going to be only so many ways that track and field can capitalize on her stardom, and she could very well transcend the sport without contributing substantively to its future.
That's where betting comes in.
Betting and racing have gone hand in hand since the 1700s. It came to a head in 1809 when endurance walker Robert Barclays said he could cover a mile an hour for 1,000 consecutive hours. Side betting on this feat hit the equivalent of more than $50 million today, according to Runner's World.
In 1888, the Amateur Athletic Union (AAU) was formed and stopped gambling on races. There was nothing in the U.S. until February 1995 when John Mansoor, meet director of the Reno Air Games, thought it made sense to have betting available since it was in Nevada.
So he convinced the Eldorado Race & Sports Book offer a trackside sportsbook and have the odds printed in the local Reno Gazette-Journal.
At the time, track had come down from its height in the mid-to-late 1980s, but the meet itself had plenty of stars — favorites included Gwen Torrence in the 50m dash, Michael Johnson in the 400m and Jackie Joyner Kersee in the 50m hurdles.
All was well and good until sprinter Dennis Mitchell placed a $10 bet on himself to win (to net $40 if he did).
According to an account by Runner's World, Ollan Cassell, the executive director of the USATF, "demanded that Mitchell destroy the ticket and prohibited further gambling by athletes."
Trackside betting has happened here and there in Europe, including in Germany, but in the U.S., next month will mark 24 years since it happened at the Reno Air Games.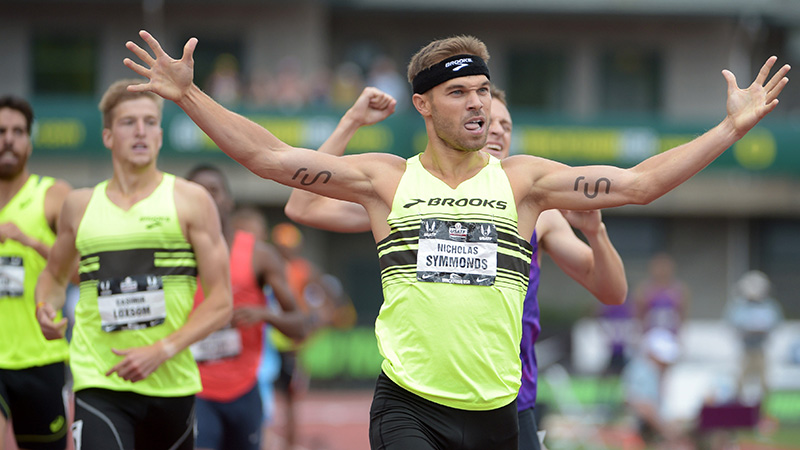 Former middle distance star Nick Symmonds, who was a trailblazer in the sport by strongly criticizing the governing bodies, long pushed for gambling to enter the sport.
"Some people might not like track and field that much, but if they have a beer in their hand and $5 on Nick Symmonds, they will have a great time," Symmonds wrote for a publication called Spikes in 2013.
Opponents of sports betting bring up the same arguments with track and field as they do with college sports: The pay is so low that the incentive to fix races would be high.
But we know that with an increase in legal wagering comes much more monitoring, whereby it's easier to spot irregularities in the market.
I often wondered why big track meets run by pros also included high school events. That became more clear to me Saturday night in Boston: It's essential to draw the crowds.
Betting could change that. Plus it could change athletes' lives. Broadcasters would pay more for rights. The USATF could sell its data like all of the other sports leagues, and it could spread the money around.
For years, Nevada bookmakers weren't incentivized to push Olympic sports because it was such a small part of the business and provided some decent risk because they didn't know the sports as well.
Things have changed with legalization spreading across the country as sportsbooks and having different offerings like track and field could be used as a significant marketing tool.
I'm salivating thinking about in-race betting that makes even an indoor 5000-meter race — 25 laps around — exciting. Bet bonuses on athletes to have a personal best or set a world record? If the athletes bet on themselves, all the better.
Track and field has a long way to go to better market itself. But it has gold in Sydney McLaughlin, and, with sports betting legalization spreading across the country, the time is now to capitalize.