The Best Sportsbook Quiz
Take this short quiz and we'll round up a list of the sportsbooks that will suit you best.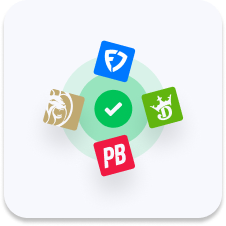 What Sportsbook Should I Use?
This is the first question online sports bettors must ask themselves. The answer to this question will depend on a variety of factors that are specific to each individual bettor. To help, Action Network has created this Best Sportsbook Quiz to help users select the right option for them based on their betting circumstances and preferences. The factors considered in generating results are:
Which state a bettor is located in to determine which (if any) sportsbooks are available to that user
What sportsbooks a bettor may already be using to avoid duplication
Preferred betting markets
With the above information, the Best Sportsbook Quiz algorithm will provide a list of the top sportsbook options. The list is compiled by blending the provided responses with our vast amount of sportsbook data. The end result is a list of potential sportsbook options that include descriptions of the book and why they would be a good fit for the user based on their inputs.
How to Choose a Sportsbook
The Best Sportsbook Quiz is likely to provide multiple options. Here are a few key points to consider when making your decision on which sportsbook(s) you ultimately decide to sign up for:
Promotions & New Users Bonuses - Just about every sportsbook gives new users a promotional entry offer to entice them to sign up. These are a great way to get a solid bankroll started. For those interested in getting as much as they can upfront, this is definitely a key aspect to consider when deciding on which sportsbook to use.
Odds Pricing - You'll quickly notice that sportsbooks have slightly different prices for the same sporting events. Savvy sports bettors know that they can ultimately save a great deal of money over time by finding the best prices across sportsbooks. Comparing average odds pricing across sportsbooks is a good idea to ensure that you're not overpaying on wagers.
Usability - App functionality can be a make-or-break prospect when deciding which sportsbook to use. Given that most bettors will place wagers through a mobile app, usability is a key component in regards to categories like navigation, app speed, data density, and overall functionality.
Market Coverage - Many sports bettors tend to develop a love for betting on a particular sport or player prop. If you know that you are going to want to bet on something specific, be sure that whichever sportsbook you are considering covers that sport or betting market effectively.
Cashiering - At the end of the day, sports bettors want to be able to get their money quickly and easily. Take a look at each sportsbook's depositing and withdrawal methods, as well as average payout speed information, to determine which one gives you the most flexibility to manage your bankroll.
While there may be more factors at play when choosing a sportsbook, the above is a great place to start you decision-making process. If you want more detailed information about any sportsbook, be sure to check Action Network's extensive list of online sportsbook reviews. Remember, it is recommended to have accounts at multiple sportsbooks so that you can line shop and always ensure you're getting the best price for every wager. So if you can't decide on one sportsbook, go ahead and get started with a few!
Sportsbook Frequently Asked Questions
Where is online sports betting legal?
What sportsbooks are available to me?
What is the best online sportsbook?
Which sportsbook has the highest value new user promotion?
Which sportsbook has the best average odds prices?