Sunday Night Baseball Betting Notes: Cubs Seek Series Split Against Dodgers
Credit:
Richard Mackson-USA TODAY Sports. Pictured: Kris Bryant
Betting Odds: Chicago Cubs at Los Angeles Dodgers
Dodgers odds: -176
Cubs odds: +161
Over/Under: 8
Probable starters: Jose Quintana, CHI (4-6, 3.29 ERA) vs. Hyun-Jin Ryu, LAD (9-1 1.36 ERA)
First pitch: 7:05 p.m. ET on ESPN
---
The Cubs will look to salvage a series split against the NL-leading Dodgers. After losing the first two games of the series, the Cubs stole one last night in the ninth-inning thanks to the heroics of Anthony Rizzo.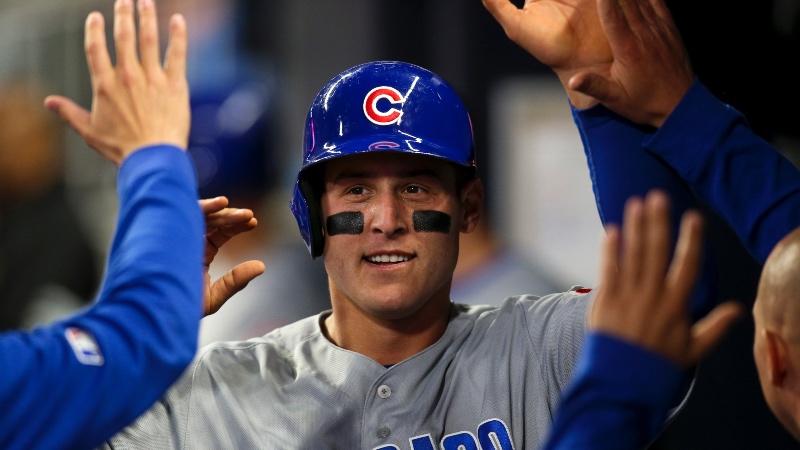 It feels like the Cubs have played in every Sunday Night Baseball game this season. They've actually played 59 games in the Sunday primetime slot since 2005, never opening as larger than a +161 underdog (2009 vs. Cardinals). Well, that changed this weekend as the Cubs opened up substantially higher but now sit right around +160.
Let's take a closer look at tonight's series finale. We will start by scouting both starting pitchers, followed by looking at each respective bullpen, checking in on the man calling balls and strikes, and finishing up with some interesting betting and DFS trends, as well as our favorite bets.
---
>> All odds as of 11:30 a.m. ET. Download The Action Network App to get real-time MLB odds and track your bets
---
Scouting the Starters
By Sean Zerillo
Fielding independent pitching metrics point to Hyun-Jin Ryu as being about a full run better than Jose Quintana this season.
Ryu has the edge in both FIP (2.63 to 3.64) and xFIP (2.93 to 4.14), though he has been lucky to pitch to a 1.36 ERA. The 32-year-old southpaw is having a career year, walking just five batters in 86 innings pitched. His first pitch strike rate (64.4%) is a career high by a full 3%, and he's also getting batters to chase pitches outside of the zone about 4% above norm. In fact, Ryu has yet to allow more than two runs or walk more than one batter in any outing.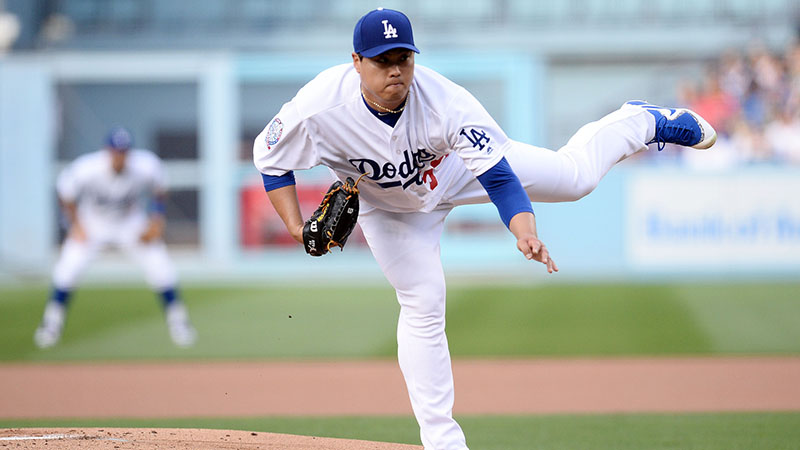 Ryu stopped throwing his slider altogether last season and has also decreased his curveball usage this year, adding more cutters and changeups to his arsenal. That has not only improved his control, but also helped to keep his arm fresh.
It's not as though Ryu is generating additional weak contact: The mean exit velocity on his batted balls (86.2 mph) basically matches his career average (86.3 mph). However, his launch angle is lower in 2019, meaning more groundballs (now over 50%) and fewer flyballs, as well as some additional double plays to help his league-leading strand rate (95%).

Meanwhile, Quintana is throwing more sinkers and fewer four-seam fastballs in 2019 — an interesting modification considering that most of the league is moving from sinkers to four-seamers.
As a result of the flyball revolution, sinkers have become less impactful as batters are increasingly looking to get under the ball. Instead, four-seam fastballs that can be elevated in the zone are typically more valuable pitches.
There isn't much to Quintana that you don't see on paper. He's a consistent innings-eater with a below-average strikeout rate (7.89 K/9) and above average command (2.75 BB/9).
Quintana is just about a league average starting pitcher. Look no further than his xwOBA over the past three seasons compared to the league average of .318.
That said, Quintana does show a drastic platoon split, holding lefties to a career .291 wOBA while righties have posted a .312 mark against him.
Being a left-hander will certainly help Quintana against the vaunted Dodgers offense: Their lineup is 19% above average against righties but just 7% above average against lefties.
Bullpen Barometer
 By Stuckey

Statistically, both bullpens have performed similarly this season. Cubs relievers own a 4.17 ERA (12th in MLB) while the Dodgers come in a little higher at 4.29 (14th). Each bullpen also has 12 blown saves, though LA has had seven more opportunities.
However, if you look under the hood, the Dodgers 'pen has pitched much better overall. They rank third in the league in WHIP (Walks and Hits per Inning Pitched) and seventh in K/BB rate, while the Cubs rank 21st and 28th, respectively.
As of this moment, you simply have to trust the Dodgers 'pen more. They have two reliable options at the back end  in Kenley Jansen and Pedro Baez. Yes, Jansen blew the save last night, but he had previously thrown 10.1 scoreless innings.
Jansen and Baez have each pitched the past two nights, but I expect them to be available tonight if needed. Each of them has already thrown on three consecutive days this year and both are still coming in fairly well-rested.
In fairness to the Cubs, they have dealt with a number of unfortunate bullpen injuries (and maybe some questionable managing of relievers by manager Joe Maddon).
However, Chicago's bullpen could become a strength in the not-so-distant future. Craig Kimbrel should join the team very soon, and the franchise could also potentially add another elite arm, such as lefty Will Smith from the Giants.
Getting Kimbrel back and adding a plus-lefty arm like Smith would give the Cubs a dynamic duo to set up and close games. It would also allow them to push out under-performing arms (see: Brad Brach) and use others, such as Pedro Strop, in lower-leverage situations.
The Dodgers have the best offense in the National League and arguably the best pitching staff, as well. The Cubs have offensive weapons, but they certainly trail the Dodgers in the pitching department. If the Cubs want to compete in the National League, they will need a bullpen upgrade to at least have a shot, and I believe Kimbrel is one of the two pieces they need to achieve that upgrade.
Betting on Blue
Tonight's umpire is D.J. Reyburn. According to Bet Labs, Reyburn has a home record of 133-126 (51.4%, -14.47 units) and an under record of 132-118 (52.8%, 12.28 units).
Although Reyburn has splits that lean toward unders, Quintana has yet to throw a quality start on the road. The lefty failed to make it past the fifth inning in starts at Colorado, St. Louis and Cincinnati. And for what it's worth, the wind will be blowing out at a modest eight miles per hour to straight center at Chavez Ravine.
Neither the umpire nor the weather should have much of an impact on tonight's game.
Getting Trendy
By Evan Abrams
Dating back to 2013, the Dodgers are 39-17 (69.6%) at home when Ryu starts. Of the 119 pitchers who have started at least 50 home games over that span, Ryu's 69.6% win percentage is the third-highest in baseball.
The Dodgers have only lost two games at home with Ryu on the mound over the past two seasons and have won nine in a row.
If you look at just this season, the Dodgers have a perfect 6-0 record in Ryu's six home starts, winning by an average of 4.8 runs per game. Over his past three starts in Los Angeles, the Dodgers have won by a combined score of 17-0.
Only one starter has more wins without a loss at home in 2019: Ryu's teammate, Clayton Kershaw, who is 7-0.
DFS
By Matt LaMarca
The Dodgers look like the clear team to target if you're playing the single-game DFS format tonight. They're currently implied for 4.7 runs, which is significantly higher than the Cubs' implied team total of 3.4 runs. Ryu has been one of the best starters in baseball this season, while Quintana has been merely average.
The best way to attack Quintana is with right-handed batters. They've posted a .319 wOBA against him this season, while left-handers have posted a mark of just .259. Quintana has also allowed eight homeruns to right-handed batters but has yet to allow one to a lefty.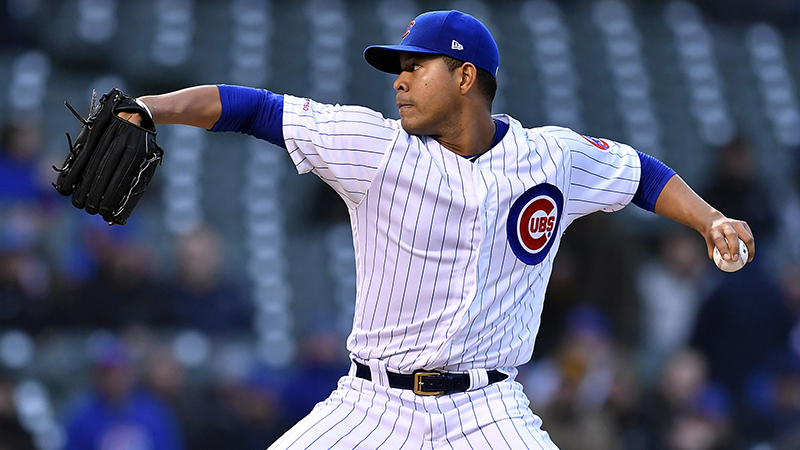 Justin Turner stands out as one of the strongest hitting options. He has posted solid marks against left-handed pitchers over the past 12 months, recording a .388 wOBA and .222 ISO.
Turner has also been smoking the baseball over the past 15 days to the tune of a batted ball distance of 251 feet, exit velocity of 97 miles per hour and hard hit rate of 65% — all three of which represent significant increases when compared to his 12-month averages. He has one of the highest ceiling projections in the FantasyLabs MLB Models.
Staff Favorite Bets
The Cubs have been bet down 30 cents from their opening number, so any line value on them is now gone. I'd consider the first-five under 4.5 here, or pass. — Zerillo
While Cubs hitters may have issues with a red-hot Ryu, it will be a different story for right-handed hitters in the Dodgers lineup against Quintana, who has struggled away from Wrigley. Look to take a Dodgers team total over and play all of their right-handed hitters (Justin Turner, Kiki Hernandez, etc) in DFS. — Wilson
The Dodgers have a lineup that is better against right-handed pitchers, so Quintana has that going for him, but it's not like LA can't hit lefties.  That said, I just can't bring myself to buy Ryu this high after such a fantastic (and somewhat lucky) start. The opener was too high but has now settled into a more reasonable range. I would consider a long glance at the Cubs +1.5, but I will likely be staying away. — Stuckey
How would you rate this article?