Philadelphia Phillies 2020 Betting Preview: Best Futures Odds & Season Projections
Credit:
Julio Aguilar/Getty Images. Pictured: Rhys Hoskins
Philadelphia Phillies Best 2020 Futures Odds
The NL East looks to be a four-team race entering 2020. No team has division odds shorter than +200, and no team (other than the Marlins) has odds longer than +350. The Phillies, however, are that team at +350 — implying a 22.2% chance at the NL East title.
The Phils' +2500 odds to win the World Series rank tied for 10th in the majors, while their +1300 Pennant odds rank sixth in the National League.
Their win total (31.5), which also ranks fourth in the NL East, is just two behind the division-leading Braves, indicating just how close this race is expected to be, and their +220 odds to make the playoffs imply a 31.3% chance at the postseason.
Philadelphia Phillies 2020 Projections
Projected record: 31-29
To win World Series: 3.1% (fair odds: +3126)
To win NL East: 18.7% (fair odds: +435)
---
2020 Philadelphia Phillies Betting Analysis
Taken from Sean Zerillo's Updated 2020 MLB Win Totals, Division and World Series Odds For a 60-Game Season:
Among NL East teams, the Phillies benefit most from the short season. Like the Indians, they don't have a ton of depth. Still, they do have star power, including Aaron Nola and the newly-signed Zack Wheeler at the top of their rotation, in addition to multiple All-Star caliber bats like Bryce Harper and J.T. Realmuto.
The Phillies saw a 7.7% increase in my divisional projections and a 1.7% bump (to 3.1%) in championship probability. ZIPS increased their World Series probability by 2.3% (from 0.1%), so I'm a bit higher on their chances overall, but the sentiment is the same — the NL East is wide open for the taking.
Unfortunately, the betting market sees right through this division and I do not see World Series betting value on any club.
2020 Philadelphia Phillies Player Futures Odds
All odds as of July 19.
To win NL MVP
To win NL Cy Young
2020 Philadelphia Phillies Player Futures Analysis
Taken from Sean Zerillo's Longshots and Sleepers to Bet for the 2020 Season:
Rhys Hoskins Most Home Runs
Alvarez and Hoskins will both benefit from the universal DH rule, and the behemoth cleanup hitters should be able to stay in the lineup for the vast majority of their 60-game seasons.
Hoskins looked the part of a future MLB home run leader in 2017, after smashing 18 homers through his first 50 MLB games, but his barrel rate has dropped off substantially from that debut (13.5% in 2017 to 11.4% in 2018 and 9.7% in 2019) while his strikeout rate has steadily increased (from 21.7% in 2017 to 24.5% last season).
Hoskins has some of the best raw power in the majors and hits a ton of long flyballs, ranking in the top six for average flyball distance over each of the past two seasons, he just needs to improve his plate discipline and find more barrel consistency.
He has already proven that he can go on a binge over a short stretch of baseball and hit roughly 20 home runs throughout 60 games, you just need to catch lightning in a bottle and get some of those flyouts to turn into homers: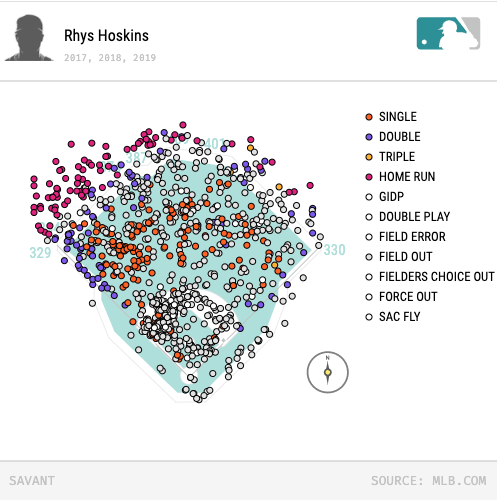 Recommended 2020 Philadelphia Phillies Future Bets
How would you rate this article?