College Basketball Betting Preview for SoCon: Conference Title Up in Air
Credit:
Photo by John Byrum/Icon Sportswire via Getty Images
New coaches at East Tennessee State, Western Carolina and UNC Greensboro will change outlook of league.
UNC Greensboro is also losing the best player in the conference in Isaiah Miller.
Ky McKeon breaks down the league from top-to-bottom.
The SoCon promises to once again be one of the better mid-major leagues in the country.
An array of coaching changes and differing styles makes it a fun conference to navigate from a betting lens.
---
---
New Coaches on the Block
New coaches bring new styles and new philosophies. How will these three SoCon rookie managers affect their new programs?
---
Following a controversial ending to former head coach Jason Shay's one-year tenure, ETSU hired Desmond Oliver off Rick Barnes' staff at Tennessee.
Oliver's arrival could mean a stark change of pace for ETSU's offense, which previously played at the nation's 256th "fastest" pace under Shay.
While Shay primarily had the Bucs play in the halfcourt, look for Oliver's crew to push in transition, particularly off the defensive glass and turnovers.
He has an impressive arsenal of athletes that are perfect for this up-and-down philosophy, including returning starters David Sloan and brothers Ledarrius Brewer and Tyron Brewer.
---
Mike Jones takes over for Wes Miller, who bolted for the Cincinnati job this offseason.
Unlike his fellow new SoCon coaches, Jones has been around the block for a time or two. He spent a decade as head coach of Radford, turning the program into a Big South power (much like Miller did at UNCG).
Jones' recent history suggests the Spartans might slow things down this year, however, as many coaches like to do, Jones stated this offseason that he wants to be an uptempo team.
We'll wait and see from a betting perspective.
What we do know is UNCG is going to miss Isaiah Miller, the two-time SoCon Player of the Year and three-time SoCon Defensive Player of the Year.
UNCG was awful offensively without Miller last season. Per Hoop-Explorer, when the star sat, the Spartans scored 92.7 points per 100 possessions (on an adjusted basis).
When he played, they scored 107.
There's no replacement on this year's roster for Miller, so Jones will have to hope his team can do it by committee.
Either way, the adjustment period is sure to bring ups and downs. This is likely the weakest UNCG team in the last six years.
---
Former Wake Forest star and Chris Paul's ex-teammate Justin Gray takes over for Mark Prosser, who filled the Winthrop opening this offseason.
Gray's fellow new coaches are taking over "SoCon power" programs — teams that have dominated the league for the past five-plus years.
Gray is decidedly not. Western Carolina had its moments under Larry Hunter, but the program is just 30-59 in conference play over the past five seasons and in only one of those years, WCU finished above .500.
Expectations are low for Gray and the Catamounts. Only three players return from last season, so Gray will be almost entirely reliant on his four DI and four JUCO transfers.
Heavy roster turnover is never easy to deal with as a head coach, but it could be especially difficult this season with the COVID extra-year rule in place.
Every team in the conference returns at least 50% of last season's minutes except WCU, which returns just 28%, the 13th lowest mark in the country, per Bart Torvik.
Since everyone expects WCU to be bad, there could be an edge if we have reason to believe they won't be "that bad."
If you squint, you can see the path towards competency. Two of Gray's JUCO transfers were NJCAA All-Americans last season and Nick Robinson was arguably Valparaiso's best player (note: very arguable).
Keep an eye on the Catamounts and how their new pieces mesh and how Gray adjusts to the head coaching seat.
---
The Old Guard
These four teams bring back a ton of production and are perennial contenders in the SoCon. 2022 is no different.
---
Furman has been stuck in an "always a bridesmaid, never a bride" rut under Bob Richey.
The Paladins have finished in the top three of the SoCon standings in all four seasons under Richey and have amassed a conference record of 51-18. But, the top prize, a trip to the NCAA Tournament, has to this point eluded the 'Dins.
Can this be the year they get over the hump?
With new coaches at UNCG and ETSU, Furman has its best shot ever at the Big Dance.
The 'Dins return three starters, including SoCon POY candidate Mike Bothwell, and have the best coach in the league in Richey (note: my opinion, but it's correct).
KenPom (or rather, his algorithm) has Furman as his preseason SoCon favorite and in a year where consistency is king, the Paladins have that in spades with their fully intact backcourt.
Furman's high floor makes them a "safe" bet in the conference futures market. If your book offers a "regular season champion only" market, you can bet the 'Dins feeling confident their floor is a third place SoCon finish.
If your book offers a "conference tournament champion" market, now is as good of a year as any to put your chips on Richey to finally make his first NCAA Tournament (and the program's first in 40 years).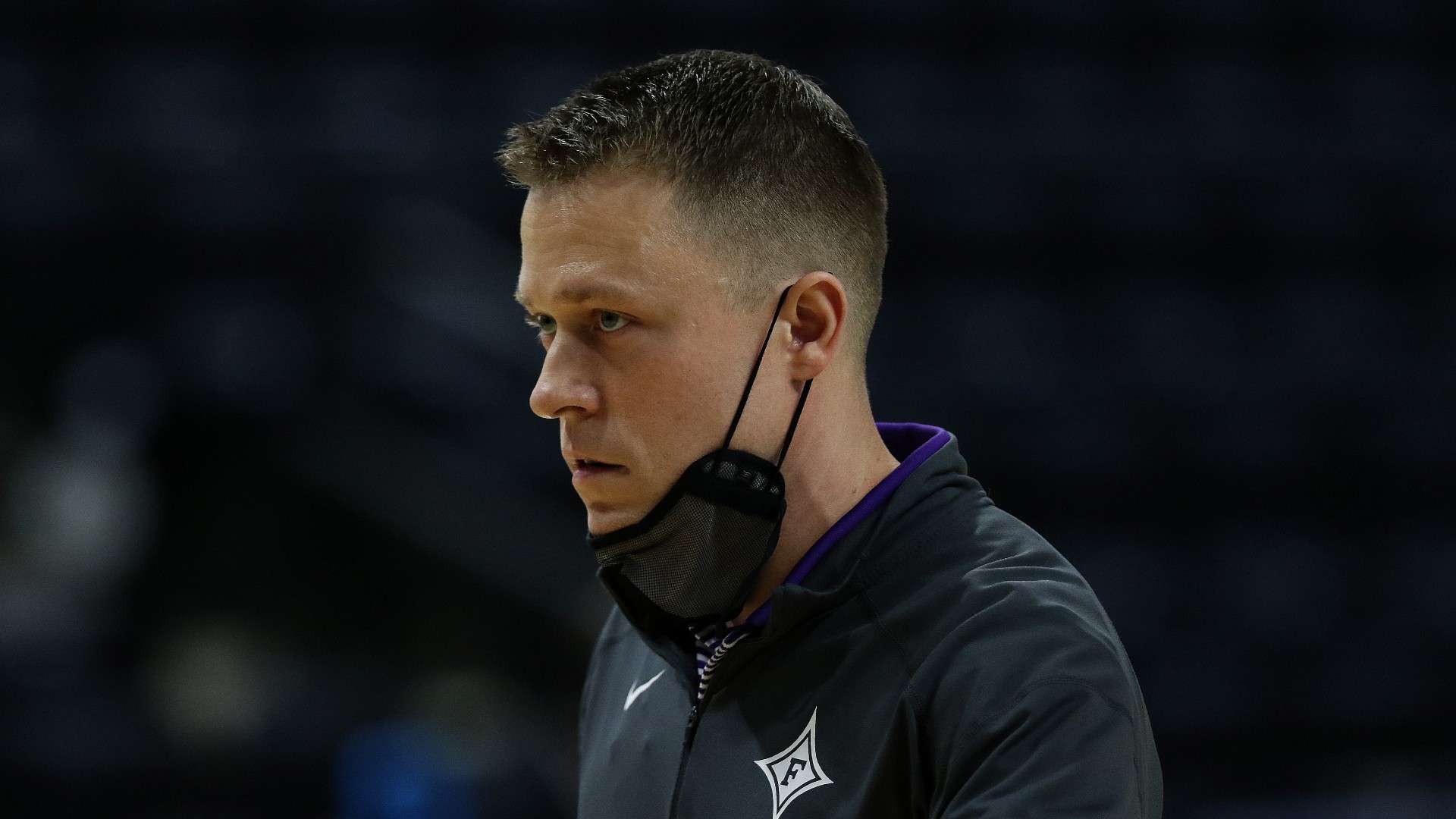 ---
The Mocs are the "sexy" pick to win the SoCon this season and for good reason.
No team in the league returns more minutes than Chattanooga, which brings back a robust 82% of its minutes from 2021. Chattanooga's top eight players in its rotation are all upperclassmen, making this one of the older teams in the country.
High continuity + high experience is usually a good recipe for success, especially in the mid-major ranks.
So, why does KenPom have Chattanooga at No. 156 in the country (the same place it finished last year) and fourth in the SoCon?
Coaching history is probably the biggest factor there, as in four seasons, Lamont Paris has topped out at 10 wins in the conference and a 147th KenPom ranking.
With essentially the same players, most of whom are seniors, why should KenPom expect a major leap?
I'm of the mindset that Chattanooga was much better than its record indicated last season. Injuries and COVID issues ran rampant on the squad, which plagued the Mocs in SoCon play after an electric 9-0 start.
With everyone healthy and a guard tandem in Malachi Smith and David Jean-Baptiste that's as good as any in the mid-major landscape, Chattanooga looks extremely dangerous and capable of winning the league in 2022.
Oh, and Chattanooga also brings in Kansas transfer and chair brawler Silvio De Sousa from the portal. That is a MASSIVE addition if De Sousa is 100% bought in. He has first team All-SoCon upside.
Remember those conference futures odds for Furman? Well, you can find longer odds on Chattanooga. Given the gap between the two schools is essentially zero, the Mocs are an enticing gamble.
---
Wofford is a rare team this season that seems to be properly valued by analytic sites like KenPom but very undervalued by the general public.
This program is rock solid and has been for over a decade.
Current Virginia Tech coach Mike Young built Wofford into a winner and current coach Jay McAuley has followed his lead.
The Terriers lose their best player in point guard Storm Murphy, but the returning players, like the program itself, are rock solid. While not a sexy team by any means, think twice before fading Wofford, especially in the non-conference.
You might see some low spreads that are "too good to be true" for the other side when the Terriers face them — for instance, Clemson, South Carolina, and Richmond.
But before taking the favorite, remember this is an extremely well-coached, experienced team that has had success against numerous bigger name programs.
Under McCauley, Wofford covered at Richmond last year and against South Florida, and beat UNC outright in Chapel Hill back in 2019.
---
Mercer is another one of those teams that seems to get overlooked, but I have more concerns with this squad than with Wofford.
Ross Cummings' graduation is a massive blow, as evidenced by the Bears' performance in 2019-20 without Cummings (198th in KenPom) versus their 2020-21 performance with Cummings (131st).
I'm focusing on the analytic rankings here because that's what us bettors care about — not conference records. Mercer was 11-7 in the SoCon in 2020, but you better believe last year's 8-9 version was the better squad.
If anything, Mercer will be undervalued this season. That's primarily due to coaching.
Greg Gary is an offensive mastermind, having previously served as Matt Painter's "offensive coordinator" at Purdue. His motion offense is very difficult to prepare for, especially for teams who aren't familiar with Gary outside of the SoCon.
Mercer beat Georgia Tech and Georgia State last season in non-conference play, so don't be shocked if it plays "better" foes tough again this season.
However, I do not recommend betting them on opening night against Arkansas as Eric Musselman's style is prone is blowing teams out.
---
The Fast and the Furious
These are the fastest teams in the SoCon. The speed demons.
---
Second-year head coach Bucky McMillan is known for playing "BuckyBall," an up-and-down style that prioritizes intense pressure defensively and quick shots offensively. That style is how Samford hung 133 points on Division III Belhaven and 96 points on Belmont.
Samford played at the 17th fastest overall tempo in the country last season (KenPom) and 24th fastest offensive tempo. Books caught on quickly and juiced every Samford total to the moon, hence Samford's 5-11-1 Over record in 2020-21.
I don't think we've seen peak BuckyBall yet. Samford was riddled with injuries and COVID issues last season that prevented it from playing as fast it preferred.
This season, with a fully healthy roster, there's nothing stopping Bucky from dropping the leash and letting his Bulldogs run wild.
We're not going to see a 2-9 Over record in SoCon play again.
---
Samford has BuckyBall, The Citadel has "DuggarBall." It's a very similar style that looks to score in transition at every opportunity.
Since he became a DI head coach in 2006, Duggar Baucom has had five teams lead the country in overall adjusted tempo, five teams finish second in overall adjusted tempo and five more finish inside the top 10.
So, we know The Citadel is going to play fast. KenPom knows The Citadel is going to play fast. Bookmakers know The Citadel is going to play fast.
Like Samford, bookmakers juiced totals for games involving The Citadel. Overs went just 7-14. It's a good reminder that betting something everyone already knows and is accounting for also isn't a good strategy.
But the main reason The Citadel failed to produce Overs last season was its improved defensive efficiency. Unlike in years past, Baucom's team actually played defense (relatively speaking).
Last season was the first in Baucom's six-year tenure at The Citadel in which his team finished inside the KenPom top-320 in adjusted defensive efficiency and under the 110 points per 100 possessions mark.
I'm not convinced the defensive improvement continues in 2021-22. Because of that, I'm willing to wager The Citadel totals hover closer to a 50/50 split between Overs and Unders.
The offense is VERY good, so you can expect plenty of points to be scored in every game this season.
---
Save for one season, VMI has finished in the top three in the SoCon in pace every year since Dan Earl took over in 2015.
This year, there's a distinct possibility the Keydets ease off the gas pedal just a smidge.
Greg Parham is gone from last year's team. He was VMI's best player and point guard and one of the best playmakers and scorers in the conference. With him off the roster, VMI's strength shifts to the frontcourt where Jake Stephens roams.
Stephens is a perfect big man for Earl's Princeton-esque halfcourt offense; he initiates offense from the top of the key, is a capable shooter and an excellent passer. VMI's offense will be at its best while playing in the halfcourt through Stephens.
There are still plenty of good guards on the roster, but they are first and foremost catch-and-shoot threats and not playmakers.
Transition scoring may decline in favor of a more half-court attack. If that's the case, Unders might be in play.
The caveat to that is if VMI's offense continues to be an efficiency machine, as it was in 2020-21. It will also be tough for VMI to improve on a defense that was Earl's best in his coaching history.
Both scenarios, better offense and worse defense, can negate the potential tempo downshift.
How would you rate this article?
This site contains commercial content. We may be compensated for the links provided on this page. The content on this page is for informational purposes only. Action Network makes no representation or warranty as to the accuracy of the information given or the outcome of any game or event.