BetSync 101: How to Use The Action Network's Automatic Bet Tracking
Our goal at The Action Network has always been to improve your sports betting experience. Everything from handicapping games to following your bets and tracking your performance.
That last part just got a whole lot easier.
BetSync does exactly what it sounds like — automatically tracks the bets you make at your sportbooks in The Action Network app. You can do it in nine different states through three different books: BetMGM, PointsBet, and Parx.
Here's where BetSync is offered:
| BetMGM | PointsBet | Parx |
| --- | --- | --- |
| NJ | NJ | PA |
| CO | CO | |
| MI | MI | |
| IN | IN | |
| PA | IL | |
| IA | | |
| TN | | |
| VA | | |
| WV | | |
That's right — you no longer need to manually enter your bets after you've placed them if you're in an approved state and betting at one of our partner books.
Here's how it works.
Setting Up BetSync
The easiest way to set up BetSync, whether you're a new or existing Action Network user, is to click this link for PointsBet (NJ, CO, MI, IL and IN), here for MGM (NJ, PA, CO, IN, TN, MI, VA, IA and WV) and here for Parx (PA).
These links will take you through a flow where you login to your Action account and start syncing. Here's an example of how it works with PointsBet.
1. Login/Create an Account with the Sportsbook, Then Connect
You'll be prompted to login to PointsBet or create an account after you start the sync. (If you're new to PointsBet, you'll also be eligible for their new customer offer.)
Then, follow the steps. You'll get a verification at the top once it's all set.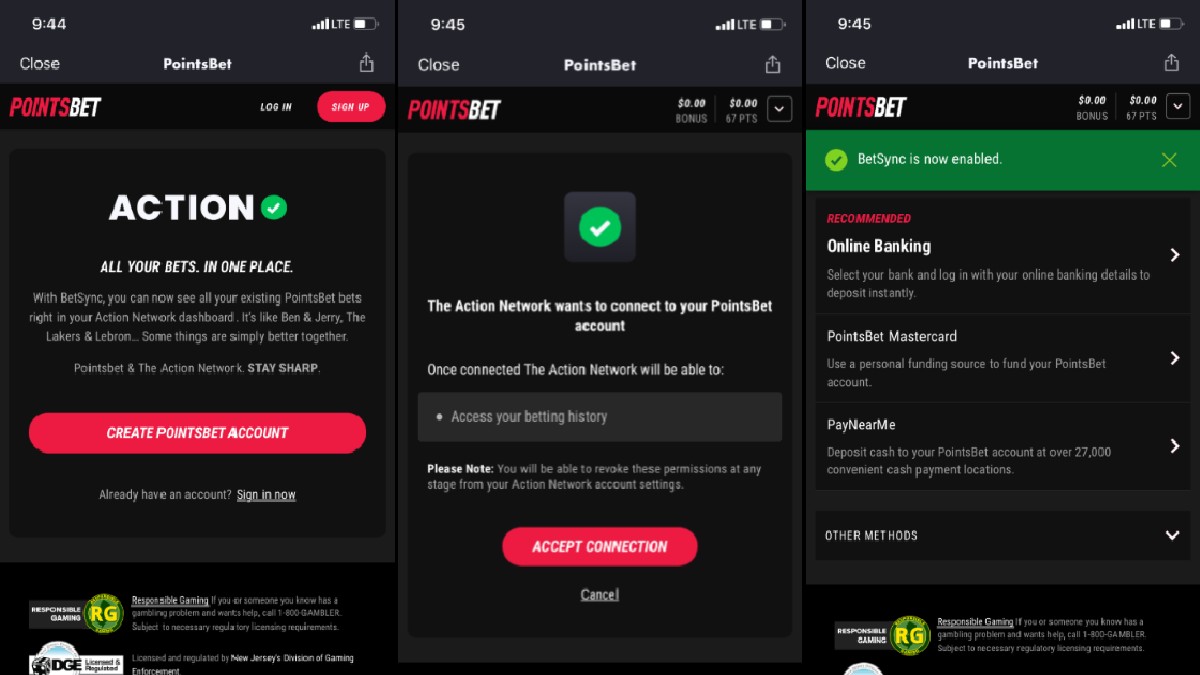 You'll now see PointsBet as one of your books, with a "synced" notice.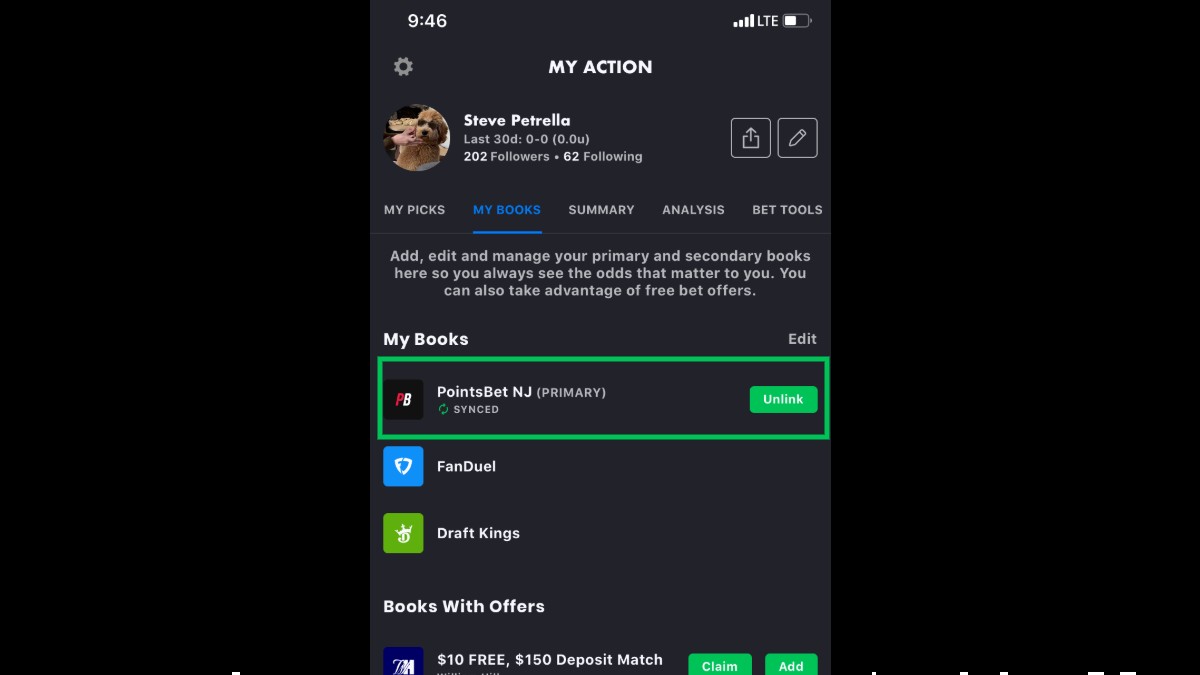 2. Make Your First Bet
Make a bet at PointsBet, and watch the magic happen.
Yep, it's really that simple.
2. Join the Leaderboard
The Action Network app now has leaderboards that BetSync bettors can appear on. Since we can verify the bets are real, we'll display your record.
To qualify for the Action Leaderboard, you must:
Bet at a BetSync book.
Produce a positive ROI.
Average five plays per week to be included in a given sport's leaderboard.
Have a minimum 100 total plays to be included in the all time leaderboard.
Maintain a win percentage of ≥35%.
BetSync FAQ
Where Is BetSync Available?
BetSync is available in New Jersey, Indiana, Colorado, Tennessee and Pennsylvania right now.
What Books Can I Use BetSync With?
BetSync is available at BetMGM (CO, IA, IN, MI, NJ, PA, TN, VA, WV),  PointsBet (NJ, MI, IL, CO and IN) and Parx (PA).
We continue to work with our partners to make BetSync available to as many of our users as possible. You can learn more about the legal status of sports betting in your state by checking our state-by-state tracker.
Do I Have to Be an Action Subscriber to Use BetSync?
Nope. You don't need to be a subscriber of any kind.
Just use a partner book in an approved state.
Can I Place Bets Through The Action App?
No. You still need to place all bets through your sportsbook, and the bet will be tracked automatically in The Action Network app. Not the other way around.
What Kind of Bets Can Be Synced?
Generally, a bet will sync if it can already be tracked in The Action Network app.
That means these bets….
Spreads
Moneylines
Totals & Team Totals
Futures
Parlays
Teasers
Player Props
…in these leagues…
NFL, NCAAF
NBA, NCAAB, WNBA
MLB
UFC
NHL
PGA TOUR
MLS, EPL, La Liga, Serie A, Champions League, Ligue 1, Bundesliga
…will sync automatically if you're using a partner book.
If you have any further questions about BetSync, contact our support team at feedback@actionnetwork.com.
How would you rate this article?