MLB Expert Predictions for Wednesday: Our 5 Favorite Bets, Including Dodgers at Phillies
Credit:
Eric Hartline-USA TODAY Sports. Pictured: Max Muncy, Cody Bellinger
We have a full slate of baseball on Wednesday, and our experts are on five of the nine late games.
See their picks and predictions for Dodgers-Phillies (7:05 p.m. ET), Blue Jays-Red Sox (7:10 p.m. ET) and more.
Sean Zerillo: Los Angeles Dodgers at Philadelphia Phillies
Kenta Maeda (7-6, 3.82 ERA) vs. Nick Pivetta (4-4, 5.81 ERA)
Dodgers Moneyline: -144
Phillies Moneyline: +134
Over/Under: 10.5
First pitch: 7:05 p.m. ET
The Dodgers and Phillies have combined to score 35 runs over the past two games, with each team allowing three runs and a blown save in the ninth inning of Tuesday's matchup — in a dramatic 9-8 win for the Phillies.
The two teams went 5-for-6 with runners in scoring position, hitting five home runs while only leaving a combined seven runners on base.
Naturally, the public is piling on Wednesday's total, with more than 70% of the tickets and 80% of the cash being bet on the over.
I projected the game total at 9.1 runs, and see considerable value on the under 10.5
Though Nick Pivetta's season (3.35 FIP) is beginning to look like an outlier instead of a growth year, his 2019 xFIP (4.70) is more than a run below his ERA, thanks to his allowing 2.16 home runs per nine innings on a 23% HR/FB rate.
Kenta Maeda has out-pitched his own advanced metrics (3.82 ERA, 4.31 FIP, 4.41 xFIP) thanks to a .231 BABIP, but he has also pitched slightly better since the middle of May (4.15 FIP, 4.04 xFIP).
Not only is my projection for this game 1.33 runs below the listed total, but the game also fits the following system, which has netted a return on investment of 5.8% in 2019:
I could also make the same argument for the under 9 in Astros-Angels. That total is 1.36 runs above my projection of 7.64, and also fits the Contrarian Unders system as of writing.
THE PICK: Under 10.5
---
Mark Gallant: Washington Nationals at Baltimore Orioles
Erick Fedde (1-1, 3.79 ERA) vs. Aaron Brooks (2-3, 4.75 ERA)
Nationals Moneyline: -195
Orioles Moneyline: +175
Over/Under: 11
First pitch: 7:05 p.m. ET
Yesterday, I bet on a guy with an ERA over 8. That ERA is now over 9…
Today, I will be betting on a team that's somehow on pace to win fewer than 50 games for a second consecutive season: The Orioles. They're getting just 21% of bets — crazy, right? — but are getting the overwhelming majority of the money. We've also tracked multiple Sports Insights' Bet Signals on them, which has caused the line to move 30 cents in their favor at some books.
With that said, I expect there to be some buyback on the Nats. I'm holding off on the O's for now, but would take them at +180 or higher.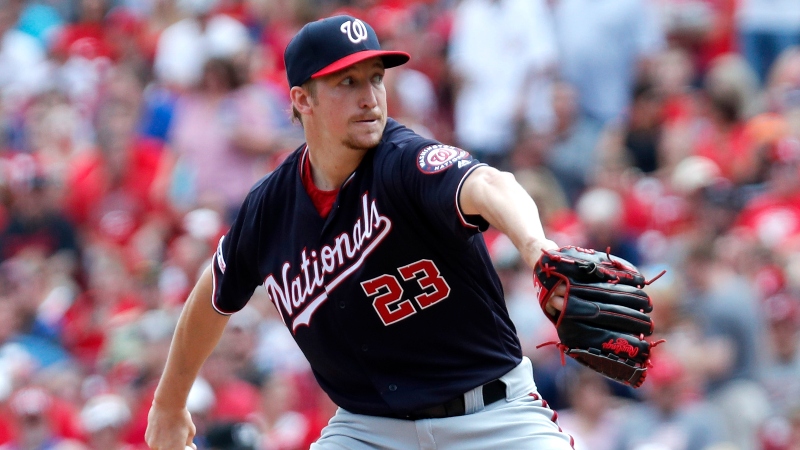 Added bonus: The Nats starter, Erick Fedde, has a K/9 and BB/9 that both sit between 4 and 5. I wouldn't recommend betting on pitchers with those numbers that are approximately -200 on the moneyline.
THE PICK: Orioles at +180 or higher
---
Danny Donahue: Toronto Blue Jays at Boston Red Sox
Aaron Sanchez (3-13, 6.22 ERA) vs. Eduardo Rodriguez (10-4, 4.43 ERA)
Blue Jays Moneyline: +218
Red Sox Moneyline: -240
Over/Under: 11
First pitch: 7:10 p.m. ET
Back to the well with the Jays for me. Toronto fits two of my favorite betting systems tonight, and being unrelated to one another, they create quite the profitable spot when they land on the same side:
The Blue Jays are a bad team — sub-.400 with a substantial number of games played — coming off a win. That puts bettors in a position to fall victim to the Gambler's Fallacy: Thinking that last night's win makes a loss more likely tonight, which isn't the case. Generally, that leads to inflated lines for said bad team.
Toronto has an ideal bet vs. dollar split, as 19% of bettors accounting for 30% of money are landing on the Jays. That discrepancy means bigger bettors (likely sharps) are behind them. But since the money percentage is still a relatively low number — and in this case happens to be right around the implied probability of the moneyline — this bet doesn't pit us against sportsbooks, which is something bettors should try to avoid since the books obviously know what they're doing.
Drawing up a Bet Labs system for this combined spot creates quite the return.
THE PICK: Blue Jays +218
---
Josh Appelbaum: Detroit Tigers at Cleveland Indians
Spencer Turnbull (3-8, 3.59 ERA) vs. Mike Clevinger (2-2, 3.99 ERA)
Tigers Moneyline: +263
Indians Moneyline: -290
Over/Under: 9
First pitch: 7:10 p.m. ET
Yesterday's total was 10.5 and still nearly 80% of bets took the over. The Tribe ended up winning 8-0, handing the public a big loss and contrarian bettors and sportsbooks a big win. Tonight, casual bettors are going back to the over well, but wiseguys are buying low on a windy contrarian under at Progressive Field with two sub 4.00 ERA pitchers facing off.
This AL Central over/under opened at 9.5. Nearly 70% of bets are taking the over, yet we've seen the line fall to 9. No, the books aren't dropping the line to make it easier for Average Joes to cash their over play — they're adjusting the total downward because they got hit with smart under money from respected players.
Pro bettors got down hard on the Under 9.5 as soon as the line opened, then hit the Under 9 two more times, triggering three steam and reverse line moves.
The fact that sharps hit the 9 even after they lost the hook is key: It means they still see value even at the less attractive price, which indicates supreme confidence in a lower scoring game. Even better, we haven't seen any conflicting over moves, which would be evidence of wiseguy disagreement or buyback.
A big edge here is the weather. The forecast calls for 7 mph winds blowing straight in from centerfield, which sharps hope knocks down a few first row homers into warning track outs.
According to our Bet Labs database, the under has won at a 54.8% clip and produced +95.32 units won since 2005 when the wind is blowing in at least 5 mph.
THE PICK: Under 9.5/9
Collin Wilson: Tigers at Indians
As Josh highlighted, wind will be blowing in from centerfield for tonight's AL Central matchup.
Spencer Turnbull was able to throw five innings with just two earned runs in this ballpark back on June 22. Detroit lost that game 2-0, and another low-scoring affair could be in the cards for tonight.
Since the beginning of May, the Tigers have the worst wRC+ and wOBA against righties in all of MLB. Combined with the fourth-highest strikeout rate in that window, Mike Clevinger might have a decent night on the mound for the Tribe.
In a short 29.1 innings for Cleveland this season, Clevinger has posted an xFIP of 2.58 well below his current ERA. Although the Indians' right-hander has not faced the Tigers this season, Clevinger allowed just four earned runs in more than 17 innings pitched against Detroit in 2018.
THE PICK: Under 9
John Ewing: San Diego Padres at Miami Marlins
Chris Paddack (5-4, 2.84 ERA) vs. Trevor Richards (3-10, 4.18 ERA)
Padres Moneyline: -148
Marlins Moneyline: +136
Over/Under: 7.5
First pitch: 7:10 p.m. ET
The Marlins offense exploded on Tuesday: They had 14 hits, went 5-for-9 with runners in scoring position and scored 12 runs. It was a surprising outcome for a club that ranks 29th out of 30 teams in runs scored this season.
But bettors aren't banking on another strong offensive performance from the Marlins, which helps explain why only 26% of moneyline tickets are on Miami.
However, it has been historically profitable to bet against the public following a big offensive game. Since 2005, teams getting less than 30% of bets after scoring eight or more runs have returned a profit of $8,831 for a $100 bettor.
Not only is history on Miami's side, but according to Zerillo's MLB model, the Marlins are slightly undervalued as well.
THE PICK: Marlins +136
How would you rate this article?