College Basketball Betting Preview for WCC: How Many Bids Will Conference Earn?
Credit:
Photo by Jamie Schwaberow/NCAA Photos via Getty Images
With Drew Timme back and a loaded recruiting class, Gonzaga is the heavy favorite to win the WCC -- as usual.
BYU, Saint Mary's, Loyola Marymount and San Francisco could be in the mix for NCAA Tournament bids, though.
Ky McKeon breaks down the league from top-to-bottom.
This season features arguably the best WCC of all-time. Gonzaga is the nation's No. 1 team, and four others have legitimate at-large hopes.
---
---
The Top (Bull)Dog
Mark Few has done the impossible up in Spokane. He's taken the Gonzaga program from a cute Cinderella story and transformed it into the best in the country.
Few's dominance in the WCC cannot be overstated — in 22 seasons, he's an immaculate 305-31 (.908) in conference play.
Since there's no value betting on the Zags to win the WCC (unless you risk a lot to win pennies), let's shift to a national mindset. Gonzaga is the national title favorite at every book in the land, ranging roughly from 6-to-1 to 8-to-1.
There's value in that.
First, consider the situation Gonzaga will likely be in during March. There's a high probability the Zags earn a 1-seed for the fourth consecutive season (counting 2020), meaning the path to the Final Four is theoretically easier on a relative basis.
Secondly, consider the talent.
Gonzaga has the best frontcourt in the country, led by preseason First Team All-American Drew Timme and the No. 1 freshman in the land Chet Holmgren. It has a senior point guard in Andrew Nembhard and a deep cast of wings to fill in the gaps.
There's a scenario where this year's Gonzaga team is as dominant as last year's on the national scale.
Finally, consider the narrative. Few is hungry for that elusive Championship. He's led two teams to the title game and came up short in both.
Naysayers run rampant on social media saying the Zags play a cupcake schedule (not true) and will never win a title. How sweet would it be for Few and the Zags to get it done in 2022?
---
Playing for Second
Mark Pope's Cougars are flying under the radar this year. BYU garnered three votes in the preseason AP Poll, effectively placing them 45th in the country.
That's madness, and not the March kind.
All Pope has ever done at BYU is win. His Cougars are 44-15 (23-6) over the past two seasons and have ranked inside the KenPom top 20 in both.
The bettors don't mind the disrespect being shown by the polls. We know the true BYU is a team with top-five seed-line capability.
57 players were named to one of the three All-American teams or given Honorable Mention status by the Associated Press last season. 14 of those players return in 2021-22. One of those players, Alex Barcello, is on BYU.
Barcello doesn't get much press, but rest assured, he's one of the best players in the country, a skilled marksman who can rack up points in bunches.
Milwaukee transfer (and former Illinois guard) Te'Jon Lucas joins him to replace Brandon Averette and form a dynamic one-two backcourt punch.
Up front, sophomore Caleb Lohner is ready to ascend to star status. Many are putting too much focus on BYU's loss of Matt Haarms and not enough on Lohner's ascendance.
This team is talented, deep and worthy of a top-25 designation.
Look for BYU to be undervalued in the market at the start of the season and for Pope to rack up the covers. He's 33-19-3 against the spread over the past two years.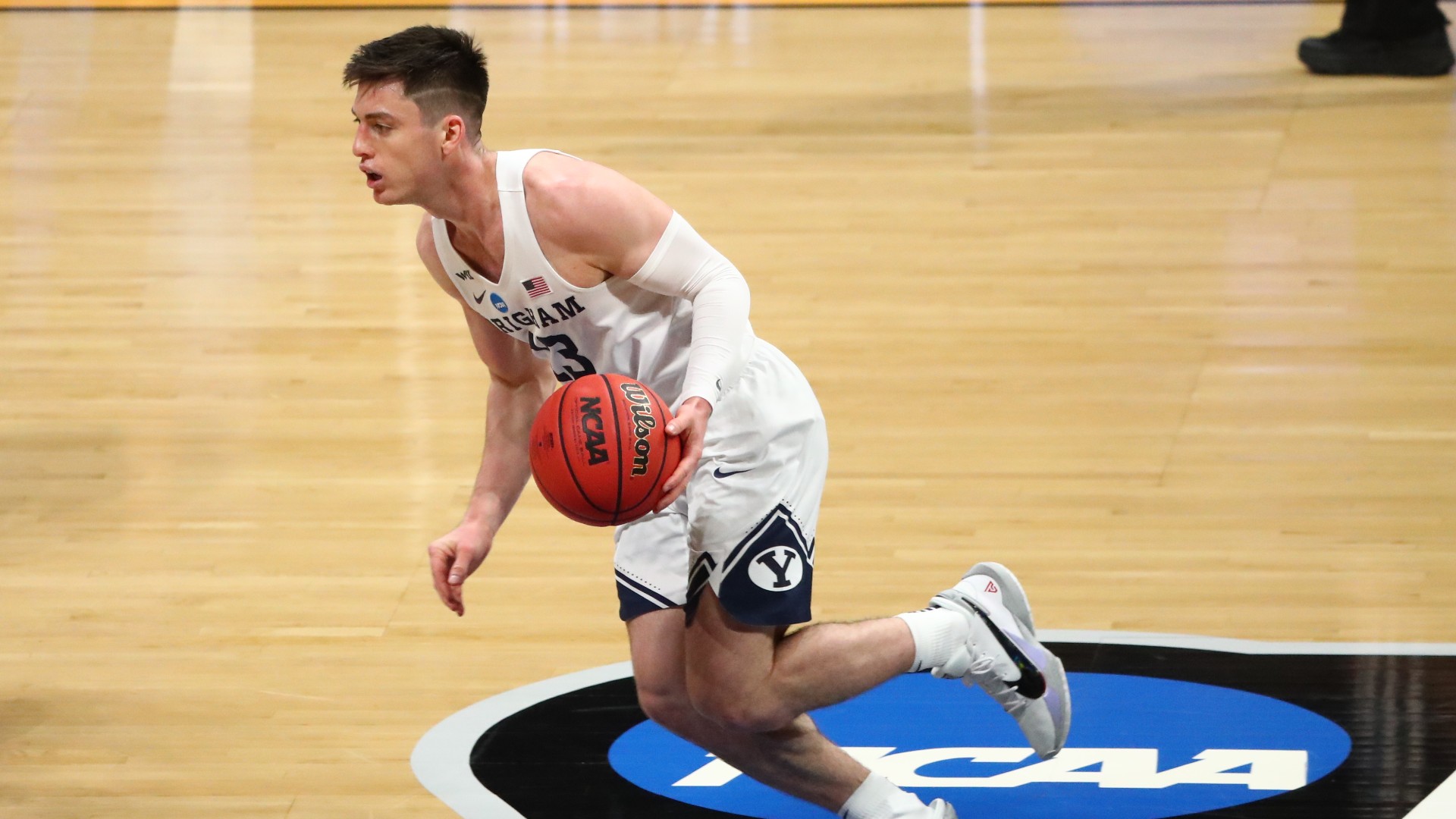 ---
Have you forgotten about the Gaels? It seems many have.
Last year's 14-10 (4-6) performance was uninspiring, and Randy Bennett's grind-it-out style of play is anything but fun to watch.
Let's do a quick refresh on Saint Mary's under the leadership of Bennett. Prior to last season, Saint Mary's hadn't won less than 10 games in the WCC since 2007.
The Gaels have ranked inside KenPom's top 40 eight times since 2010.
Bennett's 2019-20 squad was projected to be an 8-seed in the Big Dance prior to the COVID cancellation. It would've been his eighth NCAA Tournament appearance in his 20-year tenure.
The point is this program has been rock-solid under Bennett and last season will prove to be a blip on an otherwise clear radar. The Gaels are one of just three teams in the country that return 100% of their minutes, per Bart Torvik. Four out of five starters will be seniors.
Saint Mary's as an underdog is usually a strong bet given its style of play. The Gaels consistently play at one of the slowest tempos in the country and are very good at controlling the pace against faster opponents.
Slower tempo = less possessions = less points.
Bennett's teams play smart. They control the defensive glass, they take away the 3 and they force opponents to shoot off the dribble instead of the pass. Smart basketball is winning basketball.
Look for the Gaels to be a feisty underdog and give teams like Notre Dame a run for its money.
Keep an eye on totals, as well. The Gaels love playing in the 60s, 50s and sometimes below.
---
The Dons are a KenPom preseason darling. The holiest of holy college basketball analytic sites has ranked San Francisco No. 34 in its preseason rankings.
That would be by far the highest rank for the program in the site's 25-years history and a dramatic improvement on USF's No. 93 ranking last season.
But it's not crazy to think the Dons could get there.
Todd Golden's five best players are back from last season, and he adds the services of former Second Team All-Ivy guard Gabe Stefanini, former Columbia/Duke big man Patrick Tape and San Diego transfer Yauhen "The Squirrel" Massalski.
Those last two additions are enormous, both literally and figuratively. USF's major weaknesses last season were rebounding, interior scoring and interior defense. Tape and Massalski solve all three of those issues in one fell swoop.
Approach USF with your finger hovering above the "hammer" button. Gauge how the Dons fare over the first few games or so, and then, if they look legit and worthy of top-40 analytical ranking, smash that button on what is sure to be a head-scratching spread to many against Nevada on November 18th.
---
LMU vastly exceeded expectations last season in Stan Johnson's first year as a head coach. The Lions finished 94th in KenPom, up from a preseason ranking of 146. It was the school's first top-100 KenPom finish in the site's 25-year history.
Now, the Lions have real expectations. They return five starters and add the services of four transfers who could all play a role in the rotation.
Johnson's team is deep, athletic, physical and led by one of the best players in the WCC in Eli Scott.
Approach LMU as you would USF. Believe the hype is possible, but get a few games for sample size before making a conclusion.
With their slow style of play, preference for rim attack over 3-pointers and uber-physical nature, the Lions project to be a fantastic underdog but a so-so favorite.
They have the size and physicality to compete with power conference teams, but they won't consistently cover as a mid-to-large favorite.
---
Santa Clara is a wildcard. Herb Sendek is a good coach who has had a pretty steady floor while leading the Broncos, but his team has also never cracked the top four of the WCC standings.
The guard/wing group on this roster is very good, as its led by Josip Vrankic, Keshawn Justice and Jalen Williams. Green Bay transfer PJ Pipes should take over at point guard, giving the Broncos a potentially potent offensive attack.
Defensively, Santa Clara will be tough on the perimeter because of its length from the 2-4 positions, but the big men on the roster are unproven.
Can the Broncos hold up against bigger, physical foes like Gonzaga, BYU, USF and LMU?
The most intriguing thing to watch from a betting perspective is Sendek's pace. His first three SCU teams played at very slow tempos, but the past two seasons, SCU has ranked in the top 25 in average possession length.
Will this trend continue and thus, will LMU lean as an Over team? Or, will Sendek pump the breaks and pull back on the reins, skewing SCU back to the Under realm?
---
Overcoming Losses
Pacific lost Damon Stoudamire this offseason, its coach of the last five seasons and the 2020 WCC Coach of the Year.
That's huge.
Stoudamire built a culture centered on toughness, physicality and defensive tenacity and his teams generally outperformed preseason expectations.
Leonard Perry is the new head honcho in Stockton. He was formerly the head coach of Idaho and has been Stoudamire's top assistant the past five years.
The jury is still out on Perry. On one hand, the philosophy, culture and style should stay largely the same given Perry was on the bench for Stoudamire's full tenure.
On the other hand, he isn't Stoudamire.
Pacific has three starters returning and it brings in some potentially impactful transfers, but there's little chance it can crack the top five of the WCC.
Approach the Tigers with caution.
---
Lorenzo Romar enters year four of his second stint at the helm of Pepperdine without two key players.
Colbey Ross, Pepperdine's all-time leader in scoring and assists, is gone, as is Kessler Edwards, who amassed over 1,200 points in just three seasons.
The Waves will rely on two transfers, Braun Hartfield (San Diego) and Keith Fisher III (Illinois State), for offensive production, but neither player has seen the court since the spring of 2019.
It could be a long season for Pepperdine unless Maxwell Lewis — the crown jewel of the Waves' freshman class — is excellent right away.
There's a non-zero chance the bottom falls out this season and Pepperdine finishes outside the KenPom top 200.
---
A New Hope
Nobody in the WCC played fewer games last season than San Diego, which managed just 14 amid multiple COVID-19 pauses. The Toreros limped to a 2-7 league mark and scored just one victory all year against a team inside the KenPom top 300.
It's easy to say, "throw last season out" and expect major improvement from USD in 2021-22. However, keep in mind, the Toreros were just 9-23 (2-14) in 2019-20, the first season after Sam Scholl's excellent 2019 senior class — that he inherited from Lamont Smith — graduated.
Hope for a return to competency lies with a talented transfer class.
Pitt big man Terrell Brown was a starter in the ACC and a good shot-blocker. Point guard Jase Townsend and his 19.2 points per game average were the only good things about an atrocious Denver team last season. Marcellus Earlington was a key rotation player for St. John's in the Big East. And Bryce Monroe is the reigning Southland Freshman of the Year.
There's a world where those four transfers — plus the return of solid contributors Joey Calcaterra and Josh Parrish — is enough to vault USD to a seventh or even a sixth-place finish in the WCC and outperform preseason analytical rankings.
I'm staying cautious on San Diego until Scholl proves he can win with his guys.
---
For the first time in seemingly forever, Portland has hope. It's hope for the future, but hope, nonetheless.
Terry Porter was canned in February of last season after amassing a 43-103 (7-70) record in just under five seasons. The Pilots are just 1-42 in the WCC in the past three seasons. ONE AND FORTY-TWO.
Enter Shantay Legans, the former Eastern Washington coach who was a couple bounces away from leading a ginormous 14/3 upset over the mighty Kansas Jayhawks in last year's NCAA Tournament.
Legans is a home run hire for a downtrodden program. He likely could have landed a bigger and better gig, but he seems excited for the challenge that awaits him.
This team returns zero scholarship players from last season, but that's not such a bad thing. Legans gets to coach a team made up of 100% of his guys, three of which came over from Eastern Washington.
Portland won't be winning the WCC anytime soon, or even competing for a top-8 finish. But this program is in much better hands with Legans, and there's enough scrappiness and experience on the roster for the Purple Pilots to pull a shocker or two in conference play.
Even one conference win would be an improvement on last season.
How would you rate this article?
This site contains commercial content. We may be compensated for the links provided on this page. The content on this page is for informational purposes only. Action Network makes no representation or warranty as to the accuracy of the information given or the outcome of any game or event.