College Basketball Betting Preview for Ivy League: Conference Returns After COVID Hiatus
Credit:
Photo by Hunter Martin/Getty Images
The Ivy League is officially back after taking the year off due to the COVID-19 pandemic.
Once again, Yale, Harvard, Penn and Princeton will be the four top teams in the league.
Jim Root breaks down the conference from top-to-bottom.
A heartfelt "welcome back" to the prodigal son of conferences!
The Ivy League is returning to action after a COVID-induced hiatus in 2020-21. Only two other teams in the entire country opted against playing a single game, though, three more eventually joined "the smartest guys in the room" on the sideline.
One might still question the necessity of canceling the entire season when 347 teams at least gave it a go, but here we are.
Therein lies the key note for this league: the vast majority of players have not logged a single minute of organized basketball since March of 2020. When coupled with the fact that two recruiting classes worth of players have yet to see a Division I court, the volatility and uncertainty for every team is enormous.
To further illustrate this point, I pulled the "returning minutes" data from BartTorvik.com, which calculates exactly what it says: the percentage of minutes returning for each team in the entire country.
Summarized by conference, the Ivy brings back the lowest average share of minutes in the nation at 40.5% per team, well below the national average of 63.0%.
It was not particularly close, either. Only two other leagues — the SEC (42.9%) and Big 12 (49.1%) — were also under 50%.
---
Since the introduction of the four-team Ivy League Tournament back in 2017, the event has been dominated by four teams: Penn, Yale, Harvard and Princeton.
That group is responsible for 15 of the 16 total tourney appearances (although the 2020 event was never actually played). Only 2018 Cornell has cracked that impenetrable fortress.
Even after a COVID year off, the pecking order looks similar.
It's difficult to designate a favorite, but every one of those "top four" squads has an obvious Ivy Player of the Year candidate and a proven coach, so it's something of a "choose your own adventure."
---
Yale claimed the top spot back in 2020, and with unabashed sniper Azar Swain in the backcourt and 20-year veteran James Jones on the sideline, the Bulldogs may be the default choice.
They also have a terrific wing group featuring Jalen Gabbidon (reigning co-Defensive Player of the Year), Matthue Cotton (a skilled lefty with high upside) and August Mahoney (a pure shooter).
However, they will need some unproven options to solidify the point guard and center spots to assert themselves atop the standings.
---
Tommy Amaker's Harvard squad is absolutely loaded with 3- and 4-star recruits, so, if you like talent over all else, the Crimson should be your horse.
Big wing playmaker Noah Kirkwood is arguably the best NBA prospect in the conference and a bevy of other touted recruits — physical forward Chris Ledlum, big rim protector Justice Ajogbor, French scoring guard Louis Lesmond, among others — make Harvard a viable title candidate.
---
Penn runs a similar offense to Princeton and has go-to lead guard Jordan Dingle. Unfortunately, the Quakers have some question marks in the frontcourt.
Penn's Steve Donahue has dominated the league in the past and if forwards Michael Wang, Max Lorca-Lloyd and Max Martz all stay healthy and develop, the Quakers have championship upside.
---
Like Penn, Princeton also has a talented lead guard in Jaelin Llewellyn and needs to fix its frontcourt.
The Tigers typically play through a solid post man, so they need Tosan Evbuomwan to blossom in his second college season.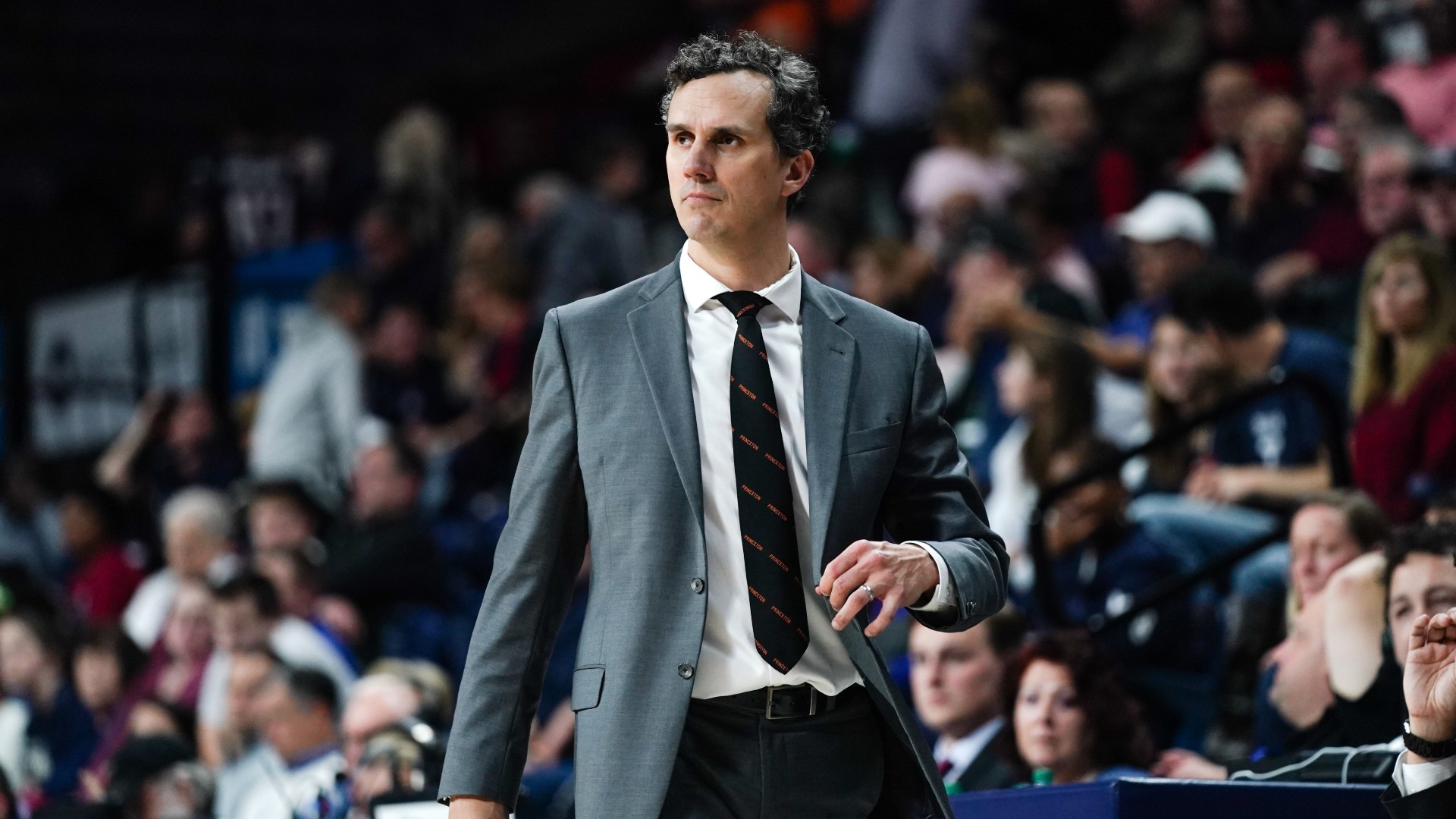 ---
If one team is going to break through into the top tier, it will likely be the Brown Bears.
The Bears have a potential Player of the Year candidate of their own in versatile forward Tamenang Choh and have the best defense in the league led by shot-swatting menace and reigning co-Defensive POY Jaylan Gainey.
That identity makes Brown somewhat unique in the offensive-driven Ivy.
---
A more fringe candidate would be Dartmouth, which will be led by the rarest of rare: an Ivy boomerang.
Brendan Barry averaged 13.2 points per game for the Big Green back in 2018-19, and after a year at Temple, he's back in Hanover for a last hurrah. It took wild circumstances for him to return: a torn ACL in '19-20, the NCAA granting a free year for all athletes last season and the Ivy enacting a one-time exemption to allow graduate students to play.
Adding a scorer like him to Aaryn Rai and Taurus Samuels gives coach Dave McLaughlin a promising core.
---
Cornell will likely be a bottom-feeder after it lost major pieces to the transfer portal once the powers that be axed the Ivy's campaign last fall.
Coach Brian Earl is a savvy game-planner, but his counterparts are all sharp minds as well.
---
Columbia will be toward the bottom of the standings, as well.
Coach Jim Engles is another solid game-planner, but the talent gap of the Lions compared to other Ivy League teams may end up being too wide to overcome.
---
Schedule Alteration
For years, the Ivy slate has been comprised mostly of back-to-back matchups on Friday and Saturday, putting road teams in the tough spot of having to travel and play on the same day.
To ease that burden, the league has elongated the calendar, resulting in fewer back-to-backs (only three per team) and less travel headaches.
This may favor road teams, as they will not be dealing with off-court logistical stresses nearly as frequently.
---
Tips on Betting Ivy League
As well-coached as the Ivy squads are, tread carefully early in the year.
Most of the offensive systems here are highly reliant on precise timing and disciplined execution and having so much time off between real games could result in some disjointed attacks.
That means some combination of "fade" and "Unders" make a lot of sense. That is especially true if they are facing quality defensive teams that can disrupt the already-limited rhythm of the Ivy offenses.
Pay close attention, though. If one or more teams look sharp a few games into the season, then riding them for a stretch into December might make sense.
When executed correctly, most Ivy attacks are difficult to prepare for thanks to their copious cutting and off-ball movement.
Non-conference foes who typically do not see that style should especially have trouble. As a result, these well-coached squads could present problems once they get clicking.
How would you rate this article?
This site contains commercial content. We may be compensated for the links provided on this page. The content on this page is for informational purposes only. Action Network makes no representation or warranty as to the accuracy of the information given or the outcome of any game or event.