MAC 2021 College Basketball Betting Preview: Will Buffalo Win the League?
Credit:
Photo by Mitchell Layton/Getty Images
MAC College Basketball Betting Preview
I have listed my current power rating rank next to each team. Keep in mind that these are where I have these teams as of this moment; this isn't a prediction of the final standings — although there's obviously a large correlation.
I'm just not trying to forecast the improvement or upside we could see from some of the teams toward the bottom with new coaches and overhauled rosters.
---
---
Let's kick things off with the only team in the league I have rated inside the top 100 heading into the season.
Outside of defensive stalwart wing Jayvon Graves, the Bulls bring back the entire band and should be the preseason favorite to go dancing in my eyes.
Four primary traits characterize this Buffalo team:
Dominate the glass
Get out in transition
Attack the rim
Relentless defensive length
To illustrate those strengths, just take a look at the Bulls' statistical profile from 2020-21. Last season, they ranked in the top-25 nationally in offensive rebounding percentage, opponent effective FG%, three-point defense and Adjusted Tempo.
This is one of the most experienced and physical teams in the country. They dominate on the glass on both ends, which leads to transition opportunities for a team that loves to run.
The Bulls also get plenty of easy putbacks from their excellent frontcourt, led by Josh Mballa and LaQuill Hardnett.
This is also the best defensive team in the MAC. Buffalo simply suffocates teams on the perimeter with its length and knows it has the rim protection as insurance.
The top dog resides at the 3 in Jeenathan Williams, who does a little bit of everything. He should be on the shortlist for potential MAC Player of the Year candidates. The supremely athletic senior averaged 17.6 points and 6.8 boards per game last season.
The point guard position is also in good hands with Ronaldo Segu, who knocked down just under 40% of his triples last season.
However, outside of Segu and Williams, perimeter shooting is not a strength for the Bulls, as they can struggle a bit with their half-court offense. The Bulls hope George Washington transfer Maceo Jack can provide a boost in that department.
The other primary issue is free-throw shooting, which could come back to bite the Bulls in close games (or cost them covers). They shot just 66.8% from the charity stripe last year (295th).
Lastly, the Bulls were extremely streaky in 2020-21. When on, they would go on massive runs, but they could also go ice cold for long stretches when they couldn't get out in transition.
I expect a bit more consistency this year with the primary corps back.
---
---
After the Bulls
Next, we have six teams that I have power rated between 100-150.
I think Ohio is the best of the bunch, but there really isn't much separating any of the teams in this group.
Miami (OH) boasts the most experience, while the other five must replace one of their best players from last season.
---
Can Mark Sears pick up the production of second-round draft pick Jason Preston? If there's no drop-off here, the Bobcats could find their way back into the NCAA Tournament.
Thanks in large part to Preston's brilliance, Ohio's offense finished 40th in Adjusted Efficiency and 12th in 2P%. For reference, Preston shot 38.5% from deep to go along with a gaudy 37.6% assist rate. He also did plenty of productive work on the defensive glass.
The offense was a juggernaut when everyone was healthy and not dealing with COVID-19.
Sears was awesome in stretches during his freshman campaign and oozes with potential, but the sample size is small. He also must improve his outside shot a bit.
The rest of the pieces remain intact. Lunden McDay and defensive stopper/sharp-shooter Ben Roderick return on the perimeter.
Meanwhile, the frontcourt will get even stronger with the addition of uber-talented Xavier transfer and former Bobcat Jason Carter. He will join one of the league's best returning frontcourts that features rim-machine Dwight Wilson III and stretch four Ben Vander Plas.
The offense should keep humming along with excellent spacing and ball movement.
The defense can struggle at times and there isn't a ton of reliable depth outside of the top six.
Their season will all come down to Sears and health.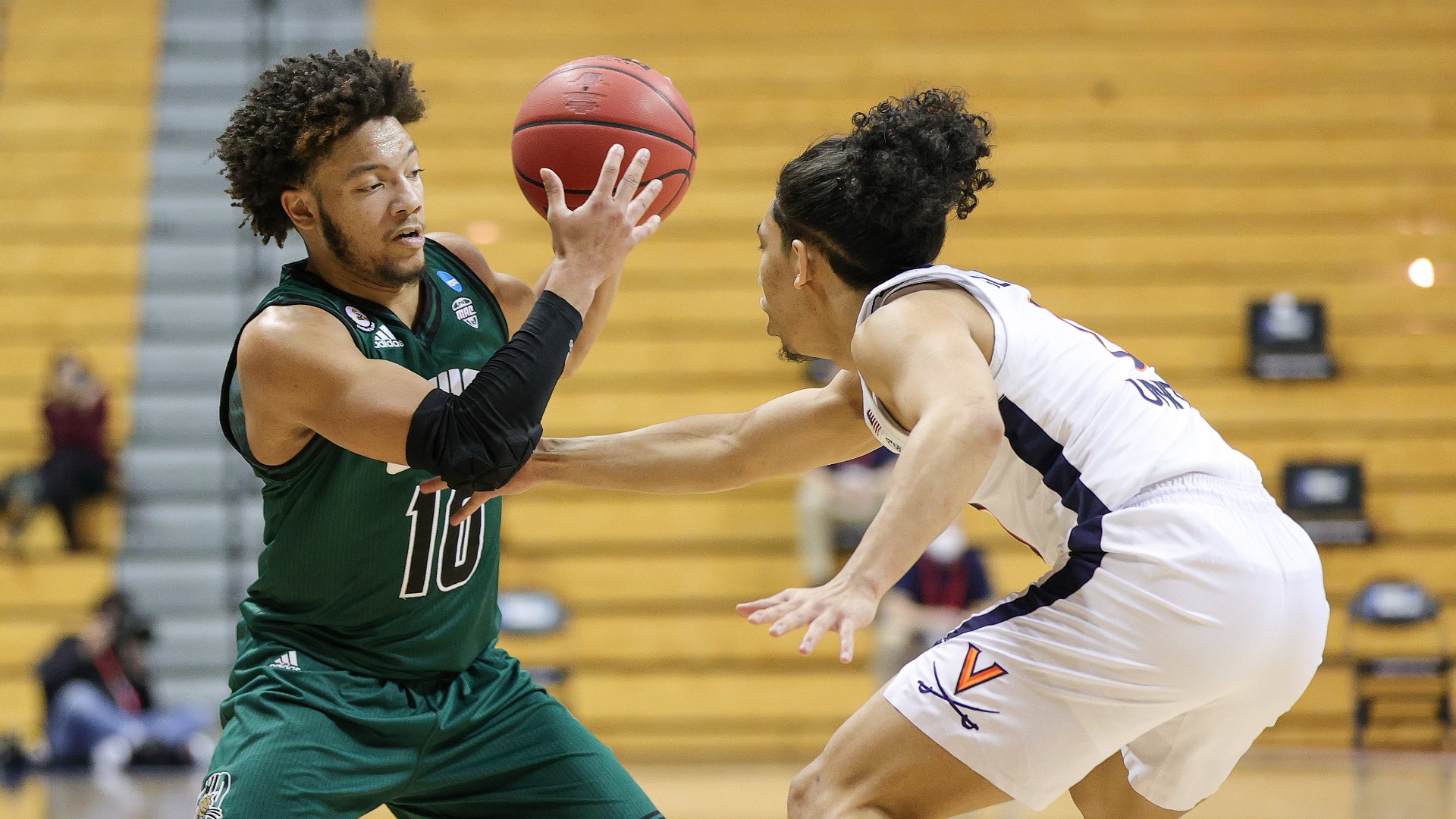 ---
The Golden Flashes must replace First Team All-MAC Danny Pippen, who could fill up a box score as well as anybody in the league. Pippen, who could get buckets in so many different ways, led the team in both scoring (19.8) and rebounding (8.6) in 2020.
They also lost guard Michael Nuga, who was lost after 13 games to a season-ending injury. The backcourt noticeably suffered after losing Nuga, who transferred to UNLV this past offseason.
However, the frontcourt should still be one of the best in the MAC with the return of Justyn Hamilton and Tervell Beck. That duo could once again lead Kent State to a top-25 finish in offensive rebounding rate.
That's where Kent State wants to live. Plus, Georgia transfer Andrew Garcia should help soften the blow of losing Pippen, and provide solid depth down low.
In regards to the perimeter, Malique Jacobs and Giovanni Santiago do come back to provide head coach Rob Senderoff with experience in the backcourt.
Santiago can really shoot it and Jacobs can lock down on the defensive end.
It will also be interesting to see how they utilize transfer Sincere Carry, who started at point guard for three years at Duquesne. I expect him to get the first crack at running the show.
Another reason for optimism at Kent State is a potential bump in locker room morale and chemistry with the departure of Pippen. There were rumors of locker room issues late in the year and Pippen didn't even dress for Kent State's season-ending loss in the MAC Tournament.
I'm fairly high on this Kent State squad, which should excel once again on the defensive end and dominate the offensive glass.
---
It's all about filling the shoes of reigning MAC Player of the Year Marreon Jackson, who spearheaded an offense that finished 19th in the country in Adjusted Efficiency, per KenPom.
The backcourt still has plenty of firepower with Ryan Rollins and Boise State transfer RayJ Dennis, who will likely take over at the point. The backcourt may still be fine with this duo.
However, the Rockets will also have to make do without the deadly outside of shooting of Spencer Littleson, who knocked down over 47% of more than 200 three-point attempts.
Big man AJ Edu also went down with an injury this summer, which hurts the frontcourt plans.
This should still be an excellent offense that moves the ball as well as any in the country to find high-quality shots. That said, this is a three-point reliant offense that must replace its quarterback in Jackson. That means a step back on offense could be on the horizon.
Could they compensate with a bigger lineup and improved defense? It's certainly possible. Lastly, 3P regression looms for a team that doesn't turn teams over and gives up a ton of offensive rebounds.
Last year, opponents only shot 29.8% from deep despite getting high-quality looks. A major correction could be coming in that area.
---
Star guard Justin Turner has moved on from the program. And despite plenty of options, I'm not sure who can effectively run this unit on a consistent basis. Maybe Kaden Metheny can handle full-time ball-handling duties, but I have my doubts.
The perimeter does feature an abundance of talent overall even without Turner.
A pair of fifth-year seniors in Daeqwon Plowden and Trey Diggs will now run the show for an up-tempo offense that relies on a heavy dose of pick-and-roll action in the half-court.
Plenty of talented incoming transfers also arrived in the offseason, but how will they fit together? What will the rotation look like?
A year after severely underperforming as the preseason favorite, Bowling Green could fly under the radar and surprise the league come March if everything comes together, especially with the wild card of the transfers as Bowling Green only brought in one freshman in this most recent class.
There's certainly a high ceiling here for a roster that has plenty of depth and versatility, even if the interior remains a bit shaky.
This is the only team in the second tier that does not have to replace a key player from last year.
Miami (OH) will once again be led by a talented perimeter consisting of Dae Dae Grant, Myja White, Mekhi Lairy and Isaiah Coleman-Lands. The first three of that group actually all shot over 40% from deep last year.
This is a guard-oriented team with shot-makers all over the court who won't turn the ball over.
Dalonte Brown returns at the four spot and gives Miami (OH) even more shooting ability. Meanwhile, James Beck returns at the 5 to help protect the rim and clean up the glass.
The RedHawks have excellent guards who can shoot them in or out of any game in the conference. This is one of the most experienced teams in the entire country, so we pretty much know what we are going to get here.
They do lack size, so they will still struggle at the rim on both ends. This also isn't a great defensive team.
If their guards get hot in March, they could make a run in the conference tournament. This is just a high-variance team that relies on shot-making while giving up plenty of open perimeter looks on the other end.
You can at least count on Miami (OH) to make its free throws if you back the RedHawks at the window.
---
Finding a replacement for Loren Cristian Jackson will not be easy. The senior guard seemingly never came off of the court and took over 1/3 of Akron's shots while still posting an assist rate of over 35%. Both ranked in the top-25 nationally.
Akron hopes either USF transfer Xavier Castaneda and/or sophomore Garvin Clarke can help fill some of that lost production. However, expect a drop-off at the point guard position that head coach John Groce relies on for penetration to create offense.
Akron will have some familiar faces back in the fold with sharp-shooting guard Bryan Trimble Jr., 6-foot-8 wing Ali Ali and Enrique Freeman down low. They'll be joined by Ball State transfer K.J. Walton, who can create scoring on his own with his ability to get to the rim off of the bounce.
Groce's teams want to shoot a high quality of 3s (top-20 rate last year) and take them away on the other end. That will be the goal once again, but it's hard to see this offense not taking a step back after the loss of Cristian Jackson.
---
---
Tier No. 3
This next tier contains a pair of teams ranked between 200-300.
Ball State was clearly in the second tier last season, but the Cardinals lost so much offensive production.
Meanwhile, I expect some improvement in year two of the Clayton Bates era after working out some kinks in a year filled with COVID and injuries. Western Michigan is still a bad team, though.
---
It might be a rough rebuilding year for Ball State after losing Ishmael El-Amin, Walton and Jarron Coleman — the creators on offense and the Cardinals' three best players.
They will need to rely on a trio of experienced transfers to work out:
Northern Illinois transfer Tyler Cochran
Tulsa transfer Reggie Jones
Saint Louis transfer Demarius Jacobs
In fairness, Ball State was really hurt by COVID last year, which certainly deflated some of its statistics.
Maybe the transfers all work out (I'm most confident in Cochran) and Jalen Windham lives up to his potential/stays healthy, but this looks like a down year in Muncie after losing so much offensive firepower.
---
Bates enters his second season in Kalamazoo. The Broncos got absolutely crushed by injuries and COVID last year.
A full offseason could really help here.
B. Artis White is a solid point guard to build around and wing JoJo Freeman flashed at times in his freshman season. Duquesne transfer Lamar Norman Jr could help provide much-needed perimeter offense, along with EIU transfer Mack Smith.
This backcourt should take a leap forward to help boost an offense that was completely helpless last year.
Titus Wright returns underneath, but the loss of Greg Lee will sting. Bates hopes a pair of transfers can step in and fill the void.
WMU played very slow last year, with a very inefficient offense and struggled at the rim on both ends. Turnovers and a lack of offensive rebounding generally do not equate to success on the offensive end.
The defense is nothing to write home about either.
---
---
New Faces in New Places
That leaves a trio of schools that all finished 280th or worse in KenPom last year that come into this season with a new man in charge after three long-time head coaches were let go.
We should see drastic scheme shifts with all three as they will have to rely on many new pieces. That's not ideal in a year where teams return as much experience as ever due to COVID rules.
However, it does create some upside for teams that could rise quickly in my power ratings given how low they sit.
Also, it could create some early potential betting value depending on the circumstances and how quickly the market catches up.
Still, it's hard to envision any of these three teams having much success in year one of a new regime. Even though I like all three hires for the long term, I'm erring on the side of caution by having each rated outside the top-300.
---
In comes Stan Heath, who has loads of head coaching experience with previous stops at Kent State, Arkansas and South Florida.
You can expect a switch from the 2-3 Boeheim zone under long-time coach Rob Murphy to more man-to-man looks — although you'll still see some 2-3 looks mixed in, but just not at the clip we saw under Murphy.
It remains to be seen how Heath will approach the offensive side of the ball. Bryce McBride returns in the backcourt and he can fill it up. However, there wasn't much else to get excited about offensively on this roster last year.
That's why Heath will be counting on a number of transfers to make an immediate impact.
Monty Scott arrives from Portland State after an All-Big Sky year and should provide an offensive spark. Heath hopes ECU transfer point guard Noah Farrakhan and JUCO scoring guard Kevin-David Rice can do the same.
Last year, EMU did nothing well. While the Eagles were crushed by COVID throughout the season, they were also running an offense that lacked scorers and a defensive scheme that didn't fit the roster.
Can Heath and the incoming transfers help EMU rise up the standings? It's possible, but there's a lot of uncertainty.
---
CMU also brought in a new head coach as it is officially the start of the Tony Barbee era.
Barbee comes over from Kentucky where he served as an assistant under John Calipari. He does have previous head coaching experience at Auburn and UTEP.
Not only is there a brand new head coach in Mount Pleasant, but the roster is also almost entirely new. It's possible that eight of the top 10 in the rotation could be transfers.
LIU transfer Jermaine Jackson Jr. should get the first crack at running the show at point guard. I like the addition and fit for a Barbee team that will likely try to play with pace.
Barbee should also immediately improve a defense that was absolutely dreadful last year under Keno Davis.
Again, there's a lot of uncertainty here, but a lot of upside as well.
---
Head coach Mark Montgomery is gone after 10 years. His replacement is Rashon Burno, who comes over from Arizona State to take over as a head coach for the first time in his career.
Every new coach says they will play fast but this might actually be true here since Burno was just under the tutelage of Bobby Hurley, whose Sun Devils ranked in the top 25 in Adjusted Tempo in each of the past two seasons.
That would be a major change and one that could only result in better offense for a team that finished 312th in Adjusted Tempo and 328th in Adjusted Efficiency last year.
The Huskies only did one thing well last year: offensive rebound — but they also had way too many chances for offensive rebounds.
Trendon Hankerson is a solid, experienced point guard, but there are questions throughout the rest of the roster, and losing Cochran really hurts.
That said, there's a lot more raw talent on the roster this year with the additions in recruiting and through the transfer portal. If Burno can figure out how to fit it all together, NIU could surprise in league play.
How would you rate this article?
This site contains commercial content. We may be compensated for the links provided on this page. The content on this page is for informational purposes only. Action Network makes no representation or warranty as to the accuracy of the information given or the outcome of any game or event.