College Basketball Betting Preview for Pac-12: Why UCLA Could Be Overpriced
Credit:
Photo by Jamie Squire/Getty Images
UCLA returns most of its team after last year's Final Four appearance, including media darling Johnny Juzang.
Keep an eye on Oregon and USC, though, as both teams are capable of challenging the Bruins atop the Pac-12.
Ky McKeon breaks down every team in the conference from top-to-bottom.
After a successful NCAA Tournament in 2021, the Pac-12 is back in full force.
The league has all the momentum after UCLA reached the Final Four, No. 12 seeded Oregon State and USC made the Elite Eight and other teams like Oregon and Colorado won a game.
What is in store for a follow up, though?
---
---
---
Title Contender?
If UCLA lost to Michigan State in the play-in game of the 2021 NCAA Tournament, would we be talking about the Bruins as a top-10 team this season? My take is no, we would not.
According to KenPom, UCLA had a minimum probability of 9.2% of winning that opening game against Michigan State last season. After escaping the Spartans, the Bruins went on their Final Four run on the backs of ridiculous shooting splits.
Every team UCLA faced forgot how to shoot from outside the arc and the free throw line, while the Bruins turned into supernovas.
All that said, UCLA should still be very good this season. Essentially everyone returns from last year, including media darling Johnny Juzang. Mick Cronin added a top-10 recruit in Peyton Watson and a transfer in Myles Johnson, who is among the best defensive players in the country.
The Bruins have pools of depth at every position. They are big at nearly every position on the floor. They have a point guard in Tyger Campbell who is as steady as they come.
There's not much to dislike about the roster.
Is UCLA a title contender? Yes, it is. However, be careful betting UCLA futures. Some places are pricing this team too high. This is not a top-three squad, yet.
Entering the tournament last season, UCLA was just 45th in KenPom. Again, had MSU beaten the Bruins it's possible we wouldn't see UCLA in any preseason top 10's.
That context is important when many books and media polls are using the tournament — a small-sample size and highly random event — as the major weight to UCLA's ranking.
---
Sleeping Giants
Oregon is being slept on. I hate using that term, but it's true. Many see a team who lost an NBA first-round pick in Chris Duarte, among other key departures, and think the Ducks will regress.
I'm of the opposite opinion. Dana Altman is one of the best coaches in the country, partially due to his ability to reload his roster from the high school ranks and transfer portal.
He brings in three impact transfers — Quincy Guerrier (Syracuse), De'Vion Harmon (Oklahoma) and Jacob Young (Rutgers) — who should be able to replace most, if not all, of the production left behind by Duarte, Eugene Omoruyi and LJ Figueroa.
Will Richardson is also fully healthy. While still not a true point guard, Richardson was hampered all of last season by nagging injuries. When healthy, he's among the best players in the conference.
As always, Altman has elite top-line size. N'Faly Dante is expected to have the biggest impact, but he is dealing with an injury. Thankfully, the Ducks still have five-star freshman Nate Bittle and 6'11" sophomore Franck Kepnang to protect the middle.
Oregon's offense likely won't improve much, if at all, but you can count on the Ducks' defense returning to form. Altman's defenses have lagged behind the last couple seasons, but this year's squad has the requisite length and athleticism to improve in '21-22.
UCLA may be the favorite to win the league, but Oregon isn't too far behind.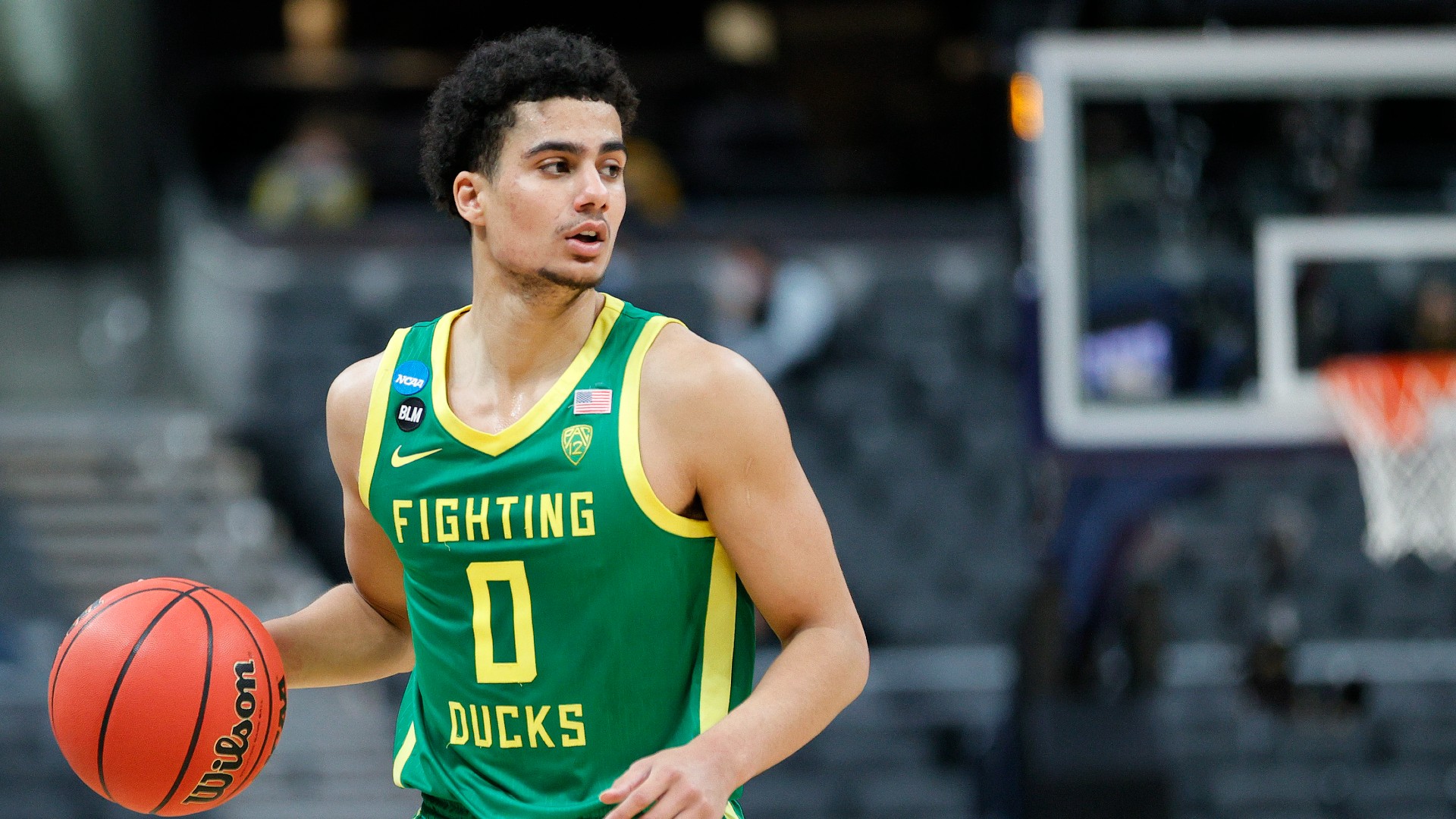 ---
USC finally significantly outperformed its preseason KenPom ranking under Andy Enfield. The Trojans finished 2021 No. 6 in KenPom's metrics, up from a No. 48 starting point.
In the three seasons leading up to last year, USC finished below or well below its preseason rank.
All it took for Enfield to be successful was a unicorn talent in Evan Mobley.
Mobley is gone and his impact cannot be understated. He made USC so much better on both ends of the floor, keeping the offense running when it stalled and masking mistakes of his teammates on the defensive end.
His brother, Isaiah, is back, but he's nowhere near the talent level of Evan.
USC's defense will still be very good. Enfield will often play four guys over 6-foot-7 at once, making scoring on this team from the perimeter a nightly chore. With Isaiah Mobley and Chevez Goodwin's return, there's enough length inside to make up for the relative lack of shot-blocking.
The offensive end will be a struggle, though. Sure, USC has shooting and the offensive glass should be a source of points, but point guard play is a major question mark, as is playmaking.
A lot is riding on Memphis transfer Boogie Ellis and incumbent point guard Ethan Anderson to step up and create. Neither inspire much confidence.
Tread carefully on the Trojans this season. While they may rack up a double-digit win total in the Pac-12, they may lag analytically (the part we bettors care about).
---
Dark Horses
The cat is semi-out of the bag with Washington State as more start to realize just how good this team can be in 2021-22.
Kyle Smith is one of the best coaches in the country and his turnaround of the Wazzu program has been remarkable. He's only in year three of a rebuild from the Ernie Kent era, but his team is already knocking on the door of the NCAA Tournament.
Wazzu is stacked with talent. Noah Williams went Super Saiyan when teammate Isaac Bonton missed time with injury last year, showing the Cougars will be just fine without Bonton in the fold this season.
To bolster his backcourt, Smith added a 21 point-per-game scorer in South Alabama's Michael Flowers and another near-20-point-per-game scorer in UC San Diego's Tyrell Roberts.
The guard triumvirate of Williams, Flowers and Roberts will be among the deadliest in the league.
Smith's entire frontcourt is back and led by two rising sophomores in Efe Abogidi and Dishon Jackson. Both players could break out in major ways.
Wazzu is a team on the rise. If you like taking shots on dark horses to win a conference, you can't do much better than Washington State.
---
Arizona State is overrated every single season. Those lofty expectations make sense when looking at Bobby Hurley's past rosters (talent and recruiting pedigree for days), but the on-court product has been lacking.
It seems Hurley has been more about accumulating talent — no matter how it fits in a team construct — versus getting players who actually work well together.
All that changes this season.
I dare say this is Hurley's most well-constructed roster of his seven-year career at ASU.
The guards are more diverse in their skillsets and less ball-centric. Marreon Jackson is the reigning MAC Player of the Year and is coming off a season in which he averaged 18.1 points, 6.1 rebounds and 5.9 assists per game with Toledo.
Jay Heath is a nice scoring complement off of the ball from Boston College. Luther Muhammad is a defense-first wing and is one of the best defenders Hurley has had on the perimeter in quite some time.
The frontcourt is among the league's best with Marcus Bagley, a potential superstar, and Jalen Graham, a 6-foot-9 junior who has yet to reach the peak of his game.
The market is low on ASU this season. The media picked them seventh in the Pac-12 poll and KenPom has them 58th in his preseason ranks.
I'd wager they outperform both.
---
New Coach Brigade
Sean Miller is out at Arizona after 12 seasons, the last few falling under the haze of NCAA investigations and a postseason ban.
In his stead steps Tommy Lloyd, a brand-new head coach who has spent the last 20 years on the Gonzaga bench learning from Mark Few.
Lloyd is known as an international recruiting whisperer. At Gonzaga, he was instrumental in bringing in basically every foreign-born star player that ran through the program this millennium.
There's plenty of international flavor on the Arizona roster this season, including star sophomores Bennedict Mathurin and Azuolas Tubelis, who promises to push for First Team All-Pac 12 honors.
The Cats will likely play faster this season than under Miller, but the change might be gradual. Lloyd needs time to implement his (presumably Gonzaga influenced) style, so expect to see Arizona's true colors start to show as we approach conference play.
This is an incredibly talented and deep team, one capable of making a run to the top of the conference standings.
---
Craig Smith replaces Larry "West Coast Coach K" Krystkowiak at the helm of Utah this season.
Smith began his head-coaching career at South Dakota and then led a revival at Utah State. In his seven years as a head coach, Smith's teams have never finished below their preseason KenPom ranking. He's exceeded analytical expectations every single year.
So, it's natural to expect him to do the same in his first year with Utah.
This Utes' roster doesn't jump off the page. Only two players return from last season and Smith brought in six DI transfers, only one of which comes from a power conference.
Utah was picked 10th in the preseason Pac-12 poll and you can count on oddsmakers underselling the Utes.
Rest assured this team will be a live dog against big-name opponents. Smith is so good at controlling tempo and his offensive style is among the smartest in the country.
Underestimate the Utes at your own peril.
---
A Step Back
Colorado might be in trouble this year. The Buffs lost their four-year starting point guard, McKinley Wright IV, this offseason, leaving a giant hole at the point of attack.
Western Carolina transfer Mason Faulkner was supposed to be the answer but changed course to Louisville this summer. No point guard equals no bueno in college basketball, especially in a power conference.
Head coach Tad Boyle has a pretty safe floor. He's never finished worse than 7-11 in conference play and he's finished outside the KenPom top 90 just twice in 11 seasons.
But his ceiling is capped, as well. Before last season, the Buffs' best KenPom finish was 35th.
The Buffs have potential star in the form of sophomore forward Jabari Walker, and senior leader Evan Battey is among the better post players in the league.
But without a proven point guard, the Colorado offense, not-so-affectionately nicknamed "Boyle Ball" or "TadBall," is sure to stagnant throughout the season, especially in the non-conference slate.
---
Stanford loses a ton from another underachieving team last season, and head coach Jerod Haase has to be feeling the heat.
Haase has had three top-20 recruiting classes at Stanford, but has never reached the NCAA Tournament during his five-year tenure.
With a very young roster that is shorter on backcourt athleticism than in years past, Stanford will struggle to finish in the top half of the conference standings.
Top-15 recruit Harrison Ingram is awesome, but he alone can't lift this team to the Big Dance.
I sold all my Stanford stock at the end of last season and don't plan on buying anymore for quite some time.
---
The Beavers were the Pac-12's version of a Cinderella last season, winning the conference tournament despite entering the competition 14-12 (10-10). They continued their hot streak to an unbelievable run to the Elite Eight.
That run was impressive. Yes, it was extremely fortunate — OSU's outside shooting was insane during the six-game stretch — but credit should also be given to Wayne Tinkle, whose defensive tweaks helped spark the Beavers' run.
This season, we are witnessing a severe case of recency bias. Oregon State was picked to finish tied for fourth in the preseason media poll, which is maybe the most outrageous thing I've seen this entire offseason.
The last time the Beavers finished in the top four in conference play was 1990 — and that was back when the league was called the Pac-10.
It would be one thing if OSU was bringing everyone back from last season's squad, but the Beavers lost their best player and point guard in Ethan Thompson. He was vital to their success and their offense could tank without him.
KenPom (an unfeeling, unemotional computer algorithm) has OSU ranked ninth in the Pac-12 in his preseason rankings, which should tell you all you need to know about human behavior.
Don't let last season's success influence your opinion of the Beavers in '21-22.
---
The Basement
The bottom fell all the way out in Seattle last season. Mike Hopkins' squad finished 5-21 (4-16) and at one point, ranked as low as 184th in KenPom. That's brutal for any power program, but especially one of Washington's prestige.
Since going 15-3 in his first season at the helm, Hopkins is just 9-29 in conference play. Talent hasn't appeared to be the issue, but last season's squad just didn't seem to gel from a chemistry perspective.
Significant roster turnover should help right the ship. Hopkins brings in four talented transfers from major programs in Terrell Brown Jr. (Arizona), Daejon Davis (Stanford), Emmitt Matthews Jr. (West Virginia) and PJ Fuller (TCU).
All four players are from the Seattle area, which should hopefully help the bonding in the locker room.
If a reasonable person didn't know about Washington's recent struggles and just looked at this year's team on paper, that person might suggest this looks like a top-six Pac 12 team.
The aforementioned transfers, two very good returnees in Jamal Bey and Nate Roberts and the No. 2 JUCO recruit in the land (Langston Wilson) seems like a roster that could do some damage.
I'm hesitant to put my trust back in Hopkins, but my finger is hovering over Washington's rating ready to move them up at a moment's notice if this year's squad meshes quickly.
---
Mark Fox inherited a dumpster fire of a situation at Cal from Wyking Jones, a coach who led the program to two finishes outside the KenPom top 240.
While Fox has cleared Jones' low bar, he has yet to truly bring Cal back to conference competitiveness.
Cal lost its best player from last season in Matt Bradley. Bradley was a walking bucket whom the Bears relied on to score points. Without him this offense is sure to struggle.
There is experience on the roster, and a potential breakout candidate in Jalen Celestine, but it still doesn't look like a Pac-12 caliber team. Expect Cal to finish at the bottom of the league, as it has three of the past four seasons.
How would you rate this article?
This site contains commercial content. We may be compensated for the links provided on this page. The content on this page is for informational purposes only. Action Network makes no representation or warranty as to the accuracy of the information given or the outcome of any game or event.