How Predictive College Football Awards Are of NFL Success, Fantasy Football Stardom
Credit:
Credit: Brad Penner-USA TODAY Sports. Pictured: Kyler Murray
What can we expect from college football's best players at the next level?
Ian Hartitz attempts to answer that heading in the 2019 NFL Draft, which kicks off with Round 1 on Thursday at 8 p.m. ET from Nashville.
Read his award-by-award deep dive on past winners, their success as pros and key fantasy football takeaways for this season.
We're just days away from the mecca of the NFL offseason: The draft.
There are pretty much an unlimited amount of variables that can be analyzed for any given prospect. Typical evaluation methods tend to revolve around physical attributes, collegiate production, age and tape.
But we'll look at a different variable in this piece: Awards.
There happen to be a ton of them at the collegiate level, ranging from well-known MVP-type honors like the Heisman Trophy to position-specific awards on both sides of the ball.
The first statistical measures we'll use to evaluate the awards is the combined amount of All-Pro seasons past winners went on to rack up. This includes first- and second-team recipients from a number of outlets including the Associated Press, Pro Football Focus and Pro Football Writers of America, among others.
(We aren't using Pro Bowls as a measure, because saying a player is good based on them making a Pro Bowl officially became invalid when Trevor Siemian passed up an invite in 2017.)
The second measure we'll use is number of seasons each player finished as a top-10 fantasy performer in point-per-reception (PPR) scoring at their respective position. (So total fantasy points over a single season.)
We'll focus on 14 awards in this case study: Three for MVP-caliber players, four for skill position players, four for defensive players and three for linemen/kickers. We'll also limit the sample to winners since 2000.
Players who were finalists for these awards but ultimately didn't win won't be considered. As a wise man once said: If you ain't first, you're last.
So without further ado, let's look at how college football awards correlate with NFL success and fantasy football stardom.
Most Valuable Player Awards
College football has several awards that attempt to crown the nation's player of the year: The Heisman Trophy, the Maxwell Award and the Walter Camp Award.
Here are the year-by-year winners for the three awards since 2000, along with the players' respective number of All-Pro seasons and as top-10 fantasy performers at their position.
Heisman winners tied for the second-fewest All-Pro seasons (3) among all 14 awards included in this case study.
The Maxwell and Walter Camp Awards each account for eight All-Pro seasons from their respective winners since 2000. Maxwell largely benefited from Drew Brees (5 All-Pro seasons) and Water Camp from Larry Fitzgerald (4).
Yes, Reggie Bush was an All Pro once. The former USC superstar somehow returned three punts for touchdowns in just 10 games in 2008.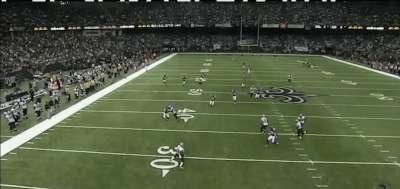 Baker Mayfield, Lamar Jackson, Derrick Henry, Marcus Mariota and Cam Newton are the only players to win all three of these awards in the same season since 2000.
It seems somewhat safe to assume that any non-quarterbacks who manage to win one of these awards is trending in a very positive direction. Derrick Henry, Mark Ingram, Reggie Bush, Larry Johnson Darren McFadden, Larry Fitzgerald and Manti Te'o (meh) have all enjoyed mostly positive NFL careers.
Thirty eight of 57 (or 67%) of the winners across these three awards went on to be first-round picks.
MVP awards have been a better predictor of fantasy success than All-Pro success. The Maxwell and Walter Camp Awards produced the first- and second-most top-10 fantasy seasons of the seven offensive awards featured in this case study. The Heisman is tied for fifth.
The Maxwell's ridiculous 33 seasons of top-10 fantasy performances is in large part thanks to Brees' absurdly efficient career.
---
Offensive Awards
College football has offensive awards that attempt to recognize the nation's best players at various positions.
Let's look at the past winners (since 2000) of these four: Fred Biletnikoff Award (best wide receiver), John Mackey Award (best tight end), Davey O'Brien Award (best quarterback) and Doak Walker Award (best running back).
The correlation between NFL excellence and these four awards isn't much higher than what we saw with our previous MVP group. None of the Biletnikoff (10 total All-Pro seasons), Mackey (3), O'Brien (1) nor Doak Walker (9) produced more than four different players to earn All-Pro selections.
The Biletnikoff Award (best wide receiver) has produced a solid amount of upper-tier fantasy performers over the years, with exceptions generally having more to do with off-the-field or quarterback questions than talent:
O'Brien Award (best quarterback) winners have struggled mightily to put together consistent success at the next level. The problem seems to persist due to the continued collegiate excellence of dual-threat signal-callers who generally go on to struggle in the NFL (with the exceptions of Deshaun Watson and Cam Newton).
Doak Walker (best running back) winners also haven't experienced that much success at the next level. Derrick Henry and Melvin Gordon have been the only above-average performers over the past 10 years, and the award as a whole is propped up by LaDainian Tomlinson's (6 All-Pro seasons) fantastic career.
The Mackey Award (best tight end) has produced a number of solid NFL prospects in recent seasons, though Hunter Henry, Tyler Eifert and Austin Seferian-Jenkins haven't quite managed to fully break out to this point.
Anyone involved in the Ravens' passing offense will offer a low floor with Lamar Jackson under center in 2019, although Mark Andrews certainly made a case for an enhanced target share after his incredibly efficient performance as a rookie.
Brandin Cooks is the only Biletnikoff winner (2013) since Calvin Johnson (2006) to record even one season as a top-10 fantasy receiver. There probably isn't a more disappointing bust on that list than Justin Blackmon, who looked like the position's next big thing before off-field issues ultimately derailed his career.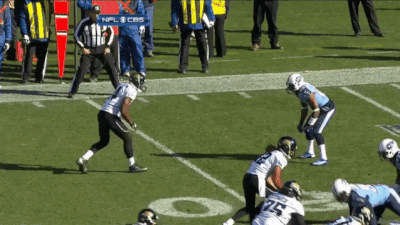 The Mackey Award was highly correlated with fantasy success in the early 2000s, but only Aaron Hernandez and Eifert have managed to put together at least one season as an elite fantasy tight end between 2006 and 2018.
The O'Brien Award has been a bit more predictive of fantasy success in recent seasons compared to All-Pro honors: Watson, Robert Griffin III and Vince Young managed to parlay their dual-threat abilities into at least one elite fantasy campaign.
The Doak Walker Award has had more misses than hits when it comes to predicting fantasy-viable backs in recent seasons. Only Melvin Gordon (three times) has managed to earn a top-10 PPR season among each of the past six winners.
Defensive Awards
College football has individual awards on defense that attempt to recognize the nation's best players at each position.
Let's take a look at the past winners (since 2000) of these four: Jim Thorpe Award (best defensive back), Butkus Award (best linebacker), Bronko Nagurski Award (best defensive player) and Chuck Bednarik Award (best defensive player).
These four defensive awards have easily been more correlated to future NFL excellence than college football's MVP and offensive awards.
The Thorpe Award has also generally produced above-average defensive backs in the NFL The most prestigious alumni have been Patrick Peterson (4 All-Pro seasons), Eric Berry (3) and Malcolm Jenkins (2).
There have been an abundance of high-performing defensive MVPs over the past two decades. Ndamukong Suh (8), Von Miller (7), Julius Peppers (6), Aaron Donald (5), Elvis Dumervil (2) and Terrell Suggs (2) join linebackers Luke Kuechly (6), C.J. Mosley (4) and Derrick Johnson (3) as the only front-seven stalwarts to earn multiple All-Pro honors.
Ex-LSU teammates Patrick Peterson (4) and Tyrann Mathieu (2) are the only defensive backs who have won collegiate MVP awards and gone on to also enjoy great NFL success. It seems particularly difficult for defensive backs to win these awards without also possessing elite ability as a returner — which both Peterson and the artist formerly known as the Honey Badger have certainly excelled at over their respective football careers.
---
Line and Kicker Awards
College football has individual awards on the offensive line as well as at kicker that attempt to recognize the nation's best players at each specific position.
Let's look at the past winners for these three: The Outland Trophy (best lineman), Dave Rimington Award (best center) and Lou Groza Award (best placekicker).
The Outland Award (25 total All Pros) has easily been more correlated with major NFL success than either the Rimington (5) or Groza (3).
Still, the Outland Award has been fairly top-heavy, as Joe Thomas (9), Suh (8) and Donald (5) collectively make up 89% of the award's All-Pro seasons.
Center Maurkice Pouncey joins Cam Newton (O'Brien Award for best quarterback) as the only players to be their award's only All-Pro representative since 2000.
Takeaways for the 2019 NFL Season
Now let's highlight which 2018 award winners could find a way to make an impact on an NFL field next season.
Heisman Trophy and David O'Brien Award: Kyler Murray appears poised to join former teammate Baker Mayfield as a No. 1 overall pick. I ranked the Cardinals as the seventh-best fantasy football fit for Murray, but he'll still offer value wherever he plays thanks to a fantasy-friendly combination of rushing ability and deep-ball accuracy.
Butkus Award: Devin White is a consensus high first-round pick in mock drafts across the industry and possesses the type of sideline-to-sideline speed that won't allow him to fall too far in drafts. White appears to possess every bit of the natural on-field talent that recent past winners of the award like Roquan Smith, Reuben Foster and Jaylon Smith have exhibited.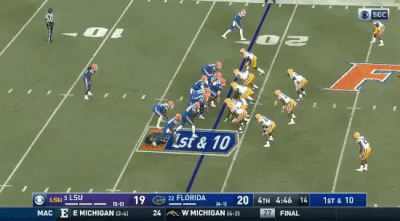 Nagurski and Bednarik Awards: Josh Allen helped Kentucky rack up more winning seasons in the past three years (3) than it had in the previous nine combined. The 2018 SEC Defensive Player of the Year was a big reason for the turnaround, as he largely worked as one of college football's best overall defenders during his time with the Wildcats. His status as the draft's No. 2 pass rusher behind only Nick Bosa bodes well for Allen's chances at being a top-five pick.
Outland Award: Quinnen Williams seems to be another lock to hear his name among the draft's top-10 picks — and potentially much earlier. He was PFF's top college player last season on his way to leading all linemen in defensive stop and quarterback pressures. It's rare to see 6-foot-3, 303-pound humans who run a 40-yard dash in 4.83 seconds last very long come draft day.
Rimington Award: Garrett Bradbury stood out at N.C. State as a center after originally coming to campus as a tight end. Bradbury captured first-team All-ACC and All-American honors as a redshirt senior while helping enable the Wolfpack's 31st-ranked scoring offense. The history of dominant Rimington Award winners isn't great, but many of its alumni are at least above-average starters at the next level.
How would you rate this article?
This site contains commercial content. We may be compensated for the links provided on this page. The content on this page is for informational purposes only. Action Network makes no representation or warranty as to the accuracy of the information given or the outcome of any game or event.