Ranking the Top-10 Fantasy Football Destinations for Kyler Murray
Credit:
John David Mercer-USA TODAY Sports. Pictured: Oklahoma Sooners quarterback Kyler Murray (1).
Kyler Murray has verbally committed to playing football in the NFL, much to the delight of fans and QB-hungry teams.
We rank the top destinations for Murray from teams that could use him in the future to teams that need him in Week 1.
It's the offseason, which means it's actually NFL prediction season. Of course, this year's "quiet time" hasn't exactly kept the sound down so far, as the Browns signed Kareem Hunt on Monday and the Ravens agreed in principle to trade Joe Flacco to the Broncos on Wednesday.
Still, the most-impactful decision of the week may have involved an undersized quarterback who won the Heisman Trophy.
Billy Beane and the Oakland Athletics reportedly aren't taking no for an answer just yet, but football fans can presumably move forward under the assumption that Kyler Murray will be playing football in 2018.
I hope everyone realizes what an incredible blessing this is for each and every one of us football fans out there. Sure, Murray is a great passer that just had the highest single-season yards per attempt rate of all-time, but it's his ability to make defenders look silly in space that is truly captivating to watch.
Murray finished his junior season with Oklahoma with 4,361 yards and 42 touchdowns through the air to go along with 1,001 yards and another 12 scores on the ground.
Some reports have suggested Murray will fall out of the first round, but that seems unlikely considering the NFL's recent history of embracing dual-threat quarterbacks. Our most recent Action Network Mock Draft has the New York Giants selecting Murray with the No. 6 overall pick.
We won't know where Murray will ultimately end up for another two-and-a-half months. Still, we can begin to get an idea of who might be a potential suitor based on which teams need quarterbacks.
I identified five teams that should prioritize finding a quarterback this offseason shortly before the Super Bowl, and oddsmakers have identified an additional five suitors that could look to draft Murray.
Miami Dolphins (+150)
Arizona Cardinals (+500)
New York Giants (+500)
Jacksonville Jaguars (+500)
Oakland Raiders (+600)
Tampa Bay Buccaneers (+1200)
Washington Redskins (+1200)
Cincinnati Bengals (+1400)
Denver Broncos (+1400)
Pittsburgh Steelers (+1400)
Great players tend to shine even in poor situations, but a strong supporting cast, capable coaching staff and thin depth chart at the position can certainly help springboard a young quarterback.
Let's break down Murray's potential landing spots and try to figure out which teams could best maximize his talents into fantasy football production for 2019.
Murray has enough ability to produce with probably any team in the league, but the following teams have an established quarterback under center that would at the very least seemingly delegate Murray to the bench for the majority of his rookie season.
Longshots
10. Pittsburgh Steelers
A modern version of the Big Ben-AB-Le'Veon triplets with Kyler-Juju-Conner is borderline erotic. Still, even in the unlikely scenario that the Steelers do land Murray, it's unlikely his rookie year contributions would surpass a special package of plays after Ben Roethlisberger just put together one of the most-productive seasons of his career.
9. Tampa Bay Buccaneers
Mike Evans, DeSean Jackson (disgruntled), Chris Godwin and Adam Humphries (free agent) form one of the better receiving groups in the league. The real intriguing piece is the presence of new head coach Bruce Arians, but his "No risk it, no biscuit" mentality appears to be focused on incumbent starter Jameis Winston for at least another year.
Teams that "Already Have" a Quarterback
The following teams have a quarterback that's led them to some measure of success over the years, but their decision to draft Murray could spell a quick end to that era.
8. Oakland Raiders
I'm far from the president of the Derek Carr fan club, but he deserves some credit for posting career-high marks in completion rate (68.9%) and yards per attempt (7.3) amidst the Raiders' 2018 turmoil. More importantly, the Raiders chose against trading or releasing their alleged franchise quarterback and have guaranteed his $19.9 million salary for 2019.
Of course, there's also a chance that Gruden rolls the dice yet again and decides to take a chance on Murray. I can't print the words I'd like to use to describe a skill position group consisting of Jordy Nelson, Marcell Ateman, Seth Roberts and Jalen Richard, but let's just say it's less than ideal.
7. Arizona Cardinals
There's plenty of speculation surrounding Murray and the Cardinals, who have the draft's No. 1 overall pick.
Kingsbury has since said that he understands the speculation, but stated, "Josh (Rosen) is our guy."
The 2018 draft's 10th-overall pick was pretty much atrocious during his rookie season, but Rosen's scheme and personnel rivaled what Jared Goff had to deal with during the Rams' pre-Sean McVay era. The Cardinals' combination of unimaginative play-calling and injuries to the entire offensive line made it nearly impossible for Rosen to thrive.
Still, Kingsbury's air-raid offense might just be the closest thing the NFL has to what Murray was running at Oklahoma. 35-year-old Larry Fitzgerald won't be around forever, but second-year receiver Christian Kirk flashed at times, and David Johnson is more than worthy of increased usage out of the backfield.
6. Denver Broncos
The newly acquired Flacco actually averaged four-season highs in adjusted yards per attempt (6.4) and quarterback rating (84.2) over his nine starts this past season. Still, these numbers each ranked 26th among 31 quarterback that made at least nine starts.
The good news is the Broncos can opt out of Flacco's contract as soon as after the 2019 season. This wouldn't be the first time Mr. Elite got beat out by a first-round quarterback, but Flacco does seem positioned to work as the Broncos signal caller to start the season.
My money isn't on Flacco bringing out the best of those around him this season considering the Ravens never had a top-15 PPR wide receiver during his time as the team's quarterback.
Of course, it's not tough to imagine Murray's electrifying rushing ability causing nightmares for defensive coordinators when paired with Phillip Lindsay, while Emmanuel Sanders and Courtland Sutton form a respectable one-two punch at wide receiver.
5. Cincinnati Bengals
Andy Dalton has been the Bengals starting quarterback for eight years. Let that sink in.
New Bengals head coach Zac Taylor believes Dalton is "a great fit for what we're going to do." Dalton was playing particularly well in the early parts of the season before seemingly his entire team got hurt, and his consistent above-average play would likely delegate any new quarterback to the bench to start the season.
Those pieces are also what make a potential marriage to Murray so intriguing. A.J. Green, Tyler Boyd and John Ross form one of the league's better 3-WR sets when healthy, and Joe Mixon averaged a robust 83.4 rushing yards per game in 2018 while exhibiting enhanced ability as a receiver.
4. New York Giants
I don't think Eli Manning has any more juice left in the tank than you do. Still, reports have already indicated the Giants believe Murray is "a little too small", which isn't all that surprising considering general manger Dave Gettleman's history of player evaluation.
Of course, adding Murray to the Big Apple and pairing him with Saquon Barkley, Odell Beckham Jr. and company is basically a wet dream for red zone viewers. Murray's scrambling ability would certainly be a boost over Manning's corpse as long as the Giants offensive line continues to rank among the league's worst units.
New York might be the only team of this group where Murray might not be the most-electric player in his own backfield.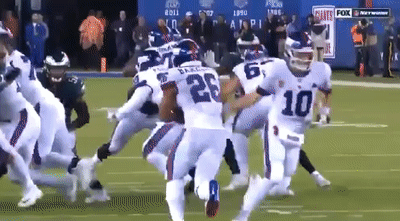 Teams that "Need" a Quarterback
These three teams have a glaring need at quarterback entering the 2019 season and seem positioned to start Murray from day one if they end up drafting him.
3. Washington Redskins
Alex Smith reportedly won't be ready until the 2020 season at the earliest. It seems unlikely they'll be content to enter Week 1 with Colt McCoy under center, and the No. 15 pick could be a perfect spot to snag Murray if he ultimately experiences a draft-day fall.
There isn't a ton to be excited about at receiver between Josh Doctson, Paul Richardson and Maurice Harris, while the likes of Jordan Reed, Chris Thompson and Derrius Guice each carry respective healthy questions.
Still, Murray would be the projected starter from day one in Washington, something that can't be said about many other teams on this list. Josh Johnson's dual-threat ability "sparked" the Redskins offense to the tune of 48 points over the last four weeks of the season, so the bar too high in D.C. at the moment.
2. Jacksonville Jaguars
Cutting Blake Bortles would cost the Jaguars $16.5 million in dead cap, but it's a virtual lock that they'll look to free agency or the draft to find a more competent starter.
The Jaguars aren't exactly overflowing with talent, although Bortles and company deserve some slack considering their offensive line was among the league's most-injured units in 2018.
Murray's dual-threat ability could help open up rushing lanes for Fournette in the read-option game, while the Jaguars quietly boast a formidable quartet of wide receivers.
Marqise Lee missed the entire 2018 season with a torn ACL. He's reportedly ahead of schedule and plans to be ready for the season, although it remains to be seen if he'll be the same receiver that led the Jaguars in receptions in 2017.
Dede Westbrook led the offense in receptions (66), receiving yards (717), receiving touchdowns (5) and yards per route run (1.29) last season.
D.J. Chark was the team's second-round pick last season and possesses difference-making speed with a 4.34-second 40-yard dash.
Keelan Cole occasionally makes incredibly difficult plays look remarkably easy.
1. Miami Dolphins
The Dolphins aren't expected to move forward with Ryan Tannehill, so Murray at pick No. 13 makes all the sense in the world. He would add even more speed to what is already arguably the league's fastest offense.
It's been a minute since we've seen anything resembling an elite offense in Miami, and they'll need to improve the league's 31st-ranked offensive line in adjusted sack. Still, the skill position pieces might already be in place for Murray to help spearhead one of the league's most-explosive units.
The play-calling chops of new offensive coordinator Chad O'Shea are unclear, although spending 2009-2018 as the Patriots wide receivers coach isn't bad for the resume.
Overall, the Dolphins present the friendliest fantasy situation for Murray thanks to their lack of quarterback depth and low-key plethora of explosive playmakers at running back and receiver.
How would you rate this article?