New Mexico Sports Betting
NM Sports Betting Legalization & Mobile Sportsbook Updates 2022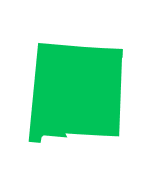 Updated August 26, 2022
Information about New Mexico online sports betting coming soon — but don't expect much action of come out of The Land of Enchantment. Lawmakers are still severely against sports betting as a whole, but tribes across the state used a loophole to open sportsbooks in their casinos anyway. Online sports betting is a whole other hurdle to jump over, and there doesn't seem to be a leap coming anytime soon.
New Mexico Sports Betting Key Takeaways
| | |
| --- | --- |
| ⚖️ Is sports betting legal in New Mexico? | No. Sports betting has been trying to push through legislation in the state over the years, but things -- especially tethering — continue to halt any movement forward on a deal. |
| 📒 What mobile sportsbooks are available in NM? | None yet, but PrizePicks is a fun and legal alternative. |
Although sports betting is not legal in The Land of Enchantment, New Mexicans can play PrizePicks, a DFS provider that is currently available in 26 states. Bettors simply select their favorite players like Steph Curry or LeBron James, choose an over/under player prop, and they're entered in to win cash prizes.
How to Sign up for PrizePicks in New Mexico
Step 1. Sign up using our PrizePicks promo code.
Step 2. In the app (or on your desktop), select the "Deposit" button in the top right corner of the page.
Step 3. Select the amount of money that you want to deposit and the funding source (PayPal, credit, etc)
Step 4. Submit deposit. Once the deposit is submitted and credited to your account, you'll automatically be given the promotional value matching your initial deposit (up to $100).
No promotions available. Try selecting a different location.
NM Sports Betting Overview, Timeline and Background
New Mexico Legalization Timeline
While any form of sports betting is yet to actually be made legal in the state, tribal casino owners used a loophole when the federal PASPA was lifted to get sports betting allowed on their land. So essentially, you can legally sports bet within a tribal casino because they are governed by tribal law, but across the rest of the state, any form of sports betting is legal.
Lawmakers in the state still remain heavily against sports betting, both online and in person, so don't expect to see much of a change coming out of the Land of Enchantment anytime soon.
Here are the tribal casinos you can visit to bet on sports at:
Buffalo Thunder Resort of Santa Fe

Inn of the Mountain Gods of Mescalero

Isleta Resort & Casino of Albuquerque

Santa Ana Star Casino of Bernalillo
New Mexico Sports Betting Grading Card
We will grade New Mexico on its sports betting bill and experience relative to other states once it gets that time.
Sports betting bill analysis TBD.
New Mexico Sports Betting Tips

Sports Betting for Beginners
If you're new to sports betting in New Mexico, you likely have questions: How much should you be betting? Where should you be betting? How do you find the best odds? Every sport and bet type comes with different nuances.
Check out our sports betting tips for beginners so you can get started.

Sports Betting Glossary
Sports betting comes with its own language and terminology -- favorites and underdogs, spreads and money lines, over/unders and props, juice and vig and so much more. It can all be a bit overwhelming and intimidating for newer betting enthusiasts, so be sure to consult our sports betting glossary for detailed definitions on all the main terms.
Check out our sports betting glossary to get up to speed with every term you might need to know before a parlay or prop bet.

Sports Betting Mistakes to Avoid
It's important to stay disciplined and not overextend yourself in New Mexico. There will always be ups and downs, but if you stay true to our nine mistakes to avoid, your sports betting experience will be a much more enjoyable one.
Here are some sports betting mistakes to avoid.
No promotions available. Try selecting a different location.
Teams to Bet On
New Mexico is one of the few states in the country that don't have a professional team to root for. However, they do have two D-I programs that have both football and basketball that fans can bet on.
The New Mexico Lobos have given the state some interesting times to cheer on over the years. The football program has appeared in seven bowl games since 2000 (but only two of which have come since 2015). The basketball program has made numerous appearances in March Madness, including a four out of five year run from 2010-2014. Though they haven't seriously competed for any championships, this team certainly brings some fun to the state.
The Aggies basketball team can often be found competing in the NCAA Tournament come season's end each season, with New Mexico State most recently upsetting No. 5 UConn as a 12-seed in the 2022 first round before narrowly falling to No. 4 Arkansas. The football program hasn't seen as much success, appearing in just one bowl game in 1961. Their rivalry with the Lobos will continue to fuel the competition in the state.
New Mexico Sports Betting FAQs
Commonly asked questions about sports betting in The Land of Enchantment.
Is online sports betting legal in New Mexico?
Will online sports betting ever come to New Mexico?
Are there any current legal options for sports betting in New Mexico?
Where are the tribal locations that I can bet on sports?