Prophet Exchange: How it Works, Review & Promo Code for 2023
Prophet Exchange is a brand-new sportsbook that launched in New Jersey in August of 2022, though it's launch was delayed for almost a year.
Prophet is not only a new book, but it's operating as a new model in the United States -- a betting exchange. It allows Prophet to charge much less vig than a traditional sportsbook.
Prophet acts as a middle-man by connecting bettors who then wager against each other. Bettors request and accept bets from other bettors at +100 odds for spreads and totals (instead of the typical -110) and Prophet takes a 2% commission on winning bets only.
Learn how it works and why you need to be betting at Prophet when it launches below. They hope to add more states in the following months, though bettors will only be able to wager against other bettors in their state due to the Wire Act.
Prophet Exchange Sign-Up Bonus Offer & Mobile App Key Takeaways
| | |
| --- | --- |
| Prophet Exchange Promo Code: | To Be Announced |
| Prophet Exchange Sign-Up Bonus Details: | $250 Bonus Bet |
| Legal Sportsbook States: | New Jersey |
| Prophet Exchange Sports Offered: | NFL, NBA, CFB, CBB, MLB, NHL, Soccer |
| Last Verified On: | October 02, 2023 |
Prophet Exchange New User Details
No promotions available. Try selecting a different location.
No promotions available. Try selecting a different location.
Prophet Exchange Review Summary
Bonuses & Promotions

Prophet is offering a $250 bet on the house after initially offering a deposit match.

Mobile App & Website

Prophet's user experience is pretty simple and minimalist, since it's focused much more on price than features.

Betting Options

If you're betting core markets like spreads, totals and moneylines, there's no better place than Prophet.

Registering & Cashiering

Prophet's means of deposit are similar to other sportsbooks.

Prophet Exchange vs Other Sportsbooks

Prophet will always beat sportsbooks on pricing for core markets like spreads and moneylines, but will always be behind on props and other niche markets.
How Prophet Exchange Works
OK, so how exactly can Prophet offer such low vig when other sportsbooks charge 10%? It's a different operating model called a betting exchange.
Already popular in Europe, exchanges simply connect two bettors and let them wager against each other at even money. You set your own prices, find a bettor to take the other side, and the exchange takes a small commission on winning bets.
Let's say I like the Lions +4.5 against the Eagles in Week 1 of the 2022 NFL season. I can request that bet; I'd say I want the Lions and someone else on the exchange can take the Eagles -4.5 against me. Or I can accept someone's request who already posted Eagles -4.5, meaning I'd take the Lions +4.5.
Prophet looks different than other sportsbooks as you're essentially matching someone else's bet request. It will automatically surface the best price available, and you can take the opposite side.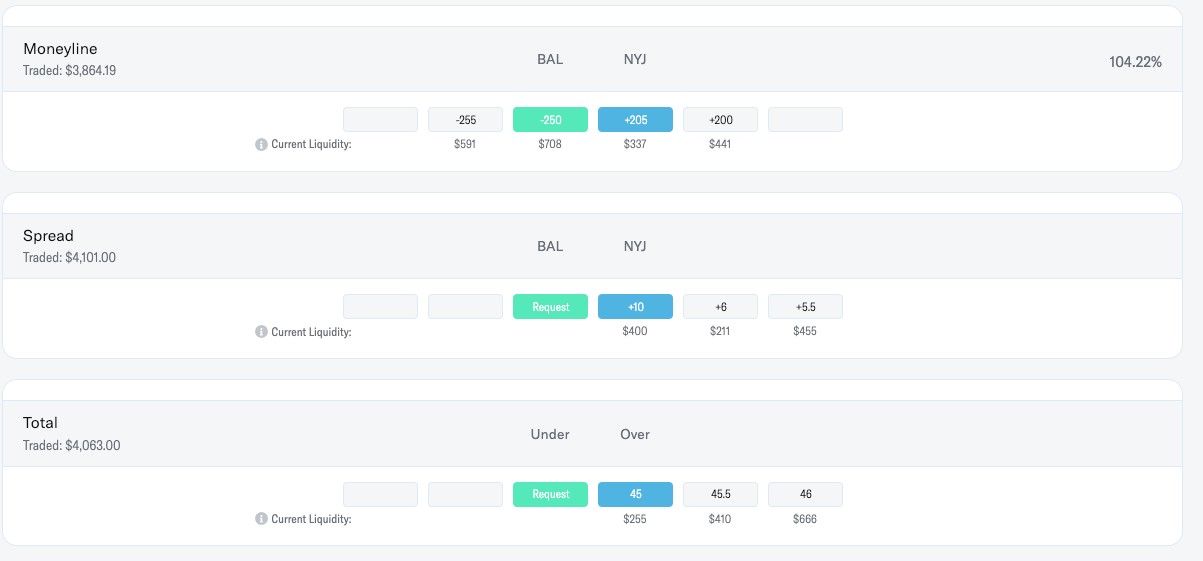 But what happens if there's no one to take the other side of your bet? That's one of the potential downfalls for exchanges, which will be limited to doing business in individual, silo'd states. That means even if Prophet is operating in New Jersey and Indiana, you can only bet against other people in your state.
Another positive of exchanges is that you can't be limited. Prophet doesn't care if you win or lose like DraftKings or FanDuel does. In fact, they want more betting volume so their commissions add up. So you'll never be banned or limited at an exchange.
Prophet Exchange Review
Because Prophet is operating such a differentiated model, its positives and negatives are obvious. You should know exactly what you're getting into when you start betting at an exchange, so here's a quick rundown.
Our Positives: Pricing
At Prophet, you're betting against another bettor, not the house, and then the house takes a 2% cut on winning bets. That's far less than the -110 offered at all other American sportsbooks.
Our Negatives: Available Markets
Because you need other bettors to match your action, Prophet is aiming to first provide strong liquidity into spread, moneyline and total markets for core American sports before moving into futures or props. For that reason, you shouldn't use Prophet when betting more exotic wagers like props or parlays.
Registering & Cashiering
How to Sign Up at Prophet Exchange
Step 1. Click here to claim Prophet's $250 bonus bet.
Step 2. Enter all your information (and make sure you're in New Jersey, or you won't be able to bet).
Step 3. Enjoy betting at reduced juice.
Prophet Exchange Pricing
At Prophet, you're going to bet point spreads and totals at even money, then
Let's use an example from the 2021 Super Bowl. You could bet both the Chiefs and Bucs at +100. When the Bucs covered, Prophet would keep 2% of your $100 bet, so you'd return $98.04.
| Bet | Win/Loss | Odds |
| --- | --- | --- |
| Chiefs -3.5 | -$100 | +100 |
| Bucs +3.5 | $98.04 | -102 |
Traditional Sportsbook
At a traditional sportsbook, you're paying far more. A bet on the Bucs +3.5 at -110 would return $90.91 -- a more than $7 difference! And that's just for one bet. Add up an entire season's worth of NFL bets, and that's some serious savings.
| Bet | Win/Loss | Odds |
| --- | --- | --- |
| Chiefs -3.5 | -$100 | -110 |
| Bucs +3.5 | $90.91 | -110 |
When to Use Prophet
Here's when you should use an exchange like Prophet.
1. Point Spreads
Paying effectively -101 (-102 on winning bets, +100 on losing ones) on point spreads is a huge advantage for bettors, and you should be betting all spreads at Prophet.
2. Moneylines
Bettors also pay a 2% commission on winning moneyline bets. But instead of staring down Dodgers -230 and Cardinals +190, you can get those two much closer -- around Cards +220 and Dodgers -220.
3. Totals
Like point spreads, totals are effectively -101, instead of -110 at a normal sportsbook.
4. Some Futures
Traditional sportsbooks don't need to offer a "no" on most things, which is why you end up with unfair futures pricing. They can set a bet on aliens invading earth tomorrow at -10,000, but if there's no way to take the opposite side, it doesn't matter how wrong the price is.
The Chiefs are +600 at DraftKings to win the Super Bowl, but the true probability with the hold removed is north of +700. At Prophet, you can bet the Chiefs much closer to +700.
But you always need a "no" backer on the other side -- so someone needs to lay -700 for the Chiefs to not win the Super Bowl. You may not find that on certain longshots and futures.
5. If You're an Advantage Player
Sportsbooks don't want to get beat, so they often ban or limit successful bettors. Exchanges don't care how good you are, because they're not betting against you. They're just offering a way to connect you with other bettors.
Sharp bettors won't be limited at an exchange, and are actually welcomed as market makers who can supply liquidity to the exchange.
And here's when you wouldn't use an exchange:
1. Player Props
One advantage bettors can gain over a sportsbook is through specialization, like player props. Prophet isn't offering props yet. And when they do, you won't always find bettors on the other side on more obscure props.
2. Parlays
Parlays, especially Same Game Parlays, have been a popular avenue for new bettors looking for a quick score on minimal investment. You can't parlay games on Prophet, because it doesn't work in the exchange model.
3. Derivative Markets
A derivative market covers many bet types, but is primarily offshoots of spreads and totals mathematically adjusted for the situation -- think Cowboys first half team total over 14.5, or Eagles second-quarter moneyline.
Like props, you won't find these offered at Prophet.
This site contains commercial content. We may be compensated for the links provided on this page. The content on this page is for informational purposes only. Action Network makes no representation or warranty as to the accuracy of the information given or the outcome of any game or event.
Prophet Exchange FAQs
Where Is Prophet Exchange legal?
Why should I bet at Prophet?
What is a betting exchange?