The 5 Best Legal Online Blackjack Sites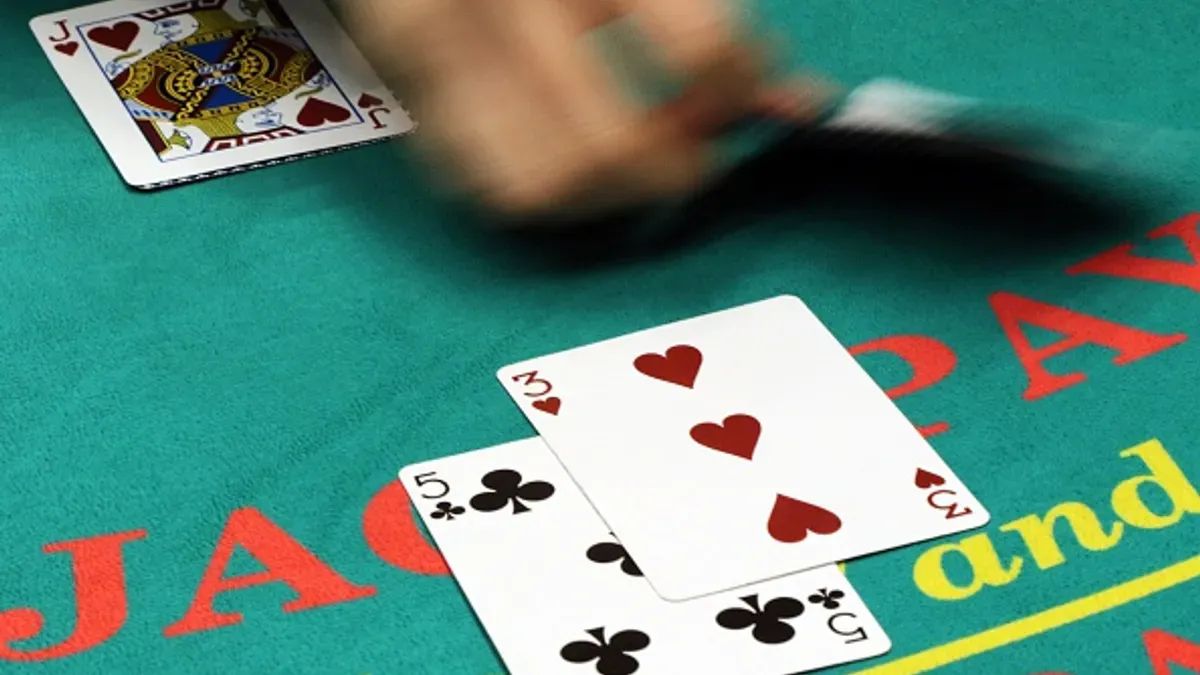 There's nothing like the thrill of seeing a mound of chips slide your direction after winning a massive blackjack hand.
One where you split three times and double three times and win every hand. But when you're on a heater and your online casino account is growing at record speed, consider whether your winnings would be better off elsewhere.
Playing blackjack at the right online casino can significantly influence your results. The five best legal casinos for online blackjack stand out when it comes to payout ratio, game selection, favorable player rules and more.
Casinos
No promotions available. Try selecting a different location.
5 Best Sites for Online Blackjack

1. FanDuel Casino
Probably the most familiar name in online gambling, FanDuel Casino features a dozen blackjack games and six live blackjack tables. The slick site is easy to navigate and registering for an account is fast and straightforward.
Pros
Pays 3:2 on multi-deck blackjack: The first thing to look at when choosing an online casino is how much blackjack pays. Only play on tables that pay 3:2. The house edge increases by around 400% when you play at a table that pays 6:5.
Quick, easy cash withdrawal: Players can withdraw cash at casino cages at half a dozen properties in NJ, PA, WV and MI. Gamblers can withdraw their winnings in as little as 24 hours.
Convenient retail locations: Players with a FanDuel Sportsbook account can deposit or withdraw money in or out of their casino accounts at 18 retail locations in 10 states.
Do over bonus: If you're down after your first day of gambling, FanDuel will cover your losses up to $1000. The bonus money is paid out as site credit to be spent in the FanDuel Casino.
Cons
Multi-hand blackjack not for risk-averse: It allows you to play up to five hands at a time and can wipe out even the most experienced player's bankroll in a matter of minutes.
There's more variance playing online than live because the games move faster than in a casino. You can win more money in less time playing multiple hands, but you can't expect to be up in the long run without counting cards. Almost all online casinos offer some form of multi-hand blackjack.

2. DraftKings Casino
A giant in online betting, DraftKings is FanDuel's primary competition. The name DraftKings has become synonymous with online sports betting. One of the newer online casinos, DraftKings has gamblers logging on to play blackjack thousands of times each day.
Pros
Huge selection of games: The king of online casinos features more than 30 blackjack variants, many branded with sporting themes.
Blackjack pays 3:2: Only play at tables that play 3:2.
Double the average welcome bonus: DraftKings casino is offering a 100% match bonus up to $2,000 and up to $50 in free casino credits.
No-deposit bonus: When a new player first creates an account, he will get $60 in bonus money to wager. The bonus money will automatically be credited to the player's account when he chooses "Claim Free Credits" during sign-up.
Cons
Too few short-stacked games: DraftKings has one single-deck and zero double-deck games. Double-deck games are missing at most online casinos.

3. 888 Casino
Available states: New Jersey
Learn more about 888Casino by reading our review
One of the oldest online casinos, 888 went live 25 years ago at the southern tip of the Iberian Peninsula.
Sixteen years later, the online casino made its debut in the US. In 2013, many New Jersey residents played legal online blackjack for the first time on 888casino.
Pros
Acceptable table rules: Blackjack pays 3:2 on the majority of tables and insurance pays 2:1. A player can double down any two initial cards and split any two cards of equal value. Re-splitting aces is not permitted, and the game is played with eight decks of cards.
Live Dealer blackjack games powered by Evolution: The leader in online casino technology, Evolution has created the "fastest, slickest, richest-featured online Blackjack game available anywhere."
Award-winning casino: 888casino won the award for Casino Operator of the Year five times, and the award for Digital Operator of the Year.
Cons
Tables paying 6:5: While tables paying 3:2 for blackjack are offered, players need to be cautious not to sit at a table paying 6:5.
No VIP program: At present, 888casino has no VIP Loyalty Rewards program. According to its website, one is coming soon.
Push on dealer 22: If the dealer's hand total is 22, the hand results in a push. Ordinarily, the dealer would bust and the player would win the hand.
Blackjack pays 1:1 on dealer 22: If the dealer's hand total is 22, blackjack pays even money instead of 3:2.

4. Borgata Casino
Available states: New Jersey, Pennsylvania, Michigan, and West Virgina
Learn more about Borgata Online Casino by reading our review
Borgata Casino has an impressive number of blackjack variants and a large array of online and Live Dealer games. All come with in-game instructions and the expected Return to Player (RTP).
Pros
Blackjack pays 3:2: A winning blackjack hand pays $3 for every $2 wagered.
Large game selection: Twenty-five blackjack variants to choose from.
Huge prizes: Co-hosted a $1 million Casino Super Series for slot and table game players. Players competed for a $250,000 prize pool every week for four weeks.
Cons
Pass on side bets: Perfect Pair and 21 + 3 have relatively good odds for side bets, but not good enough to be worth playing. The casino has a 4.09% advantage over the player on Perfect Pair and a 4.14% advantage on 21 + 3.
The house only has a 0.05% advantage vs a player practicing perfect basic strategy. Expect to find the same side bets at most online casinos.
Unfavorable player rules: Only one split is permitted per hand and doubling down after a split is not allowed. The second rule is fairly common online.

5. Golden Nugget Casino
Golden Nugget online casino has over 700 games, including more than a dozen varieties of blackjack. Players have seven live tables of Unlimited, Classic and High Limit blackjack to choose from.
There's always an open seat at Unlimited 21, and at High Limit blackjack, a player can bet up to a maximum of $10,000.
Pros
Live Dealer blackjack 24/7: The first casino in the US to feature Live Dealer blackjack, dealers made their debut from Atlantic City in 2017. Players can interact with real dealers at the Golden Nugget hotel and casino.
Live Dealer blackjack is dealt from a shoe: Many online blackjack dealers use continuous shuffle machines (CSMs) to shuffle cards between every hand. CSMs make card counting impossible, but a counter can be successful when the cards are only shuffled between shoes.
The conditions are right at the live tables at Golden Nugget online casino, but card counting online is typically not a winning strategy due to shallow deck penetration. The best possible scenario is your Live Dealer only cuts off the last two of a 6-deck shoe. Don't be surprised if she shuffles halfway through the shoe, making the count you've been keeping worthless.
Blackjack pays 3:2: There will be a sign on the virtual table reading, "blackjack pays 3:2." If it says 6:5, switch tables.
Simple rewards program: One-hundred dollars wagered on blackjack is worth 20 points if a player deposits $50 – $99 daily into their casino account. The same $100 is worth 40 points if a player deposits $100 or more. One-hundred points can be redeemed for $1.
Cons
No double-deck games: Golden Nugget only has one single-deck game and no double-deck. All rules being equal, playing with fewer decks is advantageous to the player.