Top 10 Do's and Don'ts of Online Casinos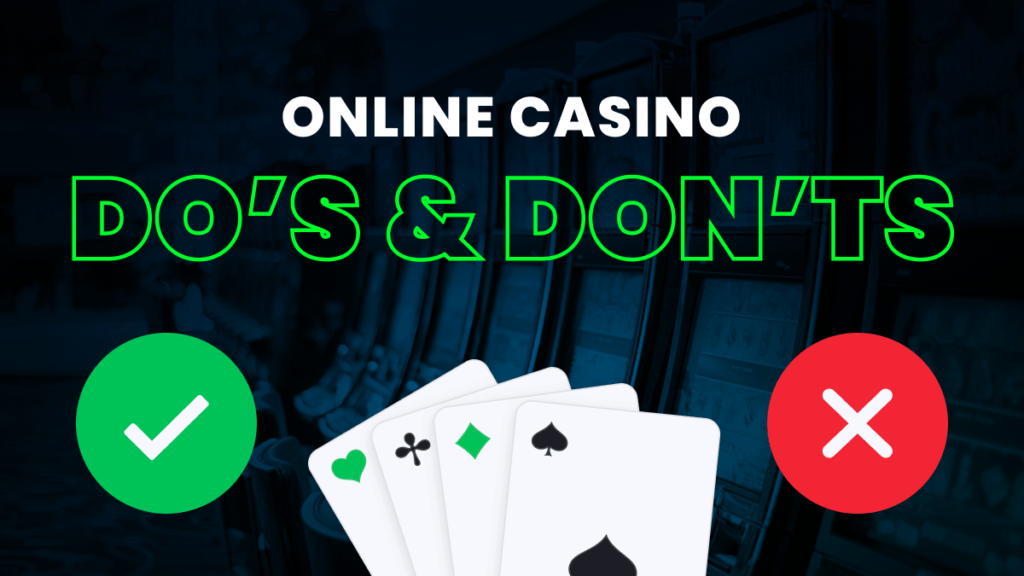 When trying to become a successful online casino player, there are many considerations to be made. In our guide, you will learn the ten most important do's and don'ts of online casino gaming in 2022.
Casinos
No promotions available. Try selecting a different location.
Top 10 Do's and Don'ts of Online Casinos
Do's
Shop around for the best online casino odds. Online casinos and their individual games have varying odds, so it is important to choose the most advantageous games in terms of RTP. It may be necessary to register for up to three online casinos in order to obtain the best odds at any given time.
Use an online casino's free play option (if available).

Some online casinos like

Caesars Online Casino

and

Golden Nugget Online Casino

offer a free play option for players who are searching for a place to engage in the action. You can use this feature to find out which online casino works best for you without risking your own money.

Compare online casino bonus offerings. When choosing an online casino to play at, it is important to read the fine print or terms & conditions before you sign up. Pay attention to seasonal bonuses that may become available during events such as the Super Bowl or March Madness.
Create a strategy for every game you play (if applicable).

When playing online casino games, it's critical to maintain a strategy that will put you in the best position to win. For example, one game that you need a strategy for is

poker

, because the game itself requires vast and specialized knowledge to find any sort of success.

Have fun.

This is self-explanatory. Keep in mind that these games have been created for entertainment, so have fun playing your favorite online casino games.
READ MORE: Best Online Casinos for Beginners
Don'ts
Don't get too involved with too many online casinos.

It can be quite overwhelming to track your involvement with every online casino you sign up for, similarly to sportsbooks.

Don't take online casino gaming too seriously.

It is important to remember that these are casino

games

at the end of the day and should be treated as such. Taking gambling too seriously can directly lead to problem gambling.

Don't play on unregulated online casinos that lack proper licensing.

This should be a given. Many illegal and offshores casinos are out on the market offering games that can be classified as potentially rigged. Every online casino player should be aware of this. Playing regulated, legal online casino games gives you the best chance to win and cash out earnings without legal trouble.

Don't play too many different online casino games. Users usually play games they are already familiar with or those they have enjoyed playing for the first time when they participate in an online casino. The key to online casino gaming is familiarity. If you repeatedly switch between games and online casinos, your chances of winning decrease.
Don't deposit funds at a large number of online casinos. Depositing funds for online wagering should only be done if the online casino is trusted and one you enjoy playing compared to other casinos. In the event that you decide to deposit funds into an online casino too soon, you will have to wait a few days to receive those funds before you can deposit them into another online casino that you trust or enjoy playing at more.
More Information About Online Gaming