Online Casinos vs. Live Casinos: What Are the Pros and Cons of Each?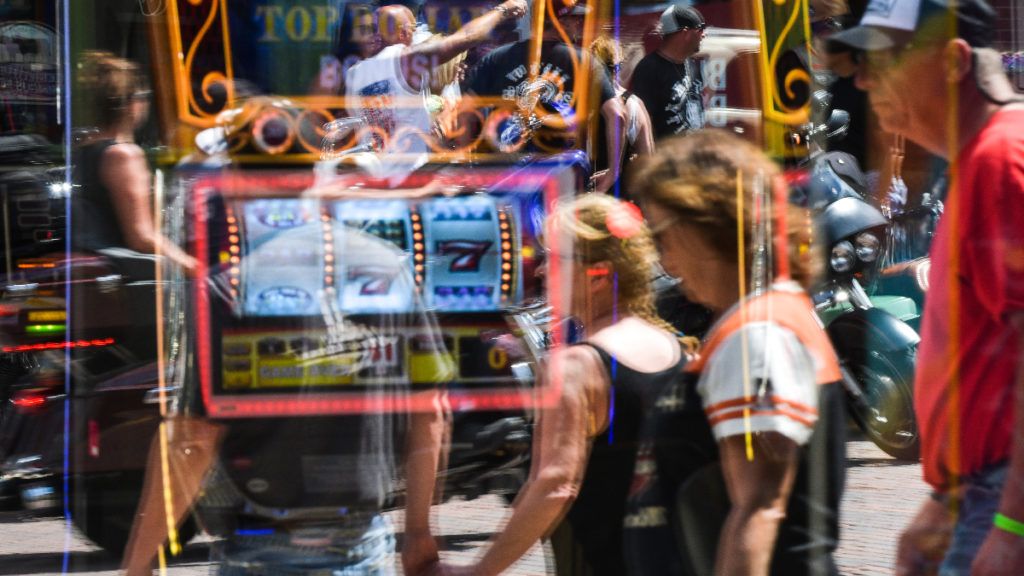 Casino gambling is a popular pastime in the U.S. The sights and sounds of live casinos are unmistakable with the rolling slots, dealers shuffling decks, and often the smell of cigarettes in the air. All of these are part of the charm that attracts millions of people through the doors of brick-and-mortar casinos annually.
While there remains no shortage of locations to enjoy the live casino experience, today's technological advances allow players to enjoy many of the same perks of gaming in person from the comfort of their homes.
Both options appeal to some while others may have a distinct preference. Either way, Action Network breaks down the pros and cons of gaming at online casinos and live casinos. We will also walk you through some of the similarities and differences between the two.
Casinos
No promotions available. Try selecting a different location.
Live v. Online Casinos: Pros and Cons
Online Casinos Pros
Gaming from anywhere, anytime
The biggest positive that comes from online casino gaming is that you can do it anywhere you want, whenever you want. There is a convenience aspect to online casinos that simply cannot be ignored. You do not have to worry about finding the nearest casino to get your gaming fix — you can just open your gaming app of choice and start playing from your home or even on the go if you wish.
Better bonuses and incentives
Online casinos typically offer better bonuses and rewards for gamers than their land-based counterparts. You can take advantage of sign-up offers as a first-time online casino gamer, like BetMGM's 100% deposit match up to $1,000 plus $25 on the house when you use bonus code ACTIONCASINO.
READ MORE: How to Maximize Online Casino Bonuses
A larger variety of games to play
If you are playing at an online casino, you are not limited to only the games you can find at a brick-and-mortar casino. Established online casinos offer hundreds and thousands of different games you can play. You can find countless slot games, table games, live dealer poker games, and much more.
Limited dealings with people
This can be viewed as either a positive or a negative depending on the way you look at it. However, online casinos do not require you to deal with real people. You can still enjoy the social element of playing without having to deal with crowds or any gamblers who may have had one too many drinks.
READ MORE: The Do's and Don'ts of Online Casinos
Online Casino Cons
Missing out on the live casino experience
Part of what makes gaming at live casinos so attractive are the sights and sounds that create an unmatched experience. If you game at an online casino, you miss out on the aspects that make gambling at in-person casinos appealing to so many.
No in-person socializing with fellow gamblers
As the world still aims to put COVID-19 in the rear-view mirror, many people have realized just how much they missed real-world socialization and interacting with people in person. Missing out on the camaraderie you can build with your fellow gamblers if you choose to play at online casinos cannot be discounted.
Tendency to be a little more careless with money
Something you might not put as much thought into as you should is that gaming at an online casino could put more of your money at risk. When you gamble with your money over the internet, it is stored in your account and you do not physically see it. When you play at live casinos, you can see the amount of cash you have at hand or the money represented with physical chips. While respectable online casinos allow you to set limits and bet on a budget, players can tend to get a little too carried away with how much money they're gambling with.
Live Casino Pros
Everything that comes with the in-person gaming experience
As we previously discussed when highlighting the cons of playing at online casinos, there's something to be said about the experiences of playing at a live casino. There is no replicating the atmosphere and all that comes with it. For gamers who are lonely and long for personal interaction, live casinos are one of the most enjoyable places to socialize with strangers and enjoy the company of friends.
More time to process information and be more responsible
When you're gaming online, you're only a few clicks away from gambling more money or making a decision you'll likely regret later. While you could still do those things at live casinos, seeing the physical dollars in your hands has a way of helping you focus on the reality of any situation and any consequences that come with it. It's one thing to be one or two clicks from depositing more money into your virtual casino account. However, it is more difficult to take a few minutes to walk over to the ATM and use a withdrawal processing machine. While there are always exceptions to the rule, we typically see that gamers are more responsible when gambling in person than online.
Propping up a local business and economy
While helping a local casino is probably the last thing on your mind when you gamble at a brick-and-mortar location, the reality is that you are helping a local business. Live casinos employ a lot of people to ensure that operations are running smoothly at all times. When you're spending money there, you're helping put money in the pockets of these workers. While the goal is to walk out of a casino with more money than you walked in with, that probably won't happen every time you play. The money you're spending, whether that's gambling money or cash you spend on food, drinks, etc. is a boost to the casino and the local economy.
Live Casino Cons
Not as many gaming options
When you play at online casinos, there is almost an unlimited amount of gaming options to choose from. Different online casino brands offer different games, so you can register at multiple online casinos to experience the full breadth of options. Brick-and-mortar casinos are limited by the physical limitations of the facilities they're in. It's impossible for them to provide as many games as you'll find online. Live casinos still offer plenty of gaming options, but they simply can't compare to online casinos.
Worrying about physical tells
This can be an advantage or disadvantage depending on the type of player you are, but you have to worry about your body language when playing poker at live casinos. You do not have to worry about giving off tells that are far easier for others to identify when gaming in person. However, it's one of the most critical things you have to control when you're surrounded by fellow players. This could also be advantageous for you if you're a strong poker player who is proficient at reading other people.
READ MORE: How to Bluff at Online Poker
Crowds
Crowds are an inevitable aspect every live casino player has to deal with. While some people might not mind them, they can be a hindrance at times. Not every person at a casino is pleasant — some can be downright annoying and rude. If the casino is crowded enough, you may have to wait your turn to sit down at your favorite slot machine. You may also have to stand idly by as the poker table you want to play at is full. There are plenty of perks that come with playing at a full and lively casino, but there are also some drawbacks to dealing with the crowd as well.
More Information on Online and Live Casinos