Caesars Casino Bonus Code
Caesars Casino Bonuses & Promo Codes September 2022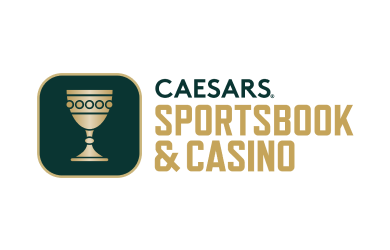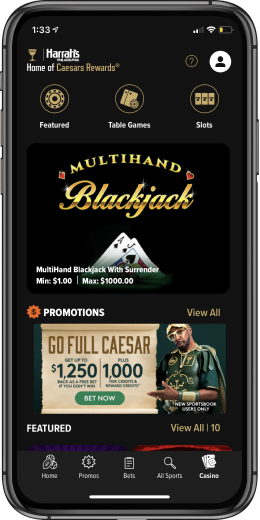 Caesars Casino Bonus Codes & Registration Process
Caesars Casino Bonus Code Key Takeaways for September 2022
| | |
| --- | --- |
| Caesars Casino Bonus Code: | ACTIONCAS in MI and NJ; ACTIONC10 in PA; ACTIONCASWV in WV |
| Caesars Casino Bonus Details: | Up to a $2,000 Deposit Match + a $100 Gas Card in MI and NJ; $10 at registration + $200 Deposit Match in PA; Up to a $500 Casino Bonus in WV |
| Caesars Available Legal States: | NJ, PA, MI, WV |
| Caesars Casino Games Offered: | Blackjack, Roulette, Slots, Live Dealer Games and More |
| Promo Last Verified: | September 2022 |
Two of the most recognized names in gambling came together in 2020 when US brand Caesars Entertainment acquired UK operator William Hill. In 2021, Caesars decided to rebrand William Hill under the Caesars name to form one of the country's most complete sports betting and online casino platforms.
With a $1 billion investment into the new digital gambling product, it's clear Caesars is aiming for a place among the top companies competing for customers in the rapidly growing online casino industry. We're here to dive into Caesars online casino product to share our insights with players looking for the most entertaining and worthwhile place to gamble on the internet.
New players will undoubtedly be excited to hear about Caesars' promotion offers. They do vary by the state you're betting in, so make sure to verify the bonus offer is the one you want and is in the state you're wagering in before signing up.
Caesars Bonuses in Legal Online Casino States
Users do not need to be residents of a legal state to register an account with Caesars, but they do need to be physically located in one to gamble for real money online. Each legal state will differ slightly in what Caesars offers, with frequent changes as the brand constantly evolves.
Caesars Casino Pennsylvania
Read our PA Online Casino Review to learn more about online casino gaming in Pennsylvania
PA gamblers get to experience the exciting atmosphere of Harrah's Philadelphia through the Caesars Online Casino. Licensed by the PGCB, Caesars has been available and catering to players in the Keystone State since 2017. While there isn't an individual app for PA like there is for NJ, Caesars has created a sportsbook with a section dedicated to the online casino. PA users can get in on games right at their fingertips.
Get $10 at registration + $200 Deposit Match with promo code ACTIONC10. New users have to 21 and older and in Pennsylvania in order to bet. The maximum bonus is $200. Minimum wagering must take place within seven days to unlock the bonuses.
☆☆☆☆☆ - "I like the game selection. The only app I found that has the original Cleopatra slots."
☆ -"I've been in contact with support for two weeks now trying to withdraw my money."
Caesars Casino New Jersey
Read our NJ Online Casino Review to learn more about online casino gaming in New Jersey
NJ gamblers familiar with the Caesars Atlantic City land-based casino will be glad to know they can now experience the same thrills from wherever they choose to play via Caesars online platforms. Players in the Garden State can use the website or their favorite mobile device with an internet connection.
Get up to a $2,000 Deposit Match + a $100 Gas Card with promo code ACTIONCAS. New users have to 21 and older and in New Jersey in order to play. Minimum wagering must take place within seven days to unlock the bonuses.
☆☆☆☆☆ - "I like the game selection. The only app I found that has the original Cleopatra slots."
☆ -"I played for a lot $$$ and soon realised there are major issues with not only the app and slots but customer service."
Caesars Casino Michigan
Read our MI Online Casino Review to learn more about online casino gaming in Michigan
Launched August 2021, Michiganders also can play with Caesars via the website and mobile app. There are slightly fewer total games than NJ, but still, a significant amount to choose from. In some cases, players prefer a smaller selection to choose from as it is less overwhelming. Overall, the Caesars app rates a 4.6 out of 5 stars on the Apple app store.
Get up to a $2,000 Deposit Match + a $100 Gas Card with promo code ACTIONCAS. New users have to 21 and older and in Michigan in order to play. Minimum wagering must take place within seven days to unlock the bonuses.
☆☆☆☆☆ - "I love this app! The sounds and the celebrations when you get big/mega wins are just like being in a regular casino."
☆ - "...when you log in you will get bombarded with pop-ups (6-8 usually) to get you to buy stuff. You have to acknowledge to continue. If you go back to the home page from a slot game you get the pop-ups again."
Caesars Casino West Virginia
Read our WV Online Casino Review to learn more about online casino gaming in West Virginia
Caesars launched its casino brand in West Virginia in late 2021 to become to fifth online gaming operator to launch in the state. West Virginia gamers have access to the online casino and sportsbook to meet their gaming needs.
Get up to a $500 Casino Bonus with promo code ACTIONCASWV. New users who are 21 and older and in West Virginia must make a minimum cash deposit of $20. The maximum bonus is $500. This bonus is paid as restricted bonus cash that will be added to the bettor's account within five business days. Minimum wagering must take place within seven days to unlock the bonuses.
☆☆☆☆☆ - "Easy to use app, great bonuses and you can use your Ceasar's rewards card!"
☆☆☆☆☆ -
"This app is special. It's easy to use and to get your winnings. It's just like you're in a Las Vegas casino."
Ongoing Promotions
Existing users in all Caesars casino states can expect to be handed regular promotions such as Bonus Giveaways, 5x Rewards Multipliers and Free-Risk Thursdays. As the brand is new to the online space, it is possible and likely that more ongoing promotions may arise, so players will want to be in tune with the brand's communication channels not to miss an opportunity.
How to Sign Up at Caesars Casino
Signing up to play at Caesars is quick and easy. Just click the "Join Now" button at the top right of the website, or download the app from your preferred store. Process and required info:
Login details: email address, password

Personal information: full name, gender, date of birth

Contact details: country of residence, address, phone number

Security questions for privacy

Confirm 21 years of age

Enter bonus code
No promotions available. Try selecting a different location.
Caesar's Casino App

Casino Home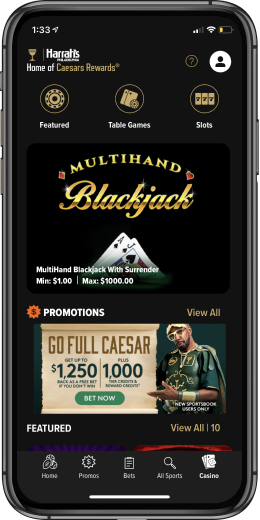 Casino Featured Games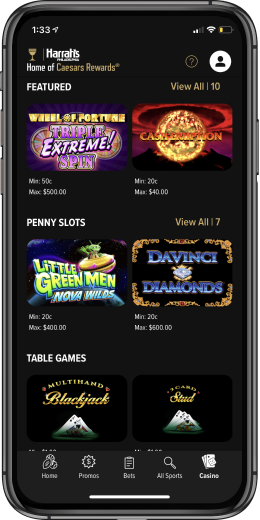 Casino Slots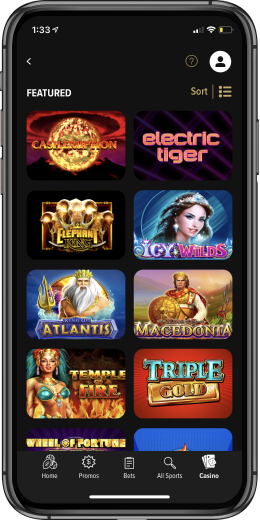 Table Games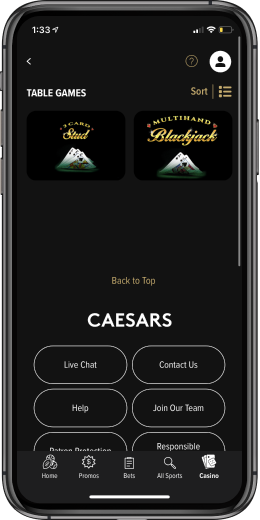 Caesars Mobile App & Website Experience
Caesars Casino App & Web
PC, Mac, and iOS platforms are all compatible with the Caesars online casino, allowing players in legal states to entertain themselves with an array of digital games on their favorite devices. Android does not have an app strictly for the casino, but you can access it through the sportsbook app. Here are our notes from testing out the various platforms ourselves.
App Experience

Sportsbook Casino App: Many users love the funtionality of the sportsbook casino app. One benefit is that users can pin favorite games to the top of the carousel within the sportsbook casino app. Yet, a downside is the games can lean toward the "basic" category. Users can connect their sportsbook and casino under one account and wallet, which may be the most significant positive for this option. Design-wise, this is the best layout we have experienced in our testing of online casino apps.
User Reviews
Caesars Casino App currently allows real money wagering/betting in New Jersey. We're noticing some common complaints/praise.
Caesars Apple App Store Reviews
Download Apple App in NJ — 1.7/5 with 148 ratings in NJ in September 2022
Download Apple App in PA —1.8/5 with 682 ratings in PA in September 2022
iOS User Negatives with Caesars Casino

Slow Payouts. Users frequently complained about the slow payouts and withdrawals with using the Caesars app and online casino. Caesars needs to verify all withdrawals, but they seem to be slower than some of the other platforms.
Clunky interface.

Users cited that the app felt clunky and unfinished and that the user interface wasn't always easy to navigate.
iOS User Positives at Caesars Casino

Game Selection.

Users were thrilled with the game selection. Users loved that they could play their favorite classics but find new, modern favorites as well.
Google Play Caesars Casino Reviews
The Google Play Store does not currently offer a Caesars Casino app but does have an app for the sportsbook — where you can also access the casino.
Caesars Casino Web
An online casino site must operate quickly and intuitively. For the most part, Caesars does so when used on a desktop or laptop computer and rates highly vs. the competition.
The layout is simple in a good way. Nobody will get lost in the Caesars website platform like they might if playing online with BetMGM or Golden Nugget. The top bar links to standard pages players may need to visit, while a lower bar contains the gaming menu to search for what to play. We like the large info button when hovering over games that players can click to learn how each game works. Some even showcase YouTube videos for a visual example. The search box on the right-hand side of the game's bar is also helpful for finding something quickly. There is no search based on game makers, however.
Web Experience: Unibet takes this round
Category: Web Experience
Comparison: Caesars vs. Unibet
Measured: Core Web Vitals, PageSpeed, First Input Delay
Casino pages have an extreme amount of content on them at once, so, understandably, they'd come in with low grades when it comes to PageSpeed. This time around, Unibet edged out Caesars with scores of 11-2. However, Unibet's First Input Delay was much slower than Caesars at 123 ms to just 29 ms. Either way, any standard wifi signal should be able to handle both pages with ease.
Online casinos must hook users by replicating the real-life casino experience as closely as possible in a digital format to stand apart from competitors. Caesars could use some help when it comes to pushing their Live Dealer games.

Live Gaming Navigation: Unibet gets another win
Category: Live Game Navigation
Comparison: Caesars vs. Unibet
Measured: Click Depth, Design Friction
The live gaming navigation within Caesars is pretty standard when compared to other online casinos. It provides a solid experience that is a step up from virtual table games. Unibet puts more of its live gaming options near the top of its initial home page game offers. There are three up there compared to Caesars' one.
To many, the amount and variety of games offered by an online casino is arguably the most critical aspect when choosing one over another. Here's the breakdown of what games to expect at Caesars.
Caesars Online Casino Game Selection
There was a time when the Caesars game library spanned more than one thousand titles. But with the acquisition of William Hill and the development of a new streamlined product, it scaled that number back a bit as it rebranded itself. So, for now, the Caesars digital casino doesn't feel like walking into the lobby of its prestigious land-based locations; it's more akin to a micro-casino. As time goes by, its game selection will expand as we expect it to compete with other large online casinos like BetMGM and Golden Nugget.
Games will be slightly different depending on the state, but here's a general rundown of what to expect in the Caesars game lobby.
Table Games at Caesars Casino
Twenty-two options: Find all the fun you can handle with blackjack, roulette, baccarat, poker, and more featured under the table games filter. Let It Ride, 3 Card Stud, and Ultimate Texas Hold'em rank among player favorites.
Live Dealer Availability: Golden Nugget rules all
Category: Live Dealer Availability
Comparison: Caesars vs. Golden Nugget
Measured: Total Hours Live Dealer Offering Available per day and week
As it does with each Live Dealer availability matchup, Golden Nugget gets the win here simply for being the only online casino to offer these games on a 24/7 basis. Learn more about our Golden Nugget Casino bonus!
Virtual Blackjack at Caesars
Twelve options: Various types of blackjack like Classic, Multihand, Xchange, Blazing 7's and more are available. There are eight tables of live dealer blackjack waiting for players to join as well.

Pro. Players won't be overwhelmed by the blackjack selection process.
Con. If you're looking for a super-specific type of blackjack or from a particular studio, it might not be available at Caesars yet.
Live Blackjack at Caesars

Pro. The interface showing the video feed of the live dealer is high quality and professional, both in terms of visual and audio output.
Con. The icons and graphics displaying card details can be complex for some to read, incredibly quickly deciding whether to stay or hit.
Live Game Diversity: FanDuel has more options
Category: Live Game Diversity
Comparison: Caesars vs. FanDuel
Measured: Count of Unique Game Names
Both sites include blackjack, unlimited blackjack, American roulette, baccarat, three card poker, casino hold 'em, where you can enjoy the presence of a human dealer instead of a random number generator. FanDuel has a couple of more tables and options to choose from, but both should be considered respectable compared to the rest of the industry. Learn more about our FanDuel Casino bonus!
Slot Games Caesars Casino
300+ options: Caesars has hundreds of slots to choose from for those looking for a game requiring less skill but still plenty of entertainment. All types of themes are represented, so finding something that fits a player's particular interest shouldn't be an issue.
Our Caesars Slot Takeaways:

Pro. The number of games is the biggest plus, but we were impressed with the graphics and audio.
Con. Sometimes unclear whether slots matched up or not, and the text for a player's balance is too small.
Game Winners: DraftKings takes the W
Category: Game Winners
Comparison: Caesars vs. DraftKings
Measured: Clarity on outcome messaging across game types, available information about recent winners
Caesars doesn't offer a leaderboard or any way to see how other players have done. No Big Winner list either. Meanwhile, DraftKings has an entire section at the top of its home page devoted to a leaderboard. Whether it's previous results or some upcoming live events that you can track, DraftKings races by Caesars in this round. Learn more about our DraftKings Casino bonus code!
Caesars Casino Roulette
Seven options: Just enough choices here to keep players entertained. Select from available variations such as Classic, American, French, Touch, Blazing 7's, and 100/1.
New Casino Games
There is no way to search specifically for new games; players have to come across them via the other search bar categories. Caesars denotes new games with a yellow ribbon across the top right corner of a game tile with "New" on it. As we've said above, players should expect these to evolve as Caesars continuously grows its catalog in each state. Some current examples of new games include Ultimate X Poker: Ten Play, Super Charged 7's, Street Fighter II, and Atlantis Megaways.
Exclusive Casino Games
Exclusive Game Offerings: SugarHouse Wins
Category: Exclusive Game Offerings
Comparison: Caesars vs. SugarHouse
Measured: Number of exclusive games offered
It doesn't appear that Caesars has any exclusive games at this point, which puts it behind other significant competitors in the space. A casino with a legacy (and budget) like Caesars should be investing in producing exclusive games to differentiate itself from the competition. Otherwise, players know that they won't find anything special or unique within the Caesars game library. SugarHouse has a limited amount of exclusive games compared to others that offer a more extensive variety, but their small number beats out Caesars' zero.
Megaways - 24 options: These are slots, just with more chances to win big prizes as the symbol height on each wheel varies from spin to spin. Wheel of Fortune, 88 Fortunes and Bonanza are a few of the top featured megaways.
Video Poker - 17 options: Scroll through and pick between video poker options like Deuces WIld, Jacks Or Better, Triple Play Draw or Ultimate X Poker.
Slingo - 26 options: The popular slots and bingo mashup game provides fun for all. Go with the Classic for a true slingo experience, or try out others like Starburst or Showdown for a modern twist.
Other games - Caesars has a tab for "other games" which features unique titles like NBA Last 60, The Price Is Right: Come On Down, Ghostbusters Spectral Search, The Voice and more. Most are available to demo for free as well as play for real money.
Scratch cards - 6 options: Simulate the experience of scratching off a card from your local store, but digitally instead of using a coin or your finger. Uncover a prize by clicking designated areas to reveal the right symbols. Check out Volcano, Merlin's Millions or Irish Eyes 2.
Free play - Caesars boasts that "You no longer have to pay to be entertained!" Users can spin slots for free on any device after they've signed up via an email address or Facebook account. No real money can be won, of course, but players can rack up Caesars coins to continue playing on any of the brand's slot machines. Check out the return-to-player rate and pay table on slots to decide which one to go with: less often larger jackpots or more frequent small wins. Free slots: King of the North, Valley of the Pyramids, All Mine Diamonds and more.
Game Selection Summary: Compared to competitors, the total amount of games offered by Caesars puts it near the top of the online casino industry. The brand provides all of the most common games, plus plenty of extra choices with its selection of megaways, Slingo and scratch cards. We also like that it allows so many games to be demoed (played for free with fake money) so that every player can enjoy themselves. Its live dealer offerings and availability are about average. Where Caesars gets downgraded is its exclusive game category, in which there are none.
READ MORE: The Most Popular Legal Online Slot Games

Caesars' Most Popular Games
The brand doesn't list or have a tab for its most popular games, so it's a bit tough to tell which games players enjoy the most. It does, however, have a Featured Games tab, of which it gives prime real estate in the top row to the Live Dealer Lobby, Wheel Of Fortune Megaways, 88 Fortunes, and 88 Fortunes Megaways. The second row includes Bonanza Megaways, Divine Fortune Megaways, Endless Treasures, and Multi-hand Blackjack.
Caesars Casino's Banking, Payouts, and Rewards
Players will find all of the most common options available for banking at Caesars online casino. Financial safety and security for its customers are top priorities for the brand.
Deposits:
Withdrawals:
Visa/Mastercard

ACH transfer

Online banking
READ MORE: The Top Debit Card Online Casinos
Caesars Loyalty Program and Rewards
Caesars has a 6-tier VIP system for rewards and, put, the more players play, the more they'll earn. You can cash in reward Credits and Tier Credits for free play, dining, getaways, sports experiences, and more fun at Caesars properties, including 50 locations over 16 US states. For example, for every $25 gambler's wager on table games, they'll earn 1 Reward Credit and 1 Tier Credit. The Caesars Rewards mobile app is also available to keep track of everything a player accumulates from playing, plus customized recommended offers to take advantage of and monthly prize giveaways. Learn more on the Caesars rewards page.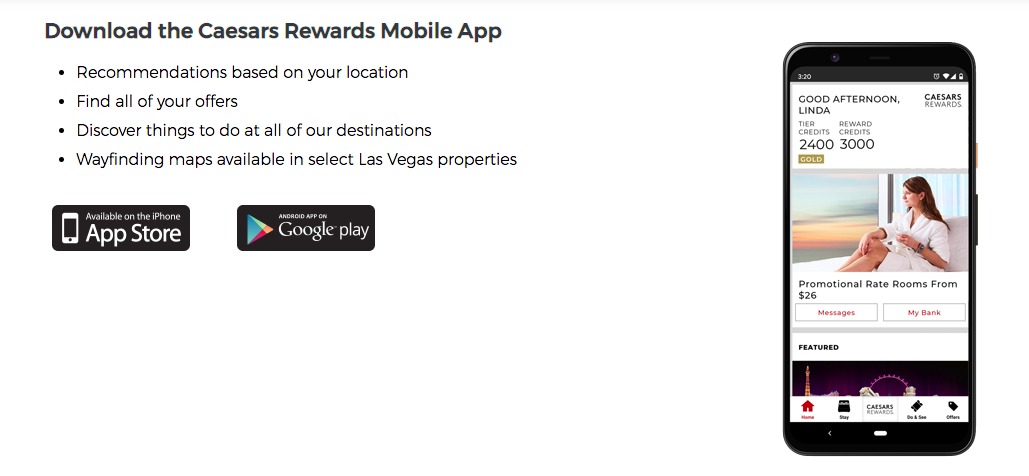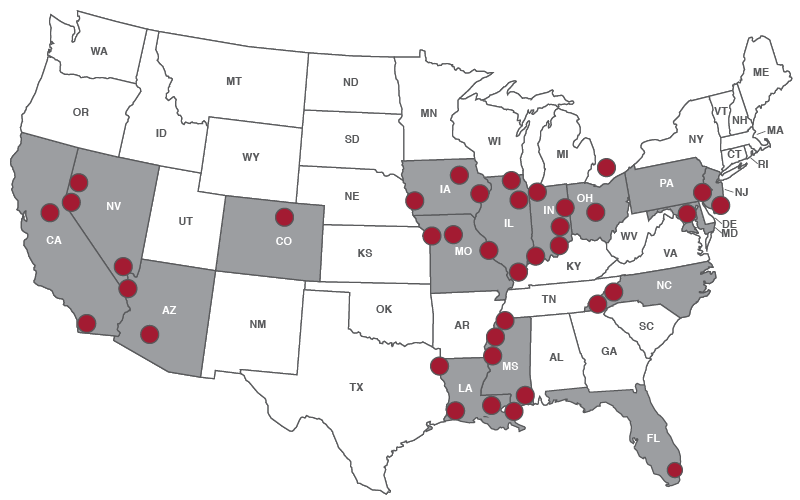 Just like any business, and especially digital ones, things can and will go wrong. Having a well-structured customer support team to help solve customers' problems is key to keeping them happy and returning to the brand. The same channels are available at Caesars as most other online casinos on the market.
Live chat: widget available on website and app from 8 am-12 am EST daily

Email: Support@CaesarsCasino.com

Telephone: 1-800-986-9248 from 8am-12am EST daily
Customer Service Support: Caesars is among the best
Category: Customer Service Support
Comparison: Caesars vs. BetMGM
Measured: Time-to-response, time-to-resolution, number of CS touchpoints, number of communications to resolve an issue
BetMGM's support is pretty hit-or-miss, whereas Caesars was a lot cleaner to deal with. Caesars offers a customer service widget and live chat option that has a pretty rapid response time -- when using the casino through the new sportsbook app. Caesars also has multiple email addresses for general comments, marketing inquiries, complaints and feedback/suggestions. A 24/7 service would likely put Caesars at the top of the industry regarding customer service. Learn about the BetMGM casino bonus code!
Caesars' Commitment to Responsible Gambling
The Caesars website has a Responsible Gambling page dedicated to educating players about the pitfalls of problem gambling. Learn about setting limits, self-suspension, self-exclusion and even closing an account. There is also info for preventing underage gambling, tips for parents and more. The brand offers a player support feature where those in need of help can email or live chat with a Caesars employee. The company directs players to the Player Support Team for 24/7 telephone assistance at 1-800-986-9248, as well as the 1-800-GAMBLER hotline.

Caesars Casino Bonus Code Review Summary
Caesars Casino Bonus Code Overall Score

Action Network's Caesars Online Casino Summary

While their sportsbook brand is still in the early stages of entering the market, Caesars Online Casino has been around for years and years. With a top of the line name like Caesars behind it, the online casino is one of the best around:

Huge Initial Deposit Bonus: Caesars will give you $10 on the house simply by making an account...and then an additional 100% first deposit match up to $1000.
Brand Name Backing: While FanDuel and DraftKings have the sportsbook name brand backing, like BetMGM, Caesars has a household-name, industry leading casino brand to work with for their online product.
User Friendly Platform: A great library of

games to choose from and developed by reputable software providers, including IGT and WMS.

Amazing Customer Support: Caesars offers one of the best customer support services in the industry.

All in all, Caesars Online Casino product is battling toe-to-toe with some of the market's biggest names. But one might expect a little bit more on an edge from one of the industries top in-person casinos.
Caesars Online Casino FAQ
What is Caesars Online Casino?
Where can I legally play Caesars Online Casino?
Do I have to be a resident of New Jersey to play Caesars Online Casino?
Is it legal to bet and play casino games on Caesars Online Casino?
Can I win real money on Caesars Casino online?
If I leave New Jersey in the middle of game-play, will I be able to finish my game?
Is there an app for Caesars Casino Online?
How do I receive my funds after I've won?
Can I disable my location software and use Caesars Online Casino?
Is my credit/debit card information safe if I use it for online gambling?
How do I put money in my Caesars Online Casino account?
How do I get the app for Caesars Online Casino?
Does Caesar's Online Casino offer any promotions?