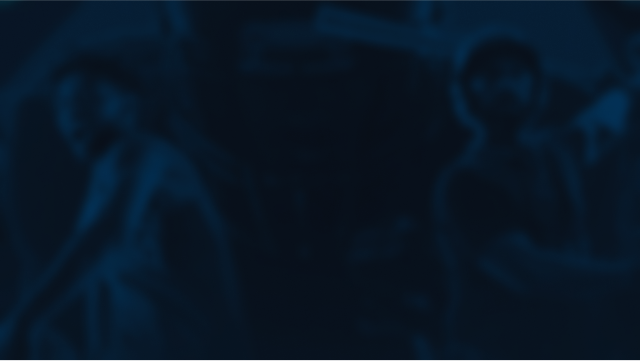 FanDuel Casino Promo Code
FanDuel Online Casino Bonus Code & Review September 2023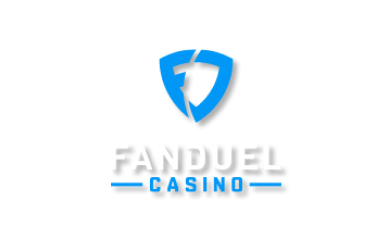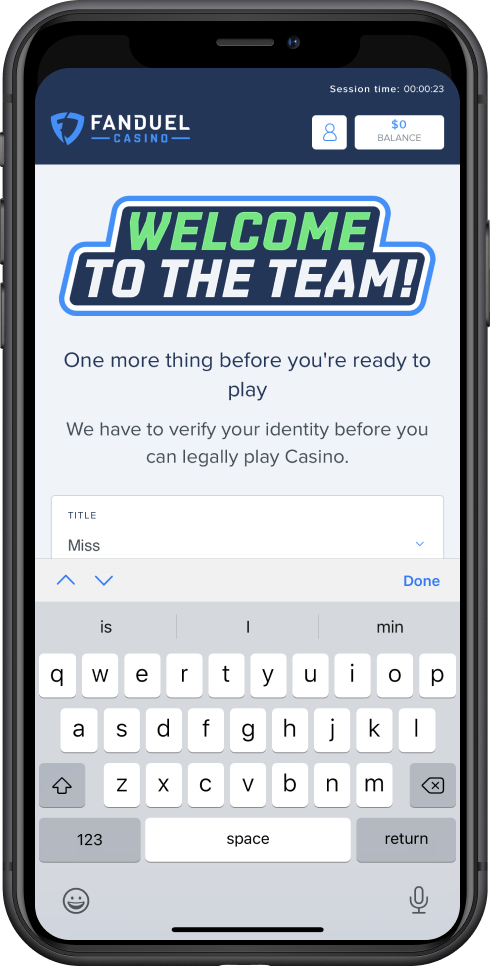 FanDuel is arguably the biggest sportsbook on the market right now thanks to its huge brand name, amazing promotions and favorable odds. Now the company is looking to become a pioneer in another sector of the gambling world: online casinos. FanDuel makes it easy for its sports fans to come over to its online casino using the same sportsbook app. Once on the casino side, users have a ton of slots, table games and live dealer options to choose from.
No promotions available. Try selecting a different location.
FanDuel Casino Bonus Code & Registration Process
FanDuel Casino Bonus Code Key Takeaways for September 2023
FanDuel Casino Bonus Code

No Bonus Code Required (NJ, PA, and MI users)

Bonus Terms & Conditions

Get a $1,000 Play It Again Bonus (Only 1x Play Through) + 50 BONUS SPINS!

*50 Bonus Spins are not available to users in WV.

FanDuel Legal States

NJ, PA, MI, WV

Casino Games Offered

Blackjack, Roulette, Slots, Live Dealer Games and More

Bonus Last Verified

September 2023
FanDuel Sportsbook is one of the largest sportsbooks in the country and has been since transforming its main daily fantasy product into a site for online betting. Now, with the backing that includes millions of sportsbook users, it makes sense that FanDuel was able to have a smooth transition into the online casino space. While their support is pivotal, sports bettors are only one part of FanDuel's target audience.
FanDuel's casino is offered to players in New Jersey, Pennsylvania, Michigan and West Virginia, and likely has its sights set on adding to that number once online casinos in more states across the country. With a large crop of slots, table games, live dealers and friendly promos in hand, FanDuel has created a favorable online casino product that is sure to keep users around just like with its sportsbook.
Unlike some of the top online casinos, FanDuel does not offer a no-deposit bonus upon account activation. While this is unfortunately a huge draw for many new players in the market, FanDuel does offer an enticing play it again first day of playing on their online casino for up to $1,000.
FanDuel allows players to essentially test its product out first in hopes that they'll want to continue playing after building a bankroll. Need help with budgeting that initial FanDuel bonus for a new player? We've got some helpful strategies on bankroll management and a betting odds calculator when you're ready.
With fierce competition within the industry, bonus codes and promos are paramount in grabbing new players and gaining sign-ups. It's rare to find other online casinos offering a play it again first day of up to $1,000 + 50 bonus spins. This offer certainly does the trick for us. But is FanDuel's casino bonus legit?
Read on for our full review, which covers everything players need and want to know about FanDuel's online casino and why it's one of the most highly regarded platforms in the market today. We've also compared FanDuel head-to-head with online casino competitors like DraftKings, Unibet and SugarHouse, and they fared well in head-to-head matchups.
FanDuel Online Casino Bonus Wagering Requirements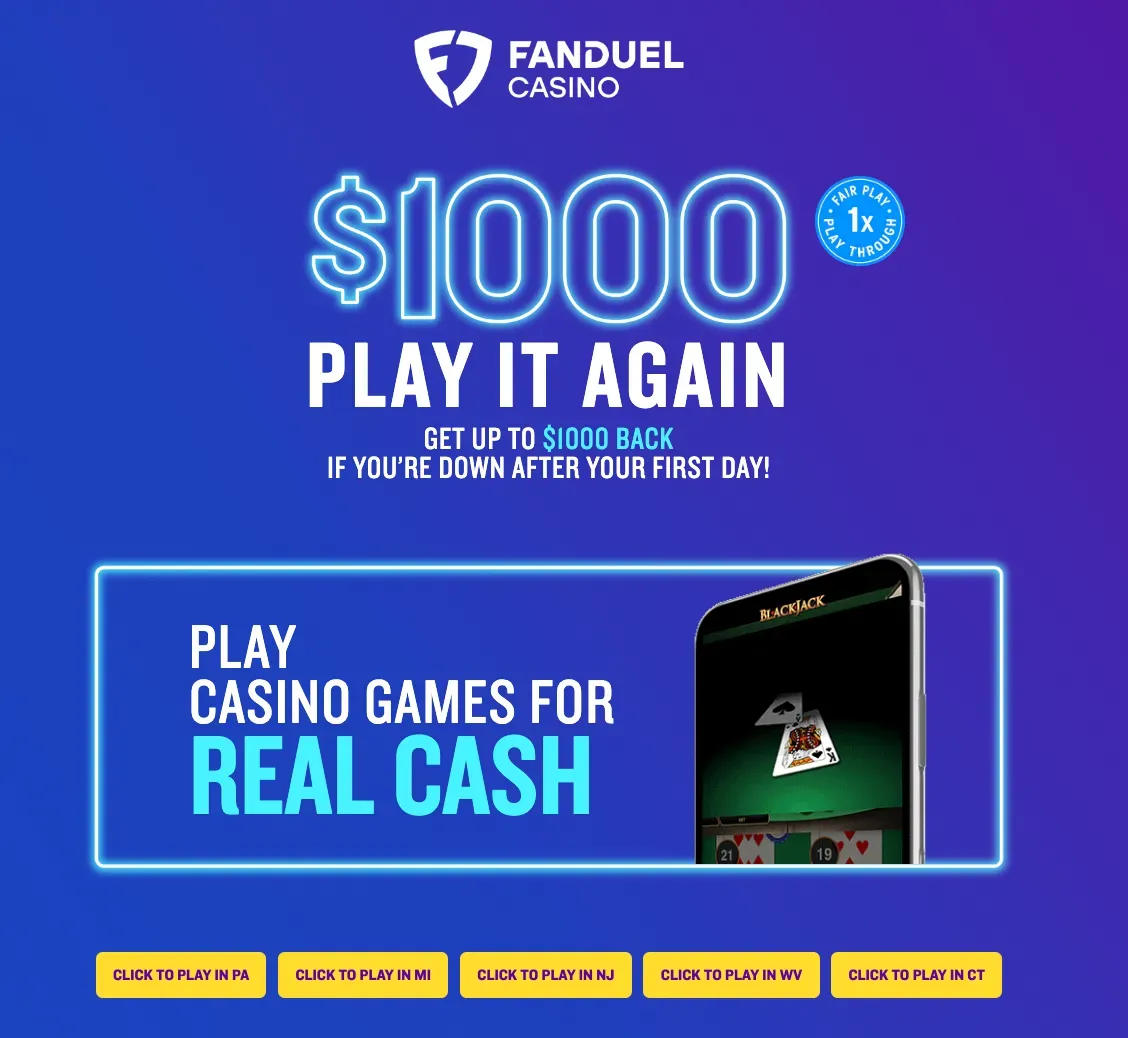 ✅ Get a $1,000 Play It Again Bonus (Only 1x Play Through) + 50 BONUS SPINS!
The new customer offer is true: receive 100% back on your net casino losses incurred in your first 24 hours of play, up to $1,000.
Here's how it works:
Max refund $1,000

50 bonus spins are only available to users located in NJ, PA, and MI

Bonus period begins on your first real money wager with your casino account and extends for 24 hours

No bonus less than $5 will be awarded

Bonus issued as site credit

Site credit will be automatically applied within 72 hours of completion of net loss period

Amount equal to site credit must be wagered before winnings can be withdrawn

Bonus expires 7 days after receipt
Promotions for Existing FanDuel Users
FanDuel Casino Reward Machine
FanDuel Casino is giving out casino bonuses of up to $2,000 daily. All players are qualified for this promotion and everything's free. Find more details about this bonus below:
Three free spins daily
Collect three trophies throughout the week to win a casino bonus of up to $2,000.
Spins refresh daily at 6:00 p.m. ET.
Spins expire after 24 hours
Access the Rewards Machine on the FanDuel Casino home page
Daily Jackpots
Your next spin at FanDuel Casino could be huge! Their new Daily Jackpots guarantee to crown a winner every single day by 11pm Eastern Time.
How it works:
1. Choose from the participating FanDuel Casino slots:
Cash Volt
777 Strike
Bounty Raid
Fortune House
Crystal Mirror
Vault Cracker
Golden Cryptex
Wings of Ra
Clash of The Beasts
Yucatan's Mystery
Neon Links
NFT Megaways
Flaming Fox
Well of Wilds Megaways
Rainbow Jackpots
Joe Exotic
Doggy Riches Megaways
Big Cat Rescue Megaways
...and more new games are being added weekly!
2. With every spin, a small percentage of each bet contributes to the growing Jackpot. The more bets from players, the higher the Jackpot grows.
3. Win a Jackpot by getting the right lucky combo in any of the participating slots.
4. After someone wins a Jackpot, it resets to a predefined value for everyone and the Jackpot begins building again for the next day's Jackpot.
High 5 Rapid Rewards
Play any eligible High 5 slots game with the Rapid Rewards badge on it for a chance to win a share of $65,000 in prizes every month!
How it works:
Offer available in Michigan
Only available on select High 5 games
Rewards given within the High 5 games
Rewards vary from in game cash bonuses to in-game promotions

Cash: $1,000 or $100 cash drops
In game promotions
Super and feature boosts are different types of enhancements that bring powerful extra features or boosts existing ones. Both result in more exciting gameplays and considerably more and bigger payouts. Rewarded boosts are available immediately and can be played or deferred and claimed later. This includes higher value symbols, extra reels, faster progressing meters, chargers or multipliers, easier winning combinations
3x Payouts allows for triple the payout amounts on anything you win
Give $100, Get $100
Invite your friends to join FanDuel Casino and you'll both get a $100 Bonus! Tracking referrals just got easier. Send your friends your invite link and you'll both get $100!
How It Works:
Invite your friends using your exclusive referral link
Both you and your friend will receive $50 each in Casino Bonus when your friend plays through $10 or more
Both you and your friend will receive $50 each in Sportsbook Bonus Bets when your friend places and settles any bet of $10 or more
Sportsbook Bonus Bets and Casino Bonus are non-withdrawable and expire 14 days after receipt
5 referral bonuses maximum per referrer every 30 days
FanDuel Casino Promo for New Users
Coming soon.
How to Sign Up at FanDuel Casino
Ready to claim that sweet play it again first day? It'll just take a minute to sign up:
Step 1. Open the FanDuel Sportsbook app, the Casino only app, or go to the site, and maneuver over to the casino pages either at the bottom right (app) or top left in the blue bar (website).
Step 2.

Click the

green

"Join Now" button in the top right corner.
Step 3. Enter your personal details:

Full Name
Select a Unique Username
Email
Date of Birth
Create a Secure Password
Social Security Number
Phone Number
Home Address
Step 4. Enter in the verification code that should be sent to your email upon account verification.

That's it!
Where is FanDuel Legal?
Where can you claim FanDuel's Casino Promos? Only in states where online casinos are legal. FanDuel online casino is available to play in four U.S. states (Michigan, New Jersey, Pennsylvania and West Virginia). To follow the legalization process of online sportsbooks, casinos and poker alike, view our legalization tracker.
Below we've noted the type of online wagering options (casino, sportsbooks and poker) FanDuel has available in each state, along with some hand-picked localized reviews from the Apple App Store and Google Play. It's important to note that FanDuel's casino product differs a little state-to-state, so looking at reviews on a local level is crucial.
FanDuel Casino Pennsylvania
FanDuel Casino PA is licensed by the Pennsylvania Gaming Control Board (PGCB).
☆

☆

☆

☆

☆

- "

App works great in my opinion. Play within your limits and have fun with it."

☆

- "

This game does not hit big and if you do hit a little bit stop because they will take it all back no matter what game you play"

Take a look at our

PA online casinos

review for more casino information in the Keystone State.
FanDuel Casino New Jersey
FanDuel Casino NJ is licensed by the New Jersey Division of Gaming Enforcement (NJ DGE)
☆

☆

☆

☆

☆

- "FINALLY Fanduel casino is in New Jersey. Love Fanduel, my favorite by far."

☆

- "Glitches all the time after I log in every time I try to choose a slot it freezes and I have force-quit. EVERY TIME."
FanDuel Casino Michigan
☆

☆

☆

☆

☆

- "Best online casino game offerings in Michigan. Highly recommend!"

☆

- "

It says that this app works in Michigan, although every time i log in it says it's not available for my state

."
FanDuel Casino West Virginia
☆

☆

☆

☆

☆

- "I love the lightning-fast withdrawal times on Fanduel! Way better than anywhere else."

☆

- "

keep getting the "unable to determine your location

."
A common theme in the U.S. is that users struggle with being accurately located even when in a state where FanDuel Casino offerings are legal. Importantly, if a player is not physically located in a legal state, they can access their account but cannot play games or place bets. As with all online wagering products available, the regulations vary a lot state-to-state.

Frequently, sources of geolocation problems from FanDuel players are poor WiFi, VPN usage, living near a state border (making it hard to verify), or new devices for a previously registered account. FanDuel offers details on some common geolocation issues and troubleshooting tips in their "help" resources for players.
FanDuel Mobile Casino App Screenshots

Security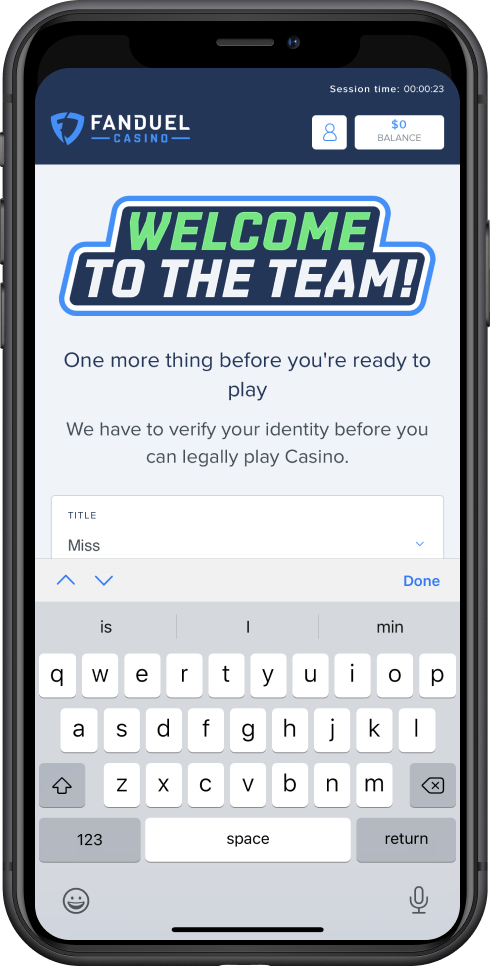 Refer a Friend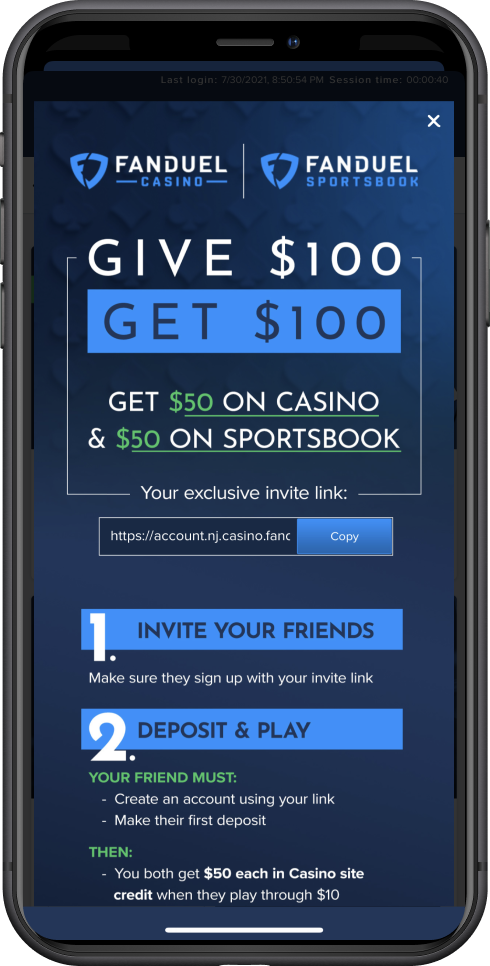 Promotions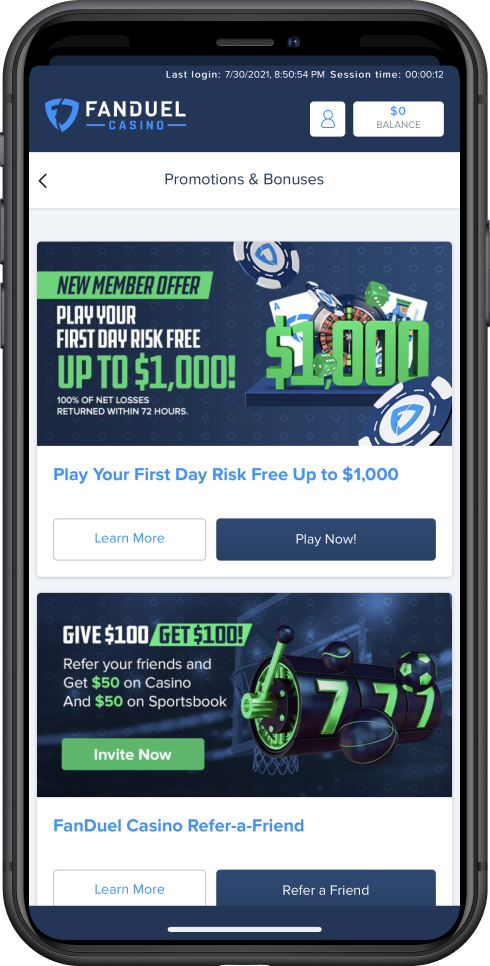 FanDuel Mobile App & Website Experience
FanDuel Casino App Review
To compete in today's online casino market, a company must provide players with an app that is simple, easy to navigate, bug-free and, of course, entertaining. Our testing of FanDuel's online casino app was completed on an iPhone 12 and MacBook Pro in New Jersey. Overall, the experience was very positive.
As in most areas these days, it's helpful to read real product reviews from real customers when deciding between similar options. So with that in mind, we read through the hundreds of reviews on the Google Play and Apple App Store to identify themes and common issues the broader population experienced. We hope to make sure new players are aware of the FanDuel Casino app's pros and cons.
Apple App Store Reviews
Download Apple App - 4.8/5 with 54.5K Ratings September 2023
iOS User Negatives with FanDuel
Game Bugs After Update:

We were seeing a lot of users complaining about games not downloading after updating to newer versions. We also saw that FanDuel responded and it appears the problem has been fixed with a new update.
Issues with Location: Some users were frustrated with issues using the GPS and location software that makes using the app possible, placing them outside of their state making game-play impossible. Usually, this is because the user is close to the border or there's a weak internet connection.
Lack of Slot Selection: Reviews have stated that FanDuel does not have a good variety of online slots available for users.
iOS User Positives at FanDuel Casino
Fast Withdrawal Times: We see loads of users commenting on how impressed they are with FanDuel's fast withdrawal speed.
Intuitive App: Users are pleased with the design of the app and how easy it is to use and navigate
Google Play FanDuel Casino Reviews
Download Google Play App - 4.6/5 with 37.4K+ Ratings September 2023
Android User Negatives
Game Bugs After Update:

Like Apple users, we're seeing the same bugs after updating the app. FanDuel appears to have fixed this issue.
Issues with Location: Users on Android devices had similar struggles with app placing them in the wrong location. We've found that this is usually because a user is close to a state border or have a weak connection.
Android User Positives
Fast Withdrawals:

Users are thrilled with the "lightning-fast" withdrawal times on FanDuel.
Great User Interface: Users like the ease of navigating and using this app citing that it's intuitive and not as confusing as some of their competitors apps.
Large Game Selection:

We're seeing users cite enjoying the large amount of games that are offered on FanDuel Casino

.
FanDuel Casino Web
An online casino site must operate quickly and intuitively. For the most part, FanDuel does so when used on a desktop or laptop computer and rates highly vs. the competition.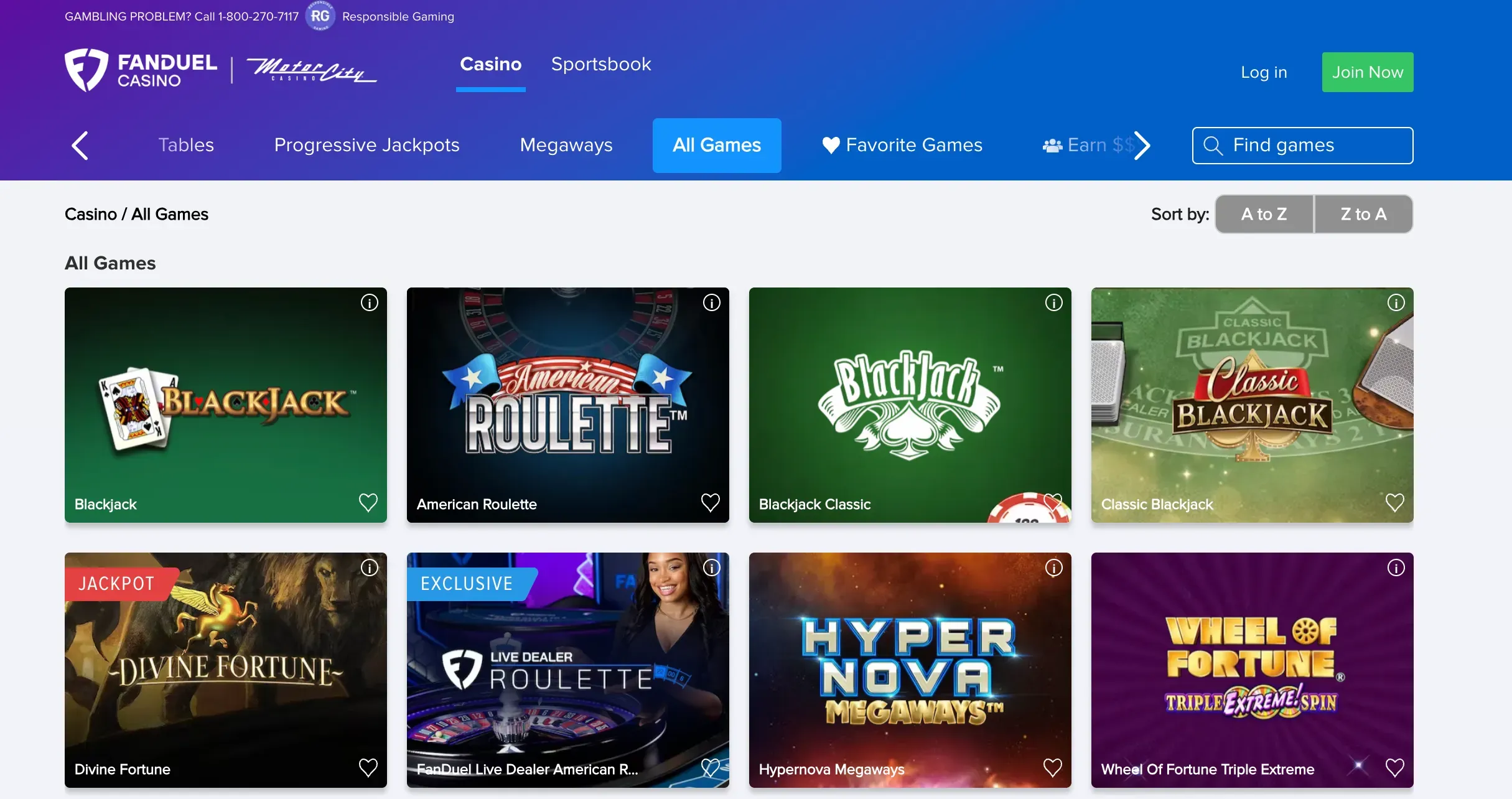 Web Experience: FanDuel edges out its biggest competitor
Category: Web Experience
Comparison: FanDuel vs. DraftKings
Measured: Core Web Vitals, PageSpeed, First Input Delay
FanDuel and DraftKings will always be viewed as head-to-head rivals based on their battles in the fantasy and sports betting markets. On the casino side of things, FanDuel starts out with the edge based on PageSpeed Insight (Score of 18 for FanDuel, Score of 8 for DraftKings). FanDuel also killed it on First Input Delay, coming in at 32 ms versus DraftKings' 104 ms.
Speed Summary: When putting both up to the speed test, FanDuel was the clear winner over DraftKings Casino. Users will not have to wait long to play their favorite FanDuel Casino games.
To stand apart from competitors, online casinos must hook users by replicating the real-life casino experience as closely as possible in a digital format. FanDuel rates well in this area by surfacing the information players need quickly and intuitively.

Live Gaming Navigation: FanDuel takes another round over DraftKings
Category: Live Game Navigation
Comparison: FanDuel vs. DraftKings
Measured: Click Depth, Design Friction
First off, FanDuel makes it quick and easy to find where you can play games with live dealers. FanDuel puts live dealers as the fourth option (third if you don't count the home button that you start on) in their top nav section. The nav section as a whole is much more prevalent on the page compared to DraftKings, which has it vertically on the left side of the screen and without any distinct colors that help you see what you're looking for -- though this issue is better on the app. Live dealers are sixth (or fifth) on that nav section.
Live Gaming Summary: While FanDuel Casino puts live gaming at the forefront of its navigation, DraftKings's navigation bar blends right into the background like the perfect camouflage. It leaves the impression DraftKings does not place importance over this category, which gives FanDuel another easy win.
Naturally, issues will arise, technical or otherwise. Users must be confident that an online casino will solve their problems. While FanDuel is seemingly up to par with the rest of the industry, DraftKings did get a slight nod over it.
Site Support: Visit the Support section on the FanDuel Casino website
Email:
support@fanduel.com
Customer Service Support: DraftKings gets the nod
Category: Customer Service Support
Comparison: FanDuel vs. DraftKings
Measured: Time-to-response, time-to-resolution, number of CS touchpoints, number of communications to resolve an issue
Both sites make you go to the bottom of the page to find the "Help" tabs. Both sites then take you to the FAQ section and have a little chat support button on the bottom right available to use if needed. Where DraftKings takes the cake here is its casino guide and how-to-play section. They have an entire page devoted to showing players — with videos included — how to use their site, how to play the online games, and how to win. If that's not customer support, then I don't know what is.
Customer Service Summary: DraftKings outmatches FanDuel because of its in-depth how-to guides that are very easy to follow and understand.
Naturally, issues will arise, technical or otherwise. Users must be confident that an online casino will solve their problems. While FanDuel is seemingly up to par with the rest of the industry, DraftKings did get a slight nod over it.
Site Support: Visit the Support section on the FanDuel Casino website

Leave a Voicemail: 609-224-1019
Leave your full name, FanDuel username, phone number and email
Email: support@fanduel.com
FanDuel Online Casino Game Selection

If there's one area where FanDuel thrives, it's in the diversity and the sheer number of games it offers. If anything, players may feel bombarded with the amount to choose from, but they should be able to find games that fit their playing style and personal interests in no time. It's quite impressive how they've been able to handle their fantasy and sports betting initiative, while also stepping up to this level in the online casino industry as well.
Table Games
Players can choose from a wide variety of popular table games like Blackjack, Roulette, Baccarat, Video Poker and more, with multiple variations of each. Included in there are the Live Dealer games, which include Blackjack, Roulette and more.
Live Dealer Availability: FanDuel comes out on top
Category: Live Dealer Availability
Comparison: FanDuel vs. Unibet
Measured: Total Hours Live Dealer Offering Available per day and week
In addition to being clear about their hours of operation (unlike a lot of the online casinos we've reviewed), FanDuel is also one of the few that offer Live Dealers on a 24/7 basis. Unibet is just an example of one of the many online casinos that don't offer 24/7 Live Dealer games. They give their dealers a few hours off during the odd hours of the night, but this impacts some of those night owl type players that want to see a real face when they're gambling their money.
Virtual Blackjack

Variety of Options: FanDuel doesn't just give you one or two choices, but 10. From your classic Blackjack to Multihand Blackjack Surrender, you have a few games to choose from in the virtual department.
No Minimum Specification: Most people would like to know what they're about to get themselves into when it comes to a minimum bet in any game. FanDuel doesn't provide that luxury at first glance when looking at the info tabs on their virtual Blackjacks games.
READ MORE: The 5 Best Legal Online Blackjack Sites
Live Blackjack

Multiple Tables: FanDuel has eight live regular Blackjack tables open at once, while another Infinite Blackjack table is available as well.
No Seat Totals: You can't preview how many players are at a specific table, which can be frustrating to players who are looking to play alone, or for players that want a full audience.
READ MORE: Online Blackjack Tips

Live Game Diversity: FanDuel wins again
Category: Live Game Diversity
Comparison: FanDuel vs. PointsBet
Measured: Count of Unique Game Names
A year ago, FanDuel took this category simply for actually having a Live Dealer lobby available. Since then, PointsBet went from an online casino with no live dealer section, to one with a modest selection of live blackjack, roulette, craps, baccarat, and poker. Compared to PointsBet and other sites offering Live Dealer games, FanDuel holds its own with multiple blackjack lobbies, roulette, poker, and more available to play — and 24/7 at that.
Slot Games
Like most online casinos, Slots at FanDuel make up the majority of the platform's game library. They have a large variety of slot games to choose from and, in a smart move, put Slots as the No. 1 game option to choose from on their main nav tab at the top of their site.
Our FanDuel Slot Takeaways:

Info Sashes: FanDuel puts informative sashes on some of its Slot games that help indicate if it's a new game to the site or if the game offers a jackpot.
No Demo Play: FanDuel doesn't offer visitors the opportunity to try games out before making an account. You have to be signed up and logged in to even view a game properly. Even once you're signed in, there is no demo option.
READ MORE: The Most Popular Legal Online Slot Games

Game Winners: DraftKings knocks out its rival
Category: Game Winners
Comparison: FanDuel vs. DraftKings
Measured: Clarity on outcome messaging across game types, available information about recent winners
FanDuel doesn't appear to offer a list of game or big jackpot winners on site, whereas DraftKings has a whole section dedicated to a leaderboard, which shows the results of all their past contests and daily winners. You don't even have to have a DraftKings account to view the recent winners. FanDuel needs to catch up to its top competitor on this front.
FanDuel Casino Roulette
FanDuel has a smaller selection of Roulette games at six — American, European, French, Platinum, Platinum Single-Zero, and Live. At the end of the day, no matter which version you play, the object of roulette stays the same: bet correctly on where the ball will land.

Low Minimums: American Roulette offers a $1 minimum, while European and French Roulette go even lower at just 10 cents.
Small Selection: As we stated above, FanDuel is lacking a bit in the roulette department, but then again, there aren't too many extra game options they could've added. Live Roulette is sure to be the biggest draw anyway.
READ MORE: Online Roulette Tips

New Casino Games
FanDuel has a whole section in its top nav dedicated to new games in its library. When you also look in other more specific sections, you can see a "New" sash on the top left corner of games. The overwhelming majority of new games are slots, but that's to be expected.
Exclusive Game Offerings: SugarHouse takes this round
Category: Exclusive Game Offerings
Comparison: FanDuel vs. SugarHouse
Measured: Clarity on outcome messaging across game types, available information about recent winners
FanDuel has a handful of exclusive games, including Live Dealer games by Evolution Gaming. SugarHouse only offers a few more, but exclusive games are featured more prominently on the home page of the SugarHouse website. If SugarHouse were to create an exclusive game tab to their nav section, then it'd be easier to narrow down just how many they actually do offer.
FanDuel's Most Popular Games
From the jump when you come onto their site, FanDuel puts their most popular games right now at the top of the page. From Divine Fortune and 88 Fortunes Jackpots, to Live Roulette and Unlimited Blackjack, you can see all the hottest games and try them out for yourself.
FanDuel Casino Cashiering

FanDuel allows players to deposit funds with ease directly from a bank account or preferred credit/debit card. Choose from:
Credit/Debit cards

(Visa/Mastercard)
Venmo
Online Bank Transfer
Wire transfer
Paper Check
PayNearMe
Apple Pay
Gift Card
Cash at Cage
Payouts
Here's how to withdraw cash from your FanDuel account in a few simple steps:
Ensure that you are signed in on the web or mobile app

Navigate to the My Account button (bottom or top right corner)

Next, click on the

blue

Withdrawal button

Select a preferred method of withdrawal and enter the amount

Hit the withdraw button!
Like most online casinos, there are more options, and it's faster to deposit than to withdraw. This can be frustrating for users but is also a savvy business decision to keep us coming back. FYI: FanDuel does have a minimum withdrawal amount of $10 for both its sportsbook and online casino.
FanDuel Casino VIP Rewards Program
A major benefit of signing up to play at the FanDuel Online Casino is that all players are invited to join the Loyalty Club. Tier points and bonuses become a continuous part of your experience if you join.
For every $1 wagered at a slot machine, you receive (5) tier points.
For every $1 wagered on Roulette, Table Games & Video Poker, you will receive (3) tier points.
For every $1 wagered on Blackjack, you will receive (1) tier point.
Every month you earn a tier level based on the amount of points you accumulate. Those tiers are broken down like this:
Iron Level 0 – 12,499 points: 5,000 points to redeem $1 in bonus cash.
Bronze Level 12,500 – 99,000:

Allows players to redeem $1 in bonus cash with just 4,000 points.
Silver Level 100,000 – 250,000:

This tier adds the receiving of exclusive VIP bonuses via email or text message along with lowering the threshold to 3000 points to redeem $1 in bonus cash.
Gold Level 250,000-500,000:

L

ower threshold to redeem $1 in bonus at just 2000 points. Also provides all the VIP offers of the silver package, but also access to exclusive VIP events and gifts each month you earn gold status. These gifts can include free concert tickets, fine dining dinners, and even luxury wine and spirits.
Platinum Level 1,250,000 – 2,500,000: The Platinum level requires a big jump to 1.25M points, but grants access to the offers of all other tiers along with lowering the $1 bonus cost to a low of 1,000 points. Also offers players access to a VIP host for their time at the FanDuel Casino.
Best Online Casinos For You
Not sure which online casino is best for you? Let us help! Action Network has created The Best Real Money Online Casinos to help you narrow down your list of potential casinos to play.


Be sure to shop around at all of these great online casinos to ensure you're keeping your options open:
Pulsz Casino Promo Code | Stake.us Casino Promo Code | Caesars Casino Bonus Code | DraftKings Casino Bonus Code | Golden Nugget Casino Bonus Code | BetRivers Casino Bonus Code | Unibet Casino Bonus Code | SugarHouse Casino Bonus Code | PointsBet Casino Bonus Code | WynnBET Casino Bonus Code | bet365 Casino Bonus Code | Bally Casino Bonus Code | Betway Casino Bonus Code | 888casino Bonus Code | PlayLive! Casino Bonus Code | Mohegan Sun Bonus Code | Virgin Casino Bonus Code | Harrah's Casino Bonus

FanDuel Casino Bonus Code Review Summary
FanDuel Casino Bonus Code Overall Score

Action Network's FanDuel Online Casino Summary

Our final thoughts on FanDuel's online casino bonuses and casino offers:

Best Casino for Sports Fans. FanDuel is slowly integrating its casino into its platform, but with so many sports fans being drawn to their sportsbook, it makes it very easy for their millions of users to click into the casino right on the front page of the sportsbook and start playing games right away.
Play It Again Bonus Upon Entry: FanDuel offers players a play it again bonus up to $1,000 gambling in the casino for up to 24 hours.
Strong Customer Needs: Between the customer service and their deposit/withdrawal systems, FanDuel has their players covered.
Location Check-Ins can be Annoying: Like with the sportsbook, the new FanDuel user interface includes way too frequent geolocation verifications that pop up at the bottom of your screen. Sometimes, they can impose on placing bets.
FanDuel Casino Bonus Code News
FanDuel Casino FAQs
Where can I play FanDuel Online Casino?
Does FanDuel Online Casino have an app?
Are there any promos at FanDuel Online Casino?
What kind of games are available at FanDuel Online Casino?
Is FanDuel online Casino legit?
Can I play slots for free at FanDuel Online Casino?
Are there progressive jackpot slots available at FanDuel Online Casino?
What is the difference between standard jackpots and progressive jackpots?
Are online casino jackpots rigged?
What are daily jackpots at FanDuel Online Casino?
What are my withdrawal options after winning at FanDuel?
How do I deposit money into my account at FanDuel?
If I'm playing on my mobile phone what happens if I receive a call during game-play?