Best Las Vegas Hangover Cures: 4 Ways To Alleviate the Morning Pain in Sin City
Credit:
Photographer: Andrew Harrer/Bloomberg via Getty Images. Pictured: The "Welcome to Fabulous Las Vegas" sign
It happens to the best of us.
As we all get older, our trips to Las Vegas evolve from college spring breaks with no money, to bachelor parties in our 20s with some money, and eventually into trips as family men with hopefully a lot more money.
Most of us trade in strip clubs for concerts and comedy shows, pool parties for pool cabanas, and sleeping until noon for 7 a.m. coffee runs.
One thing, however, never changes: Vegas hangovers.
With this in mind, I've put together a guide on how some of you young bucks heading to Las Vegas for a sports betting vacation can manage the wide array of hangovers you will inevitably experience.
Best Las Vegas Hangover Cures
1. The first morning hangover
You had three beers in the airport before your flight, including chugging almost all of the third one after hearing the final boarding call for your flight over the intercom.
After pulling off your best Wade Boggs impression on the flight, you hit the ground running. While you should probably be more hung over, the fact that it's only Day 1 in Vegas means you're more well-rested than you will be later in the week, so your morning hangover is more annoying than devastating.
This equation adds up to one thing: Bloody marys.
Mon Ami Gabi has one bad ass bloody mary bar. While everyone else takes in the Bellagio water show across the street while wondering whether it's pesto or asparagus in their omelets, you're crushing bloody marys.
Pro tip: If you're older than 30, wash down an antacid with those bloody marys. You can thank me later.
2. The 'I'm sick of Vegas' hangover
While the specific time periods will vary, this has happened to every single person who has ever visited Las Vegas.
As much as you think you can drink, gamble, and repeat for days on end, eventually you'll wake up exhausted, with no debit card, and a hangover that leads you to say, "I'm sick of Las Vegas."
Unlike your first morning hangover, this beast is equal parts too much booze and fatigue. While most of us can get over early-trip hangovers based on sheer gambling anticipation, fatigue messes with your mind.
Hoof all the way out to the Westgate Las Vegas SuperBook to cash in that football winner? Damn, that's a long way.
Hair of the dog? Hell no, I can't even think about another bloody mary.
Simply get out of bed? Man that shower looks farther away than it did yesterday.
Fear not! The Eiffel Tower Restaurant at Paris (I swear, I'm not getting paid by Paris … but call me if interested) has an expertly crafted cocktail specifically for this stubborn hangover.
I present to you … the espresso martini! (And yes, that's my picture.)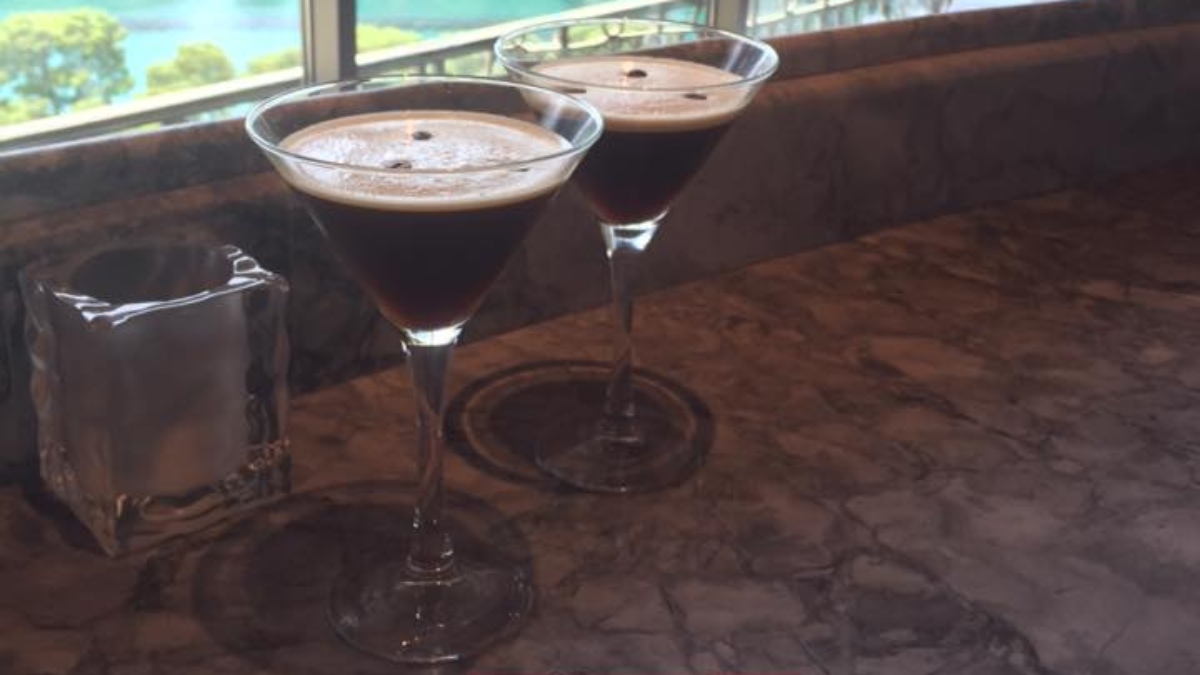 I know, I know. Many of you were thinking of chocolate drizzled martini glasses with something that tastes more like sugar than coffee before seeing the picture above.
This is nothing of the kind. It's espresso and it's liquor. Some caffeine to help perk you up and hard alcohol to go to work on that hangover.
The Eiffel Tower Restaurant is quite expensive for dinner, but I'm not asking you to put your hangover on hold all day. Go during lunch hours. The menu is more affordable and, when I've been, the restaurant has been practically empty.
On a recent Las Vegas trip, the place was so dead that the bartender came over and gave us free samples of interesting liquors they offered.
In addition, the lunch menu here is still incredible, assuming those espresso martinis convince your stomach there's enough optimism to test those waters.
3. The 'I'm never drinking again' hangover
This is it. He who must not be named. A hangover so bad you actually mutter the words, "I'm never drinking again."
My Voldemort of hangovers occurred during a Memorial Day weekend trip in 2016. I'm quite the connoisseur of motorsports wagering, so there's no better racing (and betting) holiday for me than Monaco, the Indy 500 and the Coca-Cola 600 back-to-back-to-back.
For those who aren't as avid about auto racing as I am, the Monaco GP starts at 6:10 a.m. on the West Coast and man, that's an early wake up call for even the most seasoned liver.
Throw in the fact that my casual sipping turned into angry bad-beat drinking after my 25-1 Indy 500 bet finished in second place and the stage was set.
Fast forward 18 hours and there it was. I couldn't move, I couldn't talk, I couldn't think. And of course, this was also the day that my wife and I scheduled a couples massage at the Venetian's Canyon Ranch Spa.
At that time, I couldn't think of anything I wanted to do less, but in hindsight, I stumbled ass-backwards into the mother of all hangover cures.
What I didn't know is when you book a massage, you also get access to the entire spa for that day. So, while our massages lasted only an hour, we were able to use their variety of hot tubs, plunge pools, rain showers, steam rooms, etc. That was a GODSEND!
I struggled into that spa as a dead man walking and strutted out like Ric Flair, ready to choke out that hangover with a Corona blitzkrieg.
4. The hangover food cure
Vegas is fun, fast and busy — there's always something going on. Sometimes between the drinking, gambling and sleeping, we forget to do one key thing: eat.
After a couple of days of grazing on just enough to keep you going (and not destroy your stomach), you need a meal. A real meal. A meal that's partially fried, a little sweet, plenty salty, and, of course, includes bacon.
When you need to smother a hangover with a stomach full of comfort food, the Hash House A Go Go inside The Linq is the place to go.
I make sure to hit this place at least once per trip and always order the same thing: the sage fried chicken and waffles.
A full belly, a nap and a cocktail, and you're right back in business.
How would you rate this article?
This site contains commercial content. We may be compensated for the links provided on this page. The content on this page is for informational purposes only. Action Network makes no representation or warranty as to the accuracy of the information given or the outcome of any game or event.