2019 MLB Betting Preview: Our Staff's Favorite Player-Based Future Bets
Credit:
Kim Klement, USA Today Sports. Pictured: Ryan Yarbrough
The 2019 MLB season begins on Wednesday morning (5:35 a.m. ET) with the Japan Opening Series between Oakland and Seattle.
The New York Yankees (+500) are the current World Series favorites with the Houston Astros (+600), Boston Red Sox (+700) and Los Angeles Dodgers (+700) not too far behind.
As far as player-based futures, Mike Trout is even money to win the American League MVP Award with Mookie Betts (+500), Aaron Judge (+1000), Alex Bregman (+1800) and Jose Ramirez (+2000) rounding out the top five.
In the National League, the Phillies' shiny new toy, Bryce Harper (+500), is the favorite to win MVP with Nolan Arenado (+600), Paul Goldschmidt (+800), Kris Bryant (+1200) and Manny Machado (+1800) right behind him.
As for as the Cy Young Awards, Max Scherzer (+250), Jacob deGrom (+350) and Aaron Nola (+600) lead the way in the National League and Chris Sale (+200), Corey Kluber (+350) and Luis Severino (+800) top the odds in the American League.
Here are The Action Network's favorite player-based future bets for 2019:
Chris Sale under 260.5 strikeouts
Last year, I took Chris Sale under 279.5 strikeouts and was feeling pretty stupid when he had 188 at the All Star break.
Luckily, he hardly pitched in the second half of the season due to shoulder issues and ended with 237 whiffs in 158 innings – which comes out to a crazy 13.5 K/9. I think his best days are behind him, though, and I'm a Red Sox fan.
A couple weeks away from his 30th birthday, Sale's gangly build may be catching up to him. In each of his two seasons with Boston, he's had a troublesome second half of the season.
Last year, he was averaging between 97 and 98 mph with the heater before his shoulder inflammation, but was between 92 and 94 after returning. He was eased into action in Spring Training this year, reaching only the lower-90's in his first start.
A combination of a lower K/9 and questionable health leaves me doubting his ability to go over this lofty total. Plus, you have to consider the fact that the Red Sox will be very cautious with him to preserve him for the postseason, which will mean missed starts and potentially trips to the DL if he's having any type of discomfort.
Matt Chapman American League MVP (+4000)
Chapman finished seventh in 2018 AL MVP voting, one spot ahead of teammate Khris Davis, and he was one of only seven players named on every ballot.
Widely viewed as the best defender in baseball, Chapman won the 2018 AL platinum glove, the award given to the best defensive player in each league (Nolan Arenado won in the NL). With 48 Defensive Runs Saved (DRS), Chapman leads Arenado (45) and all other third basemen in total DRS over the past three seasons, even though Chapman has only been in the Major Leagues for half of that time.
Chapman lost nearly a month due to a thumb injury in 2018, but hit 51 percent better than league average after returning, scoring 100 runs on the season and collecting 72 extra base hits with a .864 OPS.
He walks at a decent clip (9.6%) and has 60-grade, or plus raw power. A season with 30+ home runs, 100+ runs, and 100+ RBIs is well within the range of potential outcomes for this soon-to-be 26-year old.
Another Wild Card berth for the Athletics, combined with those offensive benchmarks, will put Chapman and his otherworldly defense squarely into the AL MVP conversation.
Luke Voit Most Home Runs (+20000)
New York Yankees' first baseman Luke Voit is fascinating, as a compelling case can be made that the 28-year-old's second-half emergence in 2018 was a complete fluke — but there's enough evidence to counter that theory as well.
Let's start with the bad: Voit was not a highly-regarded prospect, he never topped 20 home runs in the Minors and he was already 27 years old by the time he got to the Bronx last summer.
Then magical things started to happen.
Voit posted a .458 wOBA and ripped 15 dongs in 148 plate appearances with the Yankees, emerging as a real power threat. Maybe the Yankees saw something in Voit — or maybe he just put it all together (that happens sometimes, you know).
Sure, his 40.7% HR/FB ratio will regress, but the stocky first baseman showed a real penchant for barreling up the baseball last season. In fact, per Baseball Savant, Voit finished with the highest Barrels per Plate Appearance (12.4%) and second-highest hard-hit % (95+ MPH) among hitters with at least 50 batted ball events in 2018.
Hitting the ball hard is always good and when you play your home games at Yankee Stadium, that is a recipe for taters.
As is the case with any 200-1 bet a lot will have to go very right for Voit to have a chance at contending for the home run title, and he isn't even a guarantee to be the starting first baseman in 2019, but this bet is too fun to pass up.
Let's all find out who Luke Voit is, together.
Jameson Taillon Cy Young (+5000)
What is there not to love about Jameson Taillon.
The 27-year-old underwent Tommy John surger in 2014 and then battled testicular cancer in 2017 to emerge as Pittsburgh's ace in 2018.
The key to Taillon's emergence in 2018 was a decision to throw more sliders, which trandlated to 16 quality starts after June 1.
Unsurprisingly, Taillon was named as the Pirates' Opening Day starter and is working on a changeup, which would give him a five-pitch arsenal.
Taillon has a chance to emerge as one of the game's best pitchers this season thanks to his good walk-rate and his ability to keep the ball in the yard. If he can find a way to put away more hitters, this bet has some serious value at 50-1.
Ryan Yarbrough Most Wins in MLB (+25000)
There are futures more predictable than trying to nail pitcher wins, which is a futile exercise. They're random, and have little to do with a pitcher's ability.
Jacob DeGrom won the Cy Young with 10 wins last year and had a historically great season. But there's one pitcher in particular who has a unique path toward more wins than a typical starter.
Ryan Yarbrough was perhaps the biggest beneficiary of the Rays' "opener" strategy in which they used a reliever to start the game, then went to their starter for innings 2-6 or so. He won 16 games last season in 38 appearances. 16 wins as "reliever"!
Because Yarbrough was 1) only going through the opposing lineup twice and 2) almost always crossing over that magical fifth inning threshold needed to get a win, he benefited tremendously in a statistic that's hard to predict.
He and the Rays will likely regress, but even if he does, his circumstances set him up to win a lot of games.
Yarbrough was used in all different situations, too, for long stretches, which made him more likely to pick up wins since the Rays weren't frequently changing pitchers. He's probably not one of the 50 most talented pitchers in baseball, but wins have nothing to do with talent.
Zack Wheeler to win NL Cy Young (+5000)
The Mets were a disaster for most of last season, but Wheeler quietly put together a dominant second half. He pitched to a 1.68 ERA and allowed opposing batters to accumulate a wOBA of just .220 while striking out nearly one batter per inning.
To put that in perspective, Jacob deGrom pitched to an ERA of 1.73 in the second half of one of the most dominant pitching seasons we've ever seen.
Wheeler is also not exactly a scrub. He was a highly-touted prospect who failed to put things together — mostly due to injury problems — through his first 3.5 seasons at the big league level, but he's always had the raw talent to be a frontline starter in the MLB.
The Mets should also be better equipped to protect some of their leads this season. The fact that deGrom won just 10 games last season was comical, and a big part of the reason why the traded for arguably the best young closer in baseball in Edwin Diaz. They also brought back Jeurys Familia, who should be an improvement on their setup men from last season.
Wheeler could very easily be the Mets best pitcher this season, so I'd much rather grab him at 50-1 than deGrom at +350 or Noah Syndergaard at +1500.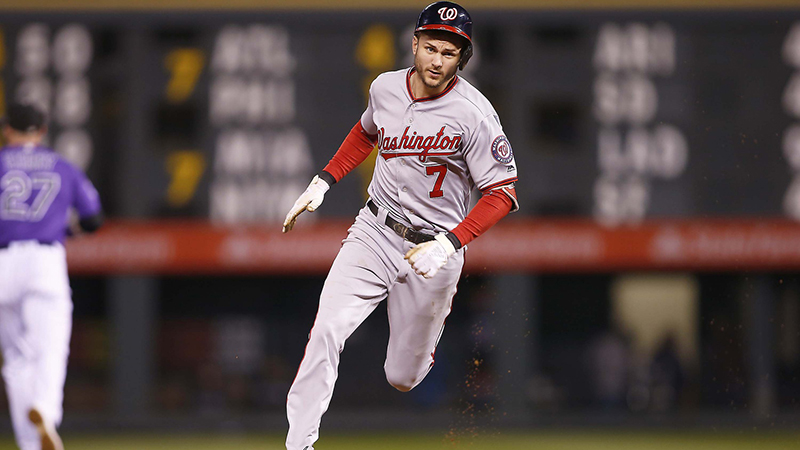 Trea Turner to win NL MVP (+6000)
When reading through Mark Gallant's NL MVP value picks post, I was pretty surprised to find Turner's odds listed way down at +6000.
I figured the departure of Bryce Harper would stir up the public perception that this was going to be the breakthrough year we've been waiting for from the shortstop (perhaps in some cases it did, as I've also seen him listed as high as 20-1).
But in any case, without those high expectations fully extending across the market, I'm happy to jump on the Turner train at a price of 60-1.
This bet comes down to banking on 2016 Trea Turner staying as healthy as his 2018 self. As a refresher, Turner scored 53 runs, swiped 33 bags, and hit 13 homers in his 73-game, injury-shortened 2016 season. He also posted a .937 OPS over that stretch.
Last year, he not only played in every game, but led the National League in plate appearances. Unfortunately, he wasn't nearly as productive.
If he can find that 2016 magic again while remaining on the field, a 60-1 payout looks awfully tasty.
How would you rate this article?
This site contains commercial content. We may be compensated for the links provided on this page. The content on this page is for informational purposes only. Action Network makes no representation or warranty as to the accuracy of the information given or the outcome of any game or event.