Josh Allen NFL Combine Prop Bets: Over/Under 4.6 Seconds in 40-Yard Dash?
Credit:
Jasen Vinlove-USA TODAY Sports. Pictured: Edge rusher Josh Allen
All eyes will be on Indianapolis this week as prospects try to help their draft stock at the 2019 NFL Combine.
We've got picks on various performance props, including edge rusher Josh Allen's 40-yard dash time and bench press.
The 2019 NFL Combine is here and sportsbooks have released performance props. Our staff will be making official picks for prop bets on a number of different prospects, including edge rusher Josh Allen.
Here's the workout schedule for the various position groups:
Friday: Running backs, offensive linemen, kickers, special teams
Saturday: Quarterbacks, wide receivers, tight ends
Sunday: Defensive linemen, linebackers
Monday: Defensive backs
Now let's dig into the Allens props that are on the market as of writing, as well as our analysis based on research and official combine data going back to 2006.
The Kentucky Wildcats managed more winning seasons in the last three years (3) than they had in the previous nine years combined. The 2018 SEC Defensive Player of the Year was a big reason for the turnaround, as Allen largely worked as one of college football's best overall defenders during his time with the Wildcats.
FantasyLabs editor-in-chief Matthew Freedman had this to say about Allen in his 2019 NFL mock draft:
Another year, another guy named "Josh Allen" selected near the top of the draft. Allen drastically improved his stock in 2018. It's hard to find a mock draft in which the Bednarik Award winner is not a top-four selection.
Josh Allen 40-Yard Dash Time
Over 4.60 seconds: -115
Under 4.60 seconds: -115
Allen's ability to rush the quarterback and dominate the SEC demonstrates his athleticism along with his ability to play football at a high level.
I wasn't able to track down any official 40-yard times from Allen's past, but The Athletics' Dane Brugler reports Allen as a 4.7-second talent.
That time would make sense considering Allen isn't exactly a prospect who has been tantalized over for his entire career because of his overwhelming athletic traits — he was a former two-star recruit who initially committed to Monmouth College before later transferring to Kentucky.
Of course, the current version of Allen resembles a consistent game breaker. And his 6-foot-4, 250-pound frame is good enough to be viewed as a nearly consensus top-10 pick.
The man racked up 24 sacks over his final 26 games while maintaining the ability to freaking cover receivers downfield: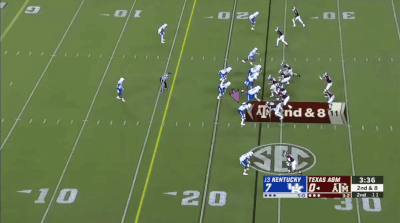 Allen's versatility on defense makes him a bit tough to pin down with historical comps, but only nine defensive linemen or edge defenders have managed to run a sub-4.6-second 40-yard dash over the past three combines. And a deeper dive reveals that just eight front-seven players weighing between 230 and 250 pounds and standing at least 6-foot-4 tall have registered a sub-4.6-second time at the combine since 2000.
Allen is a talented pass rusher who offers enhanced versatility that will make a future NFL defensive coordinator a very happy man.
Still, his 40-yard prop is asking him to enter rarefied territory as an athlete, which is something we simply don't have a ton of evidence of from him.
THE PICK: Over 4.6 seconds
Josh Allen Bench Press Reps
Over 22.5 reps: -115
Under 22.5 reps: -115
There's even less information on Allen's history with the bench press. Still, even odds on this number seems off considering how manageable it's been for front-seven players to reach in recent years.
Just look at the past few combines:
2018: 35-of-55 (63%) of front-seven players benched at least 35 reps
2017: 29-of-55 (53%)
2016: 36-of-65 (55%)
2015: 37-of-56 (66%)
2014: 38-of-65 (58%)
Allen reportedly struggled to bench the bar as a high school freshman, but that was before adding roughly 50 pounds of muscle and eight years of high-level training.
It remains to be seen just how freaky of an athlete Allen truly is, but this number shouldn't be that tough for one of the draft's top defenders to beat.
THE PICK: Over 22.5 reps
More 2019 NFL Combine Props
How would you rate this article?