Devin White NFL Combine Prop Bets: Just How Fast Will He Run the 40-Yard Dash?
Credit:
Mark J. Rebilas-USA TODAY Sports. Pictured: Linebacker Devin White
All eyes will be on Indianapolis this week as prospects try to help their draft stock at the 2019 NFL Combine.
We've got picks on various performance props, including LB Devin White's 40-yard dash time and bench press.
The 2019 NFL combine is here and sportsbooks have released performance props. Our staff will be making official picks for prop bets on a number of different prospects, including linebacker Devin White.
Here's the workout schedule for the various position groups:
Friday: Running backs, offensive linemen, kickers, special teams
Saturday: Quarterbacks, wide receivers, tight ends
Sunday: Defensive linemen, linebackers
Monday: Defensive backs
Now let's dig into the White props that are on the market as of writing, as well as our analysis based on research and official combine data going back to 2006.
White racked up 28.5 sacks in 34 games at LSU, demonstrating the ability to function at a high level as both an edge rusher and as a stacked linebacker.
FantasyLabs' editor-in-chief Matthew Freedman had the following to say about White in his 2019 mock draft:
White has gone in the top half of most first-round mocks I've seen, and that makes sense: He's a young-and-athletic dynamo capable of rushing the passer, stopping the run and defending running backs and tight ends in pass coverage. Winner of the 2018 Butkus Award as the nation's top linebacker, White has the potential to be a decade-long stalwart in the middle of a defense.
Versatile defenders are understandably a highly-valued commodity in a league still attempting to fully get a grasp on modern spread offenses, and White's ability to do it all on defense bodes well for his chances at becoming a high draft pick.
Also helping matters for White's draft stock is the expectation that he'll test extremely well at the combine. And don't worry: We can bet on it.
---
>> Sign up for The Action Network's daily newsletter to get the smartest NFL conversation delivered into your inbox each morning.
---
Devin White 40-Yard Dash Time
Over 4.55 seconds: -115
Under 4.55 seconds: -115
The first thing to know about White's speed is that it is 100% legit.
The freak linebacker posted a 4.49-second 40-yard dash in high school at The Opening — and he was timed by lasers. White also posted a 4.57-second time (per his ESPN recruiting profile), indicating he's more than capable of consistently running a sub-4.6 time.
High school times are almost always slower for prospects who haven't had the chance to fully mature. This could even be true for White, who is apparently closer to 240 pounds after being listed at 258 pounds entering college.
As White said himself coming out of high school: "Effectively, I can play linebacker, wide receiver, running back, anything on special teams, wherever."
White himself predicted he would post a time in the 4.4 to low-4.5 range at the combine. Sixty two players standing at least 6-feet tall and weighing 240-plus pounds have run a 40-yard dash faster than 4.55 seconds since 2000, so this feat isn't exactly unheard of.
I mean, this dude can fly.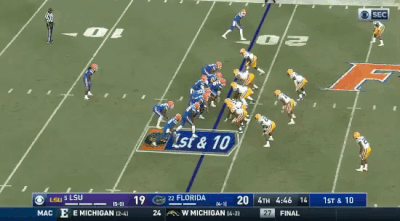 Only eight linebackers have surpassed that threshold at the last three combines, but White's story has consistently indicated that he's anything but the average linebacker.
THE PICK: Under 4.55 seconds
Devin White Bench Press Reps
Over 23.5 reps: -115
Under 23.5 reps: -115
White's aforementioned incredible high school performance at The Opening also included a power ball throw of 44 feet — which only three other players managed to beat.
We don't have many other clues surrounding White's ability to bench press 225 pounds. But 24 reps is certainly a decent amount for the position, as only nine linebackers have surpassed that threshold over the past three combines.
There's little doubt that White is a freak athlete, but there's also simply a real possibility that bench press has never been at the top of his priority list. I'm inclined to stay away from this prop, although I'll back the explosive athlete if pressed for a pick.
THE PICK: Over 23.5 reps
More 2019 NFL Combine Props
How would you rate this article?