Olympic Men's Basketball Odds, Picks, Preview: 6 Group Stage Best Bets and Tournament Futures for Tokyo 2020
Credit:
ARIS MESSINIS/AFP via Getty Images. Pictured: The ball passes through the hoop inside the Saitama Super Arena, ahead of the Tokyo 2020 Olympic Games.
Well, after being pushed back a year and overshadowed by an eternal NBA season that saw the Milwaukee Bucks become crowned as champions, we finally made it to the 2020 Tokyo Olympics.
It's been a rocky road so far for USA men's basketball. The team lost back-to-back exhibition games to Nigeria and Australia, and the roster is in turmoil. Bradley Beal and Kevin Love were replaced by Keldon Johnson and JaVale McGee. Zach LaVine and Jerami Grant are barely out of COVID protocol. Jrue Holiday, Khris Middleton, and Devin Booker just finished a grueling NBA Finals series.
So what does Team USA look like now? Are the Americans still favorites for gold, and what other countries will push them?
Let's look at what to expect from each group and how to bet the Olympics.
Group odds as of Thursday and via DraftKings.
Tournament Overview
Just 12 teams made the Olympics in men's basketball after a grinding qualifying process that just wrapped this month and left top-10 FIBA teams Serbia, Greece, Lithuania, and Russia home watching.
The 12 qualifying teams have been split into three groups of four. Each group will play a round robin starting Saturday. Eight teams advance to knockout play — the top two from each group, plus two of the three third-place teams.
Lose in the group stage and you can survive. But once the knockout tournament is set, it goes from eight teams down to one, with the gold medal game on August 7.
Group A Odds and Picks
| | |
| --- | --- |
| USA | -2000 |
| France | +750 |
| Czech Republic | +3500 |
| Iran | +50000 |
Team USA is a heavy favorite to win both the group and the gold, though the gold medal odds have been falling as the team has struggled. USA is currently priced at -320, implying a 76% chance of gold. That still makes the Americans heavy favorites, but also means the USA fails to win gold in 1-of-4 outcomes.
In 18 Olympic appearances, USA has medaled all 18 times, with 15 golds, a controversial silver, and a pair of bronzes. For all the hand wringing, the team has lost three games ever since professionals were admitted in 1992, all three in 2004. Even that year, USA was an eight-point semifinal loss to Manu Ginobili's Argentina away from playing for gold.
Translation: Don't get too crazy betting against the Americans.
Team USA is still loaded. Kevin Durant might be the best basketball player in the world. Damian Lillard is the best guard at the Olympics by a wide margin. Jayson Tatum and Khris Middleton will play on the wing.
Zach LaVine and Devin Booker provide shooting and scoring. Bam Adebayo and Draymond Green will play center. Jrue Holiday and Jerami Grant provide versatility. Keldon Johnson and JaVale McGee will also be present.
It's a loaded roster — but it's fair to wonder if the team is built for international ball. The centers look much better suited for NBA play.
None of those three shoot well enough to stretch the defense. None of them are great rim protectors or have the heft to defend international behemoths. Remember, most of the NBA's star big men play for other countries internationally.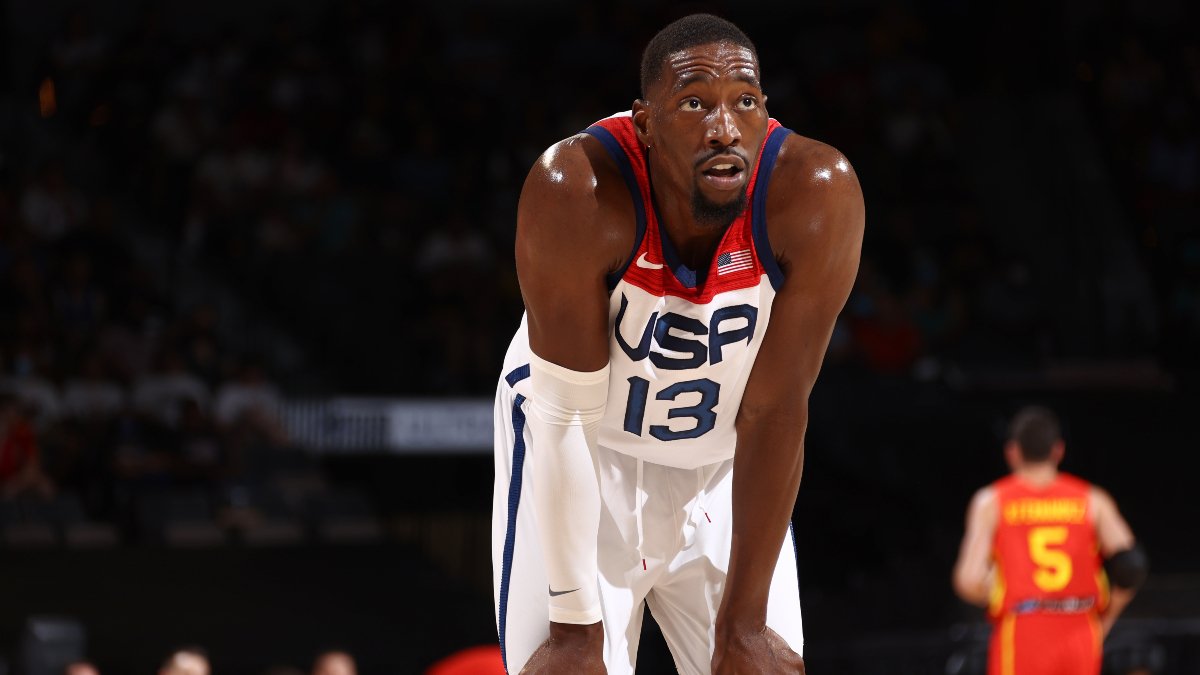 Team USA's defense is suspect. Holiday could help, since the perimeter defense got lit up in exhibition. The Americans also lack pure playmaking. There's plenty of isolation scoring, but the team has struggled to move the ball and create. Could the crunch time lineup include Durant at "center" with Dame, Jrue, Middleton, and Tatum, giving the team five shooters and handlers?
Team USA could be vulnerable early. The Americans open against a dangerous opponent in France, and we don't know yet who will be available for that game. Holiday, Middleton, and Booker just finished in the Finals, and LaVine and Grant have yet to be cleared to play Sunday.
France is really good, built around Rudy Gobert who, remember, just led the best team in the NBA this season. Gobert is even better internationally with the expanded paint and the ability to legally swat the ball off the rim. France won't have Tony Parker or Joakim Noah, but there are plenty of other options.
Evan Fournier and Nic Batum are probably the best forward combo outside of Team USA, while veterans Nando de Colo, Thomas Heurtel, Timothe Luwawu-Cabarrot, and Frank Ntilikina provide depth. Outside of the Olympics, France finished top-three in five of its six major tournaments over the past decade with most of this core and head coach Vincent Collet.
Unfortunately, France finished sixth in both Olympics during that stretch, and the team is stumbling into Tokyo after going 0-3 in its July friendlies. Still, Gobert's size and defense combined with French experience at the highest level make them a formidable opponent.
It's a top-heavy group. Czech Republic was never supposed to be here. Led by Tomas Satoransky, the Czechs went to Canada and knocked out the Canadians in overtime earlier this month, then lucked into a Greece team missing someone a bit preoccupied with the NBA Finals. The other team in Group A is Iran, the only Olympic team without an NBA player.
Expect the USA and France to take care of Iran and the Czechs without much trouble. That means Team USA's game against France is effectively for the group — and the French are undervalued.
Money has come in on France and pushed the game line to USA -11.5. The Americans could still be short Holiday, Middleton, Booker, LaVine, and/or Grant, and the team just played three close exhibition games in four. France is good enough to beat the USA, and tiebreaker rules make it extremely unlikely that France would beat the USA and not win the group.
At +750, we only need France to beat Team USA 12% of the time for those odds to play in our favor. The Americans can lose the opener and still win gold.
Group A Best Bet: France to win Group A +750 (DraftKings)
---
Group B Odds and Picks
| | |
| --- | --- |
| Australia | -190 |
| Nigeria | +450 |
| Italy | +500 |
| Germany | +1100 |
Group B is the Olympic Group of Death. All four of these teams could win the group, and it's tough to see any of them escaping group play 3-0. That makes this group interesting and wide open. Remember, both Australia and Nigeria just beat Team USA.
Australia is the favorite, and the Boomers are good. Patty Mills is awesome in international play, buoyed by Dante Exum and Joe Ingles on the perimeter with Aron Baynes and Jock Landale adept international big men. Matthew Dellavedova and Matisse Thybulle are notable bench names.
The Aussies are No. 3 in the FIBA rankings, and this is their big opportunity. Australia came up one point short in 2016, a heartbreaking bronze-medal loss to Spain. That was the fourth time the Boomers have finished fourth at the Olympics.
Even one place higher means a first ever medal for Australia (+110 to medal). This team has played a ton of ball together and knows its strengths. On paper, Australia might be USA's biggest threat for gold.
Nigeria stunned the Americans in the Olympic warm-up opener, the first ever win by any African country against Team USA.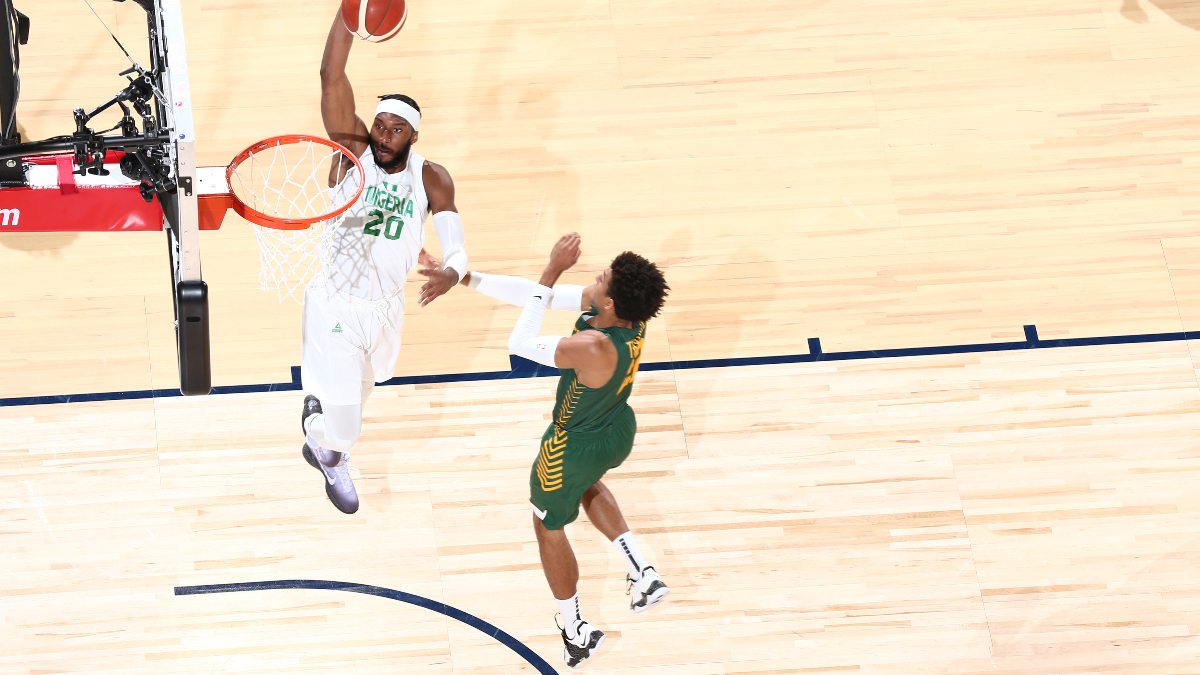 Led by longtime NBA coach Mike Brown, the team features eight NBA pros, like Josh Okogie, Precious Achiuwa, Jordan Nwora, and Gabe Vincent. It's a super athletic roster on the verge of breaking through. Nigeria has all the makings of a Cinderella run.
This is Italy's first Olympics since 2004, and the Italians have the best player in the group in Danilo Gallinari. Italy also features Nicolo Melli and Nico Mannion. It's a talented team with lots of shooting, and I might sprinkle a little on Italy at +600 to win Group B (BetMGM).
Germany has the longest odds in the group, and this is only Germany's second Olympics since 1992. They'll unfortunately be missing Dennis Schroder, who usually acts in a star role for this team, along with Daniel Theis, leaving Moe Wagner as the big name on the roster.
At least one team is getting eliminated from this group, and the Germans look like the best bet. Australia is too good to go out this early, and Nigeria is young and hungry.
Italy has the best player in the group. I'm not sure what the case is for Germany. They probably need to win twice to advance, and they'll be dogs in every game.
Group B Best Bet: Germany eliminated in group stage -125 (BetMGM)
---
Group C Odds and Picks
| | |
| --- | --- |
| Spain | -125 |
| Slovenia | +160 |
| Argentina | +550 |
| Japan | +20000 |
If Team USA didn't exist, Spain would be a dynasty. Spain has been No. 2 in the FIBA rankings the entire cycle since the 2016 Olympics, and this team has medaled in three straight Olympics — but they've never won gold, and for this so-called golden generation, this is their last chance.
This is the same team you've seen for years, just an older version. Marc and Pau Gasol patrol the paint. Ricky Rubio runs point, with Sergio Rodriguez and Sergio Llull adding funky guard play that always finds a way. Rudy Fernandez is always better in international play. Juancho and Willy Hernangomez add versatility and depth, and impending 2021 draft pick Usman Garuba is a big-time defender.
Spain is really good. The team knows itself and has played together, minus the retired Juan Carlos Navarro, in a ton of big games over the past decade. The Gasol brothers often give the Americans problems with USA's lack of big men, and Fernandez and the Hernangomez brothers are the best option anyone has of defending Durant.
Slovenia has never been to the Olympics. But they do have the best non-American at the Olympics by a mile in Luka Doncic, and that might be all that matters. Doncic led Slovenia to EuroBasket gold four years ago at age 18, and he gives the team a chance in any game.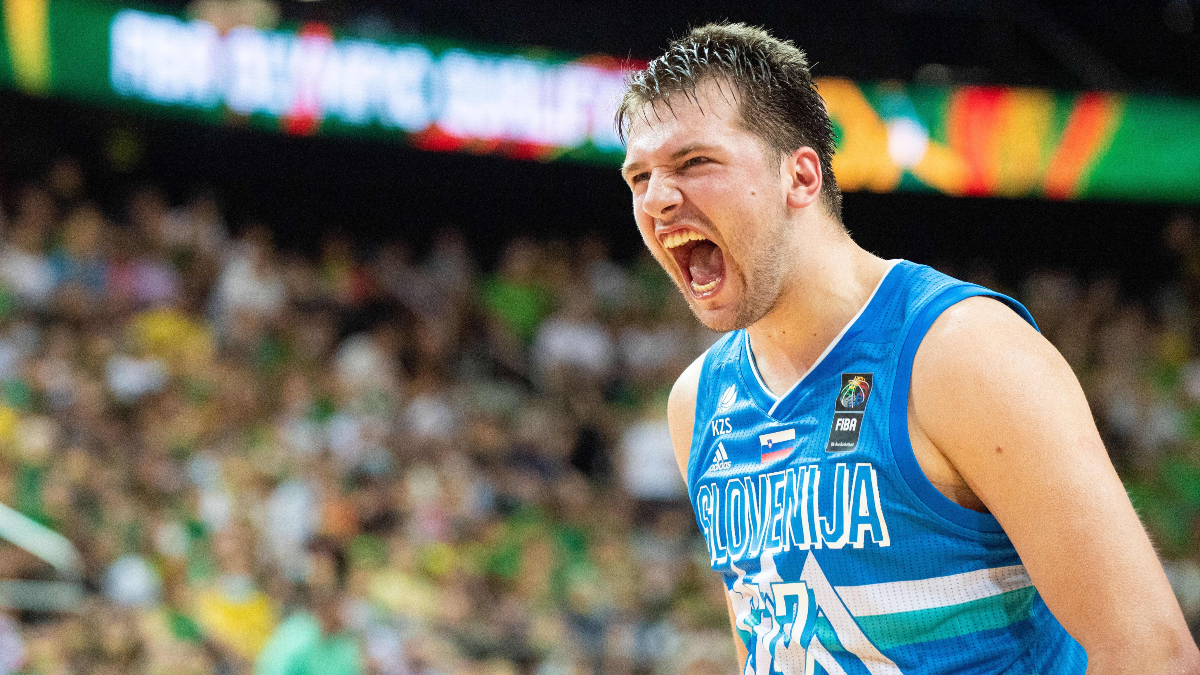 Unfortunately, Goran Dragic was a key member of that championship team and he won't be playing this summer. Brother Zoran is there, along with Vlatko Cancar, but Slovenia will go as far as Doncic can take them.
Argentina is the wily, veteran team. There's no Manu Ginobili or Andres Nocioni, but 41-year-old Luis Scola will feature for the Argentinians with Facundo Campazzo, Nicolas Brussino, Leandro Bolmaro, and Luca Vildoza rounding things out. This is not a particularly athletic team, but it's a smart and scrappy roster that plays to its strengths.
Japan is a long shot. Rui Hachimura will be the host country's flag bearer in the Opening Ceremonies, but he faces an uphill climb. At No. 42, Japan has the lowest FIBA ranking by far (Iran is next at No. 23), but the team's front court can hold its own with Hachimura, Yuta Watanabe, and Nick Fazekas. This is a team that really needed home fans in the stands.
Argentina is the No. 4 ranked FIBA team, but it feels like they're being overlooked. This is the opener for both teams, which makes it the first Olympic game ever for Slovenia. Argentina is a veteran team that's played on this stage before and knows how to get a result, and Slovenia might be overpriced thanks to Doncic.
If you want to get wild, you can bet on Slovenia to be eliminated in group play at +1000. If Slovenia loses its opener, a loss to Spain would put them in danger, even with a win over Japan that's no guarantee.
Group C Best Bet: Argentina +190 moneyline vs Slovenia (DraftKings)
---
Futures Bets to Consider
Australia to Medal (+110 — DraftKings)
The Aussies have never medaled in the Olympics, and this is their best chance yet. Australia is balanced and has a great chance of making the semis. If they do, that gives them two chances for a win and a medal.
Win the first, and it's at least a silver, or win the second for bronze. The Boomers missed out by one point last Olympics. They'll finish the job this time.
Italy Eliminated in Quarterfinals (+115 — DraftKings)
Italy feels just talented enough to escape group play but not good enough to win a tourney game. With Iran and Japan long shots to advance, Italy only needs to outpace two other teams to make the knockout rounds, but they'll likely be underdogs there against a team like USA, Spain, Australia, France, or even Slovenia or Nigeria. It's a sweet spot to bet both on and against the Italians.
Spain to Win Gold (10-1 — DraftKings)
If it happens, Spain feels like the team most likely to beat the USA. Spain always hangs tough against the Americans, and the USA typically struggles against Marc and Pau Gasol. Spain knows how to slow things down and grind out wins, and the USA would have a big shooting advantage, but shot variance can do funny things in knockout tournaments.
You can play Spain at +300 to place highest outside of Team USA, but I actually don't like that one. We have no idea how the bracket will break, so what if Spain ends up on the USA's side of the bracket? At +1000 to win gold, Spain only needs to win 9% of the time for this to play in our favor.
The Americans are best but also vulnerable. I'll give Spain a shot.
How would you rate this article?