Spain vs. Slovenia Olympics Basketball Odds, Preview, Prediction: Will Luka Doncic Continue To Dominate? (Aug. 1)
Credit:
Stephen Gosling/NBAE via Getty Images Pictured: Luka Doncic
Luka Doncic looks to continue his Olympics dominance against Spain.
The matchup has important implications for the knockout stages and a potential matchup with Team USA.
Brandon Anderson breaks down the matchup and delivers his best bet below.
Spain vs. Slovenia Odds
Spain Odds
+2.5
Slovenia Odds
-2.5
Moneyline
Slovenia -150/Spain +130
Over/Under
176.5
Time
4:20 a.m. ET
TV
NBC
Odds as of Saturday morning and via DraftKings.
We've reached the end of the group play games, and we saved the best for last. It's a shame this one will come in the middle of the night stateside, because it looks like a marquee game and a potential semifinal preview.
On the one side is Spain, who has ranked No. 2 in the FIBA rankings behind Team USA the entire cycle since the last Olympics. This team is still seeking a gold medal for its generation and this is its last shot. Spain is 2-0 with double-digit wins against Japan and Argentina, wins in which the Spaniards were comfortably in control without ever blowing the opponent out.
This is the first Olympics for Slovenia, but you'd never know it. Luka Doncic has been the best player in the tournament by a wide margin, and Slovenia has blown out both its opponents, beating Argentina and Japan by massive 18- and 35-point margins. The hot Olympic sleeper might now be a tourney favorite.
Both Slovenia and Spain have already qualified for the knockout rounds, but it does matter who wins the group. The group winner gets a kinder first-round knockout draw, while the loser of this game will be runner-up and likely fall to the unseeded part of the draw, where they have a 50/50 chance of seeing the USA in the first knockout round.
Make no mistake about it — this one matters, and both teams should go for the win. So do the savvy veterans get this one, or is upstart Slovenia too hot?
Spain
If you close your eyes and imagine Spain basketball, you'll see the exact team you've been watching all these years, and basically the same team that will take the court here again. That means Marc and Pau Gasol together in the paint, Ricky Rubio running point, and a bunch of veterans on the wing like Rudy Fernandez and Sergio Llull.
This team is old and on its dying breath really, for this generation at least, but they still want that gold. Spain has played a ton of basketball player over the past decade, probably as much as most of the teams at the Olympics combined. This team knows exactly what it is, just how good it can be, and exactly what it does and doesn't do well. Spain has faced plenty of players as good as Doncic before. They will not be rattled.
Still, you have to actually play the game, and you gotta outscore the opponent, and that could be tricky here. Spain's offense this tourney has been consistent, with a high floor but very little ceiling. Spain has scored between 18 and 21 points in all but one quarter so far, that one a 30-point explosion.
In both games, Spain has had six players score eight or more points. That's not a huge number, but it shows the balance and depth this team has. They know they have eight or nine guys who can show up for a nice game any given night. New Cleveland Cavalier Ricky Rubio has led the team in scoring both games. No one else on the team has even scored more than 13 points in either game.
The Spaniards have dominated the paint, making over 65% of their 2s in both games. They've dominated the lane at the other end too, holding the opponent to just 46% there. That's where the Gasols come in, though Marc was terrible against Argentina with a horrifying eight turnovers. Still, Spain doesn't really have great 3-point shooters so that's the way they win the game, by slowing things down a bit and dominating the paint.
---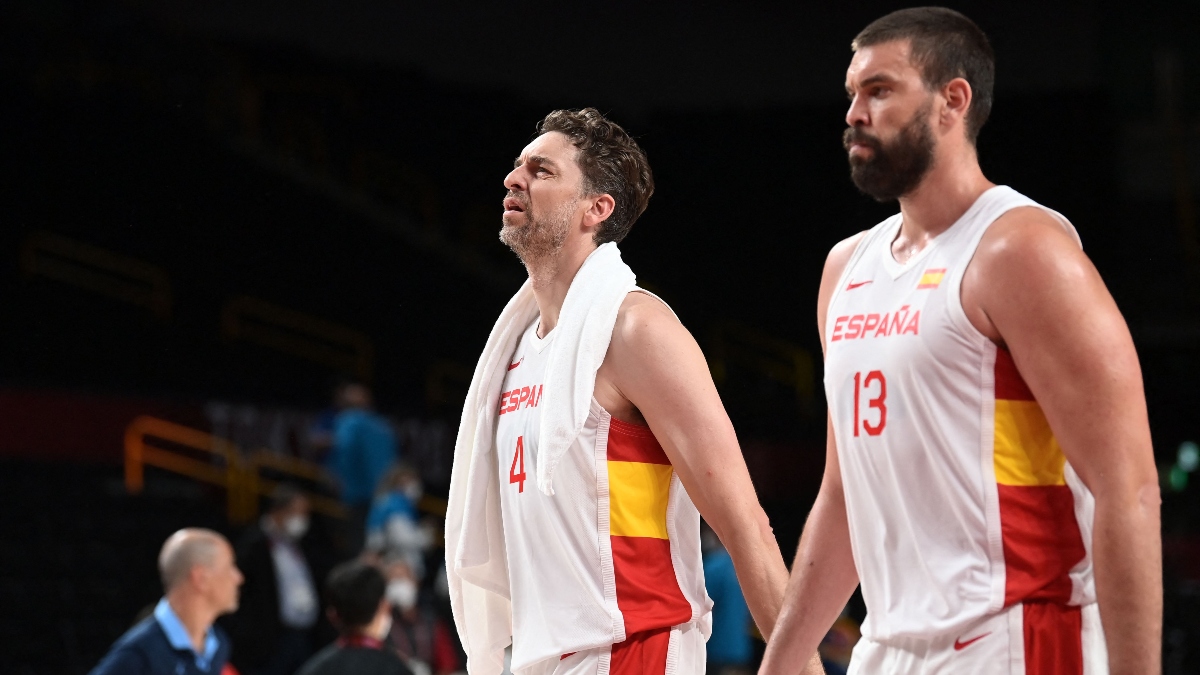 Slovenia
Slovenia is a very different story. The Slovenians are living outside the 3-point line. Against Argentina, they hit 16-of-43 shots from distance. There's nothing eye-popping about 37%, but that was over half of their shots. Compare that to Argentina's 5-of-31 and you get a plus-33 difference on 3s in Slovenia's favor. It turns out you win a lot of games like that.
It was more of the same against Japan. Slovenia made 15-of-39 from behind the arc, again a good-not-great 38% but a huge number of 3s, just one short of half their field goal total. The margin wasn't as drastic as against Argentina, but Slovenia is winning the 3-point math game.
Oh, and they also have the hottest basketball player in the world right now. Luka Doncic had 48 points, 11 rebounds, and five assists in his Olympic debut, most of that in a blistering first half, and then had an efficient 25/7/7 in the blowout win over Japan. But Doncic isn't doing it alone. Vlatko Cancar and Kremen Prepelic have scored at least 12 points each in both games too.
Slovenia is running up the pace and jacking a ton of 3s, giving Doncic a ton of time with the ball and letting him pick the opponent apart. He's setting his teammates up for 3s and lighting them up himself. And Slovenia is making a ton of 2s too. Though they're not taking as many as other teams, they're an efficient 65% on 2s in the tournament.
That efficiency inside the arc will be tested against a Spanish defense that's far better than Argentina or Japan. Spain will likely let Rubio, Fernandez, and others all take their turn on Doncic, and all of them are far more suited for the role than anyone he's faced yet. Respect to Facundo Campazzo, but he's just too tiny to impact a guy like Luka. Doncic won't have it so easy in this game.
Slovenia's defense will also face by far its toughest test. Remember how they destroyed Argentina on 3s with a 33-point advantage? They won that game by only 18, mostly because Argentina dominated in the paint with 62% on 2s themselves and 25 free throws drawn.
That's how Spain wants this game to go. Slow down that Slovenia pace, work the paint, maybe even get Doncic in foul trouble. Remember, you only get five in international play. Luka had three and four in the first two games and tends to pick up ticky-tack fouls at times. That could spell big trouble for Slovenia at some point this Olympics.
Spain-Slovenia Pick
Slovenia sure looks untouchable right now, but it's possible they just haven't played anyone particularly noteworthy yet. Japan is probably the worst team at the Olympics, and you saw how Iran looked against the United States so that says something. Argentina came into Tokyo ranked No. 4 in FIBA but hasn't looked the part at all and might be headed out of the tournament without even reaching knockout play.
Spain is a different sort of opponent altogether for Slovenia. Luka Doncic has never lost in international ball, and he won't be intimidated by these guys, but the talent and experience gap for guys 2-through-12 on the roster is massive.
Still, does Spain have the athleticism and youth to hang with this Slovenia pace? This team has racked up 118 and 116 points in its two games, and remember, these are 40-minute games. That's nearly three points per minute in both games. It's the equivalent of a 140-point pace in an NBA game, and it's not like this has been outlier 3-point percentages or anything. Slovenia is getting a ton of possessions, getting up a hoard of 3s, and scoring efficiently inside the arc.
It's really hard to get a read on how these teams will match up. How real is this Slovenia Doncic magic? If you're worried it's not so certain or that Doncic could struggle against tougher defenders, then you can play the No. 2 FIBA team in the world with plus juice on the money line. That's pretty tempting. But if you think Slovenia is just too young and too fast for Spain, a cover makes sense too.
I'm sticking with the one thing I'm most confident in — Slovenia's pace and efficient scoring. I'll take Slovenia's team over at 89.5 points. They're just getting so many possessions, and almost half of their shots come on 3s. Slovenia is averaging 117 PPG. They can go a full 27 points under that number and still cover this.
Let's just hope for points and a high-scoring, fun, close game. Should be a good one.
Pick: Slovenia team over 89.5 points
How would you rate this article?
This site contains commercial content. We may be compensated for the links provided on this page. The content on this page is for informational purposes only. Action Network makes no representation or warranty as to the accuracy of the information given or the outcome of any game or event.