WNBA Player Props Betting Forecast: Pivot to Alyssa Thomas, Teaira McCowan's Impact
Credit:
Erica Denhoff/Icon Sportswire via Getty Images. Pictured: Connecticut Sun forward Alyssa Thomas (25).
Believe it or not, this is the first full season that WNBA bettors have been able to bet on player props since the first very day one of the season. Player props appeared a bit towards the end of last season, and there are always apps like Underdog or Prize Picks that have allowed bettors to target this market, but those often carry larger holds and force bettors to bet as parlays, so it's great to have the big name books hanging player props for most every WNBA game this season.
If you have been following in the Action Network App (@TurveyBets), you'll know that this has been one of our most profitable markets to bet into this season, but it's a market that is quite literally getting sharper every day. There are more and more tools that bettors are beginning to have access too, and the books themselves now have a larger portion of the season to base these lines on.
As such, I am going to be working on a recurring series to help bettors find some potential edges in this market before the props even drop. This will follow a similar to set-up to the Props Forecast that the excellent Joe Dellera was putting out for Action during the NBA season (here's an example).
There's no way I'll be able to cover every prop that I eventually end up betting, and some of the day-to-day edges that lead to a bet here and there will still sneak under the radar, but the goal here is to give a 20,000 foot view of the player prop market right now and how I approach betting these props–all by zooming in on a few potential bets to make in the upcoming week.
This is a new series, so as is always the case (for series new, old, or anywhere in between), never hesitate to reach out on Twitter with questions, comments, feedback, or truly anything.
WNBA Player Props Betting Forecast
AT Even More of an MVP?
Schedule: Tues. vs. Liberty | Sat. at Aces
Brionna Jones's ruptured Achilles is easily the biggest recent injury in the WNBA. The reigning Sixth Woman of the Year was doing real damage on the court this season, seeing her points per game jump by more than 2.0 and her rebounds per game jump by over 3.0. Now, those 15.9 points and 8.2 rebounds per game will go missing for the Sun. Some of those points and rebounds will undoubtedly disappear, as the Sun will be in a worse spot without her, but there are a fair amount of those stats up for grabs.
Rebecca Allen is the player taking Jones' spot in the starting lineup, but there are a few other players I want to talk about. Per pbpstats.com, there are four players who see their scoring jump in a noticeable manner when Jones is not on the court. DeWanna Bonner sees her points per 100 possessions jump from 29.9 to 33.2, but she already has a high points total at most books, and hers is the smallest jump of the bunch.
DiJonai Carrington has certainly popped in the two games without Jones, scoring 17 in each game–each a point of her career high. However, most of the main books are not hanging Carrington props, so we won't spend too much time there. (I do think her overs are good at a Prize Picks or Underdog if they hang something around 9.5 or so.)
The two most interesting names are Tiffany Hayes and Alyssa Thomas. They are the two starters who see the biggest jump in both usage and points per 100 possessions with Jones off the court. Of course, they have combined to go 1-for-4 on the points prop over since Jones went out. But I still think there is value here.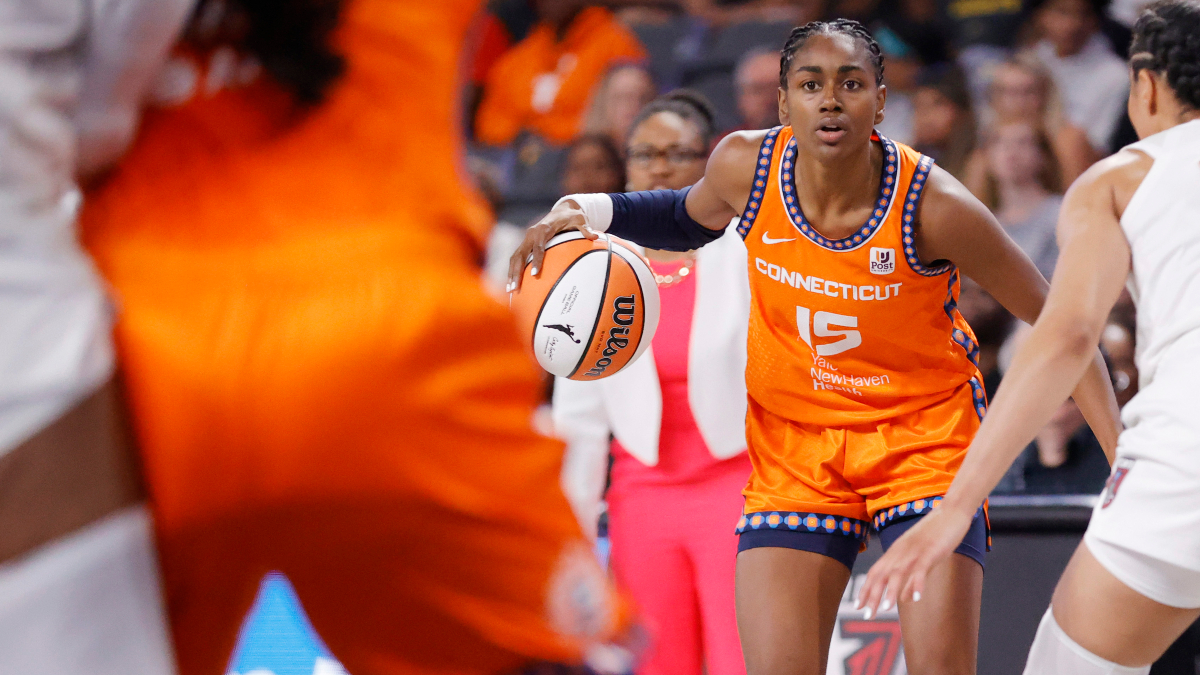 For Thomas, she played only 28 minutes (she averages 37 minutes a game) in their win over the Lynx because the game was a blowout, and yet she was just a half point off her points prop. Against the Sky, she scored eight points in the first quarter, had 12 by the very start of the third quarter, but another blowout, plus a small injury she picked up in the middle of the fourth combined to keep her below her minutes total yet again and once again left her one basket off her points prop over.
The two matchups the Sun have this week are tough, the Liberty and the Aces, but I'll still be looking at AT's points prop overs if they hang 14.5 and potentially even 15.5. In the long run, she is the best option to fill in for Bri's scoring.
With Hayes, I'll be looking to bet her overs in a different way–the "To Score 20+" props. She did so in the first game without Jones, and because of her making a good part of her livelihood behind the arc, she is prone to big totals every now and then. If the books give us lines around +600-700 to score 20 for Hayes, I'll be making those bets against opponents who either give up a lot of threes or a high percentage beyond the arc. Of the two matchups, I like the Liberty more this week.
---
Get real-time WNBA odds, and listen to the Buckets Podcast for all of our experts' picks.
---

Teaira's Impact on Satou
Schedule: Tues. at Mercury | Sun. vs. Mystics
The Dallas Wings as a whole should be very excited to be returning Teaira McCowan to the court. The 26-year-old center has always been one of the more underrated (and underutilized!) players in the W throughout her career. The Wings sit at 6-8 in the standings and will be right in the middle of that playoff push throughout the whole season, so having a fully healthy squad will be of the utmost importance.
However, there's a noticeable trend regarding their breakout player this season. Satou Sabally has put herself as a frontrunner for the Most Improved Player Award early on in this season, and for some folks has taken over the title of best player on the Wings. But that may not last unless she learns to contribute more with McCowan on the court. Sabally's points per 100 possessions go from 27.9 with McCowan off the court to 19.5 with her on the court. Her defensive rebounding rate goes from 23.5% with McCowan off the court to 10.3% when they share the court.
Now part of that is growing pains. The two never played together before this season, but the differences are stark enough that even if Sab finds a way to start producing more with McCowan on the court, her numbers are still going to drop — and even more than the books bake in.
I'll be looking to Sabally's points and rebounds unders until otherwise noted. For this week, it's even better news in that the Wings play two of the three slowest teams by pace, so these unders should be best bets.
How would you rate this article?
This site contains commercial content. We may be compensated for the links provided on this page. The content on this page is for informational purposes only. Action Network makes no representation or warranty as to the accuracy of the information given or the outcome of any game or event.