Mac Jones 2021 Fantasy Football & Dynasty Outlook with Patriots: A Capped NFL Ceiling
Credit:
Kevin C. Cox/Getty Images. Pictured: Alabama Crimson Tide quarterback Mac Jones.
The Patriots took Alabama quarterback Mac Jones in the NFL Draft's first round, making him their heir apparent under center.
Jones is a poetically beautiful fit in New England, but his lack of mobility ultimately caps his fantasy football upside.
Matthew Freedman makes Jones his No. 5 rookie quarterback in dynasty formats.
Mac Jones Fantasy Profile
| | |
| --- | --- |
| Position | QB |
| School | Alabama |
| Height | 6'3″ |
| Weight | 217 |
| 40-Yard Dash | 4.83 |
| 2021 Age | 23 |
| Class | RS-Junior |
| Recruit. Stars | 3-4 |
---
Mac Jones Fantasy Fit with Patriots
For many reasons, I love this fit.
I mean, I don't love it for fantasy. I think it could be really bad.
But the poetry of Jones in New England will warm my heart in a world full of prose. The Patriots just predictably used a first-round pick on a guy who has mid-round attributes in hopes that he might turn out to be the second coming of the late-round pick who gifted the team Hall-of-Fame production.
The Shakespearean in me loves this.
But Jones might not start right away as a rookie, and the offense the Patriots will run with incumbent starter Cam Newton will not fit Jones at all. And even if Jones does see playing time as a rookie, the Patriots are still likely to rely on the running game. The Pats might have the best tight end duo in football with Hunter Henry and Jonnu Smith, but at wide receiver they have perhaps the worst trio in the league with Nelson Agholor, N'Keal Harry and Kendrick Bourne.
Under head coach Bill Belichick and offensive coordinator Josh McDaniel, Jones could one day develop into an effective-if-uninspiring quickstrike pocket passer who methodically moves his team down the field, but that almost certainly won't happen in 2021 — and probably not even 2022 — and even at his best Jones will offer nothing as a runner, so his fantasy ceiling will inherently be capped.
He has some long-term potential with the Patriots as the No. 5 quarterback in dynasty rookie drafts, but few fantasy investors will be excited to draft him.
---
Dynasty Fantasy Analysis
Note:
I'm so excited to write this profile that I don't even know where to start.
Sure, Jones has the brain of Bill Walsh. But Jones also has the body of a dad, the ruddy face of a prepubescent boy and perhaps the off-the-field judgement of Johnny Manziel.
I'm not joking about that last part.
In his redshirt season, Jones was involved in a drunk-driving accident with another vehicle. No one was injured, but after failing a field sobriety test, he was arrested and charged with driving under the influence and having a fake identification card.
Now, everyone makes mistakes — especially college freshmen — but most of them aren't also praised for their leadership and intelligence and paid millions of dollars to represent multi-billion dollar organizations just a few years after the commission of their notable transgressions.
The people around Jones have done a remarkable job of talking about the DUI as a "transitional event" — and it probably was — but the fact is that Jones has experienced little scrutiny from scouts and media members for the event, and I can't help but wonder if it would be otherwise if he did not possess his disarmingly boyish looks.
Let's be honest: Most players with DUIs … they don't go near the top of the draft. Of course, most of them also don't resemble the cherub-faced Jones.
But let's assume that Jones is indeed intelligent and has matured since his redshirt season, both of which are likely. Even then, Jones has issues as a prospect.
First, he's a net negative as a runner. Of all the quarterbacks profiled in the 2021 Sports Info Solutions Football Rookie Handbook, Jones is easily last with his career mark of 3.7 yards per carry (excluding sacks).
Despite what he says, Jones is a smidgeon statuesque.
That's not a surprise. Jones has decent pocket maneuverability — and his agility is evidenced by his respectable 7.04-second three-cone time — but as a recruit he ran a 4.91-second 40-yard dash at just 180 pounds. Yikes.
With that as the starting point, there's only so much improvement an athlete can make, even with four years at Alabama. Yes, Jones can lift a lot of weight with his legs, and that's impressive.
But despite all his physical work with perhaps the best strength-and-conditioning coaches in college football, Jones is the unabashed owner of a Rubenesque voluptuousness usually glimpsed only in Renaissance paintings.
Jones is more athletic than he looks — but he's not an athlete. He will almost certainly never be an asset as a runner.
And as a passer, he lacks an above-average arm. He led the nation in 2020 with 1,355 yards on passes 20-plus yards downfield (per Pro Football Focus), but he also played in more games than any other quarterback and had the benefit of playing in an offense with NFL-caliber talent at every position.
Arm strength is literally at the top of his list of cons in the PFF Draft Guide: "Middling arm. Underthrew a number of deep balls but got away with it because of his WRs."
A number of quarterbacks in this class can fling it: Jones is not one of them. Even at his pro day, he notably underthrew receivers deep.
Those deep throws — those were highlights. HIGHLIGHTS. Those might be the worst pro day highlights I've ever seen. In the NFL, Jones would be lucky if both of those throws were not intercepted.
I'll be the first to say that ball velocity isn't massively important, especially if a quarterback is cerebral and anticipatory with his throws — and Jones is, to his credit. But his lack of arm strength will limit him in the NFL. It means that he will need to be better than most quarterbacks at everything else that goes into completing passes, and he'll need to do it without the benefit of playing in an elite Alabama offense vs. overmatched defenses.
On top of that, it's analytically troublesome that Jones has just 17 starts on his college record.
He can't really help it that he redshirted in 2017, played behind both Tua Tagovailoa and Jalen Hurts in 2018, then served as the No. 2 quarterback for most of 2019. But Jones' lack of early-career playing time means that he had fewer opportunities in college to develop, and his relatively small sample of starts increases the possibility that his production was fluky — especially in an unrepresentative 2020 college season impacted by COVID-19.
With just one year as a starter, Jones finds himself in a cohort of such Round 1 busts as Mark Sanchez and Mitchell Trubisky.
But the small sample isn't a death knell — Kyler Murray also started only 17 games in college, and after two years in the league, he's already one of the most coveted dynasty quarterbacks.
And what Jones did as a passer — after Tagovailoa's hip injury thrust him into the full-time starting role — was extraordinary.
In his four 2019 starts, Jones looked great throwing the ball.
Arkansas: 18-of-22 passing, 235 yards, three touchdowns
Western Carolina: 7-of-11 passing, 275 yards, three touchdowns
Auburn: 26-of-39 passing, 335 yards, four touchdowns, two interceptions
Michigan: 16-of-25 passing, 327 yards, three touchdowns
And then in 2020, he looked like the best quarterback in the nation, leading the Power Five with 12.8 adjusted yards per attempt (AY/A) as he has completed 77.4% of his passes for 4,500 yards and 41 touchdowns to just four interceptions in 13 games.
It's worth noting that what Jones did in 2020 stands up to what Joe Burrow, Hurts and Fields did in 2019 (their best seasons) and what Murray did in 2018 (his best season).
Peak Adjusted Yards per Attempt
Kyler Murray (2018): 13.0
Mac Jones (2020): 12.8
Joe Burrow (2019): 12.5
Jalen Hurts (2019): 12.2
Justin Fields (2019): 11.2
For his career at Alabama, Jones had a 12.5 AY/A; Tagovailoa, 12.7.
What Jones accomplished in college, especially in 2020, places him among the best passing prospects of the past three years.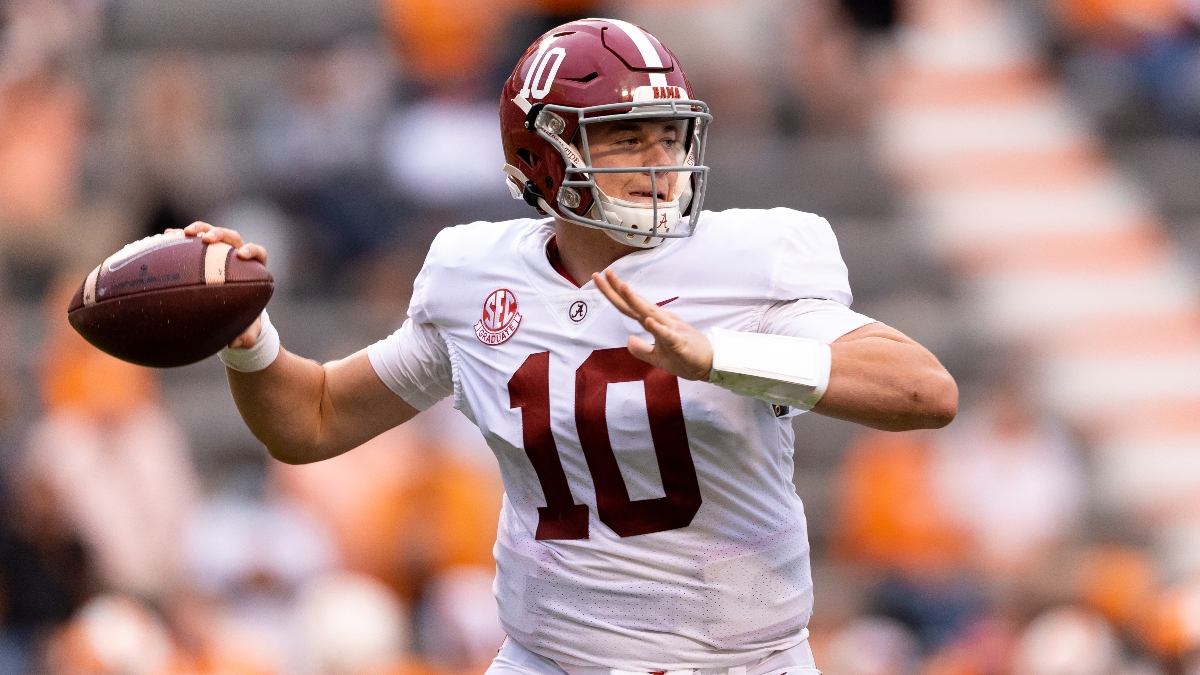 He predictably dominates the SIS quarterback leaderboards with his 2020 statistics, ranking No. 1 with 14.9 total points per game, a 145.2 Independent Quarterback Rating, 91% catchable ball rate and 0.49 expected points added per drop back.
It's that last number that really intrigues me — when we look at what the most productive quarterbacks have done in their best starting seasons over the past few years, Jones is at the top of the list in expected points added efficiency.
Peak Expected Points Added per Drop Back
Mac Jones (2020): 0.49
Tua Tagovailoa (2020): 0.49
Kyler Murray (2018): 0.47
Joe Burrow (2019): 0.39
Jalen Hurts (2019): 0.38
Yes, Jones benefited from the NFL-level talent around him at Alabama — but so did Tagovailoa. So did Burrow at LSU and Murray and Hurts at Oklahoma.
What does it matter if Jones isn't a great runner? The NFL is a passing league, and Jones just had one of the most productive seasons in college history on a per-drop back basis.
What does it matter if Jones doesn't have a strong arm? Lots of past-their-prime #DadRunner passers have average arms, and Jones might have the intelligence and anticipatory throwing to play like a veteran right away.
With his college production, he definitely deserves to go in Round 1.
Does he deserve to go in the top five? Maybe as high as No. 3? I'm skeptical.
PFF, SIS and The Draft Network all have Jones ranked as the No. 5 quarterback in this class. Of the Big Five, he's clearly last in rushing ability and arm strength. And if you compare him to the recent quarterbacks to go in the top 10, he will also be last in that cohort in rushing and arm talent.
But I doubt that matters.
I'm known for my hard-earned pessimism. Even so, Jones has the overall passing skill set to succeed in the NFL.
A quarterback doesn't need to throw the ball hard as long as he throws it accurately, and Jones is one of the most accurate passers we've seen as a prospect in years.
Rushing is incredibly important for quarterbacks in fantasy, and Jones will struggle to produce on the ground in the NFL. Even picking up just a few yards in college was an epic task for the guy.
That means that Jones will probably be my No. 5 rookie fantasy quarterback after the draft: Without the ability to run, he will have a capped NFL ceiling, and at a onesie position it makes much more sense to focus on ceiling than floor.
Jones might be this generation's Tom Brady or Drew Brees, but it seems much likelier that he'll become the next Derek Carr or Andy Dalton.
For a guy named "Michael McCorkle," that's a good fate.
NFL Prospect Comp: Tua Tagovailoa with less overall production, less rushing ability and a later breakout but more passing capacity.
---
Matthew Freedman is 1,018-828-37 (55.1%) overall betting on the NFL. You can follow him in our free app.
How would you rate this article?
This site contains commercial content. We may be compensated for the links provided on this page. The content on this page is for informational purposes only. Action Network makes no representation or warranty as to the accuracy of the information given or the outcome of any game or event.