Start Courtland Sutton? Sit Allen Robinson? Answering Your Fantasy Football Lineup Questions For Week 6
Credit:
Dustin Bradford/Getty Images. Pictured: Courtland Sutton
Should you start Courtland Sutton? Is it time to bench Allen Robinson?
Our analyst is here to answer your fantasy football start/sit questions as you set your Week 6 lineups.
Want personalized lineup advice? Have start/sit questions? Want me to adjudicate dicey league disputes? Email mailbag@actionnetwork.com with your questions each week to be featured in this article and on Action's Fantasy Flex podcast every Thursday hosted by yours truly.
---
Fantasy Start/Sit Questions
Courtland Sutton vs. Antonio Brown (And Other WRs)?
Bryan writes: "Help! Standard league with bonus points for catches over 40 yards. Two spots with the following choices: Antonio Brown, [Adam] Thielen, [Courtland] Sutton, Allen Robinson, [Odell] Beckham."
Previte: Of those choices, it's definitely between Brown and Sutton for me, and I would probably lean Sutton.
Sutton has one of the best matchups of the five and has multiple 100-yard games this year. He is the No. 1 option in an unimpressive offense, but being Teddy Bridgewater's favorite target still matters and Sutton has the most targets among this group.
Brown would be a close second choice for me. He, too, has two 100-yard games this season and finished as WR4 last week. He has the most catches of these options of more than 20 yards, but my concern is his position as the No. 3 (or possibly No. 4 option once Rob Gronkowski returns) in the Buccaneers offense. Concerns about Tom Brady's health add uncertainty to Brown's fantasy production, which knock him down slightly for this Thursday's game.
Thielen faces Carolina this week and he has seen his targets dwindle as the weeks have progressed. He was the WR4 through three weeks and is the WR69 over the last two weeks.
Beckham has had one semi-good game all year and scored just three fantasy points last week.
Robinson is dead last on this list. He has yet to put up double-digit fantasy points once this year and is clearly hamstrung by coaching and this offense's overall struggles.
A.J. & Marquise Brown (Squared)?
Clayton writes: "What's up guys, I've got a dilemma with my WRs. In a 0.5 PPR league with 2 WR slots and I've got: Tyler Lockett, AJ Brown, Marquise Brown, Brandin Cooks. I've also got these 2 players to consider for Flex: Chase Edmonds, Damien Williams. [Who do I sit] out of these 6? I'm thinking roll with Lockett, AJB and Hollywood. But I know Cooks has a great matchup and always want to consider all options."
Previte: For your wide receivers, I would actually go with Brown and Brown.
In spite of A.J. Brown's struggles of late, I haven't lost hope in him. He's been banged up, but with Julio Jones' health up-in-the-air, remains the No. 1 option for Ryan Tannehill. Marquise Brown has had four excellent games, and one off game with three huge drops. Lots of people soured on him because of that, but he could be a league-winner with the way Lamar Jackson is playing. Marquise Brown has five touchdowns in five games and is currently the WR6. This should be a high-scoring affair with many red-zone opportunities, especially against a Chargers' defense that just gave up a 40-burger to the Browns.
For flex, I would say both running backs fall into the low-end RB2 territory and both Lockett and Cooks are in the low-end WR2 territory. A WR2 has a higher expected value than a RB2, so I'd narrow it down to the receivers, especially with Williams splitting his work with Khalil Herbert and James Conner getting all the goal-line work in Arizona.
Lockett would be my choice for your flex, even though he's disappointed in the last three weeks and takes a bit of a hit with Geno Smith under center for the injured Russell Wilson. Lockett is touchdown-dependent, but his upside is so much higher than anyone else you have.
TLDR; you have the right three starters in my book.
New England D/ST Or Arizona D/ST?
Kenzie writes: "Cowboys defense (@ NE) or Cardinals defense (@ CLE)?"
Previte: I like both this week but it's gotta be the Cowboys for me.
Dallas' D/ST has finished top five in each of the last three weeks and top 12 every week this season, due in large part to Trevon Diggs playing lights-out at cornerback. It's also a cupcake matchup against New England, which has been pretty turnover prone recently and has given up the fifth-most fantasy points to D/STs this year.
CeeDee Lamb or Chase Claypool?
Mike from Minnesota writes: "10-team standard scoring redraft. Do I start CeeDee Lamb or Chase Claypool in my flex this week? In light of JuJu [Smith-Schuster] being out and a preferable matchup against the Seahawks, I feel like Clay[pool]'s boom/bust may be worth the risk vs. [Lamb's] safer floor. I understand [Lamb] carries some boom/bust exposure, too, so I wonder what your take is?"
Previte: It's close, but I would go Lamb over Claypool.
You're right that both guys have some boom-or-bust potential, and that Claypool has a better matchup/slightly improved situation with Smith-Schuster out. That said, their quarterback situations couldn't be more different. Dak Prescott gives Lamb — who I think is the more talented wideout — so much more upside versus Ben Roethlisberger vis-a-vis Claypool.
Claypool should benefit from Smith-Schuster being out, though probably not as much as you'd expect. Claypool's stretch-the-field abilities are a mismatch with Roethlisberger's current skill set. I anticipate a lot of what would have been Smith-Schuster's targets will be short passes, potentially to Najee Harris.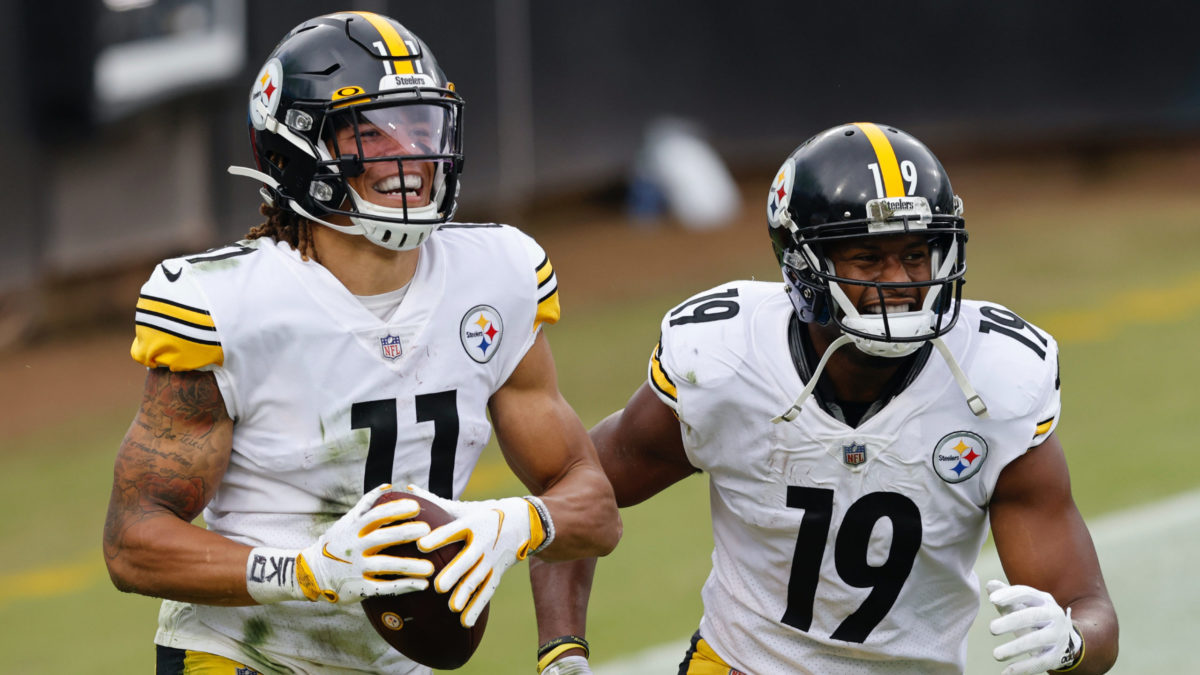 Justin Fields Or Jared Goff? 
@numba1punna writes: "Do I play Justin Fields or Jared Goff :(((((("
Previte: Oof. I'm really not feeling either guy this week — or ever.
My heart wants to say Fields because his upside and weapons are eons higher and his matchup vs. the Packers is better than Goff's vs. the Bengals, but Matt Nagy hates fantasy football (and maybe even his own team). Since Week 2 when Fields took over for Andy Dalton, Fields is the QB34 and has 25.5 fantasy points total over those four weeks. He has yet to post double-digit points or pass for more than one touchdown in a game.
Goff is QB28 in that span, so he isn't much better, but he has at least scored double-digit fantasy points in three of five games. He's certainly been hamstrung by the lack of pass-catchers and talent on the Lions, who just lost Quintez Cephus for the season. He also faces Cincinnati's defense, which, as mentioned, is tougher than the Packers' and ranks eighth in points allowed this year.
The Fields breakout game is coming at some point, though Nagy might need to be fired into the sun — or just fired — for that to happen. I'd roll with Goff and plug my nose.
Zack Moss Over Top Waiver Wire Adds?
@ACSnow22 writes: "Waivers clear tonight.. Assuming I snag either [Darrel] Williams or [Devontae] Booker, would you start either over [Zack Moss] as my RB2? I worry about Williams's touches and Booker's QB situation."
Previte: This one is very close, too, but I still like Moss over either waiver wire guy as the safest option. He is the RB15 in half PPR since Week 2 (he was a healthy scratch in Week 1) and has more upside in the passing game than the other two.
Williams is a very close second for me because I seriously doubt Jerick McKinnon is going to pose that much of a threat. Both Moss and Williams have positive matchups against the Titans and Washington, respectively, and are in high-volume offenses.
Booker has the best situation in terms of competition, but I'm with you and your concerns about the ineptitude of the Giants' offense limiting his production. I would probably put them all in a relatively similar range of low-end RB2/high-end RB3 and would play Moss as the "safe" play and Williams as the higher upside play.
---
Fantasy Stock Questions
Allen Robinson Woes 
Maxwell writes: "What do I do with Allen Robinson? I have [Cooper] Kupp, Deebo [Samuel], and [Chase] Claypool as my other options so I'm not hurting at WR. Do I bench him, start him, or try to trade him?"
Previte: What a lovely situation to have three start-able wide receivers.  In terms of your Robinson conundrum, the only possible course of action is to bench him. You can't start him, as he's WR63 through five weeks this year, and I can't see you getting anything in return for him if you put him on the trading block. It stinks that you have to wait this out, and I do think the Justin Fields breakout game will come, but until the Chicago offense finds its stride, he's staying on the bench for me.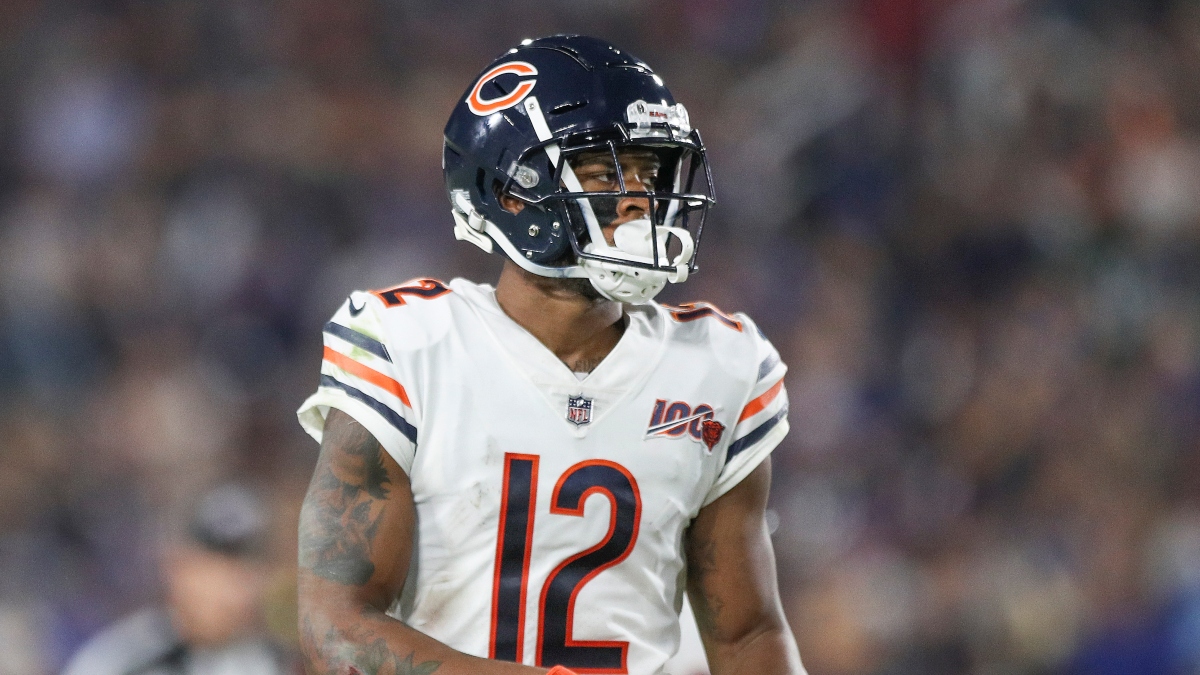 Ryon writes: "Allen Robinson is selling me. Drafting Gus Edwards and Sermon didn't help. What do I do with this team??? Full PPR format with a bunch of different bonuses but don't worry about those.
QB: Jameis Winston, Taylor Heinicke
WR: Davante Adams, Allen Robinson, Corey Davis, Jaylen Waddle, Tim Patrick, Rashod Bateman
RB: Aaron Jones, Josh Jacobs, Latavius Murray, Michael Carter
TE: Kyle Pitts
K: Matt Prater"
Previte: I'm going to assume you mean killing me. I get it, he's killing me, too.
It's very unfortunate when a team is hit hard by injuries. Off the top, I see your biggest weakness is quarterback. You need to broker a deal for a top 12 guy. Winston and Heinicke will keep you afloat as streamers in the right matchups, but they aren't going to win you the Shiva.
As much as it saddens me, now might be the time to sell high on Pitts after he popped off in Week 5. If someone in your league has two solid quarterbacks, maybe pitch something like Winston and Pitts for a better QB and downgrade at TE.
Is Mike Evans Elite? 
@JamesHBopp writes: "Is it time to stop overthinking it and treat Mike Evans like the stud that he is? Current 16-game pace of 1,250 yards and 13 touchdowns."
Previte: Evans has undeniable talent and a good situation in a Tom Brady-led high-volume offense. He is a stud among a number of studs — Chris Godwin, Rob Gronkowski and Antonio Brown — which caps Evans' value a bit since it's a guessing game which one(s) will go off each week.  I'd consider him a high-end WR2 rest-of-season. I'm not quite ready to put him in that elite tier barring an injury to Godwin. He's stud-adjacent in my book.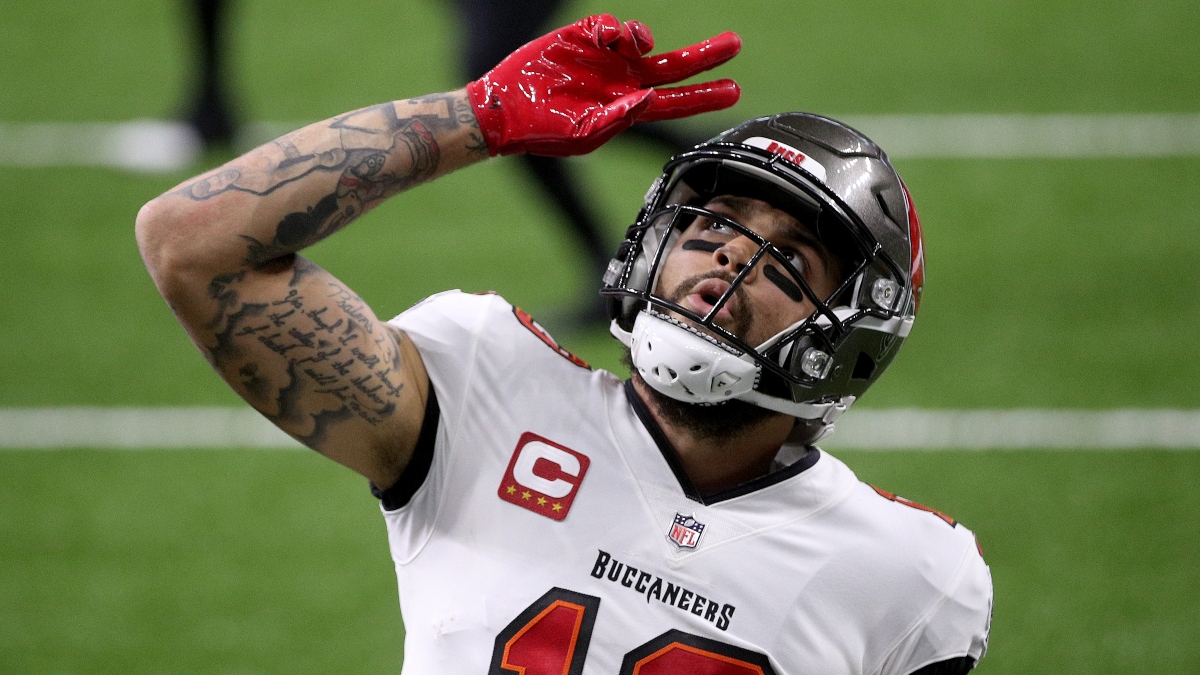 Shanahanigans And The 49ers' Fantasy Outlook
Joseph writes: "Hey Samantha, Congratulations on buying a condo!
My question is simple, but also tricky and has a bunch of layers – what do we make of the 49ers offense as a whole? I think Kyle Shanahan has single handedly thrown a wrench in everyone's fantasy seasons this year with his choice of starters, snaps, target share, etc. So what/who, if anyone, can we trust on this offense? Is there any hope for [Brandon] Aiyuk or [Trey] Sermon, will [George] Kittle still be a top tier TE after he comes off IR? Will Elijah Mitchell continue to be the lead back? Will Jeff Wilson have a big role when he comes back this season? Ahhh! Thanks!"
Previte: Samuel, and to an extent, Mitchell are really the only ones you can trust for now (though I know once I tell everyone they can trust a Shanahan-wielded player, they'll immediately turn back into a pumpkin).
Much to the dismay of Aiyuk managers like myself, Samuel is WR4 in half PPR. I had this notion going into the season that the offense would have two WR2-caliber receivers, but apparently there's one WR1 instead and it's not Aiyuk. It stinks you had to spend a decently high draft pick on him but he's droppable in 12-team leagues.
Mitchell is the RB1 until further notice since Shanahan clearly hates Trey Sermon, who had the chance to run away with the job while Mitchell was out with the shoulder injury and failed to do so. Sermon is absolutely droppable in 12-team leagues. I don't know how the Wilson addition will impact Mitchell's role once he's activated, but I anticipate he'll have to earn a role, and it will be Mitchell's to lose at that point.
I think you can trust Kittle once he returns from injury. He's a stud and the list of tight ends you can trust week-to-week is very lean.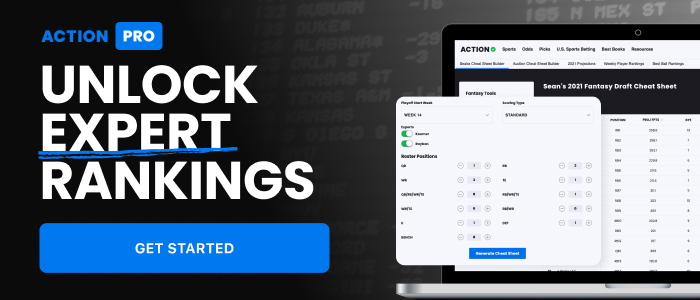 Which Rookie Receiver Rest Of Season?
PJ writes: " Who is the better pickup rest-of-season between Rondale Moore and Kadarius Toney? Full PPR. Thanks."
Previte: Rest of season, I'll go with Moore. But if you need someone this week, Toney is the better play.
Moore has significantly more competition and won't be the No. 1 option on the team so long as DeAndre Hopkins is on the team, but neither will Toney once their depth chart gets healthier. If we look at the offenses as a whole, there's simply no comparing Arizona and the Giants. Kyler Murray is in a different stratosphere than Daniel Jones and the Cardinals are a much better-coached team.
Both are incredibly talented receivers, but I like Moore's situation much more long-term.
Kenneth Gainwell vs. Bucs, Potential Chiefs RBs & Outlook On Josh Gordon and Mike Davis
JP writes: "Would it be regular stupid or advanced stupid to pick up and start Kenny Gainwell this week against Tampa Bay? Are rumors of increased work for pass-catching RB's against TB greatly exaggerated?
Is it worth stashing Ty'son Williams or Marlon Mack in hopes they get traded (i.e. to the Chiefs)?
Is it worth holding on to Josh Gordon, given Tyreek and Kelce got banged up against the Bills? Or is he so far down the chart behind guys like Mecole Hardman that he's not worth anything this year?
As the Mike Davis owner, I keep looking at Cordarrelle Patterson and thinking: he can't keep getting away with it. While I can trust Mike Davis to put up 10-12 points each week, is it worth dropping him for AJ Dillon, Kenny Gainwell, or Jamaal Williams? (I suppose the same could be asked of Singletary given Moss). Thanks!"
Previte: Not stupid, I do think Gainwell will be involved in the passing game, but he's still a risky play splitting work with Miles Sanders. I'd consider both RB3s in a tough matchup against Tampa's stout run defense.
I think Williams and Mack could be worth stashing if you have room, but I wouldn't pass up the opportunity to add someone like a Kadarius Toney because you're using a spot on them.
I wouldn't hold onto Gordon except in the deepest of leagues. As you said, he's too far down on the depth chart to waste a roster spot on.
I'm probably not dropping Davis for Gainwell or Dillon. Gainwell is in a time share with Sanders and Dillon needs an injury to Jones to be fantasy-relevant. Williams is the interesting name on this list. He has seen at least 12 attempts in each of the last three weeks as the Lions have leaned more on the run bereft of receiving options.
How would you rate this article?
This site contains commercial content. We may be compensated for the links provided on this page. The content on this page is for informational purposes only. Action Network makes no representation or warranty as to the accuracy of the information given or the outcome of any game or event.