Taysom Hill Fantasy Football Analysis Week 2: Impact of Alvin Kamara's Injury on Saints Tight End
Credit:
Jonathan Bachman/Getty Images. Pictured: Taysom Hill.
Alvin Kamara has been ruled out for Bucs vs. Saints on Sunday afternoon and Taysom Hill's fantasy football and betting outlooks have changed drastically as a result.
The swiss army knife's player props have been taken down across the market, although there is still one available: anytime touchdowns.
Hill is +210 at FanDuel to score a TD against the Bucs after having been in the as long as +275 earlier in the week.
No other props are available in the market, including for rushing yards, rushing TDs, passing yards or passing touchdowns.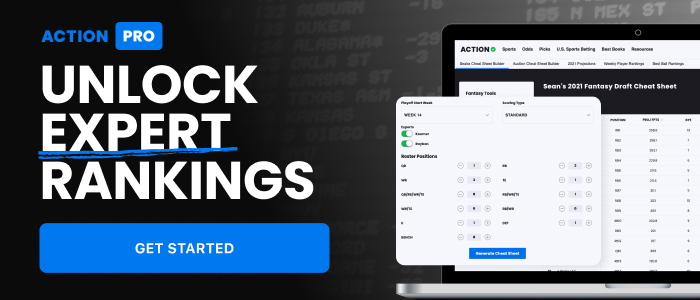 Taysom Hill Fantasy Football Analysis
Hill has played only six games without Kamara over his career. His passing stats overall fall dramatically — his passer rating is almost half as good — but don't expect Hill to line up under center all that often on Sunday afternoon.
With Kamara out, Hill's rushing stats also decrease, but to a far less tangible degree.
Hill has played only six games without Kamara at running back. In those games, he averages 2.2 more yards per carry and 15 more yards per game from the ground. Hill averages about a touchdown every four games with Kamara alongside him in the backfield.
The 32-year-old out of BYU averages a rushing touchdown every three games without Kamara.
Hill's receiving statline also gets better with Kamara out. Hill averages 10 more receiving yards per game. And in 60 games at receiver with Kamara in, Hill has scored only five receiving TDs. With Kamara out, he's scored two in six games.
While these sample sizes are small, it's been enough to alter Hill's fantasy football outlook, too.
Hill finished as the TE3 for Week 1 after a solid display on the ground and through the air.
One of our fantasy football experts Samantha Previte said his role as a tight end could make him an interesting target and that she expects Hill to receive more rushing attempts with Kamara out.
Still, don't worry too much about it unless you're in a two tight end league.
How would you rate this article?