Zach Wilson Dynasty Fantasy Outlook with Jets
Credit:
Mark Brown/Getty Images. Pictured: Zach Wilson.
Zach Wilson Fantasy Profile
| | |
| --- | --- |
| Position | QB |
| School | BYU |
| Height | 6'2″ |
| Weight | 214 |
| 40-Yard Dash | N/A |
| 2021 Age | 22 |
| Class | Junior |
| Recruit. Stars | 3 |
| Projected Round | 1 |
Zach Wilson Fantasy Fit
Take a look at this young man. Seriously. Take a good long look at him taking a good long look at himself.
That's the look of a guy who's about to become the next Mark Sanchez and Sam Darnold.
Draft day will probably be the best day of Wilson's life for at least the next couple of years. It's all fun and games until it comes time to strap on the helmet and throw the ball to … checks notes … wide receivers Corey Davis, Denzel Mims and Jamison Crowder and tight end Chris Herndon.
Offensive coordinator Mike LaFleur is respected in the league, but he's a first-time play caller in the NFL working for defense-focused first-time head coach. The offense might underwhelm, especially given the state of the roster.
As a rookie, Wilson will likely be a fantasy nonentity. Maybe in his second season he will be a streamable asset in fantasy leagues, but I doubt he will have that functionality in 2021. The Jets are just too bad of a team to make Wilson intriguing.
Note: The following section was written before the 2021 NFL Draft.
Dynasty Fantasy Analysis
Wilson looks like the guy you don't want dating your teenage daughter. In an '80s teen movie, he would be the hot guy AND the smarmy villain.
Also, now seems like a good time to make a confession.
Let's proceed.
A three-star recruit, Wilson hoped to sign with Utah, where his father, Mike Wilson, played as a defensive tackle — but the team didn't have a need at quarterback, so he instead went to instate rival BYU.
Opening his freshman year as the backup behind Tanner Mangum, Wilson overtook the 25-year-old senior in the middle of the season and started the final seven games to become the youngest starting quarterback in BYU history.
Overall, Wilson had a 65.9% completion rate for 1,578-12-3 passing with 50-372-2 rushing (excluding sacks, per 2021 Sports Info Solutions Football Rookie Handbook).
After his promising freshman season, Wilson regressed as a sophomore, putting up a 62.4% completion rate for 2,382-11-9 passing with 48-303-3 rushing (excluding sacks) in nine games, missing a month in the middle of the season with a broken right thumb.
His year-over-year freshman-to-sophomore efficiency numbers are telling (per SIS).
Expected Points Added per Drop Back
Adjusted Yards per Attempt
After his sophomore campaign, Wilson wasn't even thought of as an NFL prospect, evidenced by the fact that he didn't appear in mock drafts until November of 2020 (per Grinding the Mocks).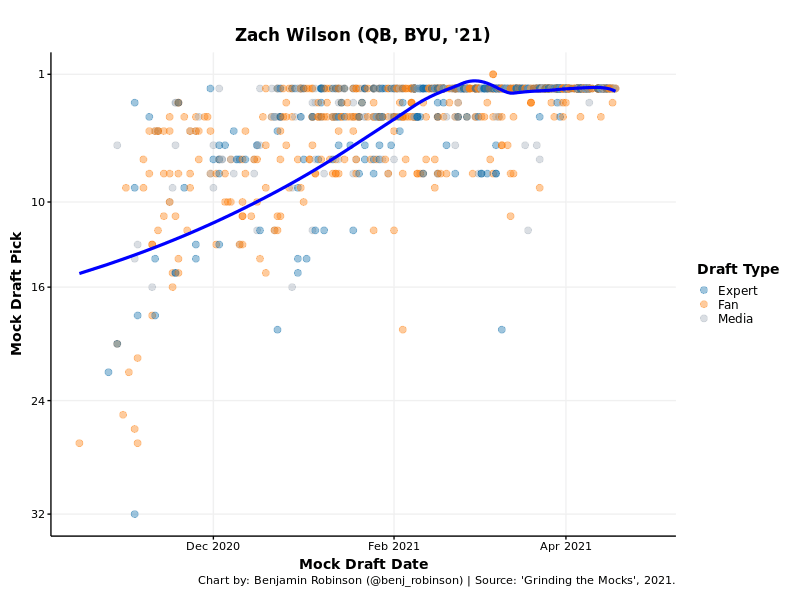 But his 2020 season clearly changed the way he is now perceived. His junior campaign was nothing short of extraordinary. Starting all 12 games, he led BYU to an 11-1 record with a 73.5% completion rate for 3,692-33-3 passing while adding 58-362-10 rushing (excluding sacks).
As great as Alabama quarterback Mac Jones was last year throwing the football, Wilson was right there with him as one of the purest passers in college football.
SIS Independent Quarterback Rating Without Pressure
Zach Wilson: 136.7
Mac Jones: 136.1
Adjusted Yards per Attempt (More Than 6 Games)
Mac Jones: 11.2
Zach Wilson: 11.0
In every passing category in the SIS quarterback leaderboards, Wilson was a top-three player last year.
If you read any scouting report on Wilson, it will indubitably highlight his passing ability: The dude has a cannon. If I took a shot of tequila every time I read "arm talent" in a Wilson writeup, then I'd be way drunker than I currently am.
In the pocket, he is accurate to all levels of the field. He moves through his progressions with steadiness. He stands tall and delivers the ball quickly. He avoids pressure while keeping his eyes up.
When the pocket breaks down, he improvises like a veteran and regularly looks to attack deep. In fact, he's more dynamic as an off-script playmaker than an on-script pocket passer, and you see that in his numbers: When plays break down, he airs the ball out, and the farther he throws it, the better the outcome (per Pro Football Focus).
PFF Passing Grades by Depth of Target
1-9 Yards: 82.9
10-19 Yards: 93.9
20-Plus Yards: 99.9
Wilson is a swashbuckling gunslinger. With some of the plays he makes, he looks like Patrick Mahomes.
Of course, sometimes he gets into trouble — because he's not Mahomes. We didn't see it much last year, but as a sophomore, he routinely demonstrated a dangerous overabundance of faith in his arm strength and an underabundance of measured decision-making.
Wilson has uncoachable talent — but that might mean part of him will always be a little bit uncoachable.
Despite the uncontrollable hype that Wilson has gotten in the buildup to the draft …
… he is far from a perfect prospect.
Despite starting at BYU for 2.5 seasons, he had just one year of truly special production, and that came against an extremely soft schedule in a COVID-impacted season. Not one of his opponents last year was from the Power Five.
Granted, he was impacted as a freshman and sophomore by injuries. After his first year, Wilson had surgery on his throwing shoulder to repair an injury he suffered in high school, and then as a sophomore, he had surgery on his throwing thumb. That might explain why he didn't break out until his junior season.
At the same time, it's not ideal that he has already had surgeries on his throwing shoulder and hand.
And his injury history raises potential concerns about his size. Wilson isn't prohibitively small, but he's certainly not built like a prototypical quarterback. He's not tall, and he has a slight frame.
Wilson bossed out at the BYU pro day, impressing No. 1 pick Trevor Lawrence in the process.
But without the pads — in just shorts and a shirt — he physically looked more like a high-school recruit than an NFL draft prospect.
And the guy has some questionable off-the-field judgment. I'm sorry, but it's true.
That order is basic. B-A-S-I-C. Someone needs to say it.
Also, who wears a ring on his pointer finger? Does he think he's Frodo?
None of these concerns are cataclysmic. Wilson has the tools to be a franchise quarterback. It helps that he's a net-positive runner.
With his scrambling ability, Wilson has an elevated floor for both fantasy and reality.
But he's not Trevor Lawrence as a passer, and he's not Justin Fields or Trey Lance as a runner — and that means he's not likely to be a top-three quarterback in my rookie fantasy rankings.
Wilson has virtues as a prospect, but he might not have enough of the right ones.
NFL Prospect Comp: Johnny Manziel with less rushing ability but more draft capital, accuracy and prudence
---
Matthew Freedman is 1,018-828-37 (55.1%) overall betting on the NFL. You can follow him in our free app.
How would you rate this article?
This site contains commercial content. We may be compensated for the links provided on this page. The content on this page is for informational purposes only. Action Network makes no representation or warranty as to the accuracy of the information given or the outcome of any game or event.