Handicapping the Bedlam Rematch, ACC Bubble Teams, and more
Credit:
Geoff Burke- USA Today Sports
As we enter the middle of most conference races, I'll take a look at Bedlam II, Stanford's dramatic improvement, Buzz Williams' extra prep struggles, and a heated rivalry in the Sun Belt. But first, a look at an interesting Big East game colored by injuries. As always, please follow me on twitter @jorcubsdan for injury updates and second half thoughts.
Creighton @ Providence
The on-court personnel for the second meeting between the Bluejays and Friars will look totally different. PC will presumably have a healthy Kyron Cartwright at point (although he didn't practice on Thursday with the flu) after missing most of the second half in the first meeting with an ankle injury. Additionally, wings Alpha Diallo and Jalen Lindsey played at less than 100 percent in that game against Creighton. On the opposite end of the health spectrum, Creighton lost Martin Krampelj for the season in Greg McDermott's frontcourt. Eerily, Creighton also lost a key player midway through the Big East season last season in Mo Watson
Before his season-ending injury, Krampelj was grabbing opponent misses at the Big East's second-highest rate and was shooting an absurd 80.5 percent from 2 and 84 percent at the rim. So much of McDermott's outstanding offense relied on his ability to exploit his constant one vs one coverage in the paint, as teams couldn't afford to double team him. A look at Creighton's efficiency numbers through Krampelj's on/off splits reveals not only how valuable he was to the Bluejay offense, but he had hidden value defensively as well (per hooplens.com):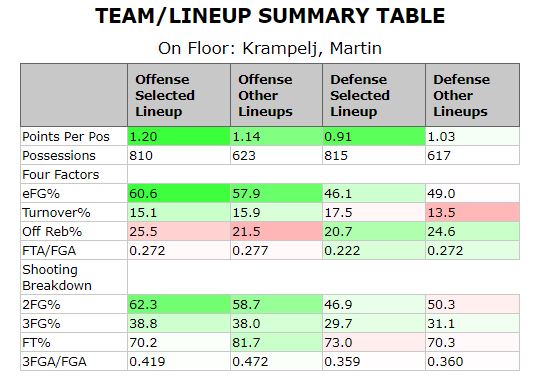 The above chart really illustrates Krampelj's value, as the Bluejays are a net +.18 points per possession with him on the floor. His absence also forces McDermott to rely more on Toby Hegner in the frontcourt. Creighton will sorely miss Krampelj's athleticism in the post and his rebounding prowess. Hegner, more of a stretch big, has a paltry 9.6 percent defensive rebounding rate, which places him only ahead of point guard Marcus Foster among Creighton's starters. Versatile junior Ronnie Harrell will move from his super-sub role to the vacated 4 spot. Rarely used big man Manny Suarez will also have to contribute meaningful minutes.
Without Krampelj, McDermott will surely utilize a smaller lineup, which PC matches up well against. Providence features a number of versatile tweeners like Diallo, Lindsey, and Rodney Bullock that struggle to defend athletic big men (see Krampelj's highlight reel dunks in the first meeting). Additionally, the Bluejays will be less potent in transition without Krampelj's rebounding prowess, which hurt the Friars in the first meeting. Per hoop-math.com, only two teams in the country initiate transition attempts off defensive rebounds at a higher rate than Creighton. When you subtract one of the league's best rebounders from the equation, running becomes far more difficult.
The Pick: Providence -2
---
Other Notes:
Buzz Williams' Hokie squads have struggled coming out of long mid-conference season layoffs. Since Williams took over, Virginia Tech has lost all 7 conference games after having 5 or more days off. In those games, they have only .95 points per possession. Additionally, Florida State usually possesses the necessary length and athleticism to shut down Tech's penetrate and kick reliant offense. Per Synergy, the Hokies score 1.17 points per transition possession (91st percentile). FSU limits offenses to just .88 points per transition possession.
The Pick: Florida State +1.5
Bedlam part II will feature an interesting dynamic. Lindy Waters, who missed the first meeting with Oklahoma, will play for Oklahoma State, Waters is Oklahoma State's best overall defender and he knows Young's tendencies, as the childhood friends played together at Norman North. With Waters, OSU has the personnel to replicate what Kansas State did to Trae Young. They can swarm him on every ball screen to force the ball out of his hands while obscuring his passing lanes with length. If Waters can help limit Young, the Cowboys have a great chance at win in Stillwater today.
The Pick: Oklahoma State +3.5
Stanford has lost to two Big Sky teams and a Big West team, but they have won 5 straight Pac-12 games with wins over USC, UCLA, and Arizona State. What changed? Health. Stanford saw the return of Dorian Pickens, who has hit threes at 45 percent since returning to the lineup at the start of conference play. Additionally, Kezie Okpala has become their best defender since becoming eligible in mid December. The 6'8 freshman has started to live up to his 5 star rating with his athleticism and versatility on defense. Arizona has won 15 straight over Stanford, and Sean Miller will have the services of Rawle Alkins, who has shored up Arizona's dribble penetration defense. However, Deandre Ayton and Dusan Ristic have struggled defending in the post, where Stanford makes their hay with a dual-big secondary break offense that relies on the versatility of Reid Travis and the rebounding of Michael Humphrey.
The Pick: Stanford +5
The home team has won eleven straight in the Georgia Southern/Georgia State rivalry (Georgia State hosts today). Southern clocks in at 8th nationally in terms of offensive generated by the ball handler in pick and roll, and State ranks 11th, per Synergy. Southern's Tookie Brown is arguably the best pick and roll ball handler in the country, while State's D'Marcus Simonds has NBA level talent off ball screens. So, which defense can better defend ball screens? It's unarguably Georgia State, as their hyper morphing 1-3-1 zone defense can really disrupt pick and roll motion.
The Pick: Georgia State -4
---
Saturday Afternoon Top Picks
YTD: 290-274-6
2H: 23-12
Florida State +1.5
LSU +1
NKU -12.5
Fordham +12
Oklahoma State +3.5
UMass (pending, as SLU has some potential major personnel issues with rumors of Jordan Goodwin being suspended/expelled)
Georgia State -4
Xavier +2
Providence -2
UIC -2.5
Stanford +5
Charleston -5
Missouri State -2.5
Western Carolina +18.5
Mercer/UNCG under 130