Wednesday's NBA and College Basketball Betting Trends to Know
You may have heard: We have a lot of fancy tools here at The Action Network. Chief among them is our software that gathers real-time betting data on every game played in every major sport.
You can see that data in its full glory here, but the point of this story is to weed through the sea of games and percentages and tell you the real story behind the numbers.
All info as of Wednesday afternoon at 4:40 p.m. ET.
Lopsided Ticket Count
What we're looking at here is the percentage of total bets. So, for example, if there have been 1,000 wagers on a game, and 800 of them have taken the favorite, then that team's ticket percentage is 80%.
Why's this important? A really high ticket percentage is usually a clear indicator of who public bettors (aka the guys who don't do this for a living) are taking. And breaking news: The majority of public bettors aren't successful over the long haul.
NBA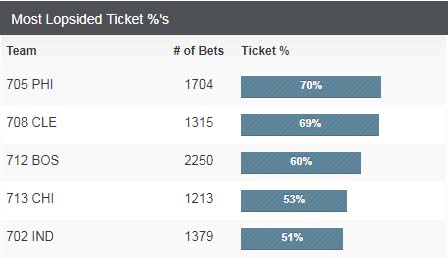 – 76ers (-7.5) at Nets: The Sixers are the most popular public play and oddsmakers have taken notice, moving the line from an opener of Philly -5.5 up to -7.5 at Bookmaker.eu.
– Knicks at Celtics (-5.5): At first glance, this looks like a huge professional play on the Knicks, considering the line has dropped from New York +9 to +5.5. However, Kyrie Irving was ruled out early this afternoon causing the drastic market adjustment. Interestingly, 60% of spread tickets are still taking the Celtics in the NBA game getting the most overall bets tonight.
College Basketball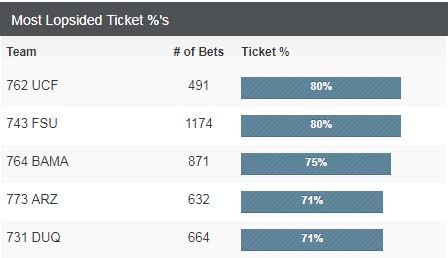 – Florida State (-4.5) at Wake Forest: Not only is FSU an extremely popular bet in terms of ticket percentage, but this game has attracted the second-most total bets of any college hoops game today, trailing on Louisville-Virginia.
– Arizona (-12) at Washington State: Steady action from the betting public on Arizona has pushed the line from an opener of -11 up to -12 at Pinnacle for tonight's game at Washington State.
Lopsided Money
This is the same idea as above, except the data centers entirely around the percentage of total money bet. So, for example, if $10,000 in total has been wagered on a game, and $8,000 of that is backing the favorite, then that team's money percentage is 80%.
Why's this important? Generally speaking, professional bettors will wager more money on a given game than your regular Joe. So this metric can be very useful in figuring out who the wiseguys are betting, especially when you factor in the ticket percentages above and any changes to the spread.
NBA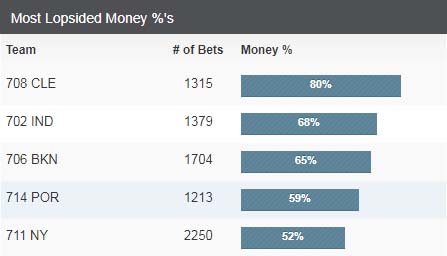 – Heat at Cavaliers (-2): Bettors just can't seem to quit the Cavs with 80% of dollars wagered taking Cleveland -2. However, this is a game where the line movement really tells the story. The spread opened at -3.5 and has moved all the way down to -2, an indication sharp bettors are using this opportunity to make the contrarian play on Miami and the points.
– Grizzlies at Pacers (-6.5): If you were just looking at the 51-49 split in overall tickets, you'd think nothing of this game. But this is where the money percentages help tell a different story. With 68% of the dollars on the Pacers, it's easy to see why the line has ticked up a half point since open.
College Basketball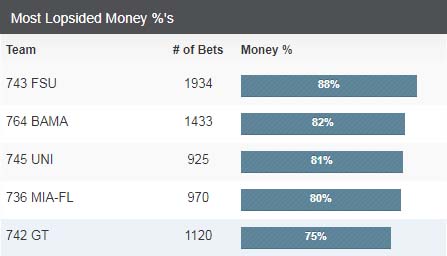 – Florida State (-4.5) at Wake Forest: The Seminoles are also the most popular play of the day in terms of dollars wagered, so it's not surprising that the line has moved quite a bit after opening at -2.5. Translation: The sharps and the public appear to be on the same side with this one. (Yes, that does actually happen.)
– Syracuse at Georgia Tech (PK): Syracuse is attracting the majority of tickets (54%) but dollars favor Georgia Tech (75%). The line movement from 'Cuse -1 to a pick'em confirms that the larger wagers have backed GT so far in early betting.
Photo via David Richard-USA TODAY Sports