FIBA Screws Up Guyana-Suriname Score, Costs Bettor a Win
The Highlights
Guyana and Suriname played in a FIBA AmeriCup qualifying match on Wednesday.
Up 11 with 36 seconds left, Guyana hit two free throws, but the official scorer didn't count one of them.
A bettor in Portugal wagered on Guyana -11.5 live in the middle of the third quarter, and should have cashed the ticket with a Guyana win by 12.
---
Imagine living this nightmare scenario …
You've either researched the FIBA AmeriCup hard enough to have a serious take about whether Guyana will defeat Suriname by more than 11 points — live in the middle of the third quarter no less. Or, you're on such a tilt, near midnight on the East Coast, that the only thing left to do is lay 11 points on a country on South America's North Atlantic coast.
The Background: On Wednesday night, Suriname, South America, the host nation, faced Guyana in the FIBA AmeriCup 2021 Caribbean pre-qualifier.
The Story: A bettor in Portugal — with whom we chatted on Twitter after discovering his Reddit post — placed a live wager in the middle of the third quarter on Guyana, laying 11.5 points, against Suriname. Guyana was leading by around 10 points at the time of the wager. Fast forward to 36 seconds left in the fourth quarter: With Guyana up 82-72, their forward Shaine Webster heads to the free throw line for two:
Webster hit the first to give Guyana an 83-72 lead.
Webster then hit the second free throw to give Guyana an 84-72 lead. But the scoreboard did not reflect the made free throw.
There were no more points scored. The official final score, according to FIBA: Guyana won 83-72.
Here is the full game on YouTube from FIBA.
If that wasn't amazing enough, the official FIBA scoring marked Webster's second free throw a "miss" instead of a "make" on their website. As you can see in the video above, Webster clearly made both free throws. But here is a screenshot of the official FIBA play-by-play: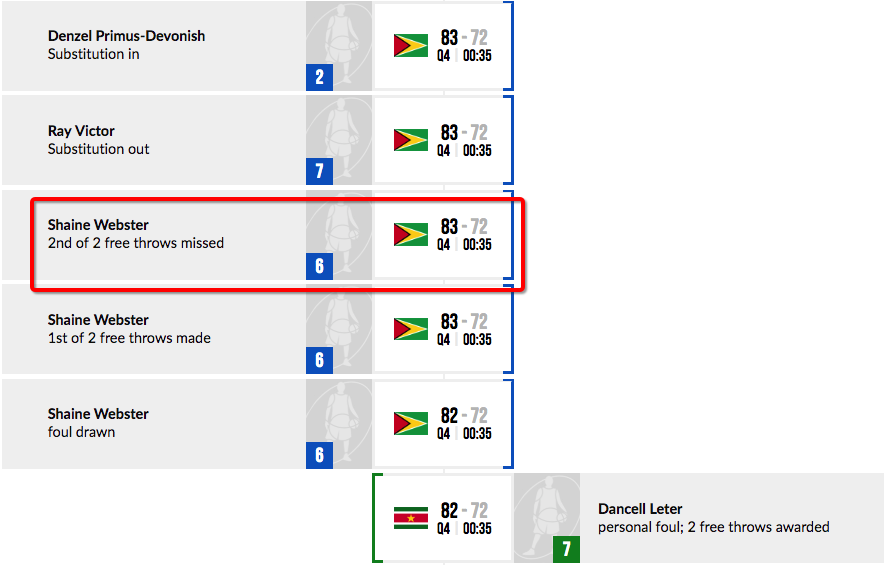 Maybe it was the confusion of multiple substitutions coming into the game or simply an error on the part of the scorekeeper, but either way, I can't think of a worse way to lose a bet.
The bettor in Portugal, Rodrigo Pinho, has tried to make FIBA aware of its mistake on Twitter and Reddit to no avail. We've also reached out to FIBA for comment.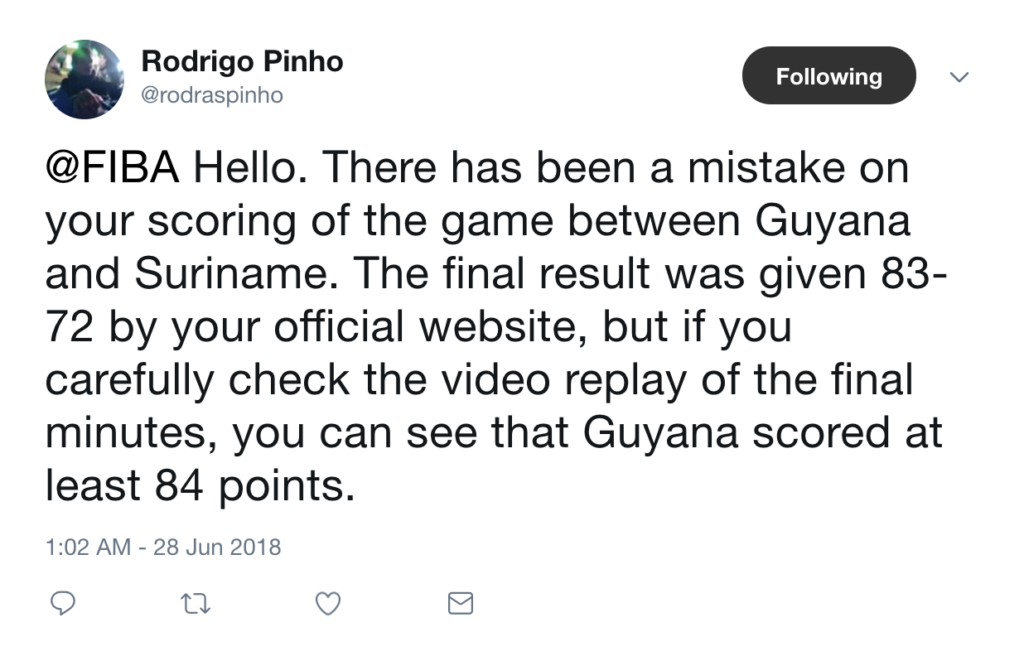 Pinho was kind enough to send along his bet slip from the Russian/European offshore sportsbook.

When we reached out to Pinho about this story, we asked him if he follows Carribean basketball. Here was his response: "No, I don't. I have been betting on these recent qualifier matches however since they are broadcast live and I think I have been getting a very good feel on the games by simply watching them."
One more thing worth noting: With 18 seconds left, Webster went back to the free throw line with Guyana up 83-72 on the scoreboard (84-72 in real life). Webster missed both free throw attempts, but the YouTube highlights showed only one of the misses for reasons that remain unclear.
How would you rate this article?