2019 MLB Win Total Projections: The 6 Teams That Have Betting Value
Credit:
Brad Mills, USA Today Sports. Pictured: Yolmer Sanchez, Welington Castillo, Yoan Moncada
The 2019 MLB Season begins on Wednesday, March 20 with the Japan Opening Series between the Oakland Athletics and Seattle Mariners.
Before the season begins, Sean Zerillo ran his MLB model to project each team's win total for 2019.
When the Westgate Las Vegas Superbook released their 2019 MLB win totals, the market was initially over-inflated by nine wins, at an average of 81.3 wins per team, things have adjusted since then but the market is still over-inflated towards the over.
In 2018, totals were 17-13 to the under. All five teams in the AL Central and four of the five NL West teams (not Colorado) went under.
When in doubt, take the under.
Conversely, four of the five NL Central teams (not Cincinnati) hit their over. Four playoff teams (Atlanta, Boston, Milwaukee, and Oakland) had at least 15 wins more than their projected totals, while only the Baltimore Orioles fell more than 15 wins shy of their total (by 26 wins).
Exactly half of the league (15 teams) ended up within five wins of their total.
Over a 162-game schedule, when merely having good or bad luck in one-run games can swing the outcome of a team's season by double-digit wins, any edge in this market will be razor thin.
For closer examination, I selected the six teams (Arizona, Atlanta, both Chicago clubs, Colorado, and Seattle) whose projection in the model is off by at least 2.45 wins from their total. Colorado's line has remained at the opening total, but each of the other five teams has seen line movement toward their composite projection.
---
Arizona Diamondbacks
Opening Total: 73
Current Total: 75.5
Model Projection: 77.975
Recommended Play: Over (+2.475 Wins)
The betting market over-corrected for rebuilding clubs during the last offseason (Pirates and Rays) and that appears to be the case once again.
Losing Paul Goldschmidt, A.J. Pollock, and Patrick Corbin really hurt the name-brand talent on this Arizona squad, but this roster still has enough starting pitching (Zack Greinke, Robbie Ray, Zack Godley, and Luke Weaver) and is good enough defensively (+157 Defensive Runs Saved in 2018, 1st in MLB) to continue to play near .500 baseball going forward.
If Ketel Marte can make a smooth transition to Center Field, and if Carson Kelly can quickly acclimate to this pitching staff, the reloading Diamondbacks could surpass all expectations.
Atlanta Braves
Opening Total: 86.5
Current Total: 86
Model Projection: 83.375
Recommended Play: Under (-2.625 Wins)
After arriving a "year early" and winning the NL East in 2018, the Braves have now added Josh Donaldson and Brian McCann to a lineup that already features Freddie Freeman, and potential generational stars in Ronald Acuña Jr. and Ozzie Albies.
However, Donaldson is far from a sure thing to stay healthy, and the Braves seemingly deep rotation is already thinning out with injury issues this spring. Mike Foltynewicz is dealing with an elbow issue, while Kevin Gausman, Luiz Gohara, and Mike Soroka are each battling shoulder discomfort.
The NL East might be the most competitive division in 2018, and I don't see how the Braves have improved their standing, relative to their competition, over last season.
Chicago Cubs
Opening Total: 89.5
Current Total: 88.5
Model Projection: 85.5
Recommended Play: Under (-3 Wins)
Baseball Prospectus has famously projected the Cubs to finish with 79 wins in 2019. I'm a bit higher than that on the North Siders, but even the most optimistic projection for this team is about 90 wins – right around their opening total.
A lack of expected outfield production, the need for resurgent seasons from Anthony Rizzo, Willson Contreras, and (a likely still injured) Kris Bryant, and subpar overall bullpen quality are major concerns for this Cubs team.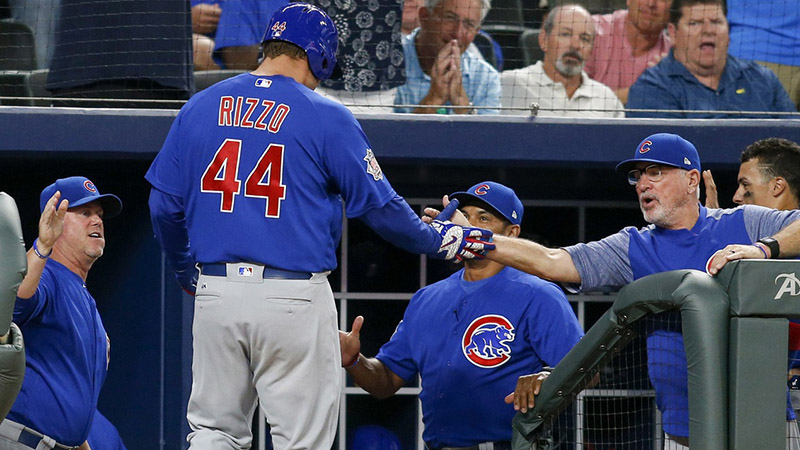 After an alarmingly quiet offseason, where the Cubs didn't even attempt to pursue Bryant's buddy, Bryce Harper, or any other top free agents, the Cubs have made clear their intention to stand pat.
Meanwhile, their competition in the NL Central has stiffened.
The NL Central and the NL East divisional races are shaping up to be extremely exciting, with nine of 10 teams (obviously not the Marlins, never the Marlins) projected to win 78 games or more.
I'll gladly play the under on a total that I consider to be set one win below the ceiling for a team.
Chicago White Sox
Opening Total: 76.5
Current Total: 74
Model Projection: 70.125
Recommended Play: Under (-3.875 Wins)
Although it looked like the White Sox were one of the finalists for Manny Machado, they ultimately missed out on signing him.
Michael Kopech will also miss all of 2019 after undergoing Tommy John surgery, leaving this organization and their fan base pretty hopeless about the current status of their rebuild.
Like last season, the White Sox have zero incentive to rush top prospect Eloy Jimenez to the Majors even though he is more than ready.
The White Sox did add a handful of veterans (Jon Jay, Yonder Alonso, Ivan Nova, Kelvin Herrera and Alex Colome), but most of those moves were made in an attempt to appeal to Machado directly. Anything that isn't bolted down will likely be traded back off of this roster by the end of July.
If the White Sox are going to surpass their win total then all of their other young players — Yoan Moncada, Lucas Giolito Tim Anderson, Adam Engel, and others -– need to jump up a level in production.
I could see the breakout coming, eventually, for a multiple tool prospect like Moncada, but it is seemingly unlikely for the other flawed pieces on this team.
Moncada and Jimenez might form a dynamic offensive duo by season's end, but the White Sox might still struggle to win 70 games even in the weakest division in baseball. In 2019, I'm fading everything containing the words "Chicago" and "baseball."
Colorado Rockies
Opening Total: 84.5
Current Total: 84.5
Model Projection: 82
Recommended Play: Pass (-2.5 Wins)
The model projected the Rockies under last season, too, but I refused to make it a play due to their "win now" stance. Alas, they won 91 games and soared over their total by 10 wins as German Marquez and Kyle Freeland took a big step forward for their pitching staff.
This offseason, Colorado essentially replaced D.J. LeMahieu's bat with Daniel Murphy's, but Murphy will play first base and Lemahieu-like prospect Garrett Hampson will man the keystone.
Ryan McMahon, Raimel Tapia, and especially David "if he can ever stay healthy" Dahl are prospects that can contribute offensively, and high-end middle infield prospect Brendan Rodgers is on the cusp of the majors, too.
Having just signed Nolan Arenado to a monster extension (8 years, $260 million), this organization clearly isn't going away anytime soon. Like last season, no play on the under here – the Rockies remain built to win now.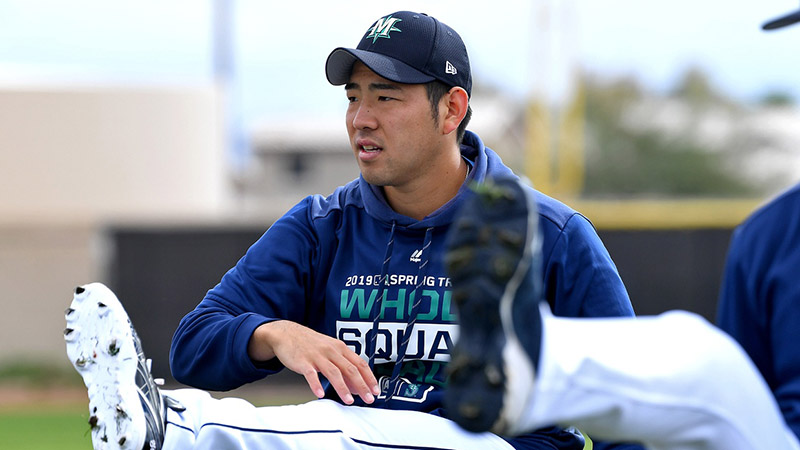 Seattle Mariners
Opening Total: 70.5
Current Total: 71.5
Model Projection: 75.225
Recommended Play: Over (+3.725 Wins)
Similar to the situation with Arizona, Seattle is another rebuilding club being heavily downgraded in the betting marketplace. Seattle over-achieved last season, winning 89 games when they rated closer to a 79 win team, but I have a hard time believing that they will drop by 20 full wins, and nine expected wins in 2019.
Edwin Encarnacion, Domingo Santana, Jay Bruce, Mallex Smith, and especially Japanese import Yusei Kikuchi are solid (though unspectacular) pieces to replace departing stars James Paxton, Edwin Diaz, and Nelson Cruz. Kikuchi is actually reminiscent of the 2018 version of Patrick Corbin and should immediately be the best pitcher on this staff.
Although the pitching beyond Kikuchi could be very poor, top prospect Justus Sheffield (acquired for Paxton) should make his debut in 2019. And at the rate that Jerry Dipoto trades, this roster will likely look very different at the end of the season.
I'll take the Over (and shut my eyes tight).
How would you rate this article?
This site contains commercial content. We may be compensated for the links provided on this page. The content on this page is for informational purposes only. Action Network makes no representation or warranty as to the accuracy of the information given or the outcome of any game or event.