NBA Assist Props
Assist props are among the most popular in NBA betting because they allow bettors to find another avenue of success for individual players. So much of betting is based on, you know, points scored -- the spread, total, moneyline, points props, 3-point props. But assists is something different altogether.
How to Use Our Assist Prop Comparison
So how does this page work? We'll display every available assist line, so you can always get the best value. Our "best odds" column displays the most favorable price, factoring in both the line and the juice.
For example, James Harden over 10.5 assists at +112 at FanDuel is a better line than over 9.5 -145 at DraftKings.
What Do the Edges Mean?
Using our Action PRO projections, we can compare posted NBA props to our statistical models. If the edge is valuable enough, we'll display a blue button under the player. Click that button to see the full details of the edge and which side you should bet (Action PRO members only).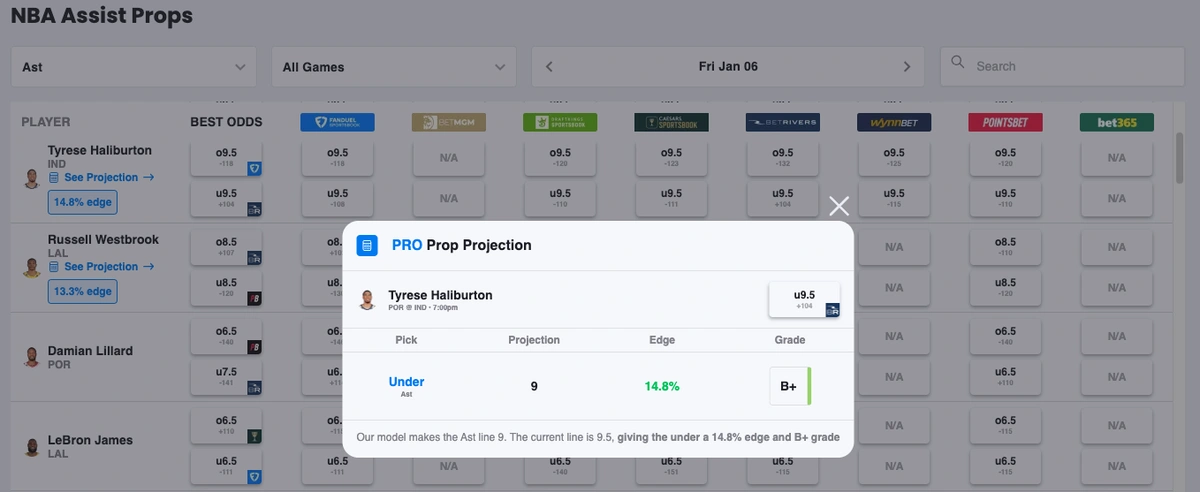 How Should I Handicap Assist Props?
Like most props, there's nothing publicly available that sportsbooks and other bettors don't have access to. But there are some good ways to anticipate
Potential Assists from NBA.com. The NBA tracks how many assists a player might get had the teammate they passed to made all their shots. That helps us quantify the potential for them to rack up more or less assists in their next game, because how many shots are made off a player's passes should even out over time. Some nights, the shots just aren't falling, but if a player is consistently setting teammates up, the assists will come.
Usage. If you expect a player's role to change, there may be some lines to take advantage of.
Pace. Some teams will generate and allow more possessions in a single game, which could increase a player's potential for more assists.