NFL Conference Championship Picks: Our Experts' Favorite Bets for Patriots-Chiefs, Rams-Saints
Credit:
Denny Medley-USA TODAY Sports. Pictured: Patrick Mahomes
The Action Network's NFL experts break down their favorite conference championship bets for Rams-Saints and Patriots-Chiefs.
We have against-the-spread and over/under picks plus a plethora of player props to choose from.
Well, at least we get to follow up the first Saturday in a long time without any football with NFL Conference Championship Sunday. And what a day we have in store as the top two seeds in both the AFC and NFC will go at it with a trip to Super Bowl 53 on the line.
These two matchups should look pretty familiar as well.
Not only did the Patriots and Chiefs play earlier this season, this will mark their fifth meeting in the past five seasons. And while the matchup is familiar, the stage is not for the Chiefs, who have not played for the Lamar Hunt trophy (ironically named after the founder of the Chiefs) since their only AFC title game appearance in 1993 — which they lost to the Bills.
Meanwhile, the Patriots will amazingly appear in their EIGHTH straight AFC Championship Game and league record 15th overall (10-4 record).
The Saints and Rams also met earlier this season and in each of the past three seasons. Rams fans hope to continue the success the franchise saw while in St. Louis, where the Rams went 2-0 in NFC title games; they were just 1-6 in those games while in Los Angeles between 1970-1994.
This will be New Orleans' third ever NFC Championship Game and first since 2009, when the Saints beat the Vikings, 31-28, en route to their one and only Super Bowl title.
To help narrow down your final NFL weekend wagers, our staff has plenty of angles, including sides, over/unders and player props for Rams at Saints (-3, 56.5) and Patriots at Chiefs (-3, 56).
And don't forget to join our free props contest for up to a $3,000 prize.
Our NFL staff picks are 155-144-16 (51.8%) for the 2018 season, including the first two rounds of the playoffs. — Stuckey
---
>> All odds pulled on Friday morning, so slight line variations are possible. Download The Action Network app to get real-time NFL odds and track your bets.
---
New England Patriots at Kansas City Chiefs
Spread: Chiefs -3
Over/Under: 56
Time: Sunday, 6:40 p.m. ET
TV channel: CBS
A caveat: You can't get this price anymore, but you can still get the Chiefs at -3.
I bet the game about an hour after the Patriots-Chargers game ended this past Sunday. After the Chiefs beat up the Colts on Saturday, they were listed as 4-point favorites over the Patriots in a lookahead line.
But when it was officially posted on Sunday after the Pats' dominant performance, it had dropped a full point.
That, my friends, is bookmakers guarding against public perception. And sure enough, bettors started hitting the Pats.
I'm going the other way.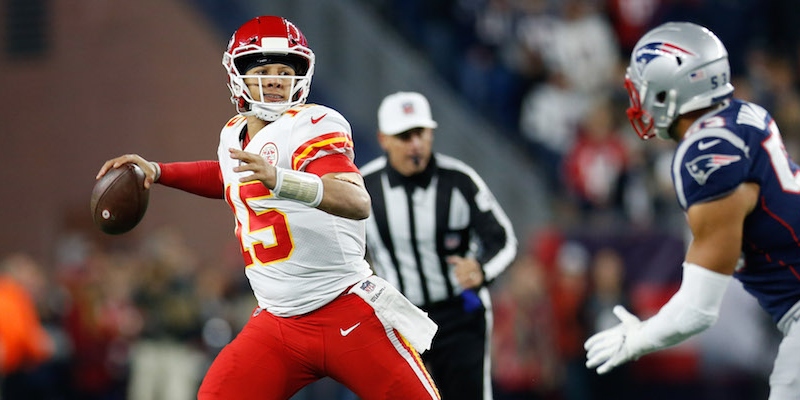 Our power ratings have the Chiefs closer to 4-point favs, and I agree. Their defense is too good at home and Patrick Mahomes is too elusive for the Pats' pass rush and too accurate for New England's defensive backs.
The value is on the Chiefs in this spot.
Mahomes has (deservingly) received most of the credit for the Chiefs' exhilarating run.
But don't forget that Kansas City also excelled in the trenches, as it finished the regular season with the league's highest explosive pass and run play rates.
The Patriots have allowed at least 40 points to the Chiefs in consecutive matchups. And Reid and Co. continue to have a multitude of advantages in nearly every facet of offense.
Mahomes has played five games against defenses that utilized man coverage at a top-12 rate this season: Patriots (352 yards-4 TDs-2 INTs), Broncos (304-1-0, 303-4-1), Steelers (326-6-0) and Bengals (358-4-1).
Kareem Hunt converted 11 targets into 10 receptions for 203 yards and three (!!!) touchdowns through the air against the Patriots' slow-moving linebackers.
Damien Williams has caught 23-of-24 targets for 160 yards and a pair of scores during his time with the Chiefs.
Tyreek Hill has caught 14-of-20 targets for 275 yards and a ridiculous four touchdowns during his two career games against the Patriots.
The biggest difference between the first matchup earlier this season and this game is the location. The Patriots took care of business in Foxborough back in Week 6, but now must travel to rowdy Arrowhead Stadium, where the Chiefs haven't allowed 30-plus points in a league-high 34 consecutive games.
Gimme the Chiefs.
Count me in as well.
It's hard to envision the Patriots slowing down a Chiefs offense that has scored on 52.6% of its drives this season — especially when the Patriots rank just 15th in pressure rate and 30th in Football Outsiders' adjusted sack rate.
Don't expect those numbers to change much against a tremendous Kansas City offensive front.
Mahomes is sporting an 83.6% on-target rate from a clean pocket this season with 9.1 yards per attempt and a league-best 94.7 Independent Quarterback Rating (IQR), per Sports Info Solutions.
It's almost automatic for me to bet the under at Arrowhead, especially with how high the totals have been lately.
With Reid, the Chiefs have been the league's most profitable team for under bettors at home: Since 2013 (including playoffs), games in Arrowhead have gone under at a 33-17-1 clip, good for an A-graded 28.6% return on investment (per Bet Labs).
The outdoor elements and raucous environment inside the stadium make it a hard place for visiting offenses to play, especially in cold weather.
And it's not only road teams that have played worse in Kansas City this season — the Chiefs have also been less dynamic at home.
At home (nine games): 49.7 points scored | Chiefs 32.2 | Opponents 17.4
On road (eight games): 72.9 points scored | Chiefs 38.3 | Opponents 34.6
Throughout the Reid era (including playoffs), the Chiefs have scored 3.0 fewer points at home while opponents have scored 6.3 fewer points in Kansas City.
I was with Freedman on the Chiefs under last week, but have to go against him here.
Our power ratings had this total at 57.5, which was pretty much in-line with the market at open. But with the potential inclement weather at Arrowhead, this total dropped to 55.5.
The "arctic blast" is no longer expected to hit, so I'm expecting this total to creep back up to 57 by kickoff. While the freezing temperatures are less than ideal, it shouldn't stop these two highly efficient offenses from putting up points.
One of the main goals of a sports bettor is to beat what the closing number will be, and that's what this play is meant to accomplish.
I'll break the tie and side with Koerner here.
The Patriots and Chiefs combined to score 83 points in their Week 6 matchup — easily going over the closing total of 59. Now they meet in a playoff rematch between elite non-divisional opponents.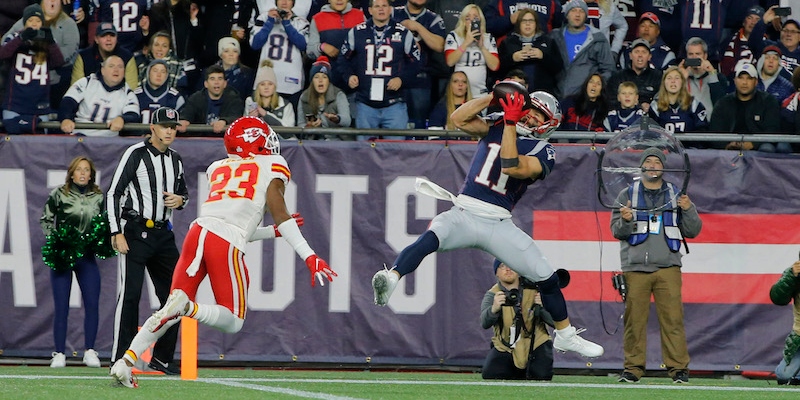 Why does that matter? Well, Ewing and I looked back at such situations in the past and found that the over has gone 29-20-2 (59.2%) when non-divisional foes run it back in the postseason.
Here are two additional nuggets for any of you trend players:
The over has gone 23-15-0 (60.5%) in games with opening totals of 56 or higher.
In all games played in below-freezing temperatures, the over is 114-80-2 (58.8%).
All three trends point in the same direction: The over.
Chris Raybon: Sony Michel Under 81 Rushing Yards
This prop seems to be inflated by two cases of recency bias:
Michel's 129-yards performance last week against the Chargers.
His 106-yard effort against the Chiefs in Week 6.
But even including those games, Michel's season average of 75.7 is still about five yards below this prop total. He's only topped 81 rushing yards in six of 14 games with a median output of 61.
What's more, the first-year pro out of Georgia has been held to fewer than 60 rushing yards in six of seven road games, averaging 13.3 carries for 55.1 yards compared to 20 carries for 96.3 yards in Foxborough. And despite Kansas City's bottom-ranked run defense in Football Outsiders' DVOA, it has only allowed a back to rush for 81 or more yards in just four of nine home games.
This number is simply a tad too high.
Stuckey: Damien Williams Over 64.5 Rushing Yards, Over 31.5 Receiving Yards
By now, you're probably sick of hearing about the poor Chiefs run defense. And it's true: Kansas City allowed a league-worst 5.0 yards per carry this season and ranked dead last against the run in DVOA.
But what you don't hear as much about is how poor New England's run defense has been this season — ESPECIALLY ON THE ROAD.
Overall, the Patriots allowed 4.8 yards per carry (27th in the NFL), in large part due to a defensive line that ranked 26th in adjusted line yards during the regular season. You can run at the Patriots.
You might see a stat that New England only allowed the ninth-fewest rushing yards per game (107.2) this season, but don't fall for that misleading nugget. Since the Pats played from ahead so often against their cake schedule, opponents only ran it 22.2 times per game — the fourth-fewest in the NFL.
Look no further than last week when the Chargers only rushed the ball 10 times after falling behind big early. Yes, you read that correctly: TEN TIMES ON THE ROAD IN THE PLAYOFFS!
I don't think the Chiefs will get blown out in this game, so let's look at those home vs. road splits for the Patriots run defense:
Home: 169 carries for 789 yards (4.67 average)
Away: 198 carries for 1014 yards (5.12 average)
That's 126.8 rushing yards per game on the road compared to just 98.6 at home
And you can't blame it on tough competition, either.
Yup, the Patriots only faced one playoff team on the road: The Bears, who finished the regular season 27th in yards per rush. In fact, six of the Pats' eight road opponents ranked 22nd or worse in rush yards per attempt and only one was in the top 13 — yet they still allowed 5.1 yards per rush, which would rank dead last in the NFL over the entire season.
Now they face a Chiefs' rushing offense that averaged 4.8 yards per carry (fifth in the league).
With the Patriots keying on Travis Kelce and Tyreek Hill, I expect a huge game from Williams — who averaged more than 5.0 yards per carry this season and, per Pro Football Focus, had the third-most 15-plus yard runs between Weeks 15-17 after taking over the starting role.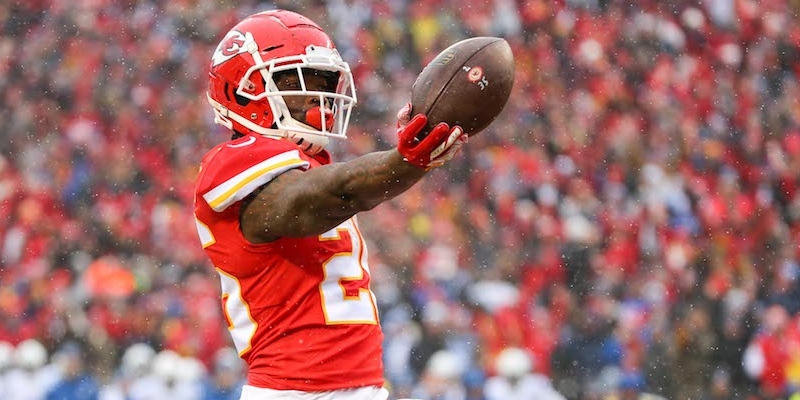 I think the Pats road run defense gets exposed by Williams, who is as safe as any back to get the highest percentage of his team's carries.
Evan Abrams: Chiefs 1H -2.5, Brady Throws INT Yes +110
Let's start with the first-half bet. Brady has only thrown one touchdown pass in the first half of his past five road playoff games.
And under Reid, the Chiefs are 31-16-3 (66%) against the 1H spread at home, including covers in seven straight over teams with winning records.
Looking a little broader at Brady's seven career road playoff games: He has just eight touchdowns and eight interceptions — and all eight INTs came in his past five road playoff games.
I love getting the "Yes INT" prop at plus money, especially when you consider that opposing quarterbacks have thrown just 12 TDs and 12 INTs in nine games at Arrowhead this season, along with 11 fumbles and 34 sacks.
Translation: the Chiefs can force opposing QBs to struggle in their home stadium, even Brady.
In three career starts at Arrowhead, Brady has three touchdowns, six interceptions and six sacks, while completing under 60% of his passes.
---
Spread: Saints -3
Over/Under: 56.5
Time: Sunday, 3:05 p.m. ET
TV channel: FOX
I admittedly am not as locked into each singular game breakdown and nuance like a lot of my compatriots here, but this was a number that immediately surprised me.
I had this at Saints -4, and I thought it was possible I was being conservative.
We've spent all season waiting for the Rams to be something that they are very clearly not (especially defensively).
What this market is essentially telling you is that by subtracting the Saints home-field advantage (which is absolutely more than the traditional three points), the Rams are viewed as the better team on a neutral field.
I disagree.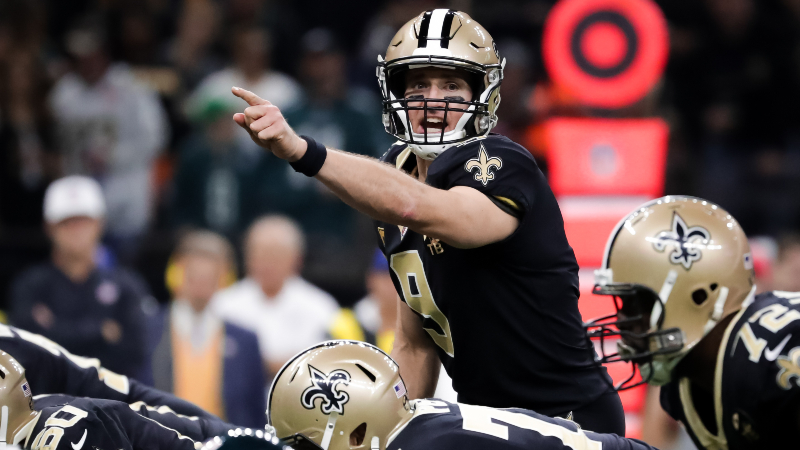 Maybe that opinion is being formed by a pretty dominant Rams win over the Cowboys this past Saturday night, but Dallas was one of the weaker teams in the entire postseason. That type of win really shouldn't affect market perception of these teams at all.
Putting all that aside, though, the game isn't being played on a neutral field. It's being played, for the Rams, on the road. And Jared Goff's home-road splits are absolutely disastrous:
Home: 68.3 cmp% | 22 TD, 3 INT | 116.7 rating
Road: 60.9 cmp% | 10 TD, 9 INT | 82.7 rating
If the road version of Goff shows up again, I don't like the Rams' chances.
But more to the point, this number seems just a tiny bit too low given how the Saints have played all season.
To me, this comes down to the quarterbacks.
By nearly every metric Goff was a top 10 passer this season. He threw for 293.0 yards per game (fifth), 32 touchdowns (tied sixth) and had 101.1 quarterback rating (eighth).
But here is how those statistics would rank among seasons in Drew Brees career:
Pass YPG: 293.0 (eighth)
Pass TD: 32 (tied ninth)
QB Rating: 101.1 (eighth)
While Goff had a great third season, Brees is on a different level. Plus, in Goff's past six games, he's thrown six touchdowns and six interceptions.
When I place an NFL playoff bet, I like having the better quarterback.
Generally speaking, underdogs are the way to go when betting the NFL playoffs. Since 2003, dogs have hit at a 55.4% clip in the postseason.
However, that trend no longer applies when you get to the Final Four, where favorites have covered 56.7% of the time in the AFC and NFC Championship Games. And home favorites have performed even better at a 58.3% clip.
The Saints fit the bill here.
Plus, our power ratings have this spread at Saints -4.5. I'll be sweating Who Dat to win by more than a field goal.
This feels like a game between two high-flying offenses going at it in the Superdome, but if you dig in to the numbers, the under is a better play in my opinion.
In Brees' past seven starts, the under is 6-1, going under by an average of two touchdowns. These games aren't squeaking under by a field goal, they are going way under and avoiding a sweat in the fourth quarter.
But the consistent unders from the Saints haven't really moved the lines because a majority of bets and dollars has been on the over in each of those previous seven games I mentioned.
While public bettors are still blindly taking the Saints overs expecting an explosive offense and lackluster defense, we have seen the opposite in recent weeks.
The Rams trends point to the under as well.
Goff has some pretty drastic home/road splits in regards to his fantasy points, and it carries over to their team totals and over/unders, as well. In their nine home games, the over is 7-2. And in their eight road games, it's 2-6.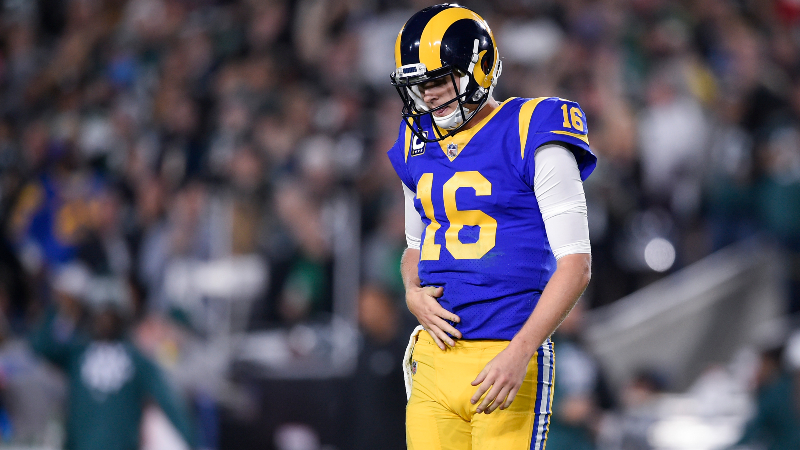 Scott T. Miller: Jared Goff Under 2.5 TD Passes (-210)
Our projections wizard Sean Koerner has Goff pegged for 1.8 passing touchdowns — and it didn't take long for me to learn that you doubt Sean at your own risk.
Even with the heavy juice on the under, this prop (via BetOnline) still offers pretty significant value.
With the over/under for the game sitting at 56.5, this has the makings of a shootout. I'm just not sure Goff will be the one propelling it on the Rams' side.
In the seven games since Cooper Kupp went down with a season-ending knee injury, Goff has exceeded one passing touchdown on two occasions — Week 11 vs. KC and Week 17 vs. San Fran.
Reminder: Goff needs to get three on Sunday to cover this number.
No matter how bad the Saints' pass defense has been, I don't think the third-year QB to have one of his best games of the season playing inside the Superdome.
Instead, expect Sean McVay to rely on Todd Gurley inside the red zone, helping keep Goff under his TD total.
Editor's note: The opinions on these games are from the individual writers and are based on their research, analysis and perspective. They are independent of, and may not always match with, the algorithm-driven Best Bets from Sports Insights.