USA vs. France Olympics Odds, Preview, Prediction: How to Bet Men's Basketball Gold-Medal Game (Aug. 6)
Credit:
Ned Dishman/NBAE via Getty Images. Pictured: Kevin Durant (center).
Team USA looks to win a gold medal in Tokyo against the only team it has lost to: France.
Kevin Durant and Jrue Holiday have led the Americans, who face a stout French defense led by NBA Defensive Player of the Year Rudy Gobert.
Brandon Anderson breaks down the matchup on Friday night and how bettors should look to back the Americans.
USA vs. France Odds
USA Odds
-12.5
France Odds
+12.5
Moneyline
-800 / +600
Over/Under
175.5
Time
10:30 p.m. ET
TV
NBC/Peacock
Odds as of Thursday night and via BetMGM
And so, we finish right where we started.
When the Olympics began, Team USA was stunned in its opening game by France. It may have been stunning to any bystander, but not to The Action Network readers. Right here in this space 11 days ago, I told you France was good enough to win, good enough to bet on them to win the group.
France did win that game and hasn't lost the entire tournament. USA hasn't lost since either, and now the Americans are back in the gold-medal game, like always, with a chance to avenge their only loss.
Team USA led by double digits during that first game, but France closed the third quarter with a flourish to get back into the game and ended the contest with a 14-0 run, outside of a final meaningless bucket. The Americans had a huge advantage on the fast break at 15-4, but France dominated the paint. The French led 16-7 in second-chance points, 33-25 in defensive rebounding, and 60-41 in 2-point percentage.
And still, after all we've learned through these Olympics, the books are essentially unmoved. Team USA is favored by double digits, with the line almost exactly how it closed in the opener against France.
So will the outcome be any different this time around?
France Goes for Sensational Double Over Team USA
France is built entirely around the excellence of Rudy Gobert, who anchored the team with the best record in the NBA this season. Gobert is the NBA's Defensive Player of the Year, and France has the best defense at the Olympics by a wide margin.
The Americans average 107.8 points per game against all opponents not France. They scored only 76 against France.
The French also slowed down Luka Doncic and Slovenia, handing the Mavericks superstar his first ever international loss and holding Slovenia's potent attack to its lowest total of the tournament. France's defense is allowing just 75.8 points per game in this tournament.
It's not just Gobert. Unlike while playing the Jazz, he has a ton of defensive help here. Moustapha Fall and Vincent Poirier help man the paint, while Nic Batum is a terrific wing defender and the French guards pressure the ball well at the point of attack.
If France wins this game, it will be because it foils Team USA's offense again, pushing the Americans away from ball movement into "iso" ball and forcing them to settle for jumpers that clang out.
Gobert and his gigantic teammates controlled the paint against Team USA in the opener. Neither Bam Adebayo nor Draymond Green can match his size on the glass, and neither shoots well enough to pull him out of his comfort zone in the paint in defense either.
Slovenia did poke some holes in France's defense and found some ways to pull Gobert out of the paint. I'm still waiting for the Americans to roll out a death lineup with Kevin Durant at "center" surrounded by shooters. That may not be a card Team USA will play, or it might be a break-glass-in-case-of-emergency card for just this moment. Gobert is in big trouble against that sort of lineup, and it's not like he's built to pound the Americans on offense to make up the deficit.
France's offense relies heavily on Evan Fournier and Nando de Colo for its scoring. Fournier has had a huge tournament outside of one weak game. He led all scorers in the first matchup against Team USA with 28, and you can bet the Americans will try to force someone else to beat them. That could mean Fournier sees a lot of Jrue Holiday, like Chris Paul did in the NBA Finals.
If France wins, it will be the same way the Americans are usually vulnerable in international play. France will have slowed things down, played outstanding defense and made a few key shots while the Americans missed plenty. That's what happened in the first game. France got hot right as Team USA went cold at the worst possible time, and that was all she wrote.
And before you brush France aside because the Americans will have their attention piqued now, don't forget that France has won two in a row against Team USA. They knocked the Americans out at the FIBA World Cup in 2019 too, so the United States was already waiting two years for the rematch.
But it lost that one again because motivation and superior athleticism and talent are no longer. The Americans will actually have to beat France.
Americans Out for Gold, Revenge
While France has been excellent since the start of the tournament, the Americans have been maddeningly inconsistent. Outside of a wire-to-wire domination against Iran, Team USA has played with its food every other game.
The Americans have started slowly in almost every game. In both knockout wins over Spain and Australia, Team USA trailed much of the first half but closed the half strong before going on a huge third-quarter run to blow the game open.
Remember, that's a little bit how the first game looked too. USA led by double digits in the third quarter but didn't coast in that one, blowing the lead late.
Durant has been the best American player. He eased into the tournament with 10 points in each of the first two games but has scored 23, 29 and 23 since. It's no coincidence that Durant averaged 20.5 minutes those first two games before leaping to 29.7 since. It wouldn't be shocking to see him play nearly every competitive second of this one.
Durant has gone over his points line in three straight. I like the over 22.5 at FanDuel, and you better believe Durant playing 30-plus minutes in this one instead of 20 in the first France game will matter. He fouled out in that one, so he'll need to stay out of foul trouble.
Who is Team USA's second best player? It's a big drop after Durant, but my vote goes to Jrue Holiday. He might be the second-most important American on both ends, actually. Team USA always looks its best this tournament when it's engaged and locking things down on defense, and that always involves Holiday.
Holiday has been huge on the other end too, though. Damian Lillard has had a nightmare run, averaging 11.2 points on under 39% shooting from the field, and he's been unable to initiate offense for this team. Jayson Tatum, Devin Booker and Zach LaVine aren't doing much of that either.
Holiday has increasingly become this team's point guard with Lillard playing off the ball, and Holiday recorded eight assists against Australia. His defense against Fournier will be key, and his initiation will be huge too. Remember, Holiday was fantastic in the opener against France, and that was just days after the NBA Finals ended and right after a long flight across 14 time zones.
Lillard's minutes have fallen in three straight, and he may not even be a closing lineup lock at this point. I like Lillard to go under his 4.5 assists line, and Holiday has a solid shot to go over 4.5.
Durant and Holiday are the two locks for any go-to Team USA lineup. They're also the biggest reason to believe things may be different this time around. Durant has become the alpha dog and then some. He'll play far more minutes than the first matchup and take plenty of shots, and no defense in the world can defend his jumper.
The other Americans just need to lock in on team defense, get out in transition and simply hit open shots. Team USA has been one of the best 3-point shooting teams in the tournament, both by percentage and volume. When the Americans move the ball and hit Booker, LaVine and Tatum in the shooting pocket, it's bad news for the opponent.
Almost every game, Team USA seems to find that one devastating run that puts the opponent away for good. It starts with an engaged defense getting a couple stops, leading to run-out buckets in transition, and it's usually punctuated by an extra pass or two leading to a couple open 3-point attempts. Suddenly, it's a microwave 12-2 run, which is devastating in a 40-minute game.
Team USA has its offensive formula. Run in transition whenever possible. Shoot a ton of 3-pointers and trust they'll eventually fall. Try to remember to lock in on defense.
And when in doubt, give the ball to Durant.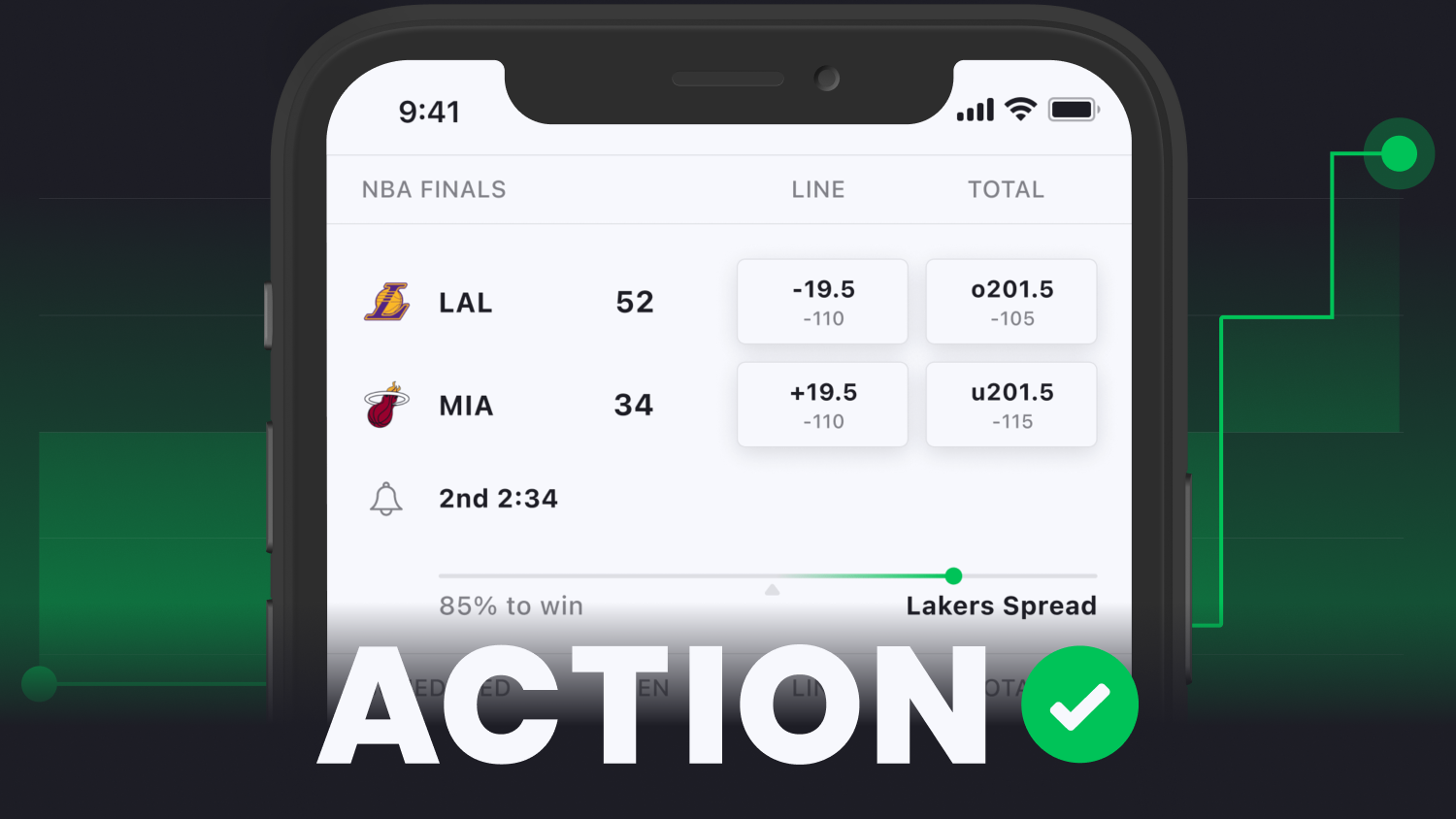 The must-have app for NBA bettors


Free picks from proven pros

Live win probabilities for your bets
USA-France Pick
I've picked against Team USA all tournament. I cashed on France that first game, I bet against Team USA live against the Czech Republic and bet Spain and Australia in knockout games. The Americans did the same thing in all three games. They looked mediocre and beatable for a half, then sparked a huge run and ran away with an easy win late.
I'm done picking against Team USA.
I think the Americans got over their biggest hurdle when they stared into the abyss against Australia, down 15 in the second quarter, then ripped off an unbelievable 48-20 run the rest of the competitive portion of the game to bury the Aussies, who might be the second best team in the world.
On paper, the math says to play the France moneyline. At +600, that's a 14.29% implied chance of winning. France may well bully the Americans early, hold a lead in the first half, and make you feel good.
For a while.
But Team USA always finds a way to lock in eventually, even after a slow start. Once the Americans engage on defense, get a few easy buckets and get rolling, it's all over. There's still just too much talent on this team once they lock in, and you have to trust that they'll find a way to lock in with gold on the line.
Team USA is 4-0 against the spread (ATS) when it wins, even though it has struggled in the first half and often trailed. You should either gamble on France to win outright or trust the Americans to eventually find that one run and blow this open.
The Americans continue to start things slowly, and anything can happen in one 40-minute knockout game. France did beat them a week ago, though it took a horrible shooting game from Team USA, Durant fouling out and a perfectly timed France run with some absurd late shot making.
I'll be tempted to sprinkle just a little on the French moneyline, just in case, and I expect this to stay close for a while. That should eventually bring the spread down to a more reasonable number to bet, and that's when I'll live bet the Americans.
In each of the last two games, you could bet Team USA at near even odds in the second quarter once they fell behind early. That was silly easy money once the Americans were coasting late.
I'll wait out the usual slow start and look for my spot to pounce sometime in the first half. For better or worse, American talent has won out in this tournament. Bank on that run to hit eventually.
Remember, Team USA is 16-1 in the Olympic gold-medal game history, and that one loss was so controversial the "runners up" have still never accepted their medals.
The Americans are at the finish line now. Gold is in their grasp. Wait for your moment, find what looks like an early nadir, and pounce on Team USA.
Pick: USA live in the first half once the Americans start slow and leave an opening on a reduced line
How would you rate this article?
This site contains commercial content. We may be compensated for the links provided on this page. The content on this page is for informational purposes only. Action Network makes no representation or warranty as to the accuracy of the information given or the outcome of any game or event.