LIVE
Arkansas Sports Betting
AR Online Sportsbook Leglaization Updates 2023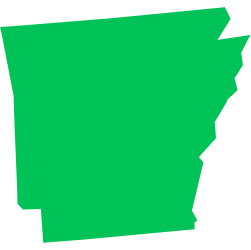 Last updated: March 17, 2023
Online sports betting in Arkansas has been live since last last March! Up to Eight mobile sportsbook operators are allowed to enter the AR market. As of now, sports bets can be placed in person at the Oaklawn Racing Casino Resort and the Saracen Casino Resort. Southland Casino is the only retail location that launched its in-person and online sportsbook, Betly. In addition to traditional casino games, bettors can also place bets on horse and dog racing at AR casinos.

There are other mobile options available within Arkansas. PrizePicks is a mobile app that offers users a unique Daily Fantasy Sports betting experience. Bettors simply bet against over/under totals set for players across all major sports leagues. Multiple play options allow for exciting DFS prop bets every day.
Act now to take advantage of Action's PrizePicks promo code, which offers new users up to $100 in first-time deposit matching today!
No promotions available. Try selecting a different location.
Arkansas Sports Betting Background
How Arkansas Sports Betting Compares
Arkansas mobile sports betting is live as of last March. We don't know which books will be live, but it is expected that big players such as FanDuel and DraftKings will be involved at some point in March or April. State residents are able to place retail sports bets at the Saracen Casino Resort and Oaklawn Racing Casino Resort while online and in-person bets can be placed at the Southland Casino through their new sportsbook, Betly. The Saracen and Oaklawn casinos launched their exclusive sportsbooks for AR residents last year.
According to the state budget joint committee, eight books are allowed to enter the AR market. This market stands out from other states because of the existing 51% profit requirement from book operators. Mobile sportsbooks will be reluctant to launch in AR because of this revenue requirement, which makes this launch so unique.
Arkansas Sports Betting Grading Card
Action will evaluate Arkansas' sports betting legislation as more mobile sportsbooks join the market in the future.
Arkansas's Legalization Timeline
Getting mobile sports betting in Arkansas has been an uphill battle, but it is finally coming. Here is a timeline of the events that led up to the legalization of mobile sports betting in the Natural State.
March 2022
Mobile sports betting officially launches on March 4th. Up to eight sportsbook operators are allowed to enter the AR market.
February 2022
The Arkansas Legislative Committee approved mobile sports betting legislation on February 16th. Shortly after, the Arkansas Joint Budget Committee gave mobile sports betting final approval. Online sports betting is set to go live on March 4th.
January 2022
The Racing Commission asked that discussion pertaining to mobile sports betting be postponed to a later date, citing the need for additional time to address concerns that legislators may have. With this news, mobile sports betting will likely not go live before the Super Bowl. As of now, it is not on their agenda for Jan. 28, 2022. The next Legislative Committee meeting is scheduled after this one is scheduled for March 18, 2022.
December 2021
The Arkansas Racing Commission proposes an amendment to the current gaming law that would allow mobile sports betting. This serves as a step in the right direction, but legislators still need to meet and approve the suggested rules changes. As of now, the legislators next meeting date is set for Jan. 25, 2022, so it is possible that mobile sports betting will be live for the Super Bowl.
April 2021
House Bill 1942 is introduced to the House of Representatives by Rep. Lee Johnson. This is the state government's second attempt to bring mobile sports betting to the state. In mid-April, the House decided not to discuss nor take a vote on the bill. As April passes and the legislative session ends, there is no mobile sports betting bill passed.
January 2021
Senate Bill 669 is proposed by Sen. Will Bond. This bill would allow mobile sports betting in the state of Arkansas. Unfortunately, The Bill never saw a vote.
October 2019
The third casino opens in Jefferson County, The Saracen Casino. This casino will also host a retail sportsbook.
April 2019
The first two casinos open in Arkansas. Oaklawn Racing Casino Resort in Hot Springs, and Southland Gaming and Racing in West Memphis. Both of these casinos will host a retail sportsbook.
November 2018
Arkansas citizens vote to allow casino gaming within the state. These casinos will include retail sportsbooks. The passed amendment gave the Arkansas Racing Commission the power to license and regulate gaming in four locations.
What Can I Bet on in Arkansas?
Now that mobile sports betting has been legalized, you have the option to wager on a range of bet types and sports leagues. State residents can bet on the Arkansas Razorbacks in time for March Madness.
Legal Bet Types — Sports fans can bet a full range of bet types, including:
Available Sports — You can take advantage of the different bet types to wager on these sports legally:
Football:

NFL & CFL

Basketball: NBA, WNBA, European/international basketball leagues
Baseball: MLB
Hockey: NHL, international hockey leagues
Soccer: MLS, English Premier League, UEFA Champions League
College sports: NCAA football and basketball
Golf: PGA Tour, LPGA Tour, PGA Tour Champions, PGA European Tour
Auto Racing: IndyCar, NASCAR, Formula One
Additional market choices like boxing, tennis, rugby and more will also be offered at AR sportsbooks.
Arkansas Sports Betting Tips

Sports Betting for Beginners
New to sports betting? Check out our sports betting tips for beginners so you can get started, whether you want to bet on the Arkansas Razorbacks or other Arkansas college teams.

Sports Betting Glossary
The sports betting lexicon is vast and sometimes confusing, especially to new bettors. Check out our sports betting glossary to get up to speed with every term you might need to know before a parlay or prop bet.

Sports Betting Mistakes to Avoid
Betting on your favorite teams like the Arkansas State Red Wolves might seem like a no-brainer, but you need to be careful if you're going to stay healthy all around in the sports betting world.
Here are some sports betting mistakes to avoid.
No promotions available. Try selecting a different location.
Arkansas Highlights
The Racing Commission Takes Charge in the Sports Betting Debate
Arkansas Mobile Sports Betting Bill Reaffirms Southern Interest
Arkansas lawmakers filed a statewide online sports bill Monday, April 19, the latest proposal introduced in a southern state with limited gambling options considering joining the growing national digital wagering market.
Senate Bill 669 is Proposed and Denied Within the Same Month
The Senate Bill that was proposed at the beginning of the month did not pass through the senate. After a few meetings, the bill failed to garner substantial momentum. The bill never saw a vote.
Three Casinos are Built Within the State
The Saracen Casino opens in Jefferson County. This Casino joins Oaklawn Racing Casino Resort, and Southland Gaming and Racing as the third casino operating in Arkansas.
Retail Gaming Locations can Operate in Arkansas
Amendment 100 passes in November 2018, allowing the construction and operation of casinos in four cities: West Memphis, Hot Springs, Pine Bluff, and Russellville. These casinos can operate sportsbooks, and sports bets can be placed at these retail locations.
Arkansas Teams to Bet On
Pro Sports Teams
Unfortunately, Arkansas is just under the cutoff of most populated state in the country that may have at least one pro sports team. But there are still some neighboring states with pro teams that Arkansas natives may root for:
Arkansas College Sports Teams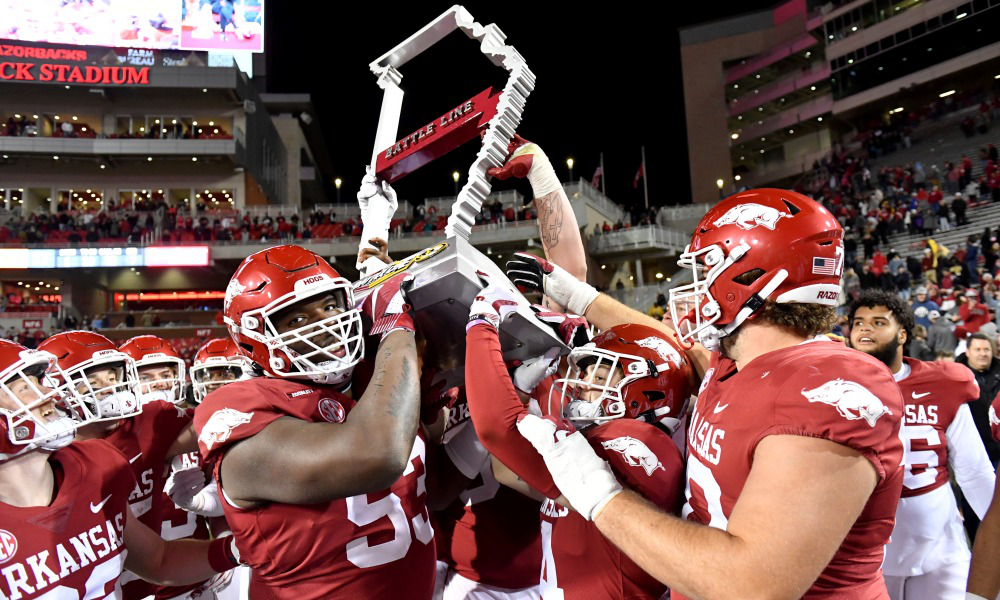 College Football Betting in Arkansas

Arkansas Razorbacks
The Razorbacks fielded their first team in 1894. They joined the SEC in 1992, and even though they have 13 conference championships, all of them were won while they were members of the Southwestern Conference. This isn't to say they haven't had any success in the SEC, though. The boys from Fayetteville have won the SEC West outright twice, and are two-time SEC West co-champions. Sam Pittman is currently the coach of the Razorbacks. Arkansas' rivals include: Texas, Missouri, LSU and Texas A&M.

Arkansas State Red Wolves
The Red Wolves out of Jonesboro are the second college football team with roots in the state of Arkansas. While they are much smaller than their in-state counterpart, this team boasts 6 Sun Belt championships including a 3-peat from 2011-2013. They are currently coached by Butch Jones, who is in his first year with the team. Coming off of a 2-10 record during the 2021 season, the Red Wolves look to improve during Coach Jones' Sophomore year at Arkansas St. The Memphis Tigers and Arkansas St. Red Wolves compete in a rivalry game every year known as, "The Paint Bucket Bowl".
Notable College Basketball Betting in Arkansas

Arkansas Razorbacks
Boasting an all-time record of 1733-973, the Razorbacks are the premier college basketball team in the Natural State. With 6 Final Four appearances and a National Championship under their belt, they are no stranger to top-tier basketball. Their current coach Eric Musselman brought plenty of experience with him, previously serving as the Nevada Wolf Pack head coach. He has also spent time in Sacramento as the Head Coach of the Kings. With a decorated history of success in the SEC, the Razorbacks look to continue to expand upon their achievements in the coming years. The University of Arkansas also has a satellite campus, "Little Rock Trojans". They field a NCAA D-I basketball team that competes in the Sun Belt Conference. The Trojans have five NCAA D-I Tournament appearances, the most recent being in 2016.

Arkansas State Red Wolves
Mike Balado is the Head Coach of this squad, and he is currently in his 4th season of holding that role. The Red Wolves compete in the Sun Belt, and have one conference championship to their name, which came in 1999. Arkansas State has been to the NCAA Division I Tournament once, losing to the Utah Utes 58-80.

Central Arkansas Bears
The Bears out of Conway, Arkansas are a Division I basketball team that play out of the ASUN Conference. They joined the ASUN in 2021, leaving the Southland Conference after 15 years. The Bears have no NCAA D-I Tournament appearances, however they do have one very notable alumnus, Chicago Bulls great Scottie Pippen. They are currently coached by Anthony Boone (interim).

A
rkansas-Pine Bluff Golden Wolves
While hyphenated schools usually don't crush it in the attendance department, Arkansas-Pine Bluff led their athletic conference in average home attendance for six consecutive years (2009-2015). Currently competing out of Southwestern Athletic Conference (SWAC), this HBCU has been a member since 1997. They have won one conference championship since joining. The Golden Lions are currently coached by Doc Gamble and Cedric Thomas.
Arkansas Sporting Locations
Oaklawn Racing Casino Resort
This Casino and Racetrack boasts over 1,500 slots, 32 tables, and a sportsbook. Oaklawn is the central-most located casino in Arkansas, and consists of a resort with a spa, as well as over 10 dining/drinking options for those not interested in gaming.
27050 Central Ave., Hot Springs, AR 71902
Southland Park Gaming and Racing
This location is currently undergoing renovations to expand the casino and add a resort. However, this doesn't mean the property is small. With over 2,000 slots, 24 tables, a racetrack, and a sportsbook, this casino has a wide array of gaming options. There are also 6 dining/drinking options for those looking for refreshments.
1550 North Ingram Blvd., West Memphis, AR 72301
Saracen Casino Resort
The second central-most gaming location in Arkansas, Saracen has over 2,300 slot machines, 50 tables, and a poker room. With so many gaming options, including a sportsbook, it is important that guests have a place to rest their heads after a night of excitement. This casino has a resort on site as well as 4 drinking/dining options.
1 Saracen Resort Dr., Pine Bluff, AR 71601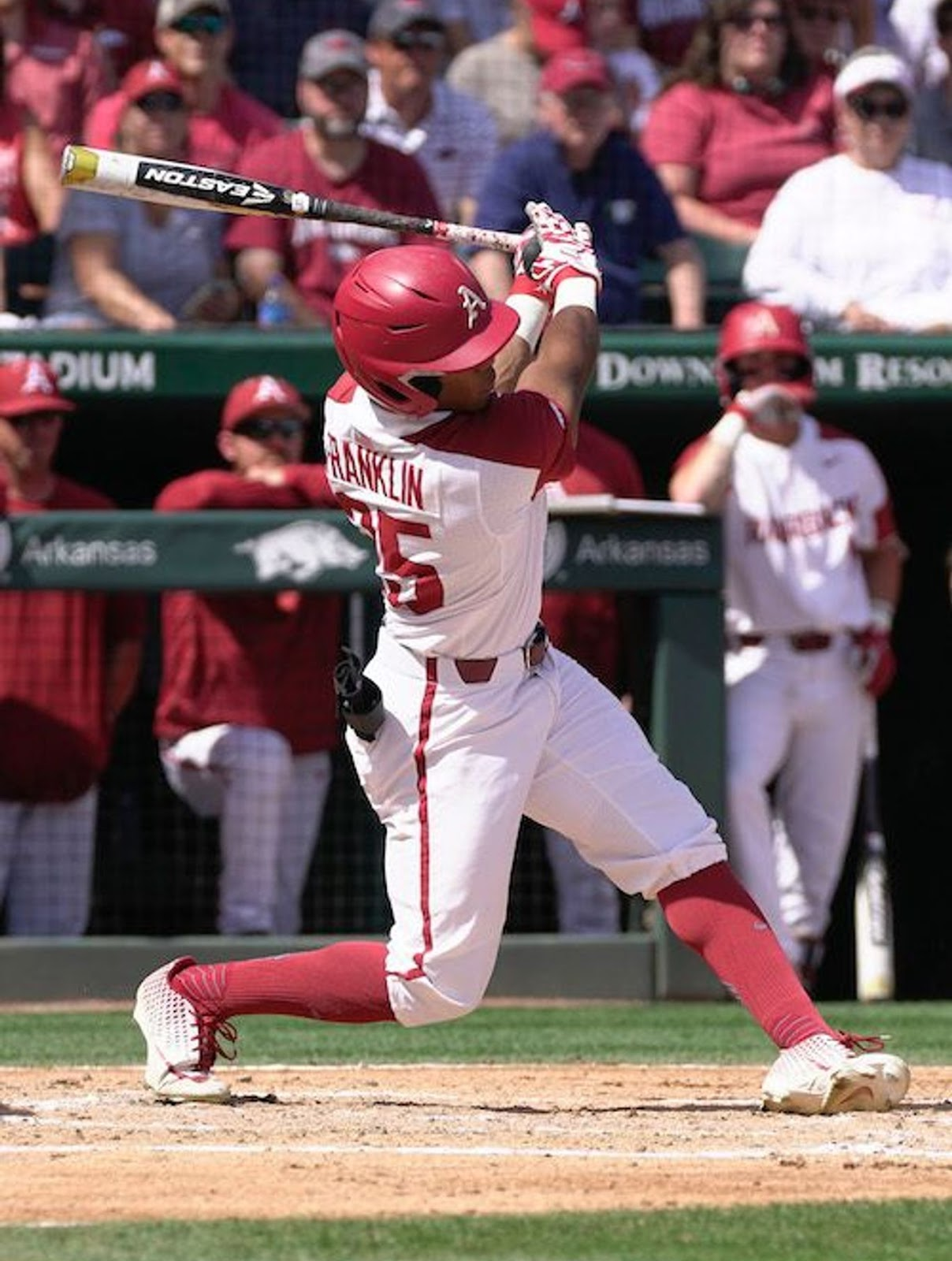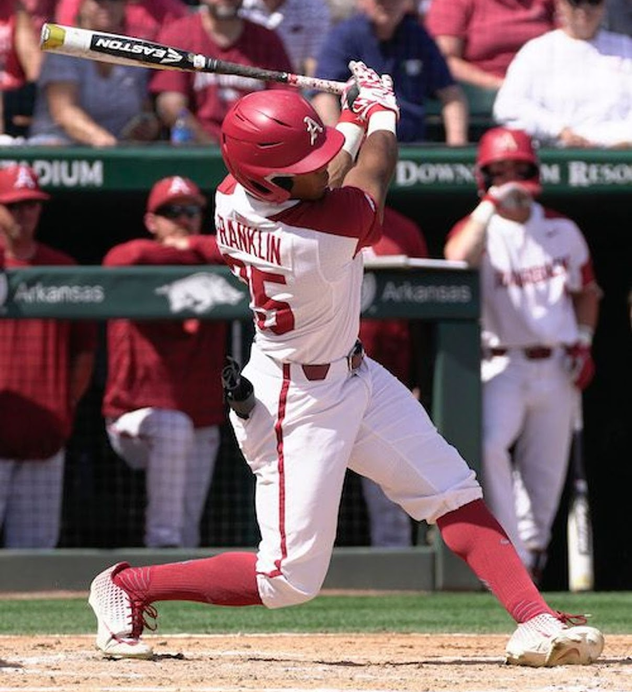 Arkansas Sports Betting FAQ
Commonly asked questions about sports betting in the Natural State.
Is sports betting legal in Arkansas?
Is mobile sports betting legal in Arkansas?
How old do I have to be to bet on sports in Arkansas?
Is it legal to bet on college sports in Arkansas?
What is the tax rate on a sportsbook operator's profit?
Are Daily Fantasy Sports legal in Arkansas?
When will mobile sports betting go live in Arkansas?
Is MyBookie or Bovada legal?