Wyoming Sports Betting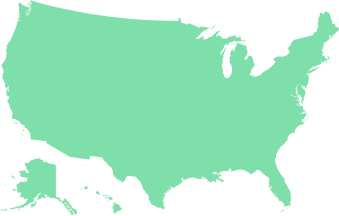 In spring 2021, lawmakers surprisingly approved statewide mobile wagering, becoming just the second state to allow online betting without any retail sportsbooks. Officials hope that perhaps both commercial online sportsbooks and tribal-run retail sportsbooks could begin taking bets as early as later this year. The nation's least-populated state, it remains to be seen why operators will enter Wyoming, but the favorable business environment could mean at least some top sportsbooks will take bets, possibly before the end of the year.
Sportsbook Offers
$5,000 Risk-Free First Bet. Seriously.
Claim Now
Deposit using code ACTIONRF
Get refunded up to $5,000 if your bet loses
Bet on Cowboys-Steelers, Get $100 FREE!
Claim Now
Bet $20+ on the Hall of Fame Game
New users only; $20 min. deposit
Win $200 if Kevin Durant Scores a Point
Claim Now
Highlights
Wyoming Online Sports Betting Bill Passes Senate, Clearing Legalization Path
The Wyoming Senate easily passed an amended online sports betting bill Monday, positioning final passage for as early as next month. The 24-5 Senate vote comes several weeks after the House narrowly passed an earlier version of the bill.
Locations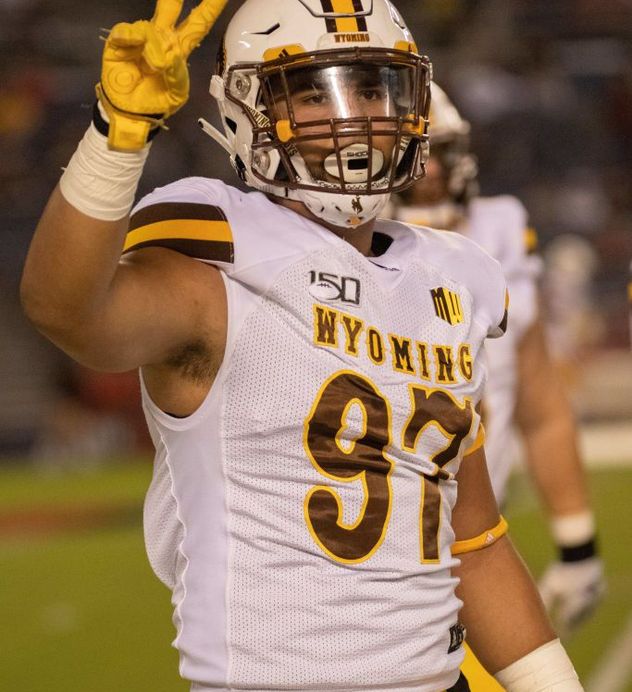 Wyoming Sports Betting
How Wyoming Sports Betting Compares
We graded Wyoming on its sports betting bill and experience relative to other states.
Wyoming Sports Betting Grading Card:

Mobile:
Wyoming is just the second "untethered" and uncapped sports betting market, meaning a potentially unlimited number of mobile operators could enter the state. The one hiccup is Wyoming's small population could disincentive many smaller companies from entering the market.
Deposit:
The first state to explicitly allow cryptocurrency payments, Wyoming is arguably the nation's best state for depositing.
Prices:
Pricing in Wyoming will greatly depend on market participation.
Offerings:
Wyoming law allows a wide range of sports, and could even see certain regional popular sports such as rodeos or professional bull riding offered to bettors.
Wyoming Sports Betting Background
In one of the most surprising 2021 sports betting developments, Wyoming Gov. Mark Gordon signed HB133 into law in April 2021, paving the way for legal sports betting in the state. For now, Wyoming is set to be the nation's second uncapped, online-only sports betting state; however, Wyoming's Northern Arapaho tribe are planning sportsbooks for its three casinos but are limited to in-person bets. There is hope that both commercial online sportsbooks and tribal-run retail sportsbooks can begin taking bets later this year.
The legislation, introduced jointly by six House co-sponsors and two more in the Senate, allows eligible bettors physically in Wyoming to place a bet anywhere within state lines.
The Wyoming Gaming Commission will regulate wagering and will be required to issue at least five licenses if enough eligible applicants apply. The law requires the commission to issue permits to eligible applicants operating in at least five other jurisdictions. That would mean larger sportsbooks such as DraftKings, FanDuel, BetMGM, PointsBet and William Hill could automatically be allowed to operate, assuming they meet all other regulatory and licensing requirements.
Applicants would pay a $100,000 initial fee with a $50,000 renewal every five years and be taxed at 10% of gross gaming revenue. All of these are around industry averages, but Wyoming's sparse population (and limited customer base) may deter would-be applicants.
Officials didn't estimate legal wagering's revenue generation potential, but the gaming commission projected Wyoming residents wager more than $450 million illegally each year. Assuming that projection is accurate, and Wyoming captures all the illegal market (a difficult process that would likely take years), operators could reasonably generate between $25 and $35 million in gross gaming revenue, funding $2.5 million to $3.5 million in annual taxes in a best-case scenario.
There are no prohibitions on eSports or college sports betting, meaning bettors could wager on out-of-state and instate programs like the University of Wyoming football and men's basketball teams. The legal wagering age in Wyoming will be 18; in most states it is 21.
The nation's least populated and second-least densely populated state will be the second statewide mobile market in the Mountain West after Colorado.
Wyoming Sports Betting Tips
Sports Betting for Wyoming Beginners
New to sports betting? Check out our 11 sports betting tips for beginners so you can get started placing bets.
Sports Betting Glossary
The sports betting lexicon is vast and sometimes confusing, especially to new bettors. Check out our sports betting glossary to get up to speed with every term you might need to know.
Sports Betting Mistakes to Avoid
Betting on your favorite teams like the University of Wyoming might seem like a no-brainer, but you need to be responsible if you're going to sustain in the sports betting world.
Here are nine mistakes to avoid.
Wyoming Teams to Bet on
While there are no professional sports teams in Wyoming, bettors can look forward to betting on the only Division I school in the state — the University of Wyoming.
College Sports Teams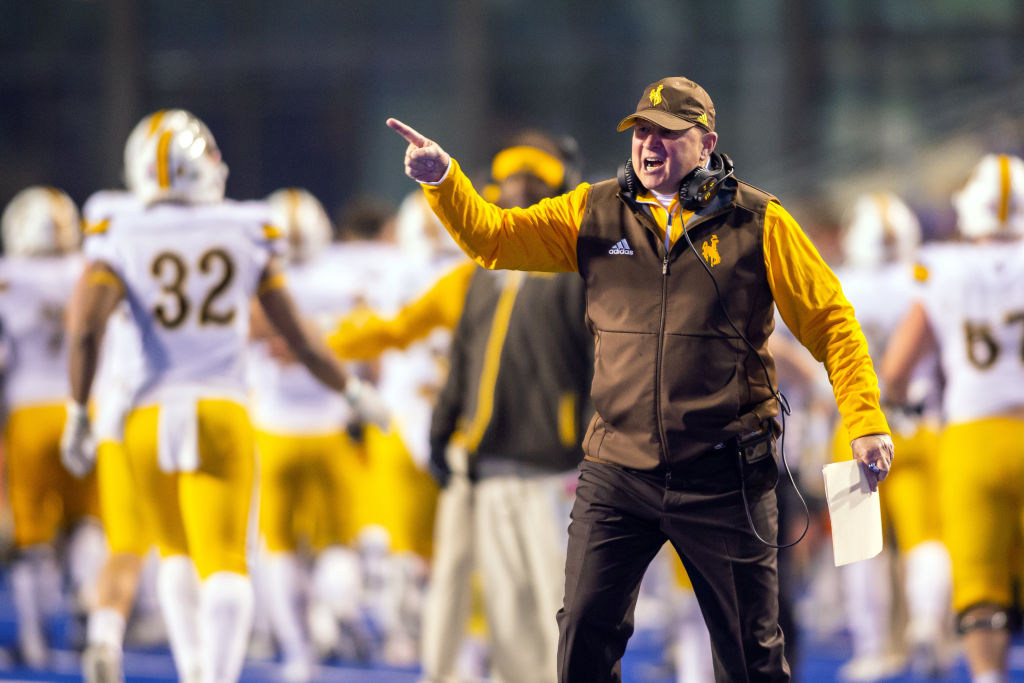 College Football Betting in Wyoming
Wyoming Cowboys Football
Official Wyoming Cowboys Website | Schedule | Roster
The Wyoming Cowboys football team played six games during a 2020 season that was disrupted by COVID-19 and finished with a 2-4 record. They are coached by Craig Bohl and play their home games at War Memorial Stadium as members of the Mountain West Conference.
Wyoming Cowboys Rivalry #1: Colorado State Rams. The Cowboys and Rams battle it out every year in a game known as "The Border War." Colorado State got the better of Wyoming in 2020, winning 34-24 in Fort Collins. The Rams lead the all-time series, 59-48-5.
Wyoming Cowboys Rivalry #2: Hawaii Warriors. Wyoming and Hawaii play for the Paniolo Trophy, which was donated to the two schools by the Wyoming Paniolo Society, a group of Hawaii residents with Wyoming roots. These two Mountain West rivals met in Laramie in 2020, with the Cowboys beating Warriors, 31-7. Wyoming leads the all-time series, 15–10.
Wyoming Cowboys Rivalry #3: Utah State Aggies. "Bridger's Battle" is the name of this rivalry matchup. These two foes did not meet in 2020 due to COVID-19, but they are scheduled to renew acquaintances in Logan in 2021. Utah State holds the all-time series lead, 40-26-4.
College Basketball Betting in Wyoming
Wyoming Cowboys Men's Basketball
Official Wyoming Cowboys Website | Schedule | Roster
Wyoming's recent basketball history might not be much to write home about, but they do have a national title under their belt, winning the 1943 championship.
The Cowboys are led by head coach Jeff Linder, who wrapped up his first year with the club in 2020. Wyoming finished 14-11 in 2020 with a 7-9 mark in Mountain West action.
Wyoming Cowboys Women's Basketball
Official Wyoming Cowboys Website | Schedule | Roster
The Wyoming women's basketball team won four games in four days at the 2021 Mountain West Conference Tournament to earn a bid to the NCAA Tournament. It was only the second time the Cowgirls have qualified for the NCAAs. Wyoming lost in the first round of the tournament to UCLA and finished the year with a 14-10 (8-8) record.
Wyoming is coached by Gerald Mattinson, who was hired in 2019 to lead the team.
NCAA Division I Football & Basketball
Wyoming Cowboys and Cowgirls
Other Events
Is it legal to bet on sports in Wyoming?
Who can operate online sports betting and internet gaming?
What tax rate is paid by the Wyoming casinos and tribes for onsite sports betting?
How old do you have to be to bet in Wyoming?
Will it be legal to bet on college sports in Wyoming?
Will Bovada be legal in Wyoming?
When will online sports betting be legal in Wyoming?