3 Theories Why 2020 Presidential Election Odds Don't Reflect Polling
Credit:
Photo credit: Drew Angerer/Getty Images. Pictured: Donald Trump
I enjoy following politics and often write updates on the political betting market here at The Action Network. There were many to write earlier in the year, especially as the Democratic primary race heated up and Joe Biden over-performed in South Carolina and then Super Tuesday.
But the most notable thing about the political betting market now isn't the shifting of odds. In fact, it's quite the opposite: Nothing has budged. There have been no updates to write.
President Donald Trump remains the slight favorite to win November's election at European book Betfair with -110 odds; Biden is at +120. That's been the case for a while now.
---
If you're new to betting, +120 odds mean a $100 bet would net $120 with a win. You can covert odds using our Betting Odds Calculator.
---
The easiest answer to why that might be the case is the idea that nothing has really changed, at least politically. And to an extent that's partly true: The U.S. is in an historic age of partisanship; a very large majority of people at this point already have strong opinions on both Trump and Biden.
But that's where the inertia ends. The world is obviously changing quickly on nearly a daily basis because of the COVID-19 pandemic that started to really impact the U.S. in March. And in terms of politics, polling — which typically, at least somewhat, mirrors the betting market — has been quite dynamic as well.
For starters, the generic ballot — which polls which party people would support in the upcoming election — has trended toward Democrats for the past year and especially since the beginning of 2020 (per FiveThirtyEight):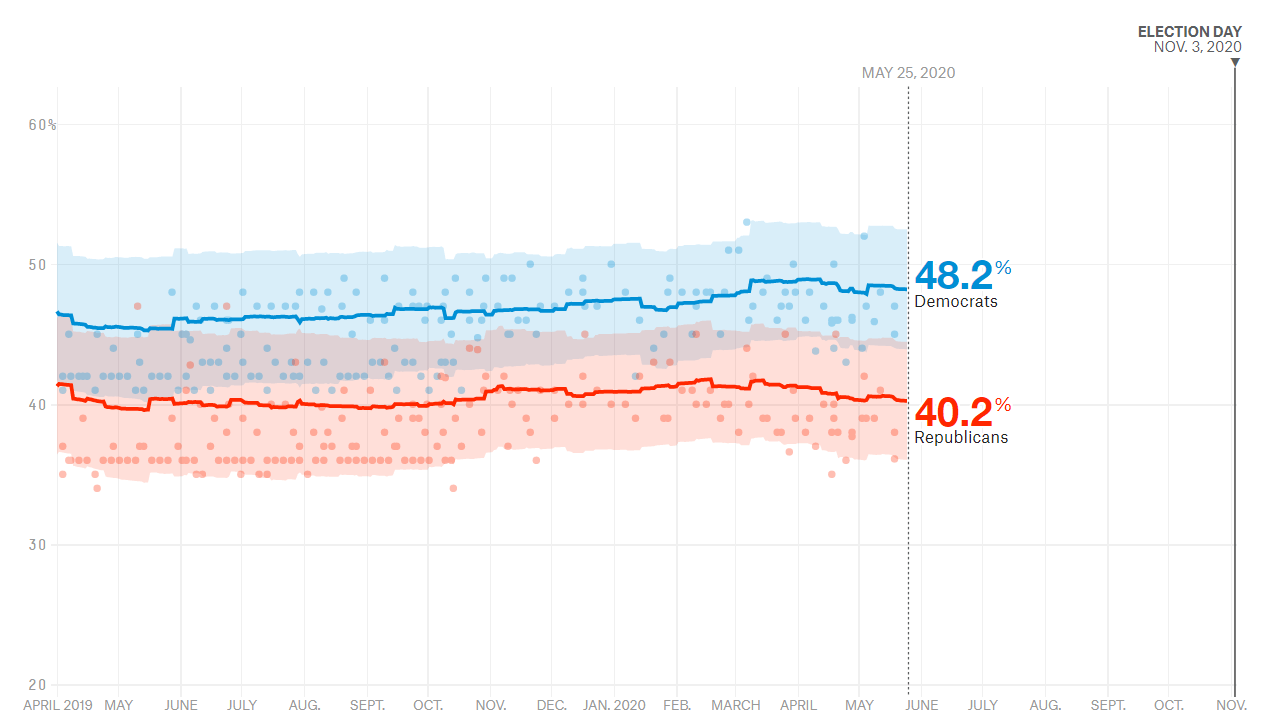 For reference, a generic ballot of Democrats +8 or so is in line with where it was in 1992 when Bill Clinton won the electoral college 370-168 over George H. W. Bush. It was +11 in 2008 when Barack Obama won the presidency.
Further, Trump's approval rating has been trending down after a steady two-year rise. It actually spiked to a near-high during the first part of the COVID-19 pandemic, but it's dropped since and now sits at 43.0%, per FiveThirtyEight.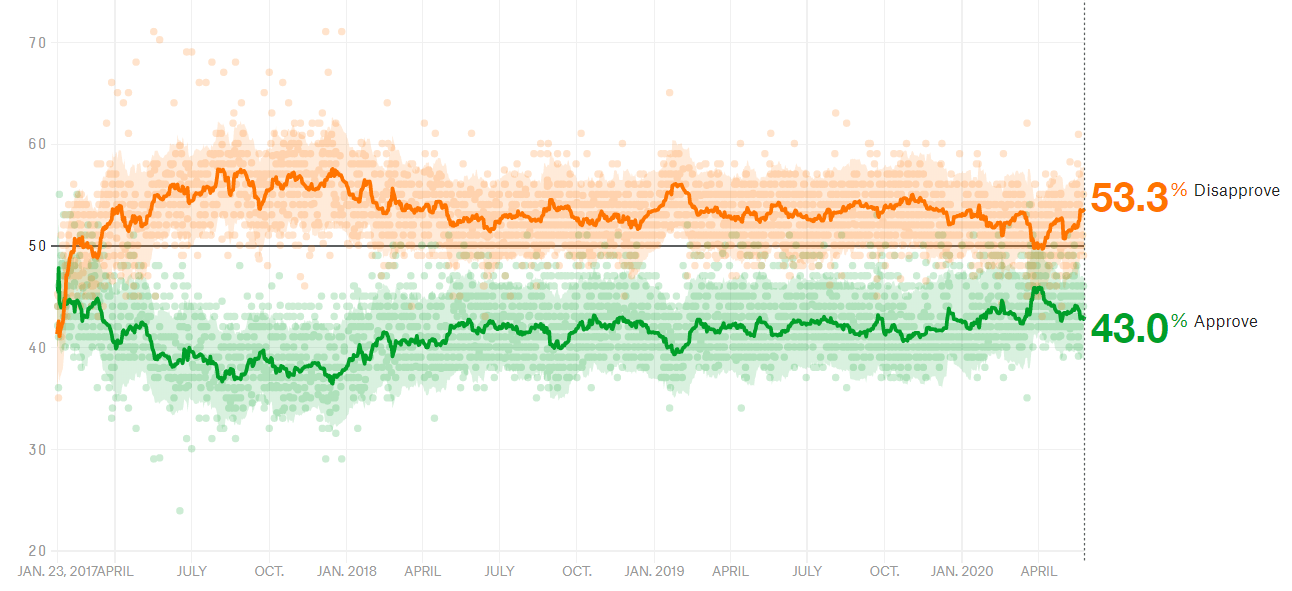 But let's get more specific and look at polling for the 2020 presidential election: Trump vs. Biden.
In the recent notable polls tracked by Real Clear Politics for May, Biden is winning in all of them.

Per FiveThirtyEight, here are the results of five May polls from Michigan, one of the most important swing states in the 2020 election.
Public Policy Polling: Biden +6
Change Research: Biden +2
Change Research: Biden +3
Redfield & Wilton Strategies: Biden +8
Hodas & Associates: Biden +9
Pennsylvania — perhaps the most likely of the 2016 Trump states to turn blue for Biden in 2020 — has been polled as well. The most recent one, from Redfield & Wilton Strategies a couple weeks ago, landed at Biden +9.
Why Are 2020 Election Odds Not Budging?
And that leads us to the central question I've been wondering: If things are trending toward Biden and away from Trump, why have the betting markets not moved much, if at all, over the past months?
I have three theories.
Theory #1: It's still early and bettors are discounting the early data
It's a fair theory. It's still only May, and think how quickly the world changes these days. Just a little over two months ago, we still had live sports, all restaurants were open, concerts were sold out. Now imagine where we'll be in 3x that time with nearly six months until the November election.
Theory #2: Uncertainty abounds
This is related to the first theory, and again it's sound: The world could look much different in six months than it does now. Does the economy recover more quickly than analysts think? Will there be a second, worse wave of coronavirus once the weather turns colder again? Will Biden or Trump be penalized for public gaffes?
Despite the age of partisanship, there's solid data out there that suggests Trump is largely held up — not just by his base, but by important independent voters — due to the strength of the economy over the past three years. Like it or not, according to the data, he's trusted more on the economy than Biden.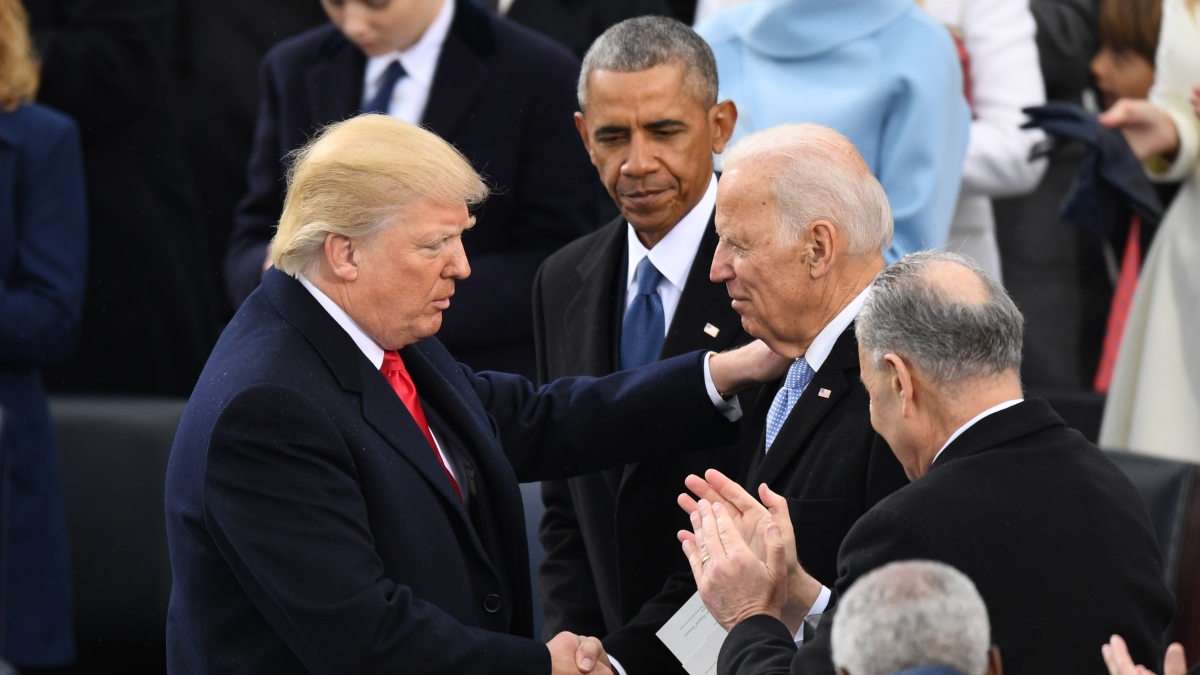 The economy won't recover to January levels by November, and that difference will be massively felt by many unemployed people, a lot of them of the working class. But will any gains be perceived as momentum and thus a victory for Trump? That remains to be seen.
Due to the electoral college and partisanship, elections are largely won at the margins — a few states and a few thousand votes here and there. Given that fragility, the uncertainty argument about why odds haven't moved is a fair one.
Theory #3: People don't trust polling after 2016
Speaking of FiveThirtyEight, its editor in chief Nate Silver was publicly maligned for being "wrong" about the 2016 election, in which his site had Hillary Clinton in the 70-80% range to win. I won't detail that saga anymore, as it's been widely covered: Thinking about stats and probability for a binary event is tough, I get it.
But the overwhelming narrative following that story has not been the statistical education of the masses — rather, it's been the massive distrust of polling as reliable sources of predictive data.
You don't have to go far on social media to find someone touting that polls underrate Trump in 2020 like they did in 2016. And while social media is often not indicative of real-world thoughts, it might be more indicative of those who are willing to bet into a political betting market and shape the odds.
All in all, the reason the odds haven't budged is probably a mix of all three theories. We'll see if they change as the world does.
More Politics Betting Content
How would you rate this article?
This site contains commercial content. We may be compensated for the links provided on this page. The content on this page is for informational purposes only. Action Network makes no representation or warranty as to the accuracy of the information given or the outcome of any game or event.