8 GeoComply Troubleshooting Tips: Steps to Take if DraftKings, FanDuel Sportsbooks Can't Locate You
Credit:
Edwin Remsburg/VW Pics via Getty Images. Pictured: Welcome to Pennsylvania sign
GeoComply is the software used by United States sportsbooks that verifies you're in a legal betting state.
Books require you to download and run it on desktop, while iOS uses its own location services to pinpoint you.
But GeoComply has some problems. And that's the PG version. Just check their Twitter mentions.
Even if you're in New Jersey or another legal betting state, you may get the following message when trying to login to a sportsbook like DraftKings, FanDuel, BetMGM, Caesars, Bet365 and many more. Nearly every legal sportsbook in the U.S. and Canada uses GeoComply.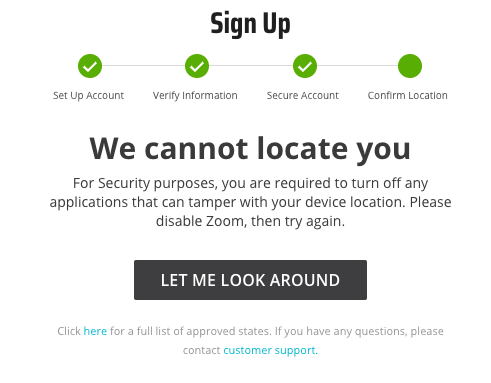 Here are eight reasons and explanations GeoComply thinks you're not in a legal betting state. If none of these tips work, hit them up on Twitter.
1. Uninstall and Reinstall GeoComply
The old "unplug and plug it back in" method can work if GeoComply is giving you issues.
2. It's Your Router — Try Changing Your DNS Settings
New Verizon FIOS gigabyte routers (G3100) in particular do not work with GeoComply under the router's factory settings.
You need to change your DNS settings on your computer. Here's a detailed read on how to do it for both Mac and Windows.
3. Turn Off VPNs, Zoom, etc.
When you have any sort of location-altering program turned on, GeoComply becomes a frantic mess.
My work laptop runs a piece of security software that GeoComply thinks is me trying to circumvent the location checks. So I can't bet when Zoom is running because it thinks I'm no longer in New Jersey.
Turn off any program you think would give GeoComply the impression that you're trying to mask your location.
4. You're Too Close to the Border
Sports bettors in states like New York have made a habit of heading right over the state border to New Jersey to bet. But in certain locations close to the border — Washington D.C. in particular — GeoComply can't seem to discern whether or not you're in range.
Even between the Pennsylvania and New Jersey borders, which both have legal betting, GeoComply can have issues and prevent you from betting.
5. Update Your Computer's Operating System
GeoComply doesn't work on some older Mac operating systems. Try updating your software.
6. Clear Your Browser Cache to Force Any Changes to Kick In
A cache in your browser stores frequently-accessed static content. So unless you clear it, your browser could still be running under the old information that made GeoComply fail to work.
Clear your cache after taking the steps above, or try a different browser.
7. If All Else Fails, Bet on Your Phone
The sad reality is that GeoComply will likely give you trouble forever. Bet on your phone (not on WiFi) if you can't on desktop.
8. Hit Them Up on Twitter
For all the issues, GeoComply is pretty good about responding to users. Hit them up on Twitter.
How would you rate this article?
This site contains commercial content. We may be compensated for the links provided on this page. The content on this page is for informational purposes only. Action Network makes no representation or warranty as to the accuracy of the information given or the outcome of any game or event.